How to Beat Winter with a Cheap Flight to Paradise This Year
Sweater weather is here across most of North America, and if you caught your mind drifting off to a warm beach somewhere, follow that impulse: Start honing in on your winter vacation right now.
Far too many travelers wait until the dead of winter to start scheming about warm-weather escapes. But the data shows that the best deals are right around the corner – and the cheap flights we're already finding and sending to Thrifty Traveler Premium members prove it. So yes, it's time to start looking at flights for your winter trip. 
Whether it's a long weekend in Florida for under $150 roundtrip, an unplugged retreat in Belize for 20,000 points roundtrip, or a first-class ride to Hawaii from 31,000 points, there are astonishingly cheap winter fares already popping up.
When to Book Winter Flights
Whether you're planning a winter getaway, a trip for the holidays, or a flight next summer, trying to pick the right time to buy your flights to get the best price can feel impossible.
The reality is that flight prices are unpredictable – they're constantly changing, minute-by-minute. Just like there's no best day to book flights, there's no ironclad rule on how far in advance you should book. The best time to book is when you find a cheap flight …and that can pop up at any time.
But now we've got some solid guidance from Google Flights from five years of data that can help you pinpoint the best time to book, depending on when (and where) you're traveling.
For domestic flights in the U.S., Google's data shows that prices are their lowest 21-60 days before travel. On average, prices hit their absolute lowest for a domestic trip 44 days before departure. So if you want a January getaway somewhere in the southern U.S. to escape the cold, that means you might find prices are at their lowest between October and December.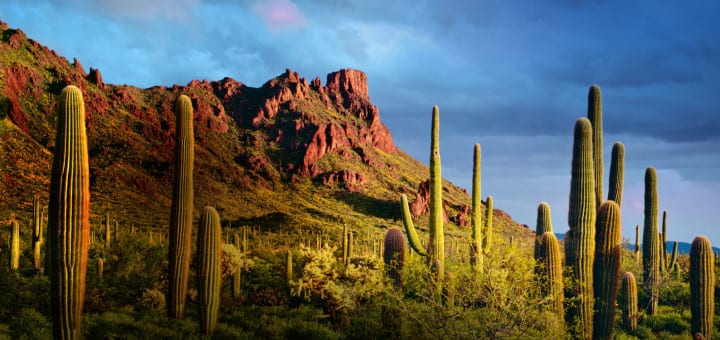 Long, long before then (like right now) you should set a Google Flights price alert (or a few) – and even consider booking if the price seems right. You can always rebook the flight and pocket a voucher if prices drop. Just be sure to skip basic economy fares and buy at least a main cabin ticket to retain that flexibility.
If you don't like what you see, set a calendar reminder for some time in mid-October to start looking for cheap fares. And that's just for domestic flights this coming winter.
Got your sights set on Mexico or the Caribbean for your winter trip? Google Flights' data suggests you'll typically score the lowest prices between 37 and 87 days before departure, on average – with prices bottoming out around 59 days beforehand. If you're following those numbers, you'll want to start looking for your January getaway to the Caribbean sometime towards the end of October, with the best rates likely appearing in November before the best rates disappear in early December.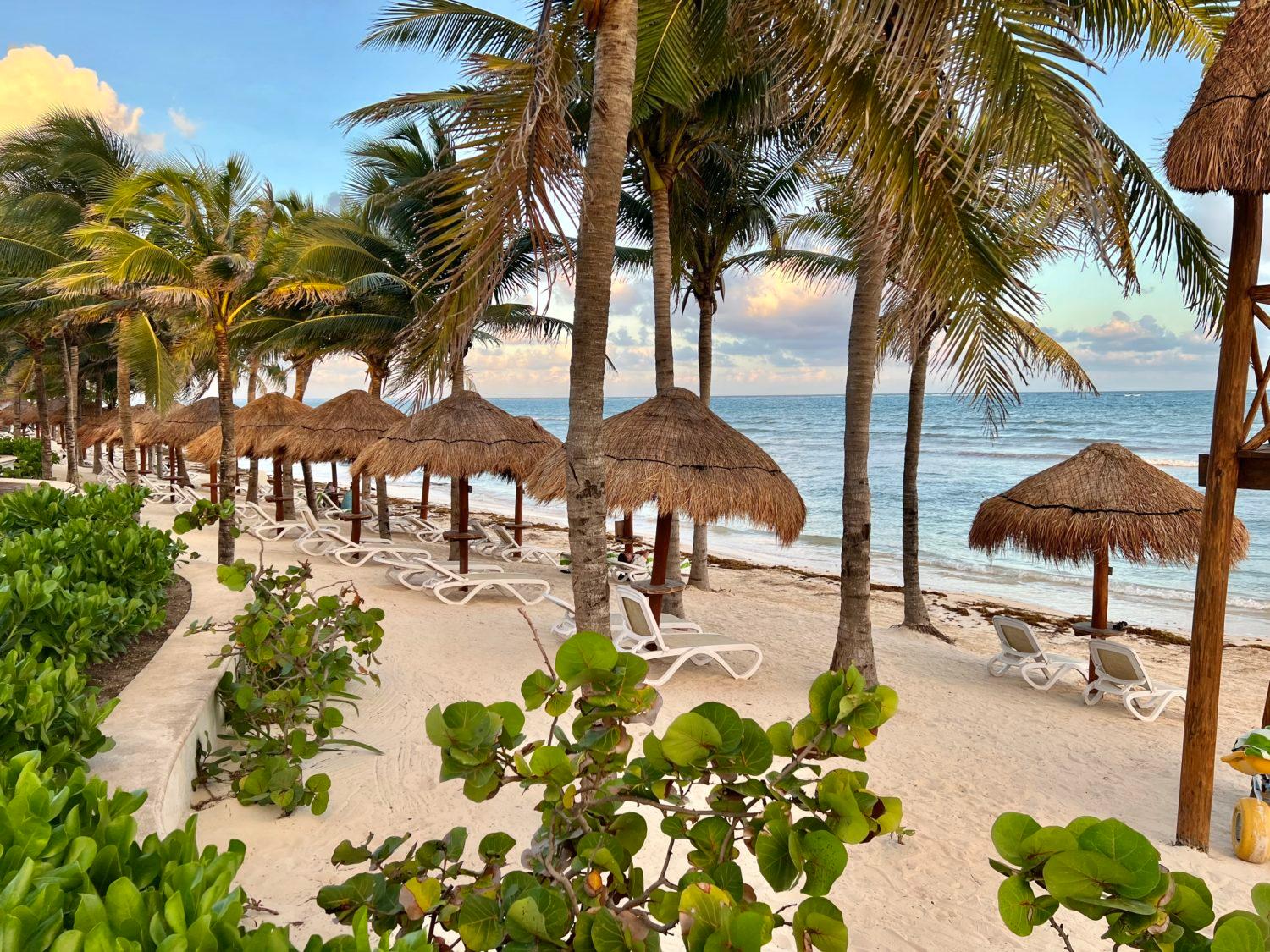 But where should you look? A few destinations stand out as stellar options to escape the cold this coming winter.
Where to Find Cheap Flights This Winter
Our team of 10 flight deal analysts scour the globe every day for the best flight deals to send to our Thrifty Traveler Premium members. And let me tell you: It's been a good couple of months for cheap flights to some of our favorite warm destinations.
We've sent dozens of winter 2023/34 flight deals to our subscribers lately, but these are a few that stand out.
Florida
Let's start with the most tried and true winter destination there is, Florida.
Lately, winter flights to Florida have been relatively inexpensive. If you book flights mid-week and avoid the long holiday weekends, you can snag cheap fares like this one from New York (JFK) down to Fort Myers (RSW), no problem. We've seen other great sales to cities like Tampa (TPA), Miami (MIA, FLL), Daytona Beach (DAB), Orlando (MCO), and more, too.
Florida is popular and easy to get to, but head a little further into the Caribbean and you can find some more winter getaway gems.
Puerto Rico
You don't even need a passport to travel to this next destination…
Puerto Rico is becoming a travel hotspot due, in part, to how cheap flights down to San Juan (SJU) are right now. We sent this Puerto Rico flight deal a few weeks ago that included dozens of U.S. cities with nonstop or one-stop flights to San Juan all under $399 roundtrip. The best fares were all in the $100s, too!
Mexico's Yucatán Peninsula
Another place where we're used to seeing cheap airfare is Cancún (CUN), and there are no signs of that stopping anytime soon.
From coast to coast and all over North America, you can fly to Cancún for cheap this year. Airline executives have been lamenting how low demand is flying down to the Yucatán Peninsula, meaning there are more seats flying with fewer people in them. That means one thing: Low fares for you!
Nearby Cancún is the island of Cozumel. It's just a quick hop away from the shores of the Yucatán, but this island could be a world away. It's known as a divers' paradise and offers a more secluded Mexican vacation experience.
Just like Cancún, airlines have been bolstering the number of seats they fly to Cozumel every year, meaning fares are getting cheaper. This deal we sent to our subscribers bottomed out at $303 roundtrip, with no cities eclipsing the $400 mark either.
Costa Rica
If something a little more exotic is what you seek, Costa Rica is probably already on your radar.
From Liberia (LIR), the rainforests and the Arenal Volcano make for a perfect adventure vacation. From San José (SJO), you can head out to the beach for a lazy, seaside escape. Or better yet, do both!
But you'll need a cheap flight to start, like this one for our Thrifty Traveler Premium subscribers in Knoxville, Tennessee (TYS).
I can't promise all of our subscribers a sub-$300 roundtrip fare to Costa Rica, but on this flight deal we sent a few weeks ago, there weren't any fares over $400.
Tahiti
Finally, if you really want to get away, you should look into these stunning fares down to Tahiti (PPT) this winter.
Delta's new Los Angeles (LAX) to Papeete (PPT) route has led to some eye-popping sales, including this $549 roundtrip fare. If you're looking at dollars per mile flown, this is the best deal on here.
The winter months in the northern hemisphere are peak summer down in Tahiti, so this should beat whatever your hometown is like in early December!
Use Your Points to Beat Winter, Too!
The only thing better than a cheap flight to paradise is a nearly free flight to paradise using your points and miles.
Save those hard-earned dollars for the beach bar or the theme park!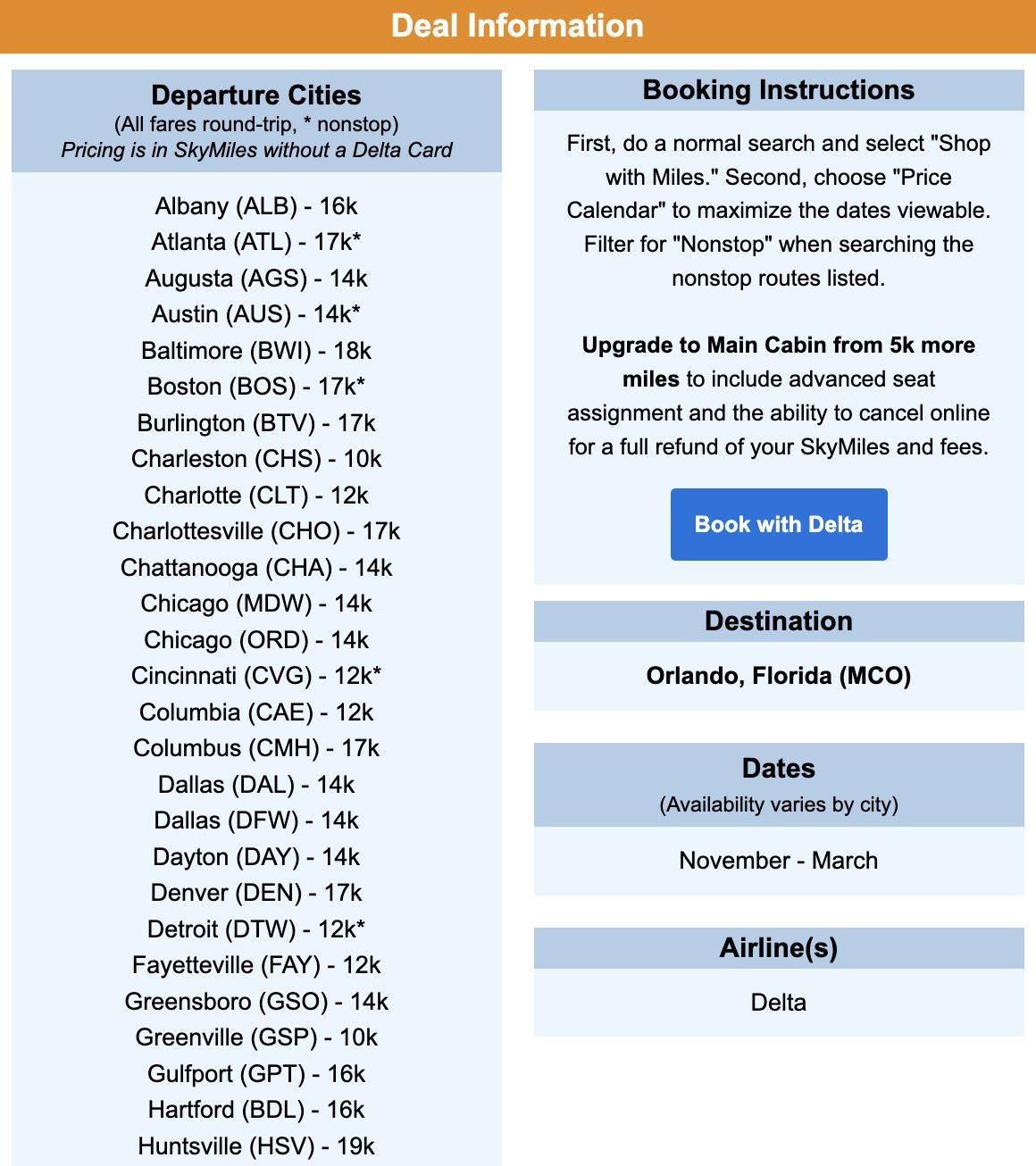 These ultra-low award rates are gone now – hop on the next deal with Thrifty Traveler Premium!
This Delta SkyMiles flash sale for fares down to Orlando – dubbed the theme park capital of the world – was huge for traveling families. Instead of spending $1,000 or more on just the flights, you can dip into that SkyMiles account, pay the $11.20 roundtrip in taxes and fees, and save your money for a fast pass instead!
On the other hand, if you want to leave the kids behind and book a romantic escape down to Belize (BZE), just 20,000 Virgin Atlantic points could be enough to book it. Paying $650 in cash or 50,000 in Delta SkyMiles is a bridge too far for most travelers. But 20,000 points? You can probably handle that if you have Virgin points or points that transfer to Virgin like American Express Membership Rewards, Chase Ultimate Rewards, or Capital One Venture Miles.
You can use the same trick to book nonstop Delta flights to Hawaii, too! This nonstop deal to Honolulu (HNL) was bookable from Minneapolis (MSP) from just 35,000 points roundtrip and bookable from other Delta cities like New York (JFK), Atlanta (ATL), and Detroit (DTW) from 45,000 points, too.
But let's not sell ourselves short. You deserve a business class flight to paradise. Wouldn't it be nice to enjoy a luxurious meal and then lie flat for a couple of hours of shut-eye on the way to or from the Hawaiian Islands?
This flight deal traveling in Hawaiian Airlines' fancy new Leihōkū suites is honeymoon bait for couples who are getting married around the holidays this year. If you know one of them, wouldn't this make for the best gift imaginable, too?
Bottom Line
You're in control of where you spend the upcoming winter … but it's time to get moving on your planning. Data and recent flight deals show it's almost time to start booking your winter trip.
There are tons of cheap flights to the best places to beat winter. Take it from me: Shoveling snow is much more palatable when you have a sunny beach waiting for you around the corner.