Why It's Time to Start Planning (& Booking) Your 2023 Trip to Europe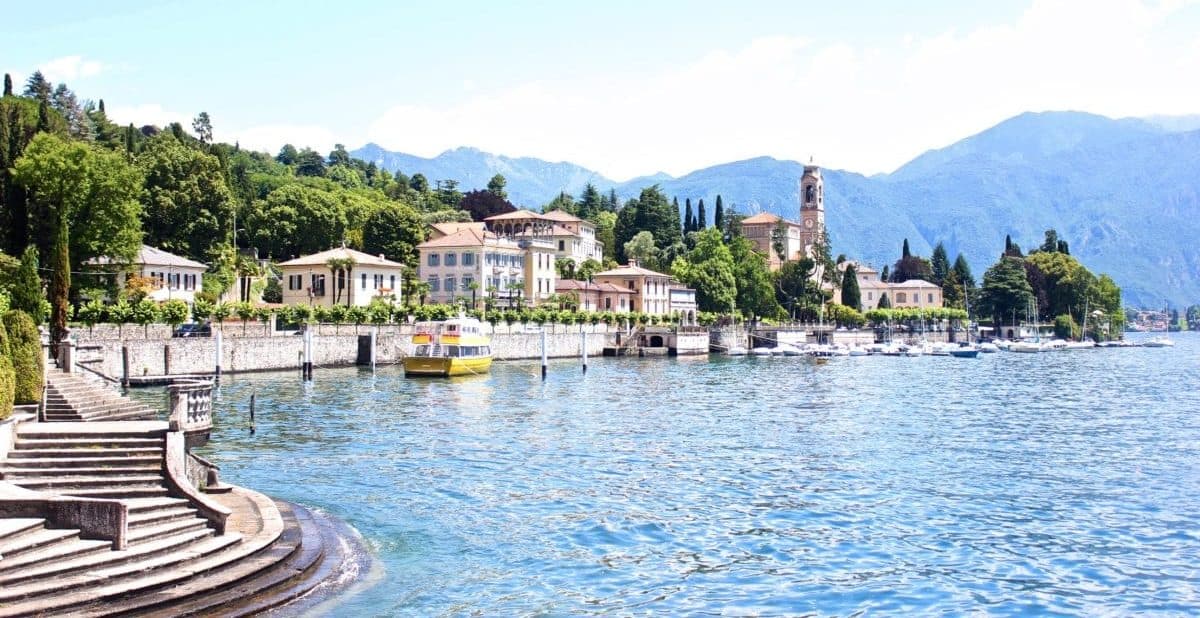 Europe is wide-open for travel again, and it's incredible … but maybe too incredible. Everyone is itching to head across the pond. But savvy travelers (like you!) are getting ahead of the curve and planning their trips to Europe for 2023.
Whether it's a shoulder season spring trip or a peak summer bucket list voyage, you should already be looking and booking for 2023. We've got the data that shows you exactly when you should book your trip. Best of all, there's a treasure trove of uber-cheap flights we've sent to Thrifty Traveler Premium members to get to Europe next year for $389 or less – or points and miles deals to get you there for next to nothing, including in business class.
If you don't know where to start, let's do it together. We're going to Europe next year!
When to Book Your 2023 Europe Trip
Wondering how far in advance you need to book your trip to Europe for next year? There's no black-and-white answer … but Google Flights is here to help.
The web giant behind the world's best flight search platform crunched the numbers based on five years of airfare data to calculate the best time to book flights to Europe. According to the data, Google says the best flight deals to Europe typically crop up between 50 days and 179 days prior to travel – with the best deals popping up around 129 days beforehand.
According to those numbers, you should begin looking for your international flights about six months before travel and keep digging into them until about two months before you fly. The sweet spot for the best deals, according to the data, is about four months in advance.
 
So let's say you're aiming to head to Europe in May 2023. According to Google Flights' data, you should start looking for great deals around December … and have your tickets booked no later than March.
But these are all just averages. The reality is that flight prices are unpredictable and constantly changing: The best time to book a flight to Europe for next year is when you find a cheap flight, and that can pop up at anytime.
And as you'll see, we're already seeing really cheap flights to Europe for next spring and summer.
When to Go to Europe in 2023
Everyone wants to go to London in July and August. Same goes with Rome. Ditto for Paris. That high demand is a recipe for higher fares – and bigger crowds, too.
But if you're set on peak summer transatlantic travel, you're not necessarily out of luck. Iceland, for instance, is a perfect example. This past summer and for next year, we've found cheap cash fares to Reykjavik (KEF) as low as $397 roundtrip.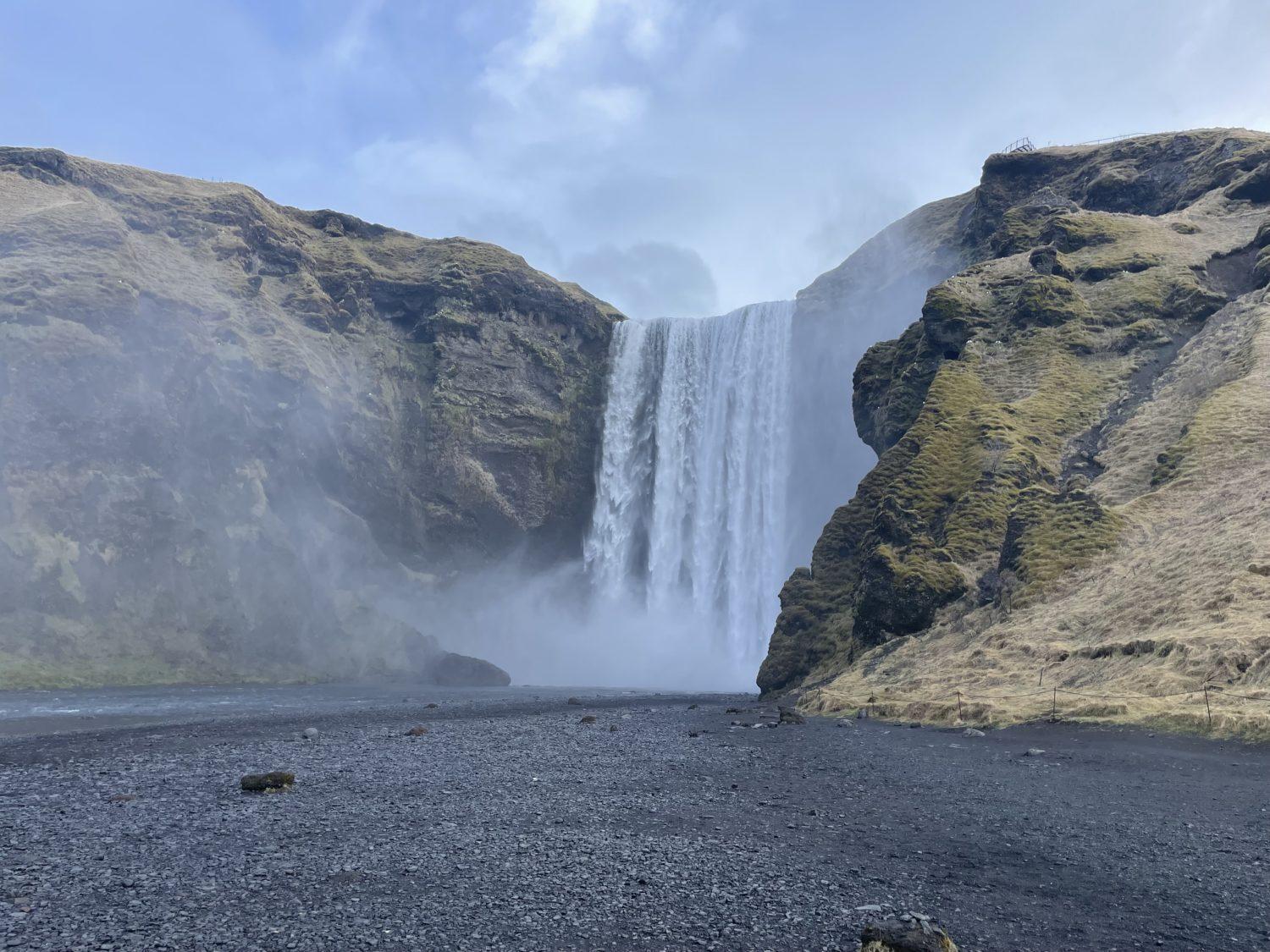 But if you want to get the best deal, look hard at what we call the shoulder seasons. Spring, fall, and even early June and late August into September are all prime shoulder season periods, where you can travel for a fraction of the cost and often find a fraction of the crowds.
Aim just a few weeks before or after that peak travel season, and the savings could be enormous. Take a look at these flights to Madrid next May.
 


Get flight deals like this one sent to your inbox with Thrifty Traveler Premium!
But just a few weeks later, peak summer travel is underway. Airlines know that's when most people are looking to travel to Europe, so they adjust prices accordingly. Here's what the same route looks like in June – yikes.
 

We have a full guide to shoulder season travel that you should take a look at. There are plenty of examples.
Don't pay four figures for a flight to Europe next year. There's a better way!
Where to Go: Cheap Flights to Europe & How to Book Them
The best way to get to Europe for cheap in 2023 is simple: Follow the Flight First Rule.
Start your travel planning by searching for flights. Pick the dates and destinations that save you the most money. Let the flight deal lead the way, then plan the rest of your trip.
Luckily, you've got plenty of options. For starters, there was this doozy of a flight deal we sent to Thrifty Traveler Premium members recently with dozens of nonstop routes to Europe (including some peak summer availability!) from many U.S. cities starting at just $389 total.
As soon as you get an email like this one, look at the routes featured and decide if one is good for you!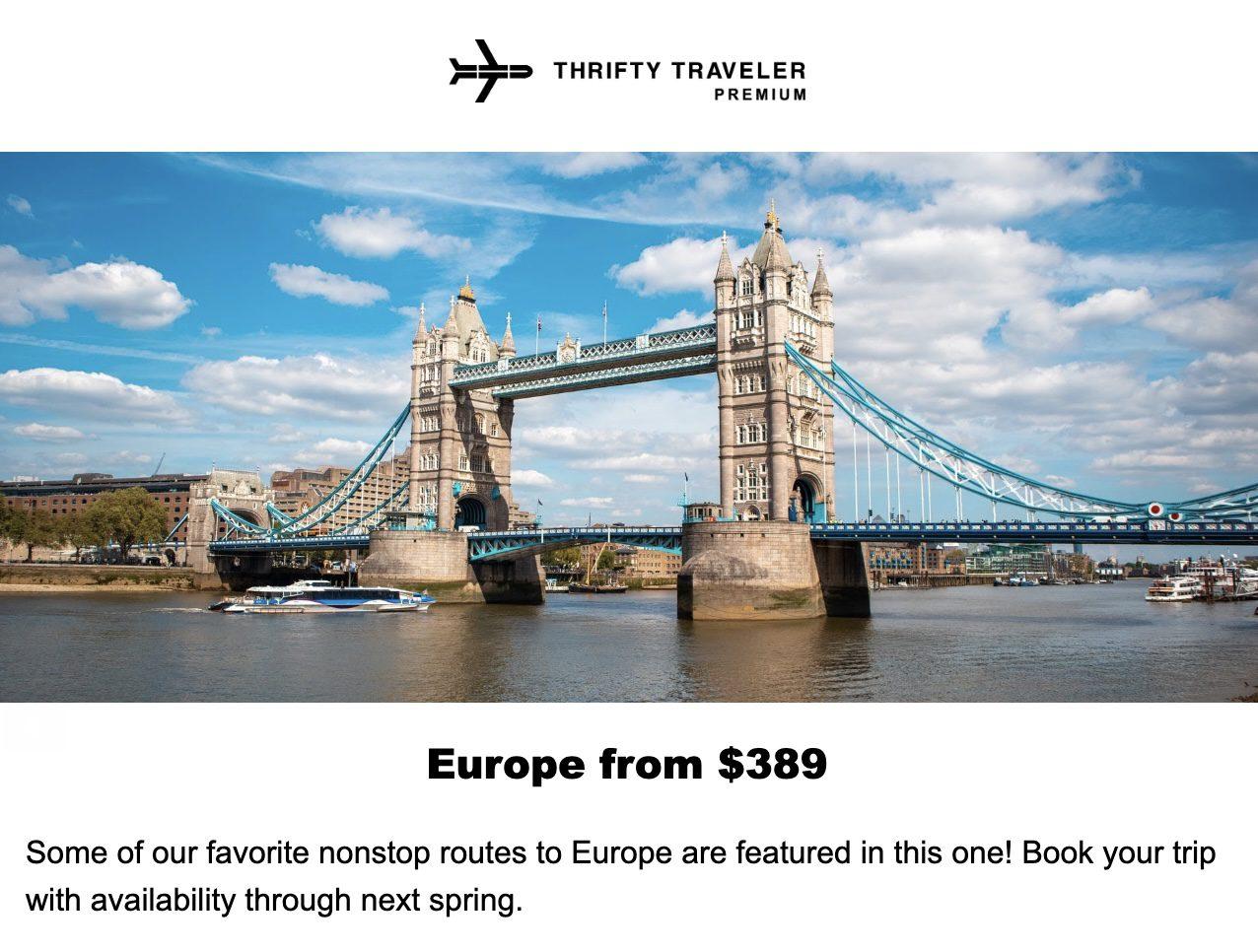 Then, after you book your fantastic fare to Paris, Rome, Milan, Athens, or Amsterdam, you can plan the trip of your dreams with all the money you saved.
Let's dig into more deals.
Cheap Cash Deals to Europe
Italy is on everyone's list for a reason. It's a diverse travel destination that offers a little bit of everything great that Europe has to offer … and amazing food no matter where you wind up.
From the beach to wine country to the affluent shores of Lake Como, a cheap flight to Italy can be the catalyst for the trip of a lifetime. This Milan (MXP) deal we sent to Thrifty Traveler Premium members included some sub-$600 fares all the way into May 2023.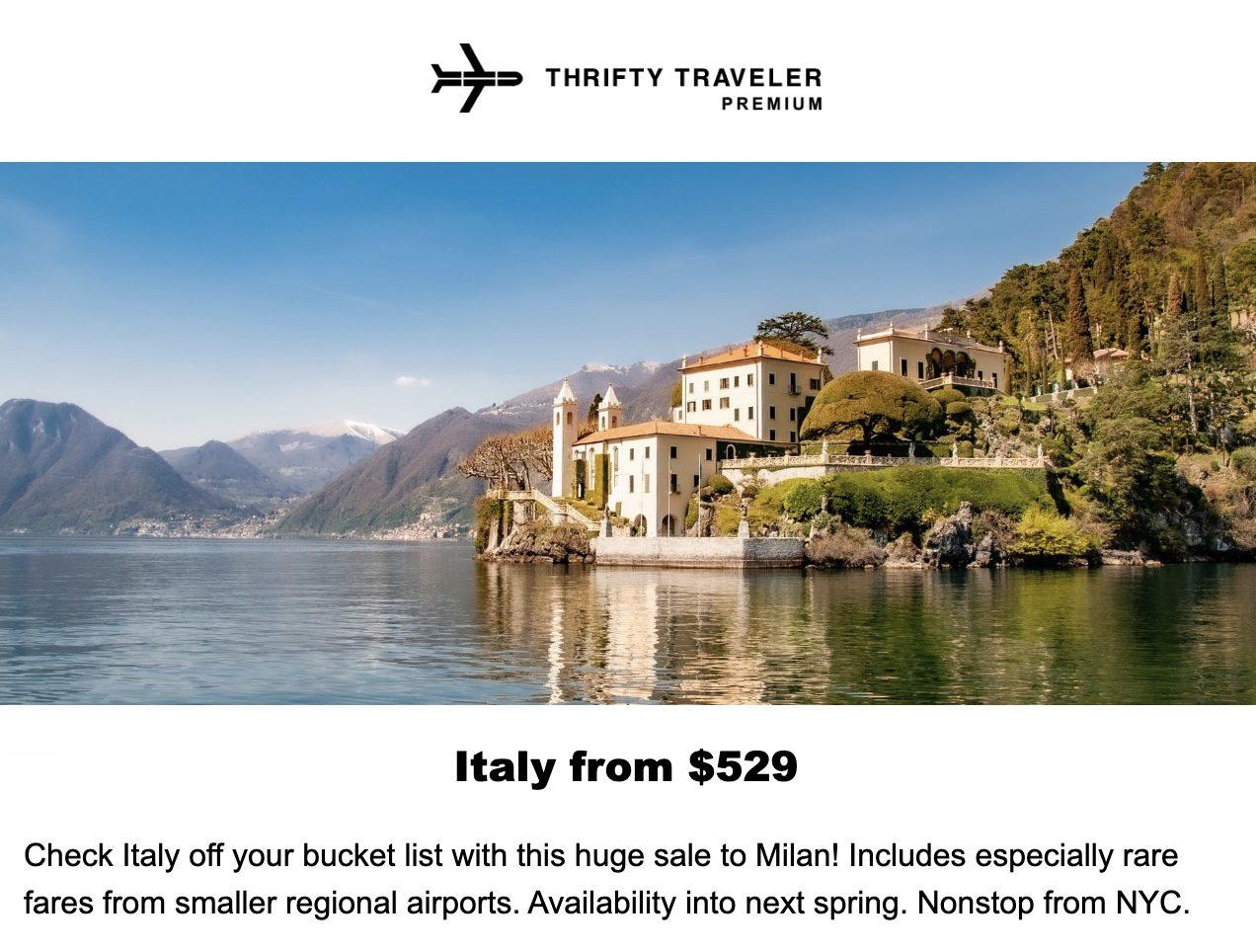 Iceland is almost always a safe bet for a cheap trip, and summer 2023 is no different. Unlike other destinations across the continent, finding a good deal in the thick of the summer is a cinch.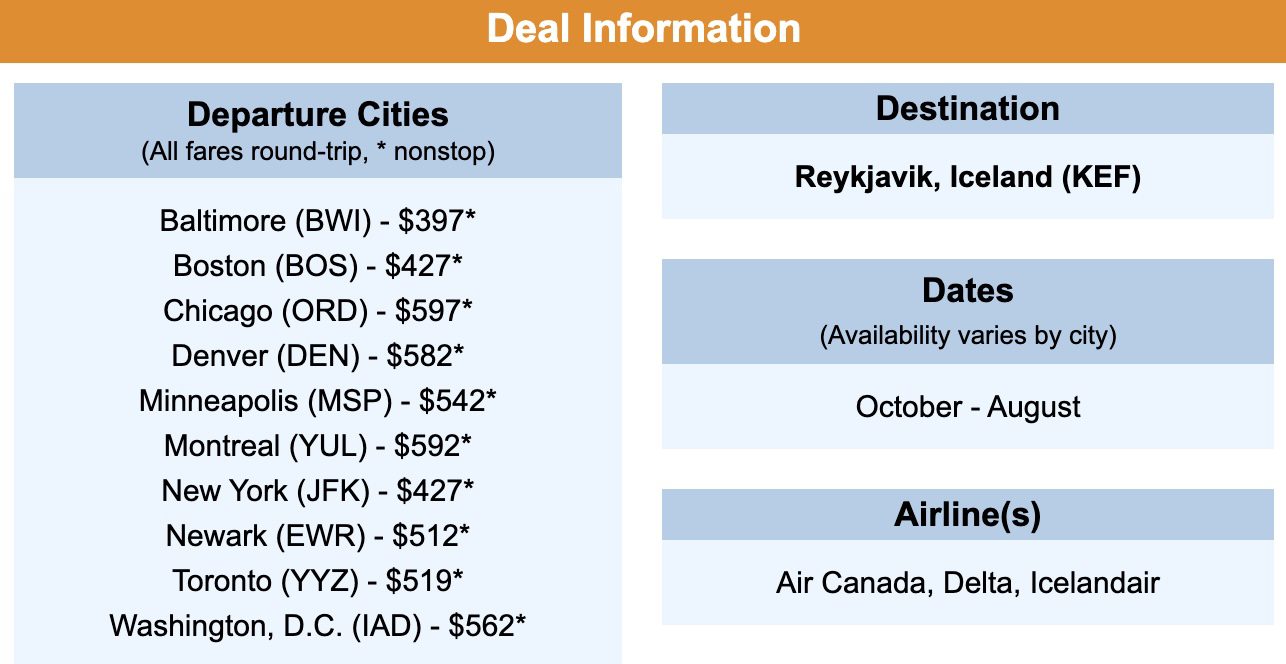 Speaking of nonstop flights … you can't beat a nonstop fare to Lisbon (LIS) for less than $400 roundtrip.
 
This fare is gone now! Get the next one with Thrifty Traveler Premium!
Thanks to some stiff competition from TAP Air Portugal on this route, Delta put this Lisbon nonstop flight on sale big time! Sub-$400 Europe fares are just delightful no matter when you go. Portugal is one of the best (and cheapest!) countries on the continent.
Then there are its outlying islands called the Azores, which are even more magical – especially when you can get there for this price next year.
 
This deal is thanks, in part, to some new service from United connecting Newark (EWR) and the Azores (PDL) nonstop! That's right. You can visit these far-flung islands without having to connect in Europe first.
Another off-the-beaten-path European destination is Croatia. On the eastern edge of the continent, it could fall victim to some higher flight prices … but not always, as we've occasionally seen prices dip below $600 roundtrip for 2023.
 
In some cases, flying from major hubs like Chicago, New York, or Washington, D.C. is your best bet for finding a cheap flight to Europe. But that's not always the case!
Take a look at these fares to Zurich (ZRH) for travel this coming winter and into the spring, including peak ski season in Switzerland! Brainerd, Minnesota (BRD)! Dayton, Ohio (DAY)! These aren't exactly international gateways, but the savings can reach everywhere if you know where to look.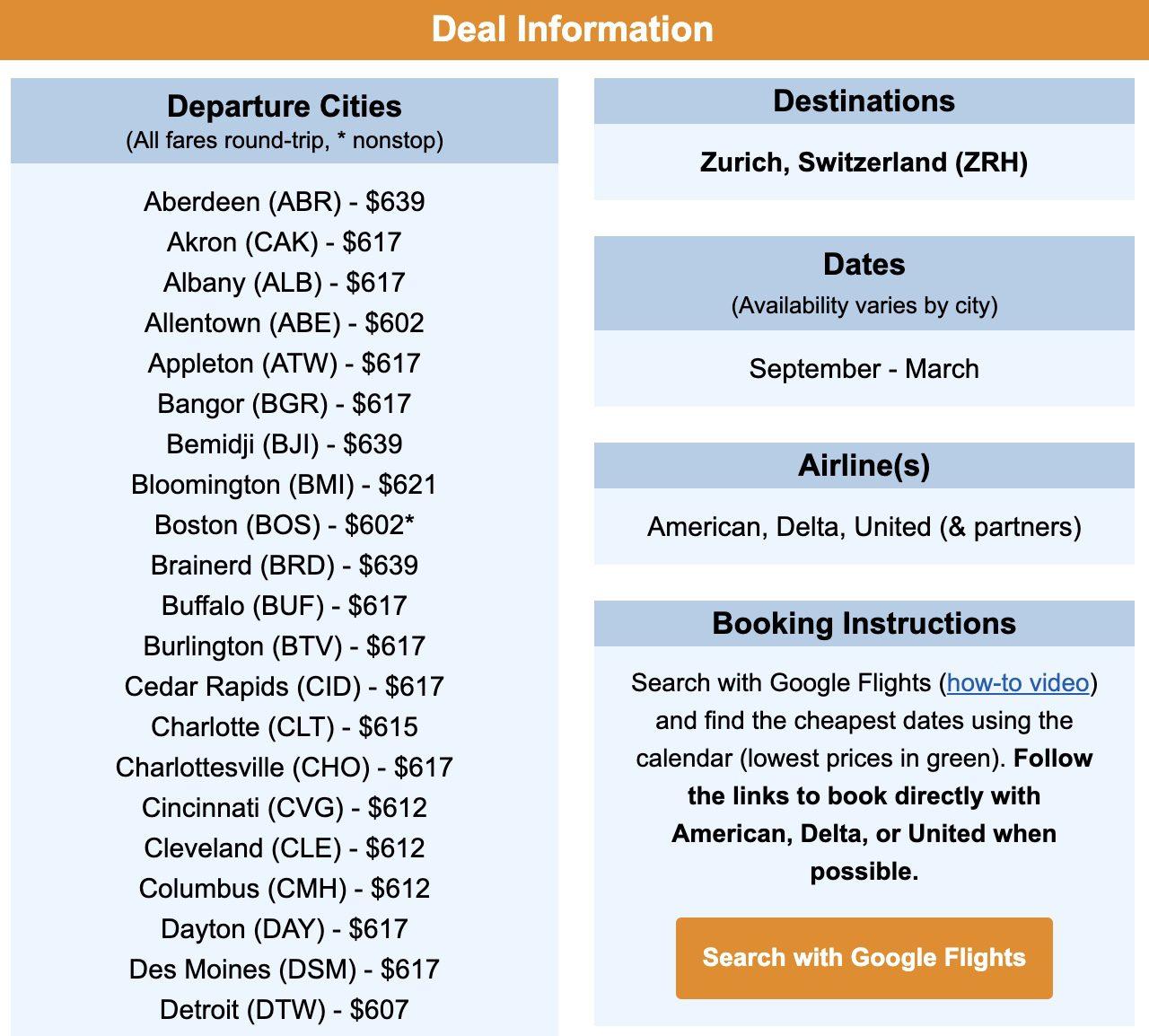 Looking to treat yourself a little bit? We've seen a major boom in premium economy flight deals, offering more legroom, better service, and upgraded meals at prices most travelers expect to pay for a standard coach seat.
 
That's right! American Airlines partner Finnair premium economy flights were on sale for as little as $882 in the last few weeks. It was a killer deal featuring nearly 100 U.S. airports with American service.
Great Award Fares to Europe, Too
If you have even a modest stash of points and miles, you should consider redeeming them for your Europe trip next year.
But time is of the essence. Award availability can disappear quickly – especially if you're hoping to use your points for a lie-flat business class seat. Many of the deals we're highlighting here have already come and gone … but the next great deal is never far away.
If you live in Minneapolis-St. Paul (MSP), there may be no better way to get to Europe on points in economy than this. A trip to Rome (or Paris … Madrid … or anywhere in western Europe!) and back for just 30,000 Virgin Atlantic points.
 
Virgin is a Chase transfer partner, an Amex transfer partner, a Capital One transfer partner, and a Citi transfer partner, which means getting the 30,000 points you need to book this trip to Europe is a cinch. Heck, the 60,000-point bonus on the Chase Sapphire Preferred® Card after spending $4,000 within three months is enough for two round-trip tickets!
But let's look at some luxury, shall we? And we'll start with Ireland's flag carrier Aer Lingus, which opened the floodgates with wide-open availability to fly to Dublin (DUB) next year in Aer Lingus business class … whether you want to celebrate St. Paddy's Day or explore Ireland in the summer!
 
Thrifty Traveler Premium members get award alerts like this one, too!
But your points can also take you to Spain in Iberia business class, one of the cheapest ways to get to Europe in business class for as low as 34,000 miles each way. Just this month, we unearthed some stellar award availability for two-plus passengers to fly to Madrid (MAD) next July and August, when peak season pricing is as low as 50,000 miles one-way.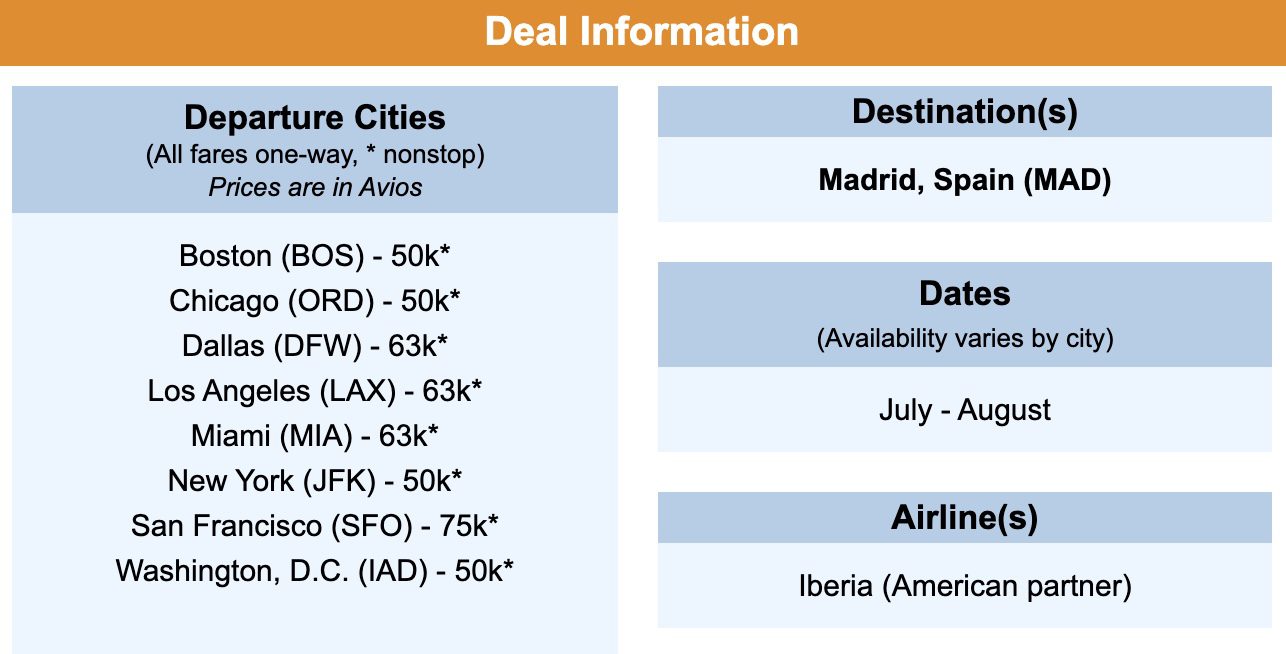 Our points and miles gurus also dug up these sweet, sweet Air France and KLM business class award fares heading to Paris (CDG) and Amsterdam (AMS) respectively next year – made even cheaper thanks to big transfer bonuses from American Express.
Take it from us: Air France business class is one of the best ways to get to Europe.
 
No matter where you're aiming to go, don't let those points and miles collect dust. You were earning them exactly for a moment like this. Use them to fly to Europe in 2023 and put those additional savings to use.
Bottom Line
It's not too early to start planning your trip to Europe for 2023. In fact, it's the perfect time to get started.
The data shows that it pays to plan ahead … and the deals we've been sending our Thrifty Traveler Premium members prove you can get a great deal already, whether you're paying in cash or using your points.