What's for meal? The very best food stuff, restaurants and cooks of Black Heritage Thirty day period Philadelphia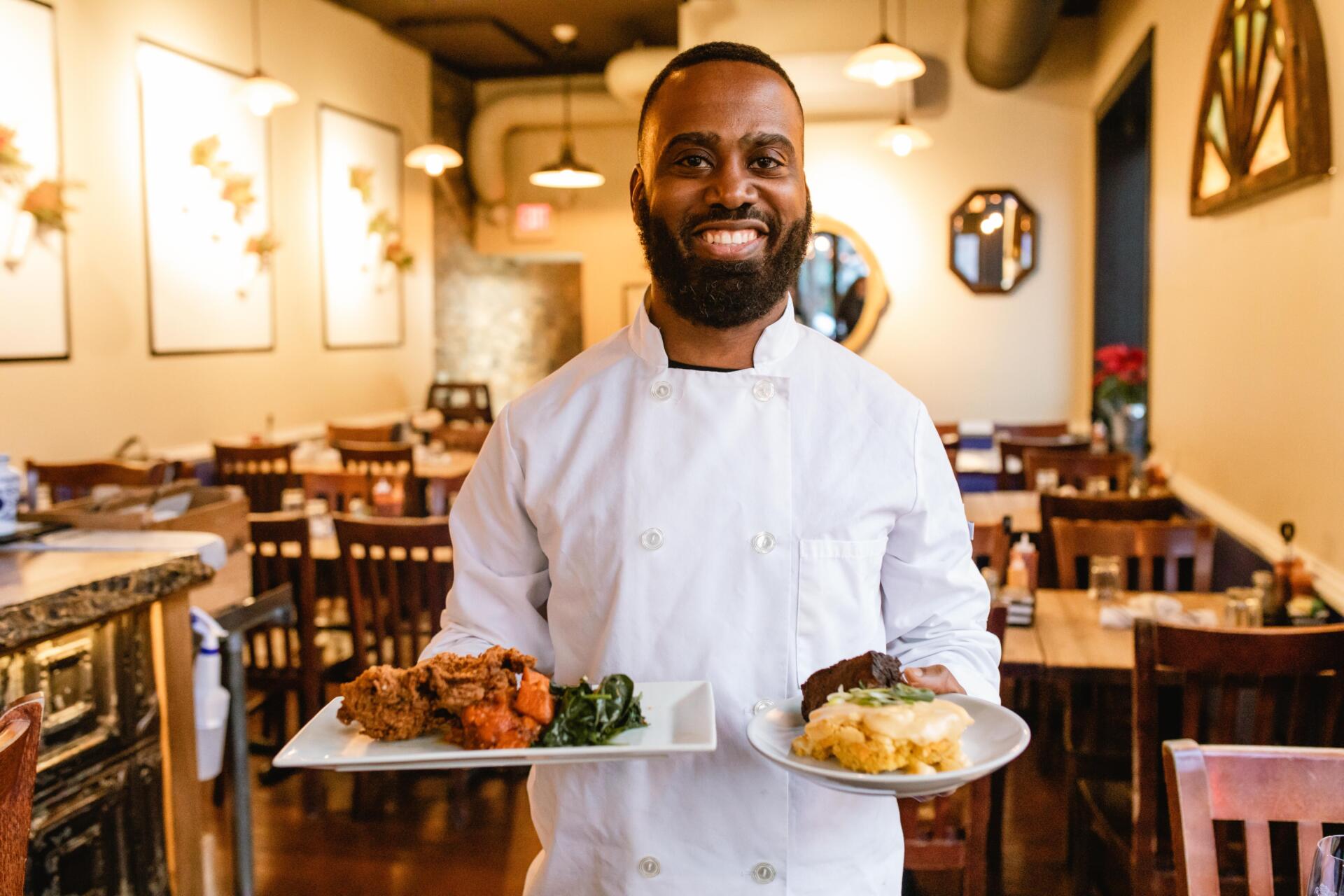 Black Heritage Month's February operate is a lot more packed than at any time with points to see and hear, and areas to go. A single thing we haven't hit – and this is a fantastic week for it, as new cooks and functions are lined up and at the completely ready – upon is the wealth of new Black chef-pushed functions and dining places in the Philadelphia spot.
SOUTH Cafe & Jazz Club
Just about anything that Philly's Bynum Brothers open up – when it will come to culinary or live musical adventures – is outstanding, exquisite and tastefully performed in a literal and figurative manner. South's Jazz Parlor normally has a little something scintillating brewing on the stay suggestion, and its cafe is touched by the spirits of Souther cooking with fried green tomatoes and shrimp remoulade, shrimp and grits, buttermilk fried hen, and vegan jambalaya.
SOUTH Kitchen & Jazz Bar, 600 N. Broad Road, Philadelphia, PA
Square 1682
The mod American menu-pushed restaurant on the corner of the Kimpton Lodge Palomar gets a new menu courtesy Sq. 1682's Executive Chef Rondé Murphy starting off on February 24 with starters these types of as Corn Bread & Honey Butter and Shrimp Hush Puppies with spiked blueberries, and remoulade, and mains these as Cornmeal Crusted Blue Catfish with Hopping John and 1682 warm sauce as properly as Pink Eye Gravy Smothered Hen Breast more than collard greens and mac-n-cheese. A portion of proceeds from each product marketed at Square 1682 will advantage local BIPOC-owned and chef-led non-earnings organization Everyone Eats.
Square 1682 at the Kimpton Lodge Palomar, 117 S 17th Street, Philadelphia, PA
48th Avenue Grille
West Philly's famous soul food stuff salon specializes in Caribbean and New Orleans-influenced menus. Proprietor-chef Carl Lewis puts a Cajun spin on his signature Island Wings, blackened salmon topped with shrimp scampi, and more than a handful of jerk things.
48th Avenue Grille, 310 S. 48th Street, Philadelphia, PA
The Dutch's Mother Mom's Soul Foods Pop-Up
East Passyunk Restaurant Row's common breakfast, lunch, and evening meal eatery The Dutch welcomes back its popular Mother Mom's Soul Foods Pop-Up from Executive Chef and co-operator Kevin Watters for Black History Month with a "pop-up-turned-sit-down-dinner" Monday, February 27.  Hosted in remembrance of Watters' late grandmother Lillian Lewis, Chef Kevin's multi-course evening meal involves Deviled Eggs with Cajun shrimp and roasted garlic, Baked Mac and Cheese Corn Bread topped with shorter rib and creamy cheese sauce, Buttermilk Fried Rooster accompanied by sluggish-cooked collard greens, smoked turkey, and oven-roasted candied yams. No leaves without having dessert, Apple Bread Pudding served warm with vanilla ice cream and caramel sauce, and, a portion of the night's proceeds advantage Most people Eats.
The Dutch, 1537 S 11th Road, Philadelphia, PA
Abyssinia
To start with off, West 45th's Street's grooviest Ethiopian cafe generally hosts dynamic live performances on its timetable, so hold all over immediately after the meal, night time and day. That mentioned, prepare for every thing from hearty injera (bread), Gored-Gored (beef seasoned with kibbeh and awaze), Azifah (complete brown lentils blended with mustard, onion, jalapenos and spices), vegan alternatives and breakfasts of Ful (fava beans with onions, tomatoes, pepper and olive oil served with bread).
Abyssinia, 229 S. 45th Avenue, Philadelphia, PA
Reggae Reggae Vibes
Wherever are my reggae golf equipment and dining places in Philly? This Northern Liberties place features the finest in dub soundsystem grooves and a Jamaican and American fusion menu with all the things from jerk rooster cheesesteaks to crispy rooster patties and household-brewed ginger beer.
Reggae Reggae Vibes, 517 W. Girard Avenue, Philadelphia, PA
Hyatt Centric Heart Town Philadelphia's Maker Collection at Patchwork Restaurant & Bar with Joe Barker
Over and above Black Historical past Month, Philadelphia artist Joe Barker is a legend for his road scenes, portraits of day by day existence, hanging and marketing in Rittenhouse Sq. and his backstory of remaining the late excellent DMX's father.  Along with this art exhibit, the bartenders at Patchwork Restaurant & Bar are deep pouring some wonderful cocktails on the behalf of Barker and Black Background Month.
Hyatt Centric Middle City Philadelphia's Patchwork Cafe & Bar, 1620 Chancellor Road, Philadelphia, PA
Chef Reeky's Cafe & Juice Bar
Coming from Southwest Philly as I do, I know a very little little bit about the Chef's salmon cake hash, seafood and spinach egg rolls, and the famed grits here, the Celebration Grits in flavorings of jumbo shrimp, Chilean salmon, lump crab and jack cheddar with scallions and scampi sauce. Come to my old community. Chef Reeky will deal with you suitable.
Chef Reeky's Cafe & Juice Bar, 6517 Elmwood Avenue, Philadelphia, PA
All the Way Dwell
Germantown Avenue's beloved mom and daughter workforce, Nyeisha Cabiness and Beverly Nedley, offer you up the finest of nut burgers, quinoa salads, chickpea chili, and a very touted uncooked food/vegan menu.
All the Way Live Cafe, 6108 Germantown Avenue, Philadelphia, PA
New Barber's Corridor
Are you kidding me? The New Barber Corridor is as renowned as Town Corridor – a 19th-century cycling clubhouse-turned are living tunes venue (John Coltrane performed there, The Temptations performed there) and bar-cafe executed. Jake Adams owns the Corridor now, and maintains the legend of wonderful dinners and solid beverages.
New Barber's Hall, 1402 W. Oxford Street, Philadelphia, PA
Dahlak
The family-owned Eritrean-Ethiopian cafe has prolonged been a mainstay of College Town eating and hanging out, offering up, as it normally has East African traditional fare these types of as sambusas, beef tibs, doro okra and many vegetarian choices. Go when the DJ is there on the weekend, and the hookah is fired up and you'll by no means go property.
Dahlak, 4708 Baltimore Avenue, Philadelphia, PA
Amina
Aged City's most recent restaurant from proprietor Felicia Wilson and chef-lover Darryl Harmon touches on a Southern menu with Nigerian inspiration. That suggests Flaming lobster bisque, Grilled Lamb Lollipops, Down Dwelling Gumbo (rice, shrimp, crab, oysters, rooster wings, spicy chicken sausage) and a Nigerian Very hot Hen sandwich (bread and butter pickles, soul slaw, peanut butter on a brioche roll). Moreover, check with for the Amina Bloody Mary that includes Harmon's signature spice mix.
Amina, 104 Chestnut Road, Philadelphia, PA