Ultimate Greek Isles cruise guide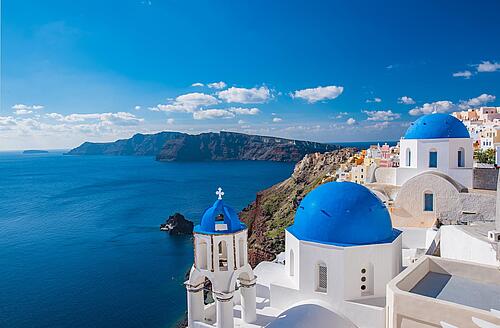 Sailing the Greek Isles is a dream for many cruisers, and knowing the ins and outs of cruising to Greece can help you plan this once-in-a-lifetime trip as smoothly as possible.
Royal Caribbean offers cruises to Greece each European cruise season, and visiting Greece via cruise ship offers the perfect way to see the country's famous islands and attractions. Whether you're interested in touring the birthplace of the Olympics, swimming at world-renowned beaches, or strolling charming villages, visiting Greece is sure to impress.
In this guide, we'll review the top tips and tricks to know before you sail the Greek Isles. From picking an itinerary to packing, here are the top things to know.
In this guide:
Ancient history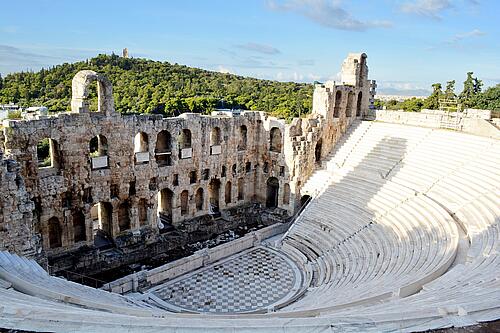 History buffs will be blown away by the archaeological sites and history to discover on a cruise to Greece. There are few cruise ports offering the opportunity to walk alongside ruins built over 2,500 years ago, yet you can discover ancient ruins in not just one, but several Greek cruise ports.
Even more "modern" history is still fascinating. Walking through the Old Towns of ports like Corfu, Kotor, Split will transport you back in time, and you'll surely be in awe of how such magnificent structures were built so long ago.
Ferry vs. cruise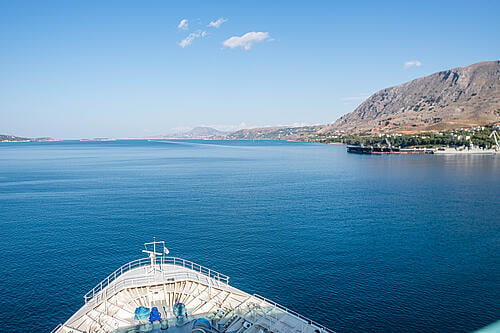 While on a Greek Isles cruise, you'll likely spot plenty of ferries transporting locals and tourists from island to island. While visiting the Greek Isles by ferry will allow you more flexibility in how long you want to spend in each place, it also means you'll constantly be lugging suitcases around from island to island.
If you book a cruise to the Greek Isles, you'll only have to unpack once, yet you'll be able to explore a new port nearly every day. Plus, you'll get to enjoy a classic cruise experience onboard in the evening without any stress about travel logistics from place to place.
Fresh, flavorful cuisine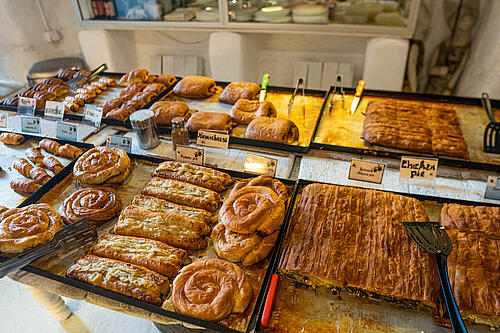 One of the best aspects of a European cruise is tasting local cuisine in each port and country you visit, and Greece will certainly not disappoint when it comes to food. We recommend allotting 1-2 hours per port day to sit down for a nice Greek meal. Not only will it offer much-needed rest in the shade on hot summer days, but you'll be able to taste local and regional specialties.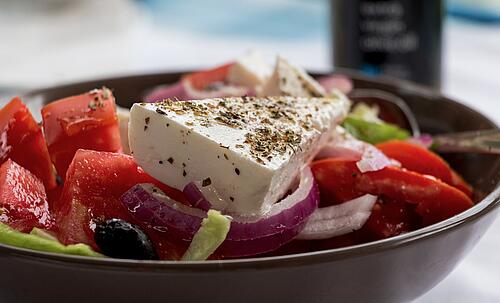 Starting your meal with a Greek salad is a must while in port, and you may want to try dolmades (stuffed grape leaves) as well. For the main course, most restaurants will offer a variety of grilled meats and fish, or you may opt for a traditional Greek moussaka, an oven-baked dish made with layers of eggplant, lamb, tomato, potato, and cheese.
Don't forget to stop in a local bakery during your time in Greece! From Greek bagels to baklava and spinach & feta pies, your senses are sure to be overwhelmed in the best way possible.
Breathtaking scenery
Greece and the nearby countries you'll visit are stunning. While the scenery can change from port to port, expect to see tall, rugged mountains and some of the most turquoise water you'll ever see.
Nature lovers will appreciate the sheer variety of choices available on a Greek Isles cruise. If lounging by the beach is your idea of fun, you'll find countless beautiful beaches to choose from. A Greek Isles cruise also offers plenty of hiking, kayaking, 4-wheeling, snorkeling, and more.
One thing you'll appreciate about a Greek Isles cruise is the scenery you'll spot throughout the entire sailing. Greek Isles cruises tend to stick relatively close to land, meaning you'll almost always have views of nearby mountains and islands while at sea.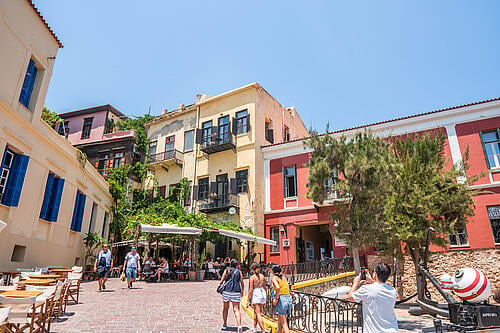 Most cruises to Greece will stop at three to four Greek ports. While each port is, in some way or another, quintessentially Greek, they each offer their own highlights. Some ports may fare best for a beach day whereas others are located nearby some of the most famous archaeological sites in the world.
Having an understanding of what is offered in each Greek port can help you better select a cruise itinerary. No matter which itinerary you choose, however, you'll likely be amazed by the beauty, culture, and charm of everywhere you visit in Greece.
Here are some of the ports to choose from on a Greek Isles cruise itinerary:
Santorini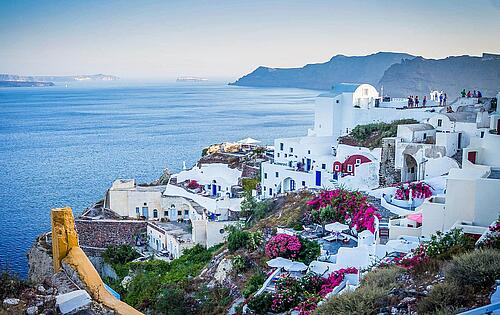 Santorini is perhaps the most well-known of the Greek Isles. The island is famous for its white buildings topped with blue domes, dramatic sunsets, and romantic atmosphere. Popular activities for a day in Santorini include exploring the town of Oia, visiting the Red Beach, and taking a catamaran tour through the island's underwater volcano.
Rhodes
Rhodes is most known for the Colossus of Rhodes, one of the Seven Wonders of the Ancient World. While the 108 ft. statue has long been destroyed, the island still boasts a plethora of attractions for visitors to enjoy. Strolling through the Old Town, ascending the Acropolis of Rhodes, or spending the day at the beach are all great options.
Athens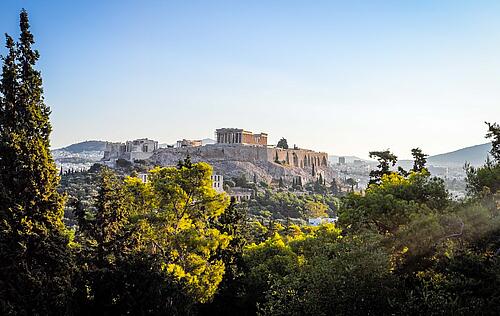 The capital of Greece is a far cry from the quaint island villages you'll find on a Greek Isles cruise, but it's well worth a visit. With over 3 million people, Athens is a bustling city with a unique blend of ancient history and modern influences.
Athens is a common embarkation port for a Greek Isles cruise, so be sure to arrive 1-2 days before your cruise begins so you can have plenty of time for sightseeing. Many cruises departing from other Mediterranean ports will visit Athens as a port day, allowing passengers to visit the city's top attractions, such as the Acropolis, before getting back onboard.
Chania (Crete)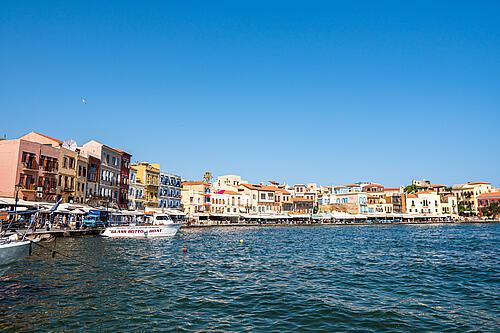 Located on the Greek island of Crete, Chania is known for its colorful Venetian Harbor, which was built in the 14th century. Chania's Old Town is a picture-perfect place to spend the day, but if you're looking for an adrenaline rush, don't hesitate to book an excursion to discover Crete's mountains and valleys.
Argostoli
Argostoli is the capital of the Greek island of Kefalonia, located in the Ionian Sea. While you can spend the day simply walking around town and tasting local cuisine, you may be more interested in Argostoli's natural attractions.
From Melissani Cave's sunlit waters to beaches with unbelievably-blue waters, you're sure to have a relaxing day in Argostoli. Don't forget to try a glass of Robola wine while on the island of Kefalonia, as it's said to be one of the best wine varieties in all of Greece.
Mykonos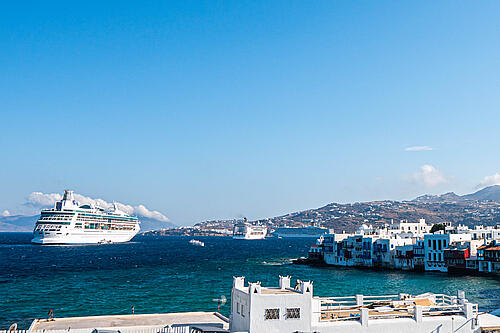 Mykonos is another of Greece's most popular islands, known for its beaches, villages, and nightlife. Cruise ships tender right off the coast of the Old Town, home to a maze of picturesque white stone buildings with cobalt blue doors. Don't miss the historic Mykonos Windmills, where you can enjoy views of the island with a cool summer breeze.
Olympia (Katakolon)
Katakolon, located in western Greece, is a gateway to Olympia, the birthplace of the Olympic games. A walk through the Olympia complex is a must when visiting Katakolon, where you'll be able to see where the Olympic Games took place from 776 BC to 393 AD.
Olympia is approximately 45 minutes away from Katakolon. After returning from the archaeological site, be sure to take some time to walk around Katakolon's town center, where plenty of shopping and restaurants await.
Zakynthos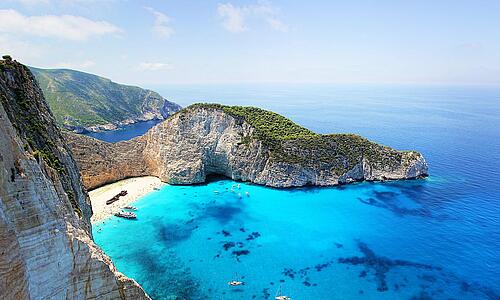 If you're looking for a beach day, look no further than Zakynthos. The island is known for its turquoise waters, blue caves, and white limestone cliffs. The most famous attraction in Zakynthos is a visit to Navagio Beach, otherwise known as Shipwreck Beach, which has been named one of the most beautiful beaches in the world.
Corfu
Corfu is an island located in the Adriatic sea, southwest of Albania and east of Italy. Due to its geographical location, the island has been influenced by a variety of cultures and people throughout history.
Walking through Corfu's Old Town, a UNESCO World Heritage Site, will allow you to transport yourself back in time to the island's Venetian rule. If an active adventure is more your style, consider a 4-wheel adventure through Corfu's hillsides or a coastal hike along Corfu's crystal clear beaches.
Thessaloniki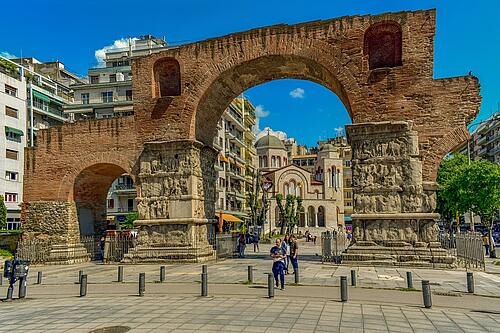 Thessaloniki is not an island; it's located in mainland Greece and is the second biggest city in the country. Don't let this deter you, though, as the city offers plenty of activities for all interests. Consider a day trip to Mount Olympus, the highest mountain in Greece, which was regarded as the home of many Greek gods in Greek mythology.
If you'd prefer to stay close to the port, the city's cafe-lined waterfront is sure to be a relaxing place to dine as you watch Thessaloniki's bustling city life pass by.
Skiathos
Skiathos is not a very common port stop on a cruise to Greece, and you'll likely see the stop on itineraries labeled "Mamma Mia Cruise", named after the iconic musical filmed in Greece. With 60 beaches on the island, Skiathos can make for an excellent beach day.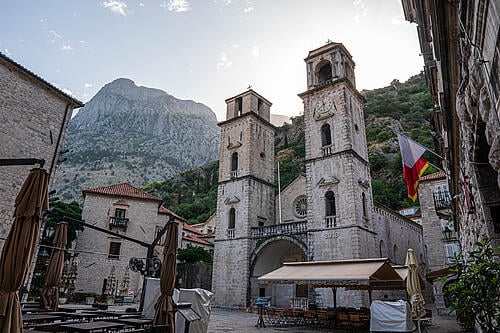 It's rare for a Greek Isles cruise to only visit Greece. In fact, even when a cruise is labeled "Greek Isles Cruise" on Royal Caribbean's website, the itinerary usually includes one or two port stops in nearby countries in addition to Greece.
There are plenty of beautiful and historic ports in the Mediterranean to discover outside of Greece, but the type of Greek Isles itinerary you choose can influence what other countries and ports you'll visit.
Greek & Adriatic cruises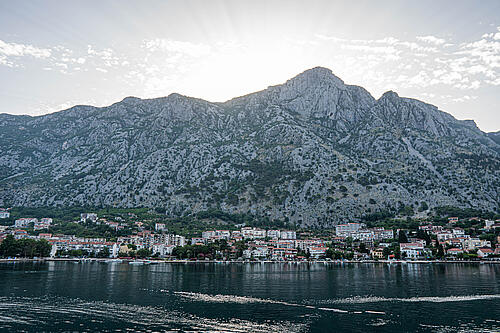 Greek & Adriatic cruises combine visits to the Greek Isles with port stops along the Adriatic to ports in Italy, Montenegro, Croatia, and Slovenia. Many of these cruises are one-way sailings from Athens, Greece to Venice (Ravenna), Italy and vice versa.
Common ports visited outside of Greece include Split and Dubrovnik in Croatia and Kotor, Montenegro. Less common stops may include Koper, Slovenia and Bari, Italy.
Greece & Turkey cruises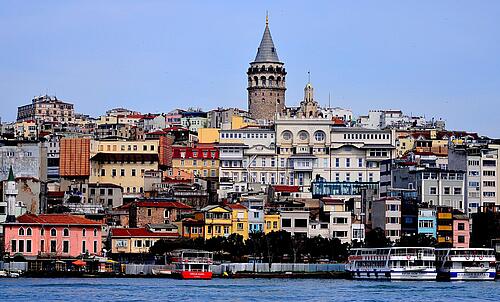 Greece & Turkey cruises typically visit either Kusadasi or Istanbul in Turkey in addition to several Greek islands.
Kusadasi, located nearby the famous ancient city of Ephesus, is much more common as a port stop than Istanbul. Both ports, however, offer the chance to discover the blend of cultures–from Mediterranean to Middle Eastern and Central Asian–that make Turkey so unique.
Other Greek Isles itineraries
Outside of cruises to Turkey and the Adriatic, you'll come across other cruise itineraries that visit Greece. Holy Land cruises, for example, often visit several Greek islands in addition to ports in Israel and Turkey.
You can also find itineraries that include stops in Greece and Cyprus as well as one-way sailings from Greece to the Western Mediterranean visiting ports like Rome and Barcelona.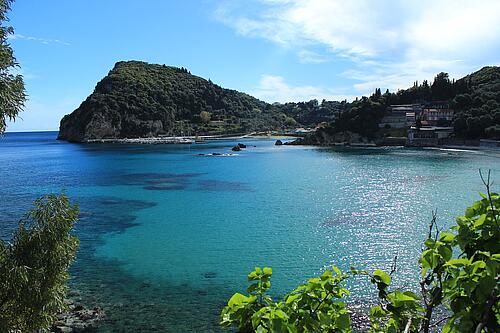 Royal Caribbean's European cruise season runs from April to October each year, with cruises to the Greek Isles being offered all season long.
Truthfully, there is no "wrong" time to go on a Greek Isles cruise. Weather in the Mediterranean remains sunny, dry, and warm throughout the cruise season and seas tend to be quite calm.
That being said, the peak of summer can get uncomfortably hot in Greece, so scheduling excursions and port days around the beach is recommended. The most pleasant temperatures (i.e. not too warm) can be found in late spring and fall.
Related: What is the best time to cruise the Mediterranean?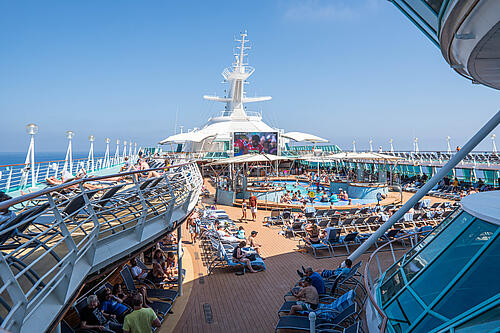 The most crowds will be found in the peak summer months of June, July, and August, although crowds should be expected at any time of the cruise season. Oftentimes how crowded a port feels is more correlated with how many ships are in port with you as opposed to the month itself. Having only one ship in port in mid-July will feel far less crowded than having three ships in port in September.
The most important thing you can do when traveling in peak season is to disembark the ship as early as possible. Not only will you be able to start exploring before the weather gets too warm, but you'll get the chance to walk around town before hoards of other tourists arrive.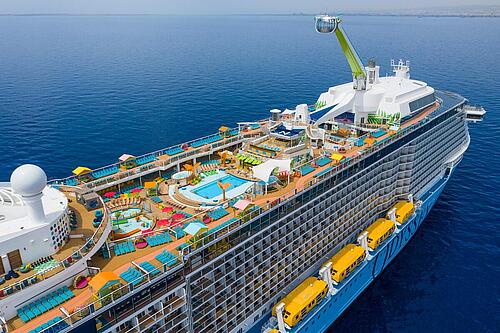 The newest and biggest Royal Caribbean ship sailing to the Greek Isles is Odyssey of the Seas. As a Quantum Class cruise ship, Odyssey of the Seas boasts the latest and greatest of Royal Caribbean's onboard activities, dining venues, and entertainment. 
Related: Complete guide to Odyssey of the Seas
Several smaller cruise ships sail to the Greek Isles each year. Typically, these will be Vision, Radiance, or Voyager Class cruise ships like Rhapsody of the Seas, Brilliance of the Seas, and Explorer of the Seas.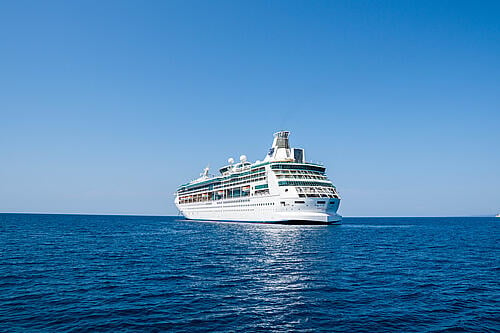 While Royal Caribbean's older cruise ships may not have as many of the bells and whistles as a ship like Odyssey of the Seas, they still offer fantastic dining options, pools, children's programming, and entertainment. They can also come at a much better price than a newer ship, allowing you to save more money for shore excursions and cruise add-ons.
Therefore, don't overlook a smaller, older Royal Caribbean ship for a Greek Isles cruise. When visiting Europe, a cruise is sometimes more about the destination than the ship itself.
Lightweight clothes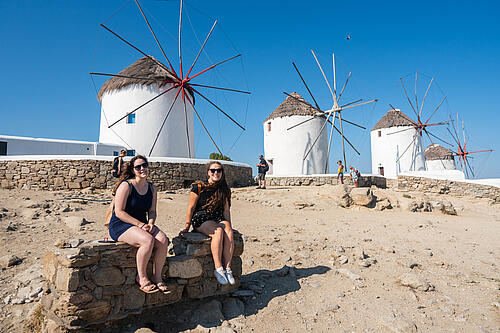 Temperatures will very likely be toasty on a Greek Isles cruise, so packing lightweight clothing is essential. Wearing shorts, t-shirts, rompers, and sturdy sandals will help keep you cool even in the warmest temperatures. A pair of sneakers is recommended, too, as you'll likely be doing a lot of walking!
While there's no hard rule against it, take caution when packing sundresses that are prone to flying up in the wind, as you'll likely encounter a strong breeze while touring the islands. You may also opt to wear a pair of lightweight shorts underneath a dress to avoid any mishaps!
The classic "Greek tourist" wardrobe is to dress in blue and white to match the charming villages and buildings you'll see in places like Mykonos and Santorini. You'll likely see plenty of tourists in these colors, and it can be fun to have a classic "island photoshoot" while in port!
Related: What to wear on a Mediterranean cruise
Daypack & accessories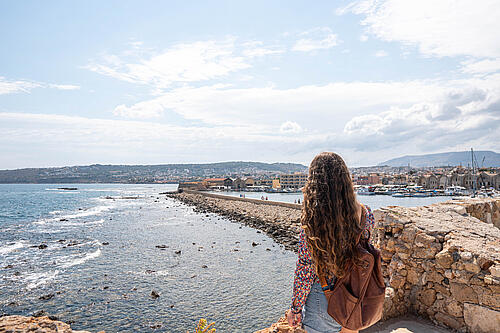 One item you'll want to carry with you in port is a daypack. In your daypack, it's recommended to pack sunscreen, a beach towel, valuables, and a pair of flip flops if you're doing a combination of a walking and beach day.
If you want to travel stress-free, even on the most crowded port days, consider purchasing an anti-theft travel daypack. The main pocket on these backpacks is only accessible from a zipper that goes against your back, which can deter anyone from opening your bag in crowded spaces.
Be sure to pack a pair of sunglasses as well. The Mediterranean sun can be strong, so keeping your eyes protected and comfortable is essential. The same goes for a hat, too, such as a baseball cap or sun hat.
Which currency should I bring? Do I need cash?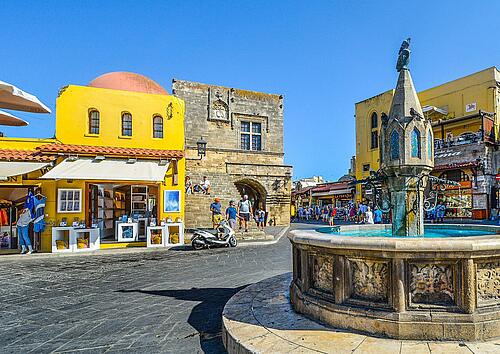 Greece uses the Euro, and ATMs are widely available on Greek islands. It's recommended to bring around 200 euros with you on a Greek Isles cruise, as you may occasionally come across restaurants, bars, and shops that do not take credit or debit cards. Most businesses will take card payments, especially in more touristy areas, so try to pay with card first (assuming your card has no foreign transaction fees).
As most Greek Isles cruises visit other countries in addition to Greece, it's important to know which currencies to use in each port.
Italy and Montenegro use the euro as their official currency, and Croatia will be officially adopting the euro in 2023, although payments in Euro are accepted in 2022.
Turkey's official currency is the Turkish Lira, and while you can usually pay with euros or credit cards in tourist areas, you will likely get a better exchange rate when paying in Lira. If your cruise only visits Turkey for one day, though, it may not be worth the hassle to use the Lira.
Israel's official currency is the New Israeli Shekel (NIS), but card payments are widely accepted throughout the country. Similar to Turkey, if your cruise only visits Israel for one day, you may not need to take out local currency, instead opting for card payments or (if possible) using euros.
Should I book excursions on a Greek Isles cruise?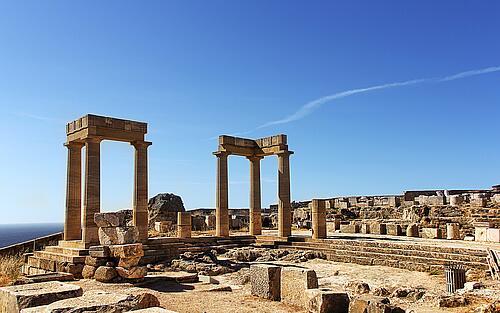 Many cruise ports in Greece are charming and walkable, meaning it's possible to spend an entire day wandering around town without booking a tour. Some ports even have nice beaches within walking distance of the ship if you're hoping for a low-cost beach day.
Some port stops may be easier with a tour, especially if you plan to visit archaeological sites. If you want to visit the Acropolis in Athens or Olympia, for example, you may prefer the insights you'll gain on a narrated tour of these famous sites rather than exploring on your own.
Likewise, boat or catamaran tours can be an excellent way to enjoy Greece's coastline and beaches. These tours are extremely popular, so you'll often find tour companies selling boat trips right when you get off the ship.
If you're looking to book a tour through an independent provider, be sure to read our guide about booking excursions independently.
Which ship should I book?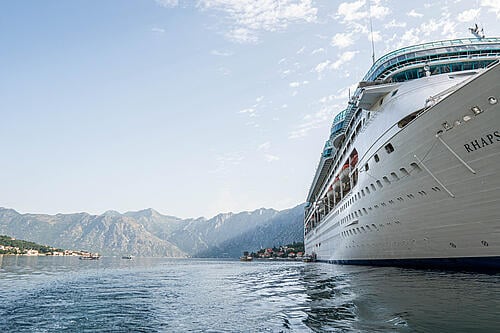 Deciding which Royal Caribbean cruise ship to book can be confusing, especially for first time cruisers. There are typically between 3-4 cruise ships offering Greek Isles itineraries each summer, and each ship comes with advantages and disadvantages.
In the Caribbean, which has an abundance of ships sailing at any time of year, we often say to choose a newer or amplified ship for your first cruise experience. Choosing a newer, updated ship means you'll be able to experience Royal Caribbean's latest activities, entertainment, and restaurants. 
For a Greek Isles cruise, however, we advise looking more at the destinations you want to visit rather than the ship itself. If sailing through the dramatic cliffs of Kotor, Montenegro would be a once-in-a-lifetime opportunity for you, you won't be able to book the biggest cruise ship.
Related: 8 questions to ask yourself before picking a cruise ship
If you're traveling with kids, keep in mind that most Greek Isles cruises are extremely port-intensive. Unlike on a Caribbean cruise where you may have three sea days in one week, it's not uncommon for there to be only one day at sea while cruising the Mediterranean.
By the time you come back from a busy day in port each day and eat dinner, you'll have little time for onboard activities and events before bedtime. While smaller cruise ships may have fewer activities for kids onboard, they should still offer enough to keep kids busy for the shorter periods you'll be onboard.
For more Greek Isles cruise information, check out our Live Blog from Rhapsody of the Seas to learn more about day-to-day life on a cruise to Greece: