The Best Flight Deals You Missed in November from Thrifty Traveler Premium+
Last month, we rolled out our brand new, top-of-the-line flight deal alert service: Thrifty Traveler Premium+. We might be just a tad biased, but we think it's the best flight deal service on the market.
Why? For starters, it's the only one that sends members both cheap cash fares as well as deals to book flights using points and miles. That includes cheap domestic and international tickets, discounted business and first class fares, and even award space alerts like Delta SkyMiles flash sales or a chance to book lie-flat seats abroad using miles.
In November alone, we sent Thrifty Traveler Premium+ members more than 100 flight deal alerts, including:
More than 70 dirt-cheap economy fares like $77 roundtrip to Las Vegas (LAS), flights to Hawaii and back from $180, and several deals to Europe under $300 roundtrip!
Twenty-two (yes, 22!) award alerts, including a trip to Tahiti from 50,000 Delta SkyMiles, wide-open award space to fly to Tokyo in Japan Airlines business class for 60,000 miles each way, and a chance to fly Qatar Qsuites all the way to the Maldives next year!
Deeply discounted premium economy and business class fares like Delta Premium Select tickets to Europe from $516 and lie-flat business class to Europe for $1,249 roundtrip – less than half the normal cost!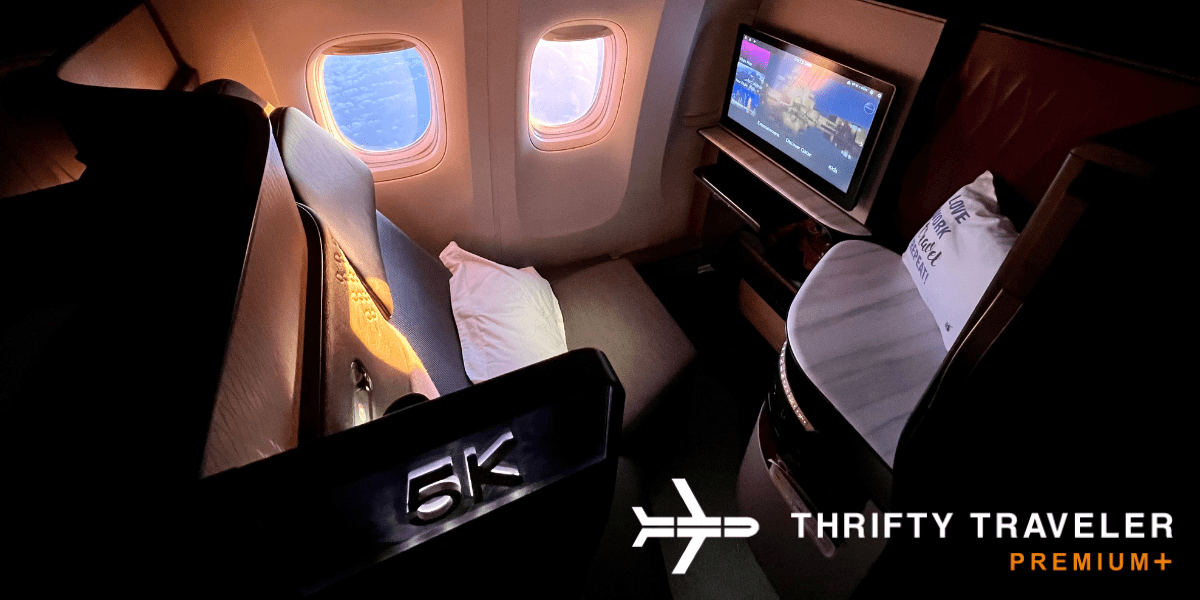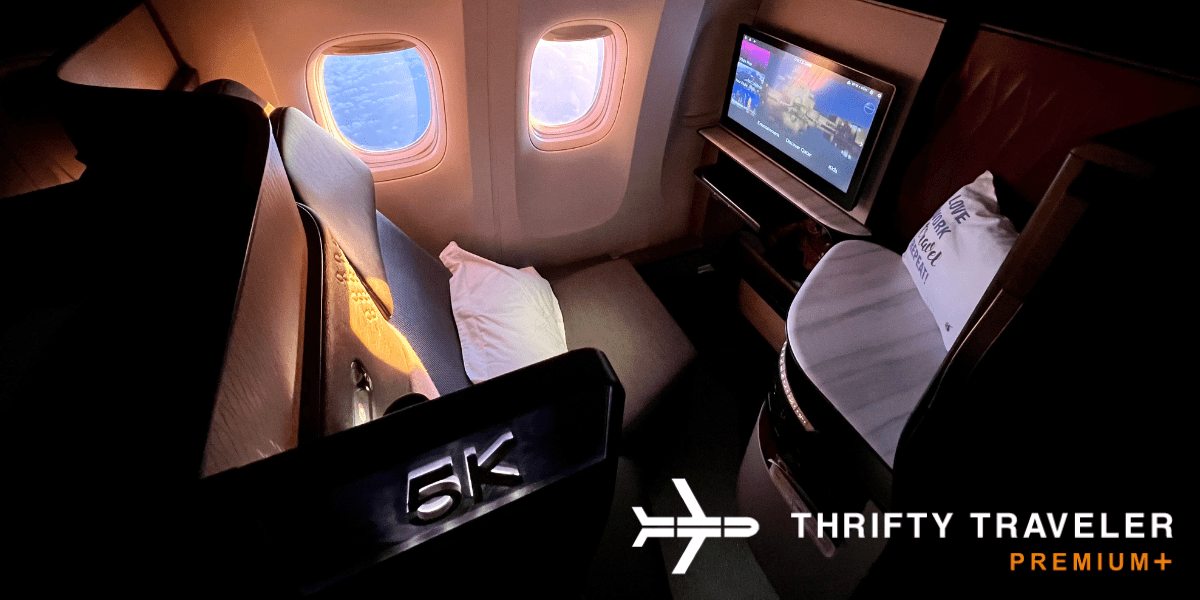 Join Thrifty Traveler Premium+ now – you'll come out ahead (and then some!) after booking your first deal!
One month in, here's a closer look at some of the incredible deals we've sent to subscribers of our top flight deal service.
Cheaper Flights Around the Globe
It's a universal truth: Everyone loves a cheap flight.
That's why our team is searching, day in and day out, for the cheapest domestic and international fares. Whether you're content flying in a low-cost carrier's cramped seat or dead-set on flying lie-flat business class, you can't say no to fares to sunny Miami (MIA) as low as just $117 roundtrip.
 
But even with domestic flight prices on the rise, we're still finding even cheaper fares. How about flights to Las Vegas (LAS) under $100 roundtrip? That includes fares from Phoenix (PHX) for $97, Austin (AUS) for $89, or San Diego (SAN) to Sin City for just $77 total. Even longer flights from Cincinnati (CVG) and Minneapolis-St. Paul (MSP) were cheap at $157 and $197, respectively.
 
But the savings can be even bigger abroad, and Thrifty Traveler Premium+ have been getting all these outstanding international fares and more. We found and sent some incredibly cheap flights to Europe last month – for a trip into the spring of 2023!
 
These prices are gone now – get the next deal straight to your inbox with Thrifty Traveler Premium+!
But the savings can be truly exorbitant when booking a great points and miles deal or a cheaper business class ticket – both exclusive perks of a Thrifty Traveler Premium+ membership…
Delta SkyMiles Deals & Premium Cabin Alerts
We know travelers saved up their points and miles throughout the pandemic and are itching to finally put them to use. That's why, when we launched Thrifty Traveler Premium+, we promised even more award alerts to help them do it.
We delivered. We sent nearly two dozen award space alerts to Premium+ members last month. That's a lot of opportunities to put your miles to use, like this dirt-cheap Delta SkyMiles flash sale to Las Vegas from just 8,000 SkyMiles roundtrip …
 
… or a chance to fly to paradise with your SkyMiles: A trip to Tahiti (PPT) this winter for as low as just 50,000 SkyMiles total!
 
Only Thrifty Traveler Premium+ members get SkyMiles deals like this one!
But if you're aiming to get more bang for your buck, there's no better way to redeem points and miles than on a lie-flat business or first class seat for a big trip abroad. That's why we sent Premium+ members more than a dozen premium cabin award space alerts in November to Europe, Southeast Asia, and even Japan now that it's reopened for travel.
 
Every Premium+ award alert includes in-depth booking instructions so you can find the flights you want and book for the fewest miles possible. And we're always on the lookout for how our members can leverage transfer bonuses to book for even less, like this Aer Lingus business class alert that was bookable for just 42,000 Capital One Venture miles each way thanks to a 20% bonus to British Airways that just ended.
A flight to Dublin next year (including summer 2023!) for just 42,000 points? That's the value of Thrifty Traveler Premium+: We do all the legwork for you – all you have to do is transfer points and book!
 
But you can get far, far beyond Europe. How about a bucket list trip to Singapore, Thailand, or Bali using your points? As November came to a close, we alerted Thrifty Traveler Premium+ members to some great EVA Air business class availability to Southeast Asia next fall. Best of all, it was bookable for just 68,000 points each way through Air Canada Aeroplan.
 
Get every award alert we send in December with Thrifty Traveler Premium+!
Discounted Premium Economy & Biz Class Fares, Too
Thrifty Traveler Premium+ members don't just get award space alerts and cheap economy fares – they get alerts to book premium cabin seats for less, too.
Let's be clear: Dirt-cheap business class tickets are fairly rare. Unless they screw up and launch an accidental mistake fare, airlines try not to discount business class seats – they'd rather leave seats empty than sell them for much less.
But business class flight deals do exist – and our Thrifty Traveler Premium+ members get every one we find. That includes this great fare we sent last month flying TAP Air Portugal business class to either Lisbon (LIS) or Porto (OPO) next year for as low as $1,200!
 
Never miss a good business class deal! While you can handpick which airports you want alerts from among our list of 200-plus airports, Thrifty Traveler Premium+ members can also opt to receive all business class deals – using cash or miles!
In another stunner from November, you could have booked Delta business class or Air France business class to many European destinations (or even Morocco!) for under $2,000 roundtrip – and in a few instances, close to just $1,000 total!
 
We're expecting a steady trickle of cheap business class fares to continue in December … but even more cheap Premium Economy fares. They may not be lie-flat seats, but it's a much better seat with more legroom and better service. And November showed us that you could score a Premium Economy seat for the price you typically see in standard economy.
We sent Thrifty Traveler Premium+ members a half-dozen Premium Economy fare alerts under $900 roundtrip last month – including some record-low fares like this deal to Europe.
 
Flying Delta Premium Select or Air France Premium Economy for just $516 … all the way to Sweden? That's less than your average fare in coach!
And that's not a one-off: We keep finding stunningly cheap premium economy fares, especially over to Europe. SAS Premium Economy (which the airline calls "SAS Plus" is a nice ride, especially at this price.
 
These dirt-cheap prices are gone now! Get the next deal with Thrifty Traveler Premium+!
But that extra space is critical when flying all the way over to Asia – especially on one of the world's longest flights. Why not do it with Singapore Airlines, one of the world's best, in Premium Economy?
 
Bottom Line
Think flights are too expensive? Here's your proof: They don't have to be with Thrifty Traveler Premium+.
Our track record in November proves it. Whether you want to find a cheap domestic fare, head somewhere abroad for less, finally put your points and miles to use, or find that rare business class deal using cash, we do the legwork for you.