The Best Flight Deals We've Found for 2023 & 2024 Travel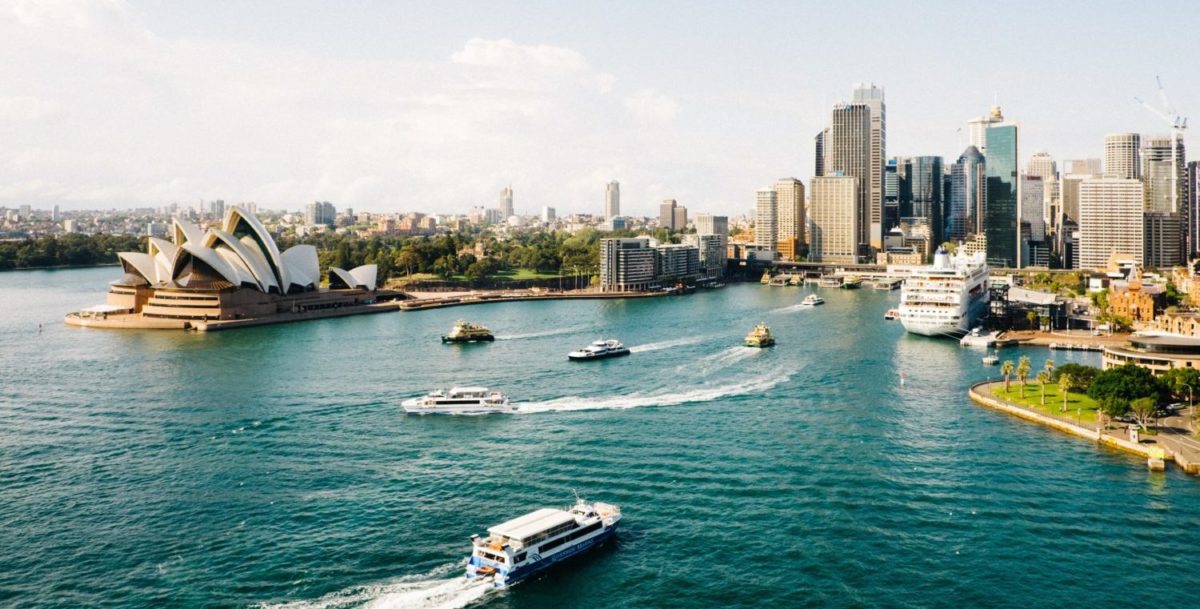 Writing off your big trips for this year or next due to rising flight prices? Think again: Amazing flight deals are still out there. And we've got receipts to prove it.
In fact, we're still finding some of the cheapest deals we can ever remember. We're talking about roundtrip flights to Hawaii for 9,000 Delta SkyMiles, nonstop Delta Flights to Europe and back in the $300s, sub-$500 flights to Tahiti, and even deeply discounted fares down to Australia. Got miles to burn? We're still finding plenty of business class award availability to Japan, Australia, Africa, and the Middle East, too.
The flight deals are out there, and it's our mission to help you find them. Here's a look at the best flight deals we've found so far for your trips later in 2023 and even 2024!
Start getting alerts for deals like these straight to inbox with Thrifty Traveler Premium! Use promo code BIRTHDAY to save 50% on your first year! 
 
Cheap Flights in the United States
Many travelers are seeing sky-high prices on simple domestic flights lately. I don't want to toot our own horns but … beep beep: We're still finding plenty of dirt-cheap domestic fares for travel this year and next.
Thrifty Traveler Premium members are treated to deals from coast to coast, up to Alaska, down to Hawaii, and back again almost every day. Sometimes a cheap domestic flight deal like this one to Phoenix (PHX) is all travelers need for a getaway – and with prices as low as $89, the word "cheap" doesn't even cut it.
 
These nonstop fares are about half-off what we're used to seeing down to the desert. With spring break season behind us, we caught these prices to Arizona falling and sent them to our subscribers right away.
Delta SkyMiles flash sales are another great way to capitalize on cheap domestic flights. This one blew our minds – and helped Thrifty Traveler Premium+ members lock in a trip to Hawaii this spring for a fraction of the miles you'd normally pay.
 
Only Thrifty Traveler Premium+ members get award alerts like this one – save 50% on your first year of alerts for cheap flights and points deals with promo code BIRTHDAY
Hawaii is known for its dramatic beauty, but so is the incomparable Glacier National Park. Finding a cheap flight to Glacier in peak summer is no sure thing … unless you're getting alerts like this one!
 
These nonstop flights to Great Falls (GTF) in Montana clocked in below $249 roundtrip, putting you on the quieter, lesser-tread east side of Glacier National Park. That meant you could fly in for an August trip to Glacier for the usual cost of a winter visit.
There's a new trend in peak summer airfare across the U.S. this year, and I think you're going to like it. The islands of Massachusetts – think Nantucket (ACK) and Martha's Vineyard (MVY) – have become ripe for cheap flights lately.
 
Once known as escapes for the rich and famous due to sky high flight prices, Nantucket and Martha's Vineyard and their Atlantic Coast, lighthouse-clad, beachy charm are wide open to everyone all over the country. The lowest fares on these deals were from New York-area airports with some lovely little double-digit fares. But all across the country, travels accustomed to seeing airfare in the $400s and $500s can now get there for $300 or less!
 
Cheap Flights to the Caribbean
Let's dive in to one of the most popular travel regions on the planet: The Caribbean. If you have written off some Caribbean destinations as too expensive, please reconsider.
We've found some incredibly low fares to many prime Caribbean destinations for trips later this year – perhaps none more better than cheap flights to an island just a few miles off the coast of Florida, but that feels a world away: Cuba.
 
These deals are gone now! Get them sent to your inbox and book the next one with Thrifty Traveler Premium! Use promo code BIRTHDAY to save 50% on your first year!
Cuba flight deals have been abundant lately, and it's an amazing time to visit the island. The U.S. dollar is extremely strong compared to the Cuban Peso right now, which made my own recent trip one of the most inexpensive vacations I've ever taken. Plus, the weather is picture perfect, the beaches are amazing, and you'll love the culture and vibrancy of Old Havana.
Looking to go even further into the Caribbean? Flight deals into Curaçao (CUR) just keep popping up. From as far away as Minneapolis-St. Paul (MSP), Denver (DEN), and Los Angeles (LAX), you could fly to the beautiful island for less than $391 roundtrip.
 
The same goes for an even lesser-known Caribbean escape: St. Vincent and the Grenadines. With fares as low as $294 roundtrip, you could explore these relatively unspoiled islands this fall or winter for less than half the normal flight prices!
 
But if you want something a little more well-known and closer to home, the Cayman Islands are probably already on your list. And if they aren't, they should be at these prices. Flights to the Cayman Islands (GCM) can get pricey: think $600 to $700 roundtrip, depending on the season. So when we found sub-$400 and sub-$300 fares, we had to send them to our subscribers all over the country.
 
The same problem holds true for the U.S. Virgin Islands, which are even more popular because you don't need a passport to get there. It's as easy as boarding a flight to Cleveland, but you land in paradise instead.
We've been finding flight deals to the Virgin Islands pretty routinely, too. That includes this dynamite, sub-$250 fare from Syracuse, New York (SYR) down to St. Thomas (STT) in the middle of January, when those Western New Yorkers need a little sunshine the most!
 
This fare is about one-third of what it would usually cost to fly from SYR to STT, so we were ecstatic to share it with Thrifty Traveler Premium members.
Cheap Flights to Europe
Let's be honest, finding a cheap flight to Europe has been a chore. Let us do the work for you – and trust me, we'll deliver.
Need proof? Let's start with two destinations on many travelers' lists: Amsterdam (AMS) and Paris-Charles de Gaulle (CDG), where we found flights for a trip this spring and fall under $500 roundtrip from a dozen airports.
 
American Airlines targeted rivals Delta and United by launching this sweet sale to from Delta and United's hub airports, leading to some half-off fares from across the country to Western Europe this spring or fall.
Set on flying Delta over to Europe instead? We got you: How about this deal that would put you in Rome (FCO), Milan (MXP), Madrid (MAD), Budapest (BUD), or countless other western European cities for under $400 roundtrip!
 
If a cheap flight to Europe is on your radar, Iceland is the most tried-and-true destination for cheap flights. Thanks to some steep competition from Delta, United, Icelandair, and PLAY Airlines, booking a trip to one of the most scenic islands on the globe doesn't have to break the bank. Case in point: We found nonstop fares to Reykjavik (KEF) as low as $398 roundtrip … including for a visit to Iceland over this summer!
 
These prices are gone now – use promo code BIRTHDAY to start getting Thrifty Traveler Premium flight deal alerts for 50% off!
When it comes to crossing the Atlantic Ocean, it's OK to look for a little bit of luxury, too, though. And this Delta Premium Select flight deal was a great way to get some much-needed extra legroom and service … while paying economy prices.
 
Bucket-List Destinations
Checking something off your bucket list doesn't have to break the bank.
And when it comes to those far-away, must-visit spots, Patagonia probably comes to mind right away. Luckily, this nearly nationwide flight deal to Santiago, Chile (SCL) is the perfect gateway for a Patagonia adventure. Fares that typically hover around $1,000 roundtrip fell to less than half the price – including for a trip in summer 2023!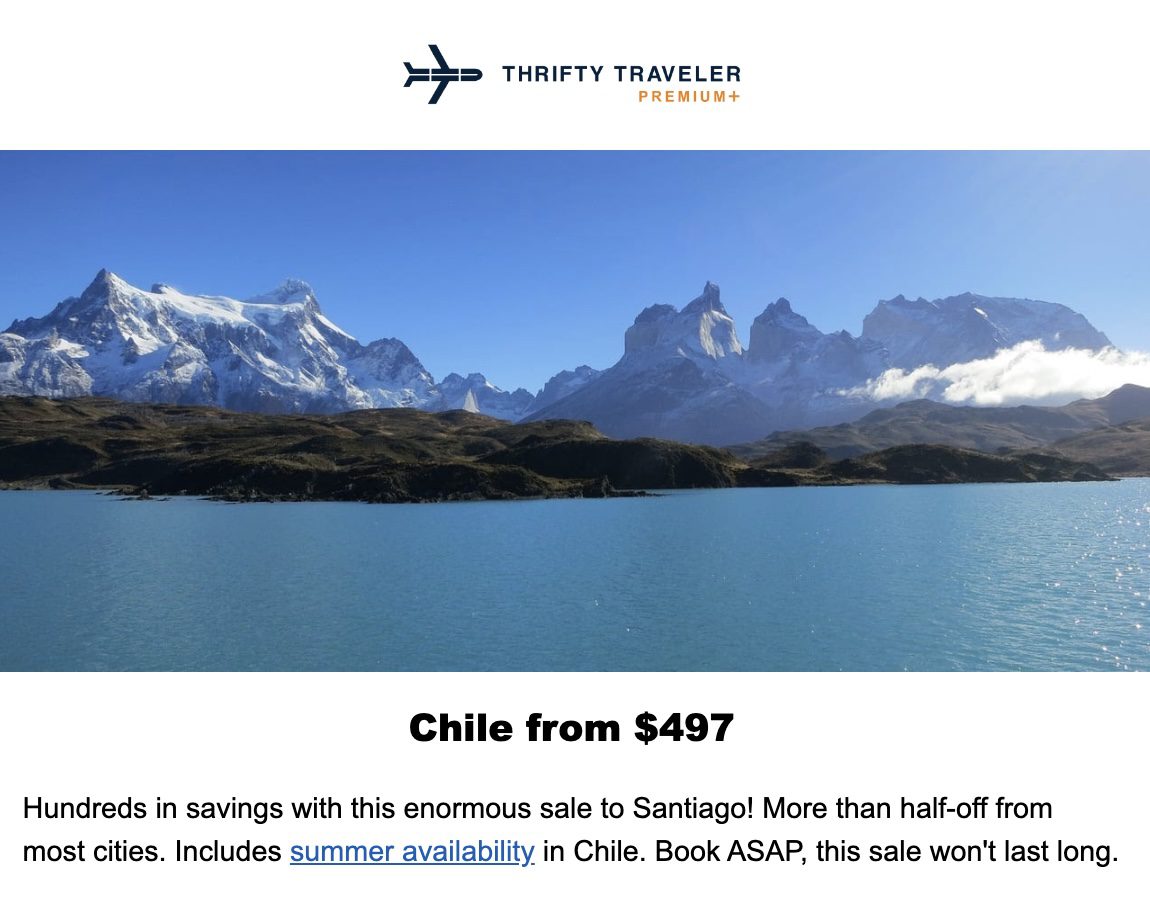 And while we're in South America, let's look at this amazing flight deal alert to get Thrifty Traveler Premium members to some of the best destinations in South America. From the energetic and vibrant Cartagena (CTG) in Colombia to the Galápagos Islands gateway of Quito (UIO) and everything in between, this deal set our subscribers down to South America for a fraction of the normal price.
 
But let's flip the globe and dig into some flight deals to some of the best destinations on the Pacific Ocean. Australia and New Zealand are coveted by travelers but tough to get to on the cheap. How about a trip to Australia or New Zealand … with a stopover in Fiji?
This is actually possible and is way easier to book than you may think. No games here: Just an amazing flight deal with the best multi-day layover of all time on the island of Fiji.
 
If a remote Pacific island intrigues you, you've probably also heard of Tahiti. Well, the executives at Delta Air Lines also learned about Tahiti, and launched a brand new nonstop route there this past winter. The end result? These sweet, sweet sub-$500 roundtrip fares to paradise for earlier this winter.
 
With a Thrifty Traveler Premium membership, your bucket list doesn't stand a chance.
Business (& First!) Class Deals on Points, Too
If you have some points and miles to burn, we've got you covered if flying business class is your goal.
Thrifty Traveler Premium+ is the only flight deal service on the market that finds and sends members both cheap cash fares as well as award alerts to use your points and miles. That includes a recent alert that is taking our members … literally all over the world in 2024.
 
This deal is long gone! Get the next award alert use your miles with Thrifty Traveler Premium+ – save 50% with promo code BIRTHDAY
This was unprecedented, helping travelers use their points and miles to fly United Polaris business class to almost any corner of the globe in March 2024. And that was just the latest example of business class award availability we've highlighted for our members.
Booking ANA first class with points is the ultimate unicorn fare – a "drop everything and book it ASAP" kind of deal. A few months back, we sent this alert to Thrifty Traveler Premium+ to lock in a once-in-a-lifetime trip to Tokyo this summer or fall for just 55,000 points each way.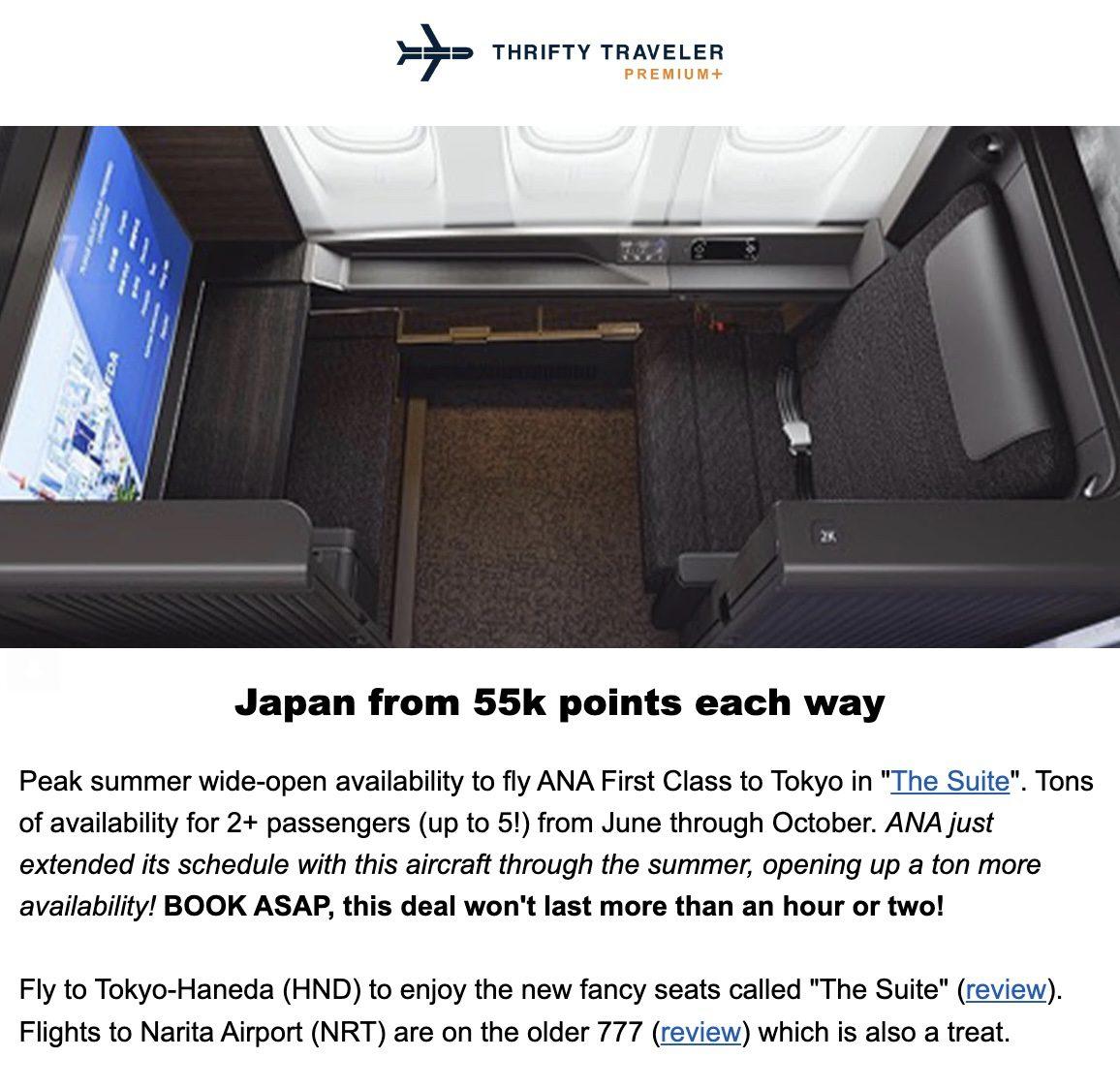 From the best deal in the world of points and miles to Japan Airlines business class availability, we've sent members plenty of options to get to Japan this year or next. Getting to Australia in business class, though, is no sure thing.
Luckily, this award space popped up for Qantas business class on its route from Dallas-Fort Worth (DFW) to Sydney (SYD) for 2023 travel. Naturally, we sent it out to our members the second we saw it. Just 55,000 miles and $50 is all it would take you to live this life of luxury on a 17-hour flight down under.
 
And finally, there's the best business class seat in the whole world: Qatar Airways Qsuites. We're always searching for availability to book these suites with miles – and always finding it, like this recent deal that could get you to the Middle East, India, or the Maldives next year for just 70,000 miles each way.
 
All these seats got booked up fast! Get the next cheap flight (or award alert) with Thrifty Traveler Premium+ … and use promo code BIRTHDAY to save 50% on your first year!
How Thrifty Traveler Flight Deal Alerts Work
Interested in getting flight deal alerts like these? Now's the time. Here's how our Thrifty Traveler Premium (and Premium+) service works:
Sign up using promo code BIRTHDAY to save 50% on your first year
Pick which airports you want deals from (we cover more than 200 in the U.S. and Canada – including your home airport) and our flight deal experts will search for the best deals
When we find a great flight deal from the airports you've selected, we'll send it immediately to your inbox!
Book your flights directly with the airline for huge savings!
Here's what one of our flight deal alerts looks like:
 
We're not a travel agency, so you get to skip the middle man and book the flights you want yourself! We include booking instructions on each Premium deal so you can find your way to the low fare quickly and easily.
Whether it's an $87 flight to Phoenix, a nonstop flight to Europe for less than $350, or a low fare alert on lie-flat business class seats to a bucket list destination, Thrifty Traveler Premium+ members can get it all – including all the deals you see here, and more.
Bottom Line
The world is waiting for you, flight prices are dropping, and great deals to use your points are out there. We're ready to help you get back out there for less … with some of the best flight deals you can find.
Start getting deals like these and travel more for even less this year and next!
Enter promo code BIRTHDAY for 50% off your first year of flight deal alerts!