Scotland's forgotten ancient capital – BBC Travel
Adventure & Experience
 | 
City
Scotland's forgotten ancient capital
(Image credit: Iain Masterton/Alamy)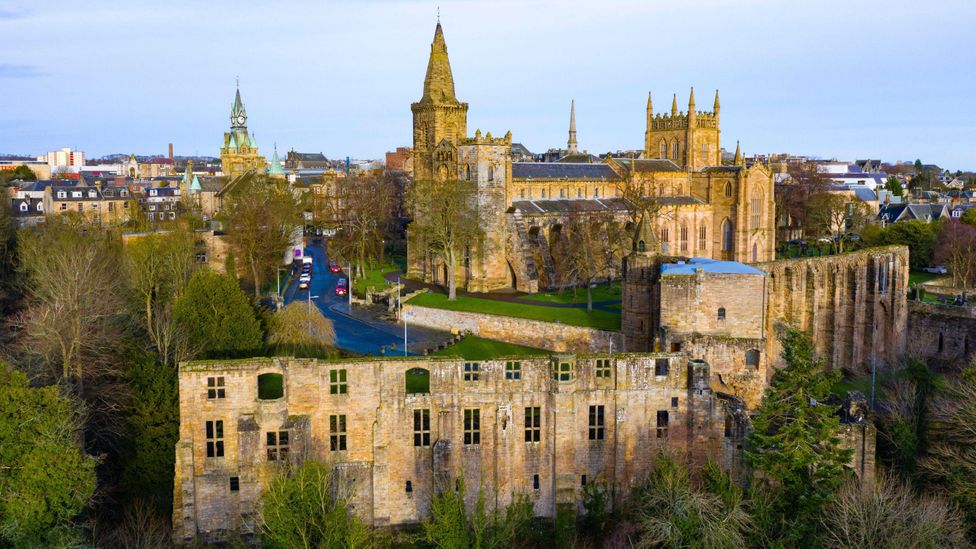 When the county of Fife's biggest town was awarded city status, it came as a major surprise to many. But Dunfermline has always been at the heart of Scotland's story.
W
When Dunfermline was crowned Scotland's newest city in May 2022 as part of the Queen's Platinum Jubilee celebrations, it surprised many people. But not Michelle McWilliams, who was part of the passionate bid for city status. "We've long been a city in waiting," she smiled, as we toured a new exhibition at an old Art Deco fire station now reinvented as arts hub Fire Station Creative.
"We were Europe's fastest-growing town. Now we're one of its most creative and historic small cities. And Dunfermline was, of course, the ancient capital of Scotland."
Like many Scots, I've been guilty of underrating Dunfermline. Although I've been to more than 100 countries as a travel writer, I'd never dived deep into the county of Fife's new (and only) city, despite it shimmering just across the Firth of Forth estuary from my home in Edinburgh's western suburbs. But the buzz of the city status rippling through the streets finally provided the impetus to explore this ancient town of cobbles and spires that was once home to kings and queens.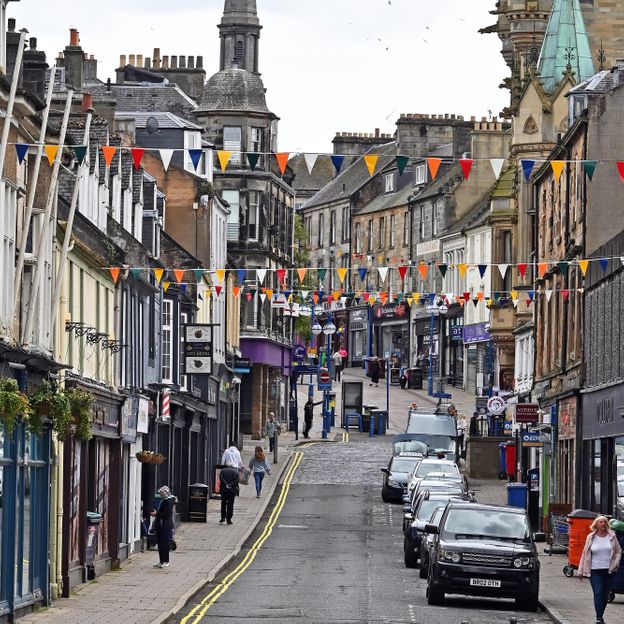 Dunfermline celebrated in May 2022 when it was named Scotland's eighth city (Credit: Ken Jack/Getty Images)
There were murmurings of life in Dunfermline as far back as Neolithic times, but its story only really began with the marriage in 1069 of Scottish King Malcom III and Queen Margaret, a monarch canonised after her death in 1093 for her devotion both to religion and the development of Dunfermline. While the king built a castle stronghold on strategic high ground, whose ruins you can explore in Pittencrieff Park, Queen Margaret focused on all things ecclesiastical with her priory and a "Queensferry" across the Forth to transport devotees away from Edinburgh to Dunfermline, putting Dunfermline on the map for the first time.
The UK's newest cities
About 40 locations around the UK applied for city status and were evaluated on their royal associations and cultural heritage, as well as the uniqueness of their communities and distinct local identity. After judging by a panel of experts and Cabinet Office ministers, a recommendation was then put to the Queen.
The eight successful cities include Bangor in Northern Ireland, Milton Keynes in England and Wrexham in Wales. See the full list here.
Their union heralded a royal lineage in Dunfermline that lasted until 1603, when the Stuart dynasty – who by then reigned over England, too – shipped their court to London. For those six centuries, Scotland's ancient capital was at the centre of Scottish history, leaving a tangible legacy that visitors can walk through today.
I immediately got a sense of Dunfermline's illustrious history in its historical core: a Harry Potter-esque world of vaulting towers, cobblestones and graveyards that's just as romantic as Edinburgh but with far fewer tourists. It was here that Queen Margaret first founded her modest priory, around which mushroomed a church and an ever more lavish Royal Palace, whose facade lies at the heart of Dunfermline.
Soaring above the priory ruins is Dunfermline Abbey, where a swathe of Scottish monarchs are buried. The abbey is a story of two architectural halves welded together: the oldest part, the Romanesque Abbey Nave, has roots in the 12th Century; while the 19th-Century New Abbey Church next door is revered by Scots as the grand tomb of Robert the Bruce, the king whose victory led to Scottish independence in the Battle of Bannockburn in 1314. Originally buried in the nave, Bruce's tomb became the centrepiece of the new church, built in 1818.
"There is no understating the [historical] importance of Dunfermline as Scotland's ancient capital," said church custodian Willie Donaldson, as I admired the striking brass floor tomb. "Not only Bruce and Queen Margaret, but Charles I was born here, the last Scottish-born monarch of Britain, and in our graveyard is the last resting place of William 'Braveheart' Wallace's mother."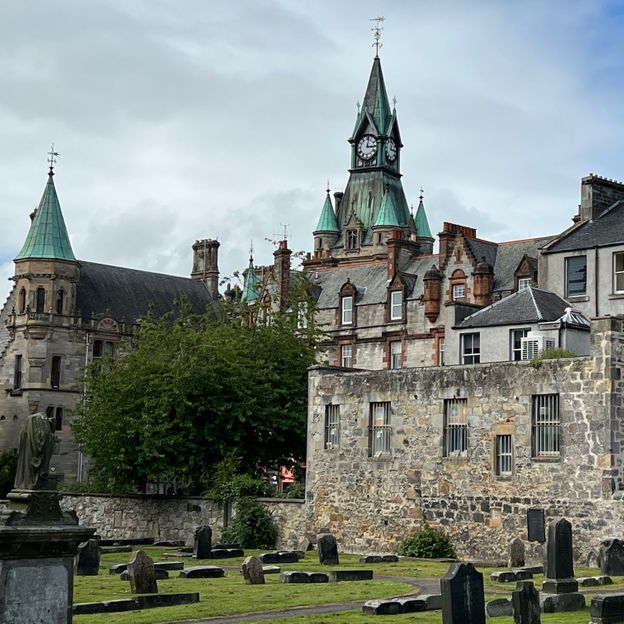 The city's historical centre is a Harry Potter-esque world of vaulting towers, cobblestones and graveyards (Credit: Robin McKelvie)
Meanwhile, Queen Margaret's relics lie in newly renovated Church of St Margaret, just a short walk away. "People from all over the world have made pilgrimages to pay homage to Queen Margaret for centuries, said sacristan Tom Condy, as he showed me a fragment of her shoulder bone. "They make the pilgrimage today to see our relic. Dunfermline may be a city now, but to pilgrims it has always been a deeply special place of pilgrimage."
You'd be forgiven for thinking that Queen Margaret is the most famous figure in Dunfermline's story, but she has competition. Downhill from the church lies a simple weaver's cottage where Scottish-American industrialist and globally famed philanthropist Andrew Carnegie came into the world in 1835.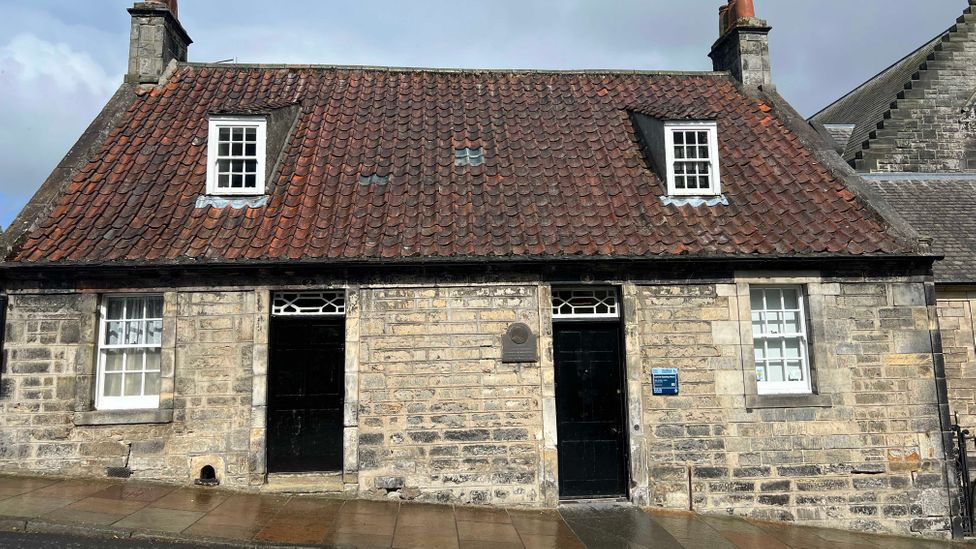 Scottish-American industrialist Andrew Carnegie was born in a simple weaver's cottage in Dunfermline in 1835 (Credit: Robin McKelvie)
Dunfermline wouldn't have its Carnegie Library without him, either, the first of more than 2,500 Carnegie Libraries around the world, which was brilliantly reinvented in 2017 to house a civic museum and galleries that showcase Dunfermline's fortitude. Downstairs, the public library is woven around the old sandstone building, while an ultra-modern riot of oak, glass and (in a tribute to Carnegie) steel, houses the museum and galleries, its floor-to-ceiling windows peering out over Dunfermline Abbey. Visitors can learn how the city survived 1624's devastating Great Fire and cholera epidemics, as well as hard times in the 1980s after economic deprivation hit as the old textile mills declined.
Just to the west of the historical core unfurls Carnegie's open-air legacy. Pittencrieff Park is a 76-acre bucolic oasis, known simply locally as "The Glen". As a child, Carnegie wasn't allowed to play in this private estate. So, in 1903, he bought the park and joyfully gifted it to Dunfermline so everyone could enjoy its walkways and gardens. As I walked under its giant redwoods and by its vibrant flowerbeds, I thought that of all his titles, "Laird of Pittencrieff" must have been one of the sweetest. Today, a giant statue of Carnegie presides over what was named Scotland's Best Park in 2019 by Fields in Trust, a British charity that encourages green spaces that bring benefits to communities.
Wandering the same streets that the philanthropist once walked, the pride of city status was palpable. At the Alhambra Theatre, which is marking its centenary this year, marketing manager Claire Fletcher stood by the revamped Art Deco bar and said to me, "City status is the icing on the cake. We're noticing more tourists coming and I've heard that many passengers from the cruise ships in the Forth now come here instead of Edinburgh in search of Scotland's newest city."
Louise Hutchison, operations manager at the Abbot House, a grand dame from the 1580s that was one of the few buildings to survive the Great Fire, agreed: "Dunfermline should have been a city a long time ago with our sense of community, amazing culture, arts, music and heritage," she said.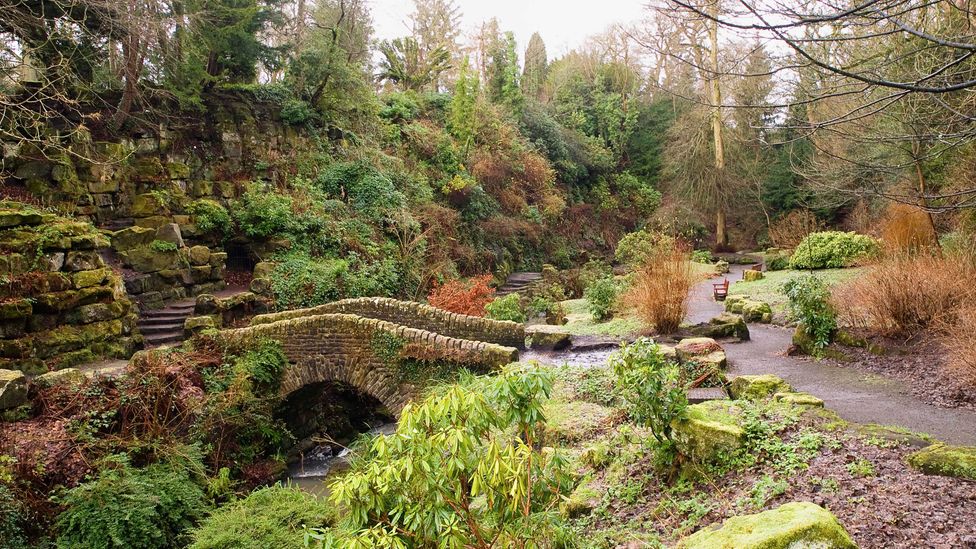 In 1903, Carnegie bought Pittencrieff Park and donated it to the town for everyone to enjoy (Credit: Ramonespelt/Getty Images)
This creative streak is celebrated with the annual Outwith Festival, which kicked off in 2017. The name ("outwith" is a Scottish English word that's equivalent to "outside") harks back to the first-ever Edinburgh Festival (the world's largest arts festival) in 1947, when an event across the water in Dunfermline Abbey was dubbed part of "The Fringe" along with half a dozen events outside the main festival. While the Fringe has since grown to become the biggest part of the Edinburgh Festival, the Outwith Festival celebrates that sense of culture "outwith" Edinburgh. It is very Dunfermline – the seven creative venues work closely together, all within walking distance of each other – and is also symbolic of the differences between the two cities, with Dunfermline's Outwith Festival on a relaxed, smaller scale.
I left Dunfermline tackling a stretch of the Fife Pilgrim Way, a long-distance walking route opened in 2019 that follows the route pilgrims once used to travel between Dunfermline Abbey and the fellow religious hub of St Andrews, long a highlight on Scotland's tourist map. The city that swirled around me may only be emerging on that map, but Dunfermline is at a thrilling tuning point in its story. No longer merely a historical relic, the new city is emerging as a creative hub well worth the trip across the Forth – a fact pilgrims have known for centuries.
—
Join more than three million BBC Travel fans by liking us on Facebook, or follow us on Twitter and Instagram.
If you liked this story, sign up for the weekly bbc.com features newsletter called "The Essential List". A handpicked selection of stories from BBC Future, Culture, Worklife and Travel, delivered to your inbox every Friday.