Rail biking picks up steam as new way to explore scenic railways | Travel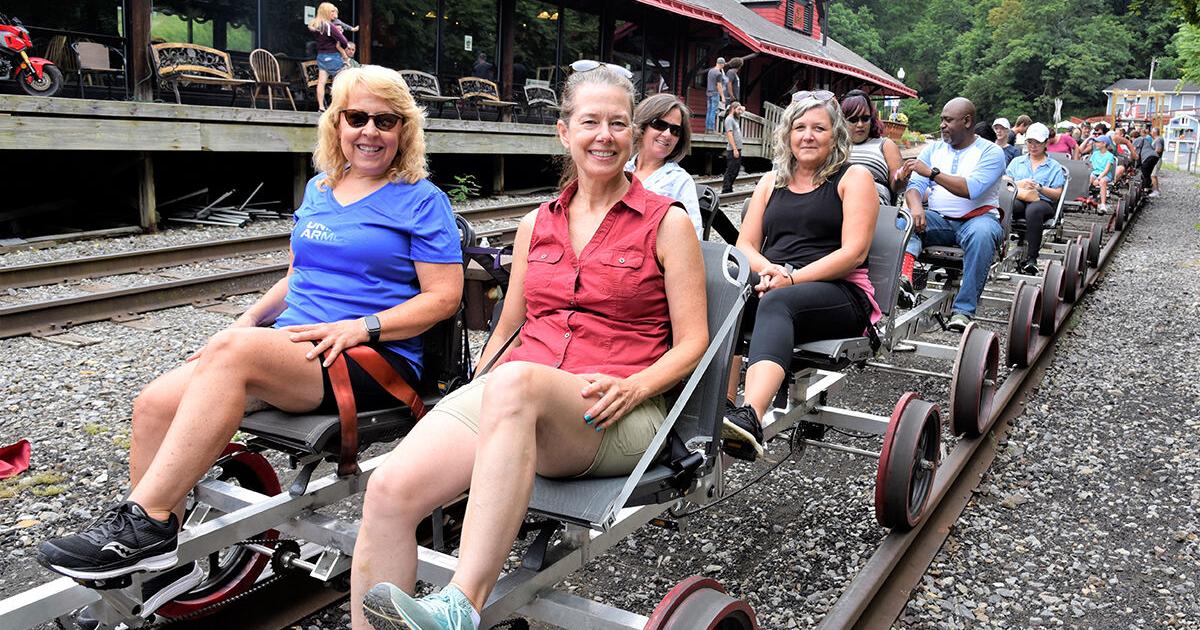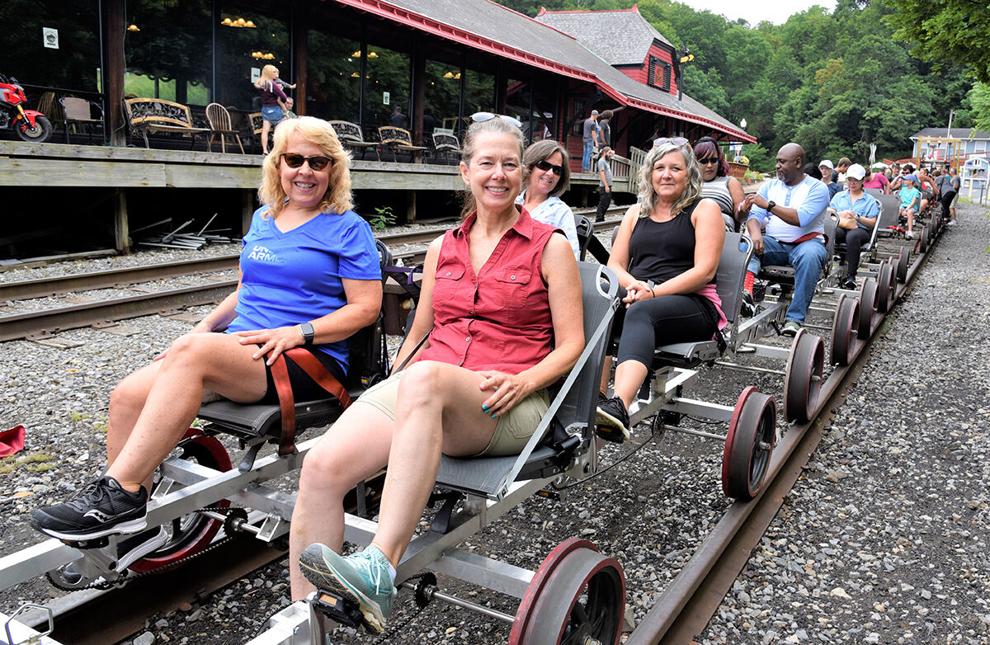 The steel wheels clickety-clacked over the 175-year-old railroad joints and groaned in protest when brakes were applied on the curves. The rhythmic movements lulled the riders as they traveled through wooded glens and past handsome 19th-century farms.
At each of three road crossings, safety crews with orange flags halted traffic and waved the "train" through.
But some of the stopped motorists were likely startled by what they saw. There was no vintage excursion train huffing and puffing past them, but about 30 people pedaling open-air wheeled platforms dubbed rail bikes.
Rail biking is a new outdoor pastime springing up across the country, and it's pulled into the station in Western Maryland. Rail biking trips have also opened in the last two years in Pennsylvania, New York and West Virginia, either on abandoned rail lines or sharing space on heritage train excursion tracks.
About to begin its third year in business, Frostburg-based Tracks and Yaks offers Maryland's first rail biking excursion. It provides 10– and 15-mile one-way rides, part pedaling and part coasting, through the Allegheny Mountains between Frostburg and Cumberland. Frostburg is a historic mining and stagecoach town on the National Road (now Alternate US 40). Cumberland, situated along the North Branch of the Potomac River, was once a bustling center for the country's westward migration, as well as the western terminus of the C&O Canal.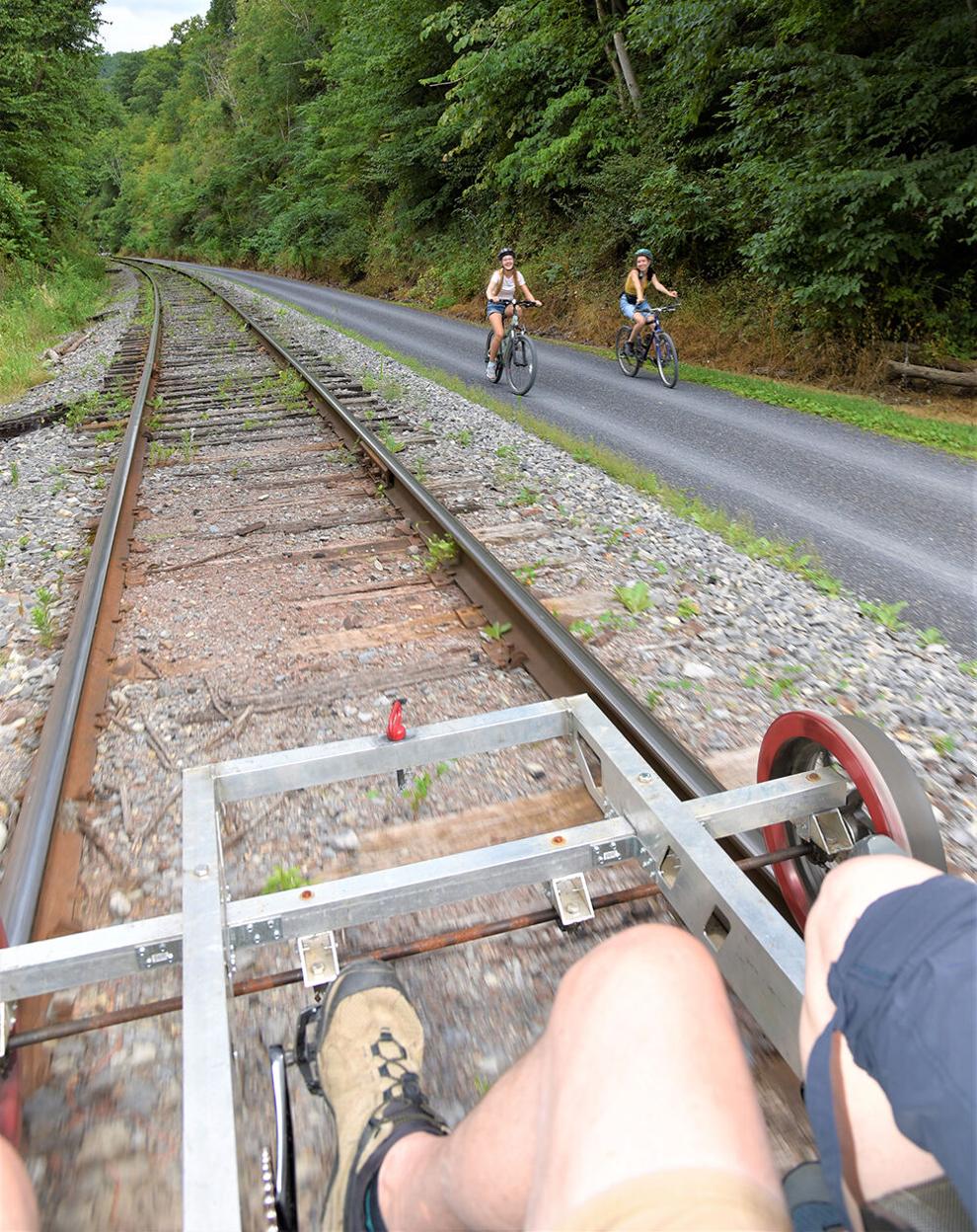 Rail bike riders share the tracks — in carefully coordinated intervals — with the Western Maryland Scenic Railroad, whose vintage engines and passenger car excursions have been a popular tourist attraction since 1989.
Have you ever seen old jumpy silent movies showing two guys pumping frantically on a railroad hand car? That's not rail biking. Nor is it a bicycle with outrigged wheels to fit the tracks. It's more like an exposed automobile chassis — a sturdy rectangular aluminum frame with two axles and four steel railcar wheels. Bolted on top of the frame are metal and plastic seats (two on the "tandem" model, four on the "quad"), each perched over its own set of pedals.
At least that's the design conjured up by Tracks and Yaks owner Adam Forshee, a former home-improvement contractor who collaborated with local fabricators and machine shops to build the rail bikes. The pedal assemblies were cannibalized from bicycles; the brakes came from motorcycles.
In 2021, after Forshee and his wife scraped together their assets to build the bikes, he took the idea to the Allegany County Board of Commissioners, which agreed to lease him space on the rail line.
"I just wanted to do something where people had fun and a good time and had no complaints," he said.
While rail biking, you don't have to worry about steering or balancing. Your hands are free, and you can rubberneck all you want, admiring the views on all sides.
You generally ride at your own pace unless you encounter a slower rail bike along the way — there's no passing! Just don't lollygag to the point that you hold up those pedaling behind you.
On a moody Saturday afternoon last July, about 30 of us gathered outside the old commodious Frostburg rail station to get our riding orders. We climbed aboard our rail bikes as soon as a belching Baldwin locomotive pulled the excursion train away.
Most of us were first timers. Like me, they had recently heard of rail biking but weren't quite sure what to expect.
"You'll have to brake more than pedal on the first half of the trip," tour guide Zach Gohn told the mix of couples and families. Indeed, the first leg of Big Savage Mountain has a hefty 3% grade. Translation: For every 100 feet we coasted, we dropped 3.5 feet in elevation.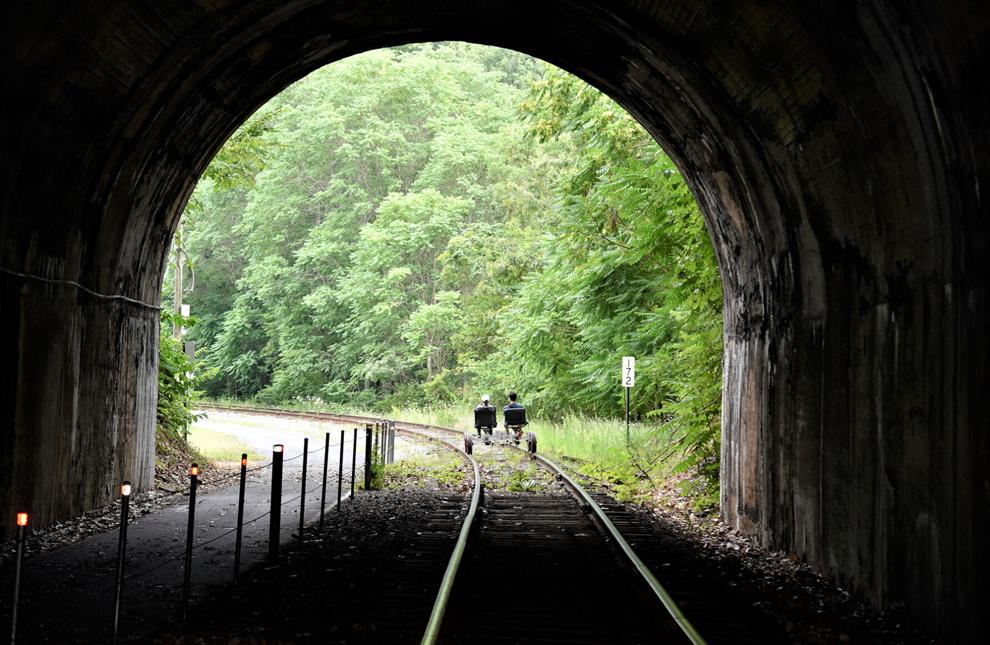 Several families attached their bikes to each other to pedal as one unit. A staffer in a rail bike went first to prepare for the trio of road crossings.
Bringing up the rear in a small "speeder car," powered by a lawnmower engine, was another staffer to make sure we didn't spread out too far.
Our route was on the former Cumberland and Pennsylvania Railroad, which began operating in 1850 to haul not only coal but also locally manufactured rails and locomotives.
Beside us for much of the journey were bicyclists and hikers on the Great Allegheny Passage, a 150-mile hiking/biking rail trail that goes from Cumberland to Pittsburgh and parallels the Maryland and Pennsylvania state line here on its eastern end.
Most of the rail-biking route is forested on each side. In openings, you can see across a valley and parallel mountains. To the north, across the Mason-Dixon Line and into Pennsylvania, the bony fingers of wind turbines crest a mountain ridge. On this hot day, the descent generated a noticeable and welcome breeze on our faces.
Our one rest stop on the 90-minute trip was at a high-mountain clearing. (Riders aren't allowed to get off their bikes elsewhere along the route because of risk of injury, including bites from timber rattlesnakes.)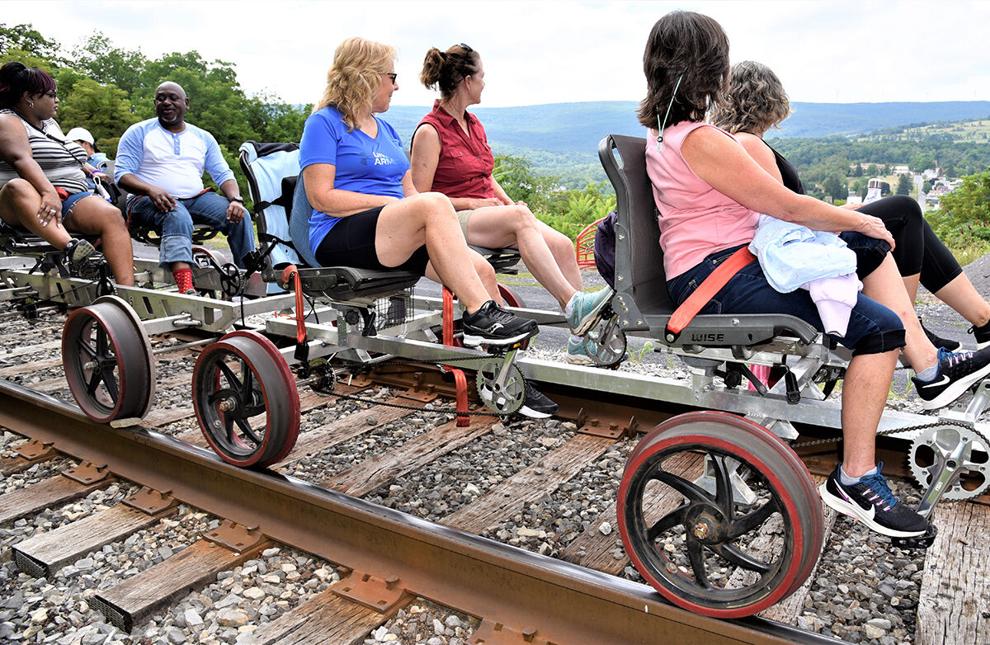 On a hillside across the valley from the clearing, we could see steep rows of homes. They are what remain of Mount Savage, which in the mid-1850s was Maryland's fifth-largest city. It now ranks 367, but in 1844, the town's heyday, it had the largest iron works in the country. Its twin furnaces, rolling mill and refineries churned out railroad locomotives and produced the first iron rails in the Western Hemisphere.
Brick refractories there also produced the world-famous, heat-resistant and easily cleaned enameled bricks that line New York's subways and the Lincoln Tunnel, as well as the Baltimore Harbor Tunnel.
Overlooking the town is an imposing stone mansion known as the Castle, built in the 1840s and later modified by a wealthy Scottish brickworks owner to resemble a castle he'd known back home, including a 16-foot-high wall. Now a bed and breakfast, it is best known for its ghosts and visits from paranormal investigators.
Back on our rail bikes, we followed a spur of the Western Maryland Railway. This section was built around 1911 to tap into rich coalfields in nearby West Virginia and add passenger service to the mountain towns.
Even though there were three road crossings and a few homes within sight, we remarkably did not hear even distant traffic sounds on our journey through the mountains.
The next highlight was passing through Brush Tunnel or, as guide Gohn introduced it, "40 seconds of free air conditioning." For 911 feet, the darkness offered an abrupt but welcome change of scenery — and temperature.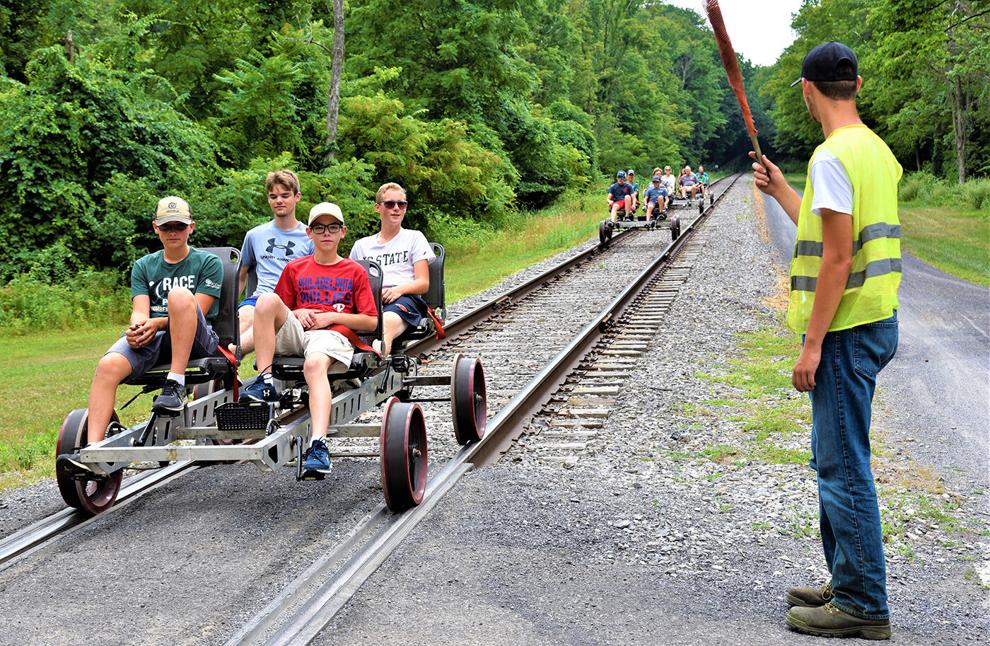 Finally nearing the end of our descent off the mountain, we swung around Helmstetter's Curve, a sharp (by railroad standards) horseshoe turn that encircles a handsome farm, owned by the same family for generations.
At the end of the line, we disembarked to ride a shuttle bus back to Frostburg. The uphill haul included its own landmarks, like a well-known maple syrup operation and a drive through Mount Savage.
"It was a lot of fun. I'd never done anything like it," said one woman of her maiden rail-biking experience.
Vincent Cavagnaro, 10, and his 12-year-old sister, Magnolia, from Bethel Park, PA, agreed that riding the rail bikes fast was the highlight. "It was kind of just like a roller coaster, and I like roller coasters," Vincent said.
Amy Seiff of Pasadena, MD, had included the excursion on a weekend exploration of Western Maryland. "It's a great outdoors activity, but you can be a novice," she said.