New York on the cheap: Strategies I used on a $252 2-night trip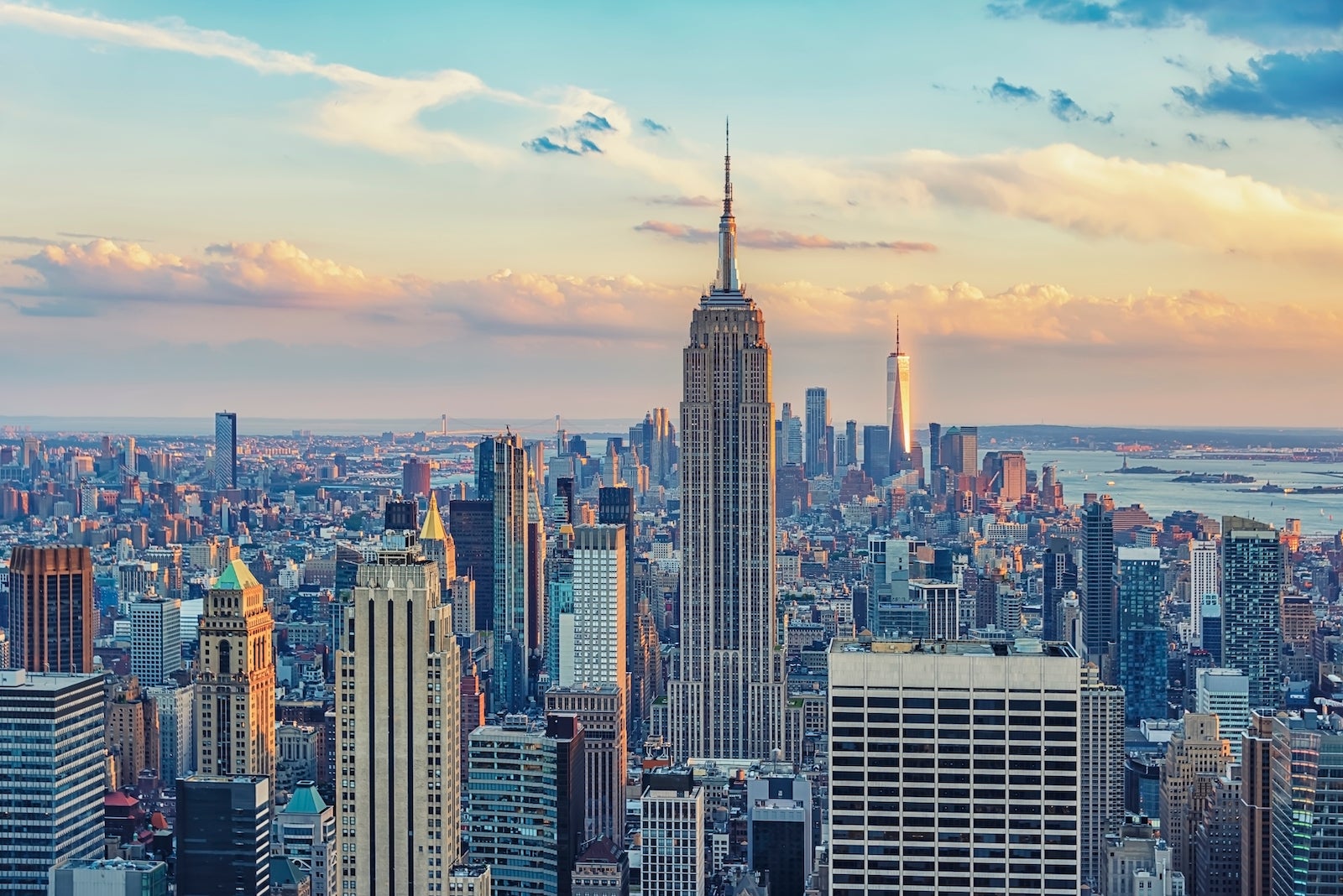 I pass through New York City relatively frequently, since it's one of American Airlines' hubs and home to TPG's main office. But it can be expensive to visit.
Over the years, my husband and I have used various techniques to decrease costs when visiting expensive destinations like New York City. So, booking flights for two from Atlanta to New York for a net cost of $48 and snagging two nights at a Fairfield Inn & Suites near Times Square for a net cost of $174 didn't seem particularly noteworthy.
But then I remembered how excited TPG's Scott Mayerowitz was to get a Marriott elite night in New York City for a net cost of $97. And several other TPG staffers were surprised by how little I spent on my two-night trip. So, here's a look at my recent trip, plus some tips you can use to visit typically expensive cities for less.
Related: 9 things people misunderstand about traveling on a budget
My trip to New York
First things first: My husband and I travel full time as digital nomads. So, if you're wondering why I mentioned just one domestic flight above, it's because our recent trip to New York City wasn't a simple round trip. Instead, we had a few days in the U.S. between two international trips.
We landed in Atlanta on the afternoon of Feb. 1 and were set to depart New York on the evening of Feb. 3. We could have spent time in either city between these trips, but I decided it would be a good time to visit New York.
In September 2022, we booked an $88.98 Southwest flight from Atlanta to New York for the evening of Feb. 1. The price dropped several times, finally hitting a low of $44.98. Since I earned a promotional Southwest Companion Pass last fall after just two flights, my husband could join me on my flight for just $5.60 in taxes and fees.
I initially booked a two-night stay for $270.93. But in November 2022, I changed my stay to the Fairfield Inn & Suites New York Manhattan/Times Square after finding I could book it for $252.58 during one of my periodic checks for lower hotel prices.
I clicked through the AAdvantage shopping portal before booking to earn 2 miles per dollar. And I found a Chase Offer for 10% back at Marriott hotels on my Ink Business Preferred Credit Card shortly before my stay. This offer let me save $25.26, bringing the cost of my two-night stay to $227.32.
Sign up for our daily newsletter
Once at LaGuardia Airport, we took the free Q70 bus and a $2.75 subway to the hotel. While in the city, we got around by walking and using the subway (at the same $2.75 per trip). Then, when it was time to leave, we took the subway and AirTrain to John F. Kennedy International Airport for $10.75 each.
Related: 8 tips and tricks for finding a great travel deal
Here's a summary of our flight, hotel and transit costs and the rewards we earned:
Two-night hotel stay: $227.32 cost but we earned 505 Chase Ultimate Rewards points (using my

Chase Sapphire Preferred Card

), 4,245 Marriott points (as a Titanium Elite member) and 428 American Airlines miles (from the AAdvantage shopping portal) for a net cost of $174 based on TPG's valuations.
One-way flight for two from Atlanta to New York: $50.58 cost ($5 on the

Ink Business Preferred Credit Card

plus $45.58 of Southwest travel funds) but we earned 15 Ultimate Rewards points and 168 Southwest points for a net cost of $48.
Transit for two: $32.50 cost for each of us to take three trips and one AirTrain ride, but we earned 97 Ultimate Rewards points by reloading our MetroCards with the Ink Business Preferred for a net cost of $30.
In total, we paid $310.40 for our flights, hotel and transit. But we earned 4,245 Marriott points, 617 Ultimate Rewards points, 428 American Airlines miles and 168 Southwest points on these purchases, reducing our net cost to $252.
Of course, we also needed to pay for meals. But we reduced our meal costs by staying at a hotel that provides breakfast for all guests.
Related: 3 ways to experience New York City, whether you're on a budget or have money to burn
Money-saving tips
In the previous section, I mentioned some money-saving strategies I used during my recent trip to New York City. But here's a closer look at these strategies and other tips you might want to leverage on an upcoming trip.
Book early and check often
One of the best ways to save money on flights and hotels is to make fully refundable reservations as soon as you decide you want to go on a trip.
You can cancel these reservations if you decide not to go on the trip or find lower rates. I recommend checking all your hotel, flight and car rental reservations periodically for price drops. If you find a price drop, you can rebook your car rental, hotel stay or flight to benefit from the lower rate.
Related: How rebooking hotel stays can help you save on award nights
Stack your earnings
If you book a paid night, flight or activity, you can earn rewards in multiple ways. For example, I earned rewards three ways on my Marriott stay:
And if I'd wanted to book activities in New York, I would have booked through Viator. After all, I can stack SimplyMiles, AAdvantage shopping portal, Citi Merchant Offers and credit card earnings when booking activities through Viator.
Related: How I'm earning rewards 5 different ways on a Hotels.com booking
Utilize loyalty programs with award charts or other perks
When paid hotel rates are high, you can often come out ahead by utilizing programs such as World of Hyatt, Wyndham Rewards and Choice Privileges. All three programs have published award charts or rates, so you won't see the award rates increase when prices are high.
Based on the World of Hyatt award chart, you can book the Category 4 Hyatt Place Long Island City / New York City for between 12,000 and 18,000 points per night. Or, if you don't mind taking a New Jersey transit bus into the city, the Category 2 Hyatt Place Secaucus/Meadowlands might be worth considering for 6,500 to 9,500 points per night. Remember that you can transfer Chase Ultimate Rewards and Bilt Rewards points to World of Hyatt at a 1:1 ratio.
Choice Privileges has properties in Manhattan that currently price as low as 16,000 points per night. Even if you want to stay at the Cambria Hotel New York – Chelsea, you'll redeem no more than 30,000 points per night.
Additionally, perks like the Southwest Companion Pass and a fourth or fifth night free when redeeming points with Hilton Honors, IHG One Rewards or Marriott Bonvoy can help you save points or money.
Related: Which hotel has the best free breakfast? TPG ate 10 meals to find the winner
Walk or use public transportation
1 of 2
New York City subway. KATIE GENTER/THE POINTS GUY
An Uber from New York City airports to some parts of the city can cost over $100, especially during peak times. Although I usually check Uber rates, I often find myself taking public transport from the airport.
None of the airports are on subway lines, though. So you'll need to deal with taking a bus to the subway if you land at LaGuardia Airport. And you'll need to take the AirTrain from John F. Kennedy International Airport and Newark Liberty International Airport before switching to a train or subway. Even so, the cost savings of public transit can make the inconvenience worthwhile.
1 of 2
AirTrain to John F. Kennedy International Airport. KATIE GENTER/THE POINTS GUY
I often forgo the subway and walk within Manhattan if my destination is within a 40-minute walk or so and the weather is good. With the subway costing just $2.75 per trip, using it is also a budget-friendly option.
That said, you might find modestly priced taxis and ride-hailing services — especially if you're traveling outside the U.S. For example, my husband and I recently paid about $5 for several 30-minute Grab rides in Malaysia. So, don't automatically assume that a taxi or ride-hailing service will exceed your budget.
Related: Book this, not that: New York City hotels edition
Leverage restaurant loyalty programs
1 of 3
A meal at Ichiran New York. KATIE GENTER/THE POINTS GUY
It can be fun to splurge on food and drink while traveling. For example, I go to Ichiran almost every time I'm in New York City because I fell in love with the brand's ramen while in Japan in 2017.
Luckily, Ichiran has a loyalty program for its U.S. locations. And my husband and I have learned to maximize the program to each get a free half kaedama (noodle refill) every time we visit by paying for our meals separately and maintaining our own loyalty accounts.
I don't recommend eating at chain restaurants for most meals while traveling. If you're looking for something quick, you might be able to use one of your favorite restaurant loyalty programs to save some money. You can get better value from programs with fixed rewards (such as 60 points for a free medium two-topping pizza) if you redeem in a city with higher prices than at home.
Related: 5 reasons why you may be happier booking a budget hotel
Eat like a local
You can also save money by eating as the residents of a destination do. For example, in Majuro, Marshall Islands, we tried local restaurants for most meals and enjoyed fresh tuna for about a fourth of what we paid for one meal at our hotel.
And in New York City, you can save money by eating at bodegas, ordering simple food from a delivery app — especially if you have food delivery credits — or grabbing a quick slice of pizza or kebab from a stand.
Related: 21 pro budget travel tips expert travelers use all the time
Maximize the perks you have
If you're staying at a hotel that offers complimentary breakfast for all guests, you can save some money by getting a coffee and some food before leaving the hotel for the day.
If you have elite status, you may get some extra perks. For example, we only considered Hyatt and Marriott properties for this stay since my elite status with both programs provides guaranteed 4 p.m. late checkout (which was very useful before our evening flight).
Likewise, you may get benefits through your credit cards. For example, you could visit the Capital One Cafe at 59th Street and Lexington Avenue in New York City to enjoy free Wi-Fi, power outlets and 50% off handcrafted beverages when you pay with a Capital One card. And eligible American Express cardholders could visit the Centurion Lounge before departing from LaGuardia Airport's Terminal B or John F. Kennedy International Airport's Terminal 4.
Related: 9 budget strategies for getting the most out of your points and miles
Visit during less-expensive seasons
1 of 4
Fairfield Inn & Suites by Marriott New York Manhattan/Times Square in New York City. KATIE GENTER/THE POINTS GUY
Finally, hotel rates in many popular destinations vary drastically by season.
For example, the Fairfield Inn & Suites New York Manhattan/Times Square that I booked for $126 per night jumps as high as $677 per night in the fall. And the Hilton Niseko Village that I enjoyed during a Japan ski trip this winter offers rates between $146 and $829 throughout ski season.
So, if you have flexibility when visiting a destination, it's worth considering whether you can still see and do what you want to do during a less-expensive season.
Related: How to travel to New York City on points and miles
Bottom line
Regardless of where you want to go, there are ways to decrease travel costs. Whether you redeem points and miles or stack your earnings and discounts on paid travel, it's usually possible to get a good deal if you're flexible and persistent.
Not every trip to New York City is as reasonably priced as my trip this February. But, if you can choose when to visit and where to stay, you can usually find modestly priced hotels and flights.