Nashville Food Bucket List: Places to Go & Food You Need to Try
While Nashville has only hit the national culinary radar in the past decade or so, Music City has a long tradition of putting out some amazing food and inventing important dishes—like Nashville chicken and the concept of the "meat & three." That's why any list of "can't miss" dining experiences in Nashville has to include some of the latest and greatest developments alongside the creators and culinary pros who have been feeding the city for a long time. Here are the must-hit options to fill your bucket list and your belly.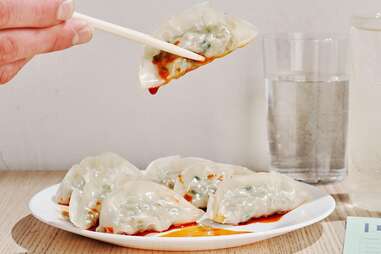 12 South
A warning right off the bat, this is an experience you're gonna have to work for. Since being named the 2022 Best Restaurant in America by Food & Wine magazine, reservations are snatched up quickly for weeks in advance as soon as they open. But it's definitely worth the effort to experience Noma-trained chef Trevor Moran's meticulous cuisine. The menu is short, never more than 10 items or so, but every dish is worth consideration. From beef tartare (with an "add too much caviar" option) to an unbelievable take on shrimp toast to the Platonic ideal of pork dumplings, Locust is truly a special, special dining experience. They turn the tables quickly to get more people through the door, so order everything and eat fast! You wouldn't want to miss out on the amazing kakigori (Japanese shaved ice) by running out of time.
Enjoy cuisine from highbrow to lowdown with chef Sean Brock
East Nashville and Midtown
When most Nashville restaurateurs were hunkering down during the first years of the pandemic, James Beard award-winning chef Sean Brock doubled down on his restaurant empire. Actually, he quadrupled down by opening four restaurants over two years, each with a unique character. Joyland is where he presents upscale versions of his favorite fast food items, like chicken-on-a-stick and a proper griddled Smashburger. The Continental is his homage to refined Gilded Age of mid-20th-century hotel dining at iconic venues like the Waldorf-Astoria and the St. Regis, so think prime rib carved from a rolling cart and pâte en croute. His two latest restaurants share a building in East Nashville, and both showcase elements of the cuisine of Brock's Appalachian roots. Audrey is the downstairs offering, more casual than the molecular-gastronomy driven June on the top floor, but both offer top-notch chefs, scrupulously sourced regional and seasonal ingredients and meticulous plating. The experiences are different, but both exceptional.
Salemtown
Nashville is filled with great breakfast spots, but the residential neighborhood of Salemtown north of Germantown has never been one of the places you'd go looking for one. That is until Alfonso Hamilton opened his eponymous diner among the gentrifying homes. Serving a classic Southern breakfast plus lunch dishes like shrimp & grits, fried pork chops and meatloaf, Big Al adds a little of his soul to every dish. It's a melting pot of a restaurant, with lawyers in suits holding breakfast meetings at tables alongside workers in hardhats. In fact, when it gets crowded, those construction workers have been known to throw a sheet of plywood off their truck over a couple of sawhorses to create their own makeshift table. When you gotta get back to work but don't want to miss out on a great meal, you learn to improvise.
Pick your plate at an iconic "Meat & Three"
Various
While it's no longer unique to Nashville, the tradition of a "meat & three" meal where diners slide cafeteria trays down a serving line and choose their protein and three vegetable side dishes from a steam table filled with a cornucopia of delicious options originated here and still is an integral part of local lunches. Fortunately in Nashville, macaroni 'n' cheese, jello, and stewed raisins count as "vegetables" on these sorts of menus. In West Nashville, Wendell Smith's has been serving perfectly fried chicken, catfish, and pork chops alongside vegetables like gramma cooked for more than six decades. Swett's is another family-owned example of a classic meat & three that has been in operation since the middle of the past century. In addition to classic Southern and soul food fare, they feature a smokehouse that pumps out some fantastic ribs, pulled pork and brisket. Speaking of soul food, Silver Sands Cafe is still a secret to many because of their hidden location near the Nashville Farmers' Market, but if you know, you know. There's no better spot in town for chitterlings, pigs feet, oxtail, neck bones and hog maw—all the parts of a pig or a cow that you probably don't normally think of eating, but you definitely should.
Hillsboro Village
The proud possessor of Nashville's oldest beer license, Brown's Diner unashamedly embraces its dive bar status. Originally opened in a retired streetcar, even the smallish additional dining space maintains the appropriate dim dinginess which is the perfect setting to enjoy a longneck beer and a classic griddled cheeseburger. New ownership has spruced the space up a bit and built an expansive outdoor deck, but the vibe is still thankfully "shabby chic" at best. Music industry veterans populate the dark bar in the older streetcar section, and occasionally one of them will jump up on the tiny stage to try out a new composition. It's a true taste of authentic "Old Nashville" before country went corporate.
Rutledge Hill
This shrine to Southern cooking has survived, nay thrived, during executive chef changes through the years. Continued excellence stems from the restaurant's puritanical dedication to using seasonal regional ingredients, and they are especially talented at stretching out the seasons through preservation and pickling items for year-round use. The plate of seasonal vegetables is often overlooked on the menu, but the quartet of composed plates that arrive at the table aren't just a combination of side dishes.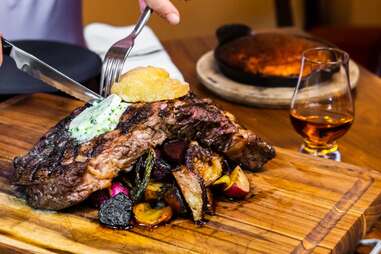 Gulch
Since moving across the street into bigger digs, The 404 Kitchen has taken full advantage of the additional space. The restaurant has expanded its menu to include even more hearty dishes that showcase premium proteins grilled, seared, fried or smoked, all under the expert hand of chef Matt Bolus. Veggies don't get the short shrift either, but it's the meat that best complements Nashville's best whiskey bar, Gertie's, on the ground floor of the restaurant.
Demonbreun/Music Row/Downtown/Brentwood
Most of the best Thai restaurants in town exude a grittier vibe, basically sparse dining rooms adjacent to multiple woks cooking over burners that sound like jet fighters. That's fine and all, but Thai Esane prefers to offer a more refined dining environment to enjoy their flavorful platters of traditional Thai. New locations in Brentwood and in the Assembly Food Hall downtown have made it easier for more people to discover this fantastic food. While you can get it as hot as you can handle, this isn't just stunt food. It's beautifully composed and thoughtfully seasoned food that raises Thai Esane to the top of the heap.
Midtown
Long the best spot in town for a power lunch between music industry executives, politicos, downtown workers or in-the-know tourists seeking a great meal before setting course toward the honky tonks, Midtown Cafe is one of those reliable restaurants who still recognize the importance of impeccable service in addition to quality ingredients. The menu exhibits continental influences along with dashes of California cuisine and Southern cookin', so there's something for everyone. Be sure to start with a bowl of the famous lemon-artichoke soup.
East Nashville
For a restaurant with the word "tacos" in its name, there certainly is a lot of buzz about the chicken tortilla soup at Mas Tacos. This East Nashville fixture does serve some remarkable tacos, especially the cast iron chicken with salsa verde and sour cream or the vegetarian quinoa and sweet potato taco topped with shredded cabbage. It can get a little cramped in the small dining space, but there's also a lovely outdoor option to enjoy your bounty of tacos and soup.
Be part of the renaissance of "The Buc"
North Nashville
Buchanan Street was once a center of the music and arts scene, but many of the buildings had fallen into disrepair over the years. A group of entrepreneurs have led a revitalization of the neighborhood, and this area north of two HBCUs Tennessee State University and Fisk is again drawing attention from drinkers and diners from other parts of town. Grab a pizza and a beer at Slim & Husky's Pizza Beeria, cajun food and cocktails at Willie B's Kitchen & Lounge or enjoy a drink and a cigar on the expansive patio at Minerva Avenue and you'll be a part of rewriting history.
Get spicy and saucy with some Nashville hot chicken
Various locations
The story of how Nashville hot chicken was originally invented by a spurned lover to punish a boyfriend with a wandering eye is oft told, and Thornton Prince's girlfriend probably didn't imagine how much he would love it or that she was creating the city's most iconic food. Prince's Hot Chicken Shack is still operating in the family and is definitely the most popular purveyor of piquant poultry. Now we're not talking about spicy like your average Buffalo wings; Nashville hot chicken is intended to be painful with its infernally dark crust brushed with cayenne-laden lard before serving. Most importantly, you can't have good hot chicken without starting out with great fried chicken, and you'll find the best at old school spots like Prince's, Bolton's Spicy Chicken & Fish, and Slow Burn. For a more convenient and familiar dining experience, newer restaurants like Hattie B's and Party Fowl have multiple locations that feel more like a restaurant than a "joint" or a "shack." Whether that's better or not is up to you.
Take an international culinary tour on Nolensville Road
Various locations
While it seems like Nashville's restaurant scene revolves around elevated Southern farm-to-table and hot chicken, the city also has a vibrant ethnic culinary community. You just have to go looking for it, and the best street to find it is along Nolensville Road, an extension of 4th Avenue that stretches from just outside of Downtown to, well, Nolensville. Populated with fantastic small restaurants, some of which are tucked into the back of international markets, a tour of Nolensville Road guarantees fascinating food. Nashville is home to the largest Kurdish community in the world outside of Kurdistan, and spots like Newroz Market offer Middle Eastern specialties such as shawarma, tabbouleh, flatbreads baked in a unique barrel-shaped oven and delightful unfamiliar pastries for dessert. Newcomer Osh is making waves with exotic Uzbek cuisine, and La Hacienda is a neighborhood stalwart serving regional Mexican favorites and the best huevos rancheros in town. Central America is represented by Pupuseria Reina La Bendición, a Salvadoran restaurant offering traditional pupusas, tortas and empanadas.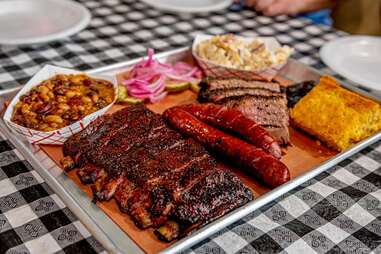 Smoke 'em if you got 'em at Music City's best barbecue joints
Various locations
While Memphis gets most of the barbecue attention in the state, Nashville features some legit smoked meats as well. Martin's Bar-B-Que Joint is one of the last practitioners of whole hog cookery in Tennessee, and each of their multiple locations has at least one smoker big enough for an entire pig. Peg Leg Porker specializes in West Tennessee-style dry rub pork ribs, and their racks rival any in the state. Don't sleep on Peg Leg's yardbird or pulled pork either. Edley's Bar-B-Que treats their smoked meats in novel ways, from the Tuck's Special, a decadent brisket sandwich topped with pimento cheese, red and white BBQ sauce, and an over-easy egg to their Friday special of Nashville hot barbecue pork prepared in the fashion of fiery fowl. Shotgun Willie's has earned the reputation for Nashville's best Texas-style beef brisket.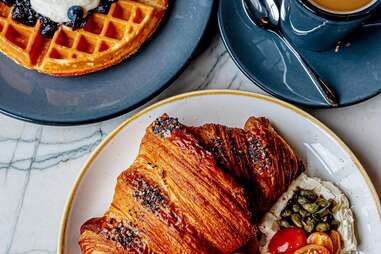 Eat like a tourist (but better) at these fantastic hotel restaurants
Various locations
Nashville is blessed with plenty of hotels at different price points to service the tourist trade, but many of those visitors immediately rush out the door into the fray of Lower Broad without realizing that some of the best restaurants in town are actually inside their hotel. Smart tourists or locals seeking a fine meal with great service should check out new spots like Drusie and Darr at the Hermitage,Carne Mare and The Dutch at the W or Yolan at The Joseph. Old reliables like Bourbon Steak at the JW Marriott, The Thompson's Marsh House or Gray & Dudley at 21C offer the best chance to actually dine where the tourists aren't.
Chris Chamberlain is a food, drink, and travel writer. If Nashville was the 
Love Boat
, he'd like to think he'd be Julie, your cruise director. In truth, he's probably more of a Gopher. Join him on the Lido Deck on Twitter @CeeElCee.