Must-Know Visiting New York City Travel Tips (Essential NYC Tips From a Local!)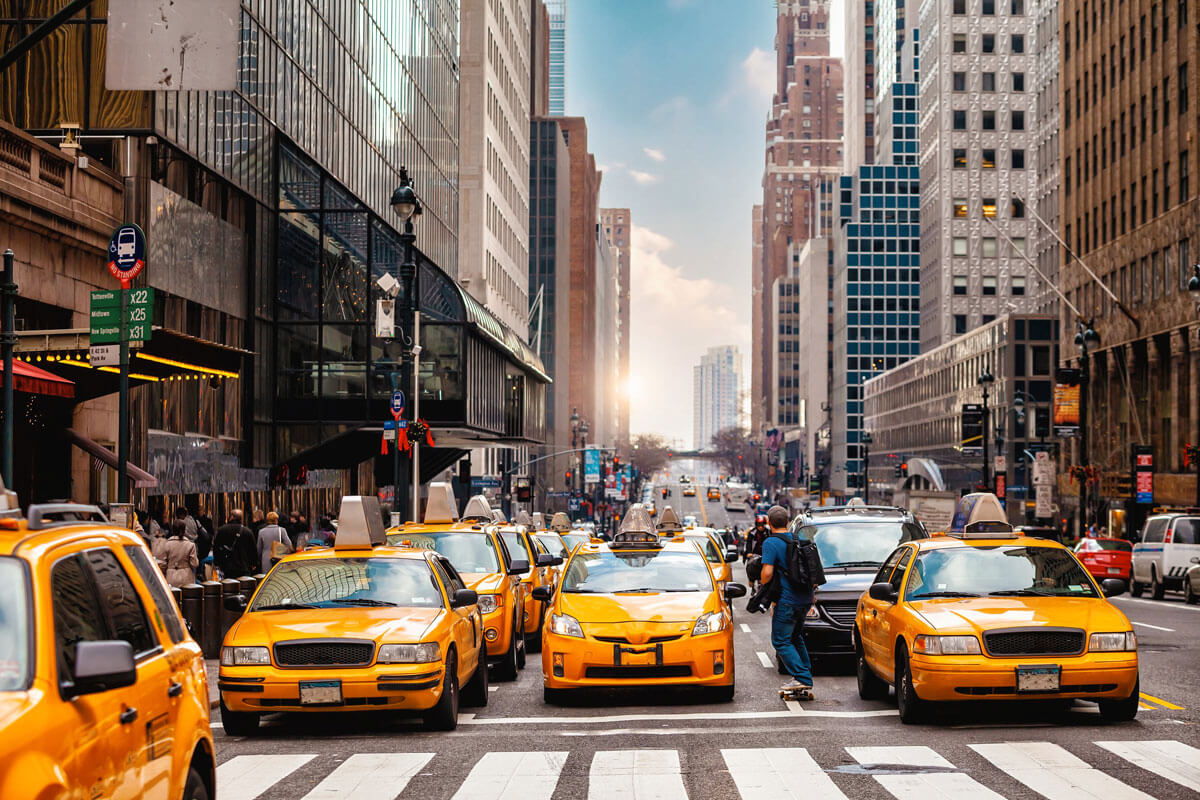 Hello travelers! If you've found your way here, don't fret. Visiting New York City for the first time (or any time, if you've been here before but don't feel like you've quite established the familiarity necessary to tame this crown jewel of urban chaos) can seem like a beast, and even locals have at times found themselves face to face with unforeseen and undesired circumstances as a result of poor judgment or lapses in knowledge.
Trust me, I've been there.
That being said, if you keep your wits about you, have a cool head and the appearance of confidence (even if that outward facade is purely smoke and mirrors), the beast is tameable, and all it takes is this New York City travel tips guide to orient you properly.
Let's get you oriented so you can take advantage of the endless opportunities visiting New York City has to offer while retaining the poise and adventurous spirit of a local.
This guide for NYC travel tips is organized by a few sections:
NYC Transportation Tips (how to get to/from the airports)
Best General NYC Travel Tips (everything you need to know about things like getting a taxi and how much to tip a driver)
NYC Subway Tips (everything you need to know about riding the subway and safety tips + how to use the NYC Ferry service)
Tips for Avoiding Scams (this section provides a few common scams to look out for and how to avoid)
Essential NYC Travel Tips (general rules for tipping in NYC, where to find bathrooms in NYC, how to see places without crowds, etc.)
NYC Travel Tips for Saving Money (cheap eats & happy hour specials, save money on big-ticket attractions, free things to do)
NYC Transportation Tips
Since you're looking for New York City travel tips, without a doubt the best place to start is with the travel itself. Perhaps more than any other major American city, you will find yourself getting places without the use of a car most often here, which leaves a plethora of alternative transportation methods to master.
And if you MUST travel with a car, we do have a guide on where to park in NYC and everything you need to know about finding parking whether you're looking for free parking or affordable parking during your time in the city. But we must stress, you don't want a car in a congested city like New York unless there's no other option.
Let's start with options and NYC travel tips from the moment you arrive (if you are arriving via air).
Best NYC Travel Tips for Airports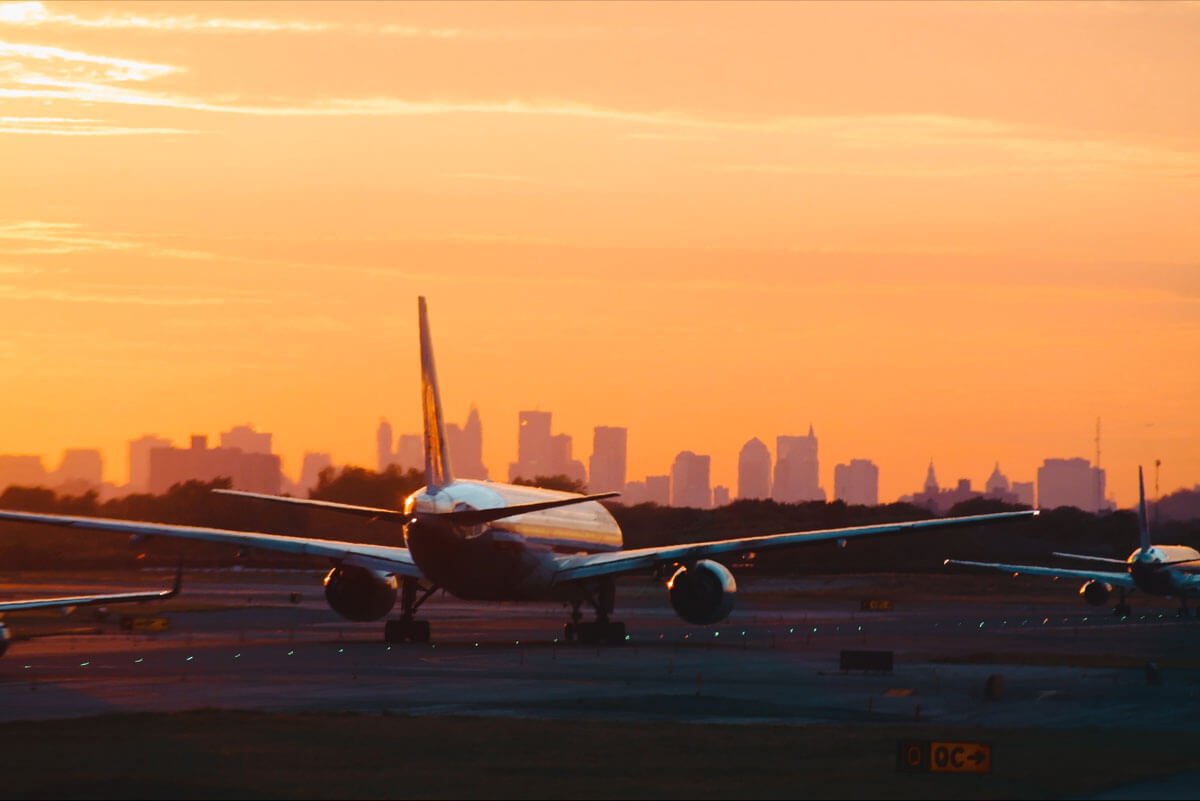 If you're looking for the breadth of the planes, trains and automobiles experience when you visit New York City–minus the automobiles part–the good news is it's possible, right from the jump.
All three airports in close proximity to NYC have options to fit your needs.
Newark Liberty International Airport (EWR)
Whereas Newark (EWR) is the only one of New York's airports that is not actually in the city nor directly connected to the MTA transit map, NJ Transit has train routes that can get you to Penn Station lickety-split with minimal hassle.
There are bus and shuttle routes available from Newark, but taking an NJ Transit train eliminates the horrors of inbound-NYC traffic, which can extend your transit time significantly (and pointlessly, in my opinion), especially during rush hour. 
When you've exited your terminal and gathered any luggage you traveled with from the carousels, follow the signs to the AirTrain and board the next one in the direction of the Newark Liberty International Airport RailLink Station.
When you arrive, you'll be able to purchase a rail ticket to New York Penn Station from one of the kiosks (make sure you are selecting New York Penn Station as there is another Penn Station in New Jersey).
A one-way ticket costs $15.75 per adult, and if you're not sure how you'll travel back to Newark after you visit New York City, there's no need to purchase a round-trip ticket as there is no discount for buying in bulk. But if it makes you feel comfortable then have at it.
Follow the departures board to see which track your train is on, and then it's only a few quick stops to midtown Manhattan and various connecting transportation options to get you to where you're staying. 
Hot New York City Travel Tips: I recommend downloading the NJ Transit app in advance of visiting New York City if you are traveling through Newark Airport. This will make it easier to see rail schedules and buy tickets.
Read Next: How to get from Newark Airport to Brooklyn
John F. Kennedy International Airport (JFK)
For non-driving options from JFK (located at the outskirts of Queens), there are two decent routes using public transportation, both of which also involve taking an AirTrain from your terminal.
Make sure you board an AirTrain in the direction of Jamaica Station, where you'll disembark before paying an $8.25 exit fare at the turnstiles via Metrocard, which you can purchase at the nearby kiosks.
Option 1:
Once you've passed the threshold, you'll enter the Long Island Rail Road (LIRR) station, where you can purchase a separate, $5.00 ticket to get to Penn Station. Again, follow the departures board at the top of the stairs to find your platform and board the correct train.
Option 2:
The second non-driving option from JFK involves the same AirTrain route, but instead of finding your way to the LIRR station at Jamaica, follow the signs to the subway.
When you arrive at the subway station, you'll be able to board a J, Z, or E train. If you are traveling towards Midtown Manhattan, the E train is your quickest, most direct option and involves no transfers to get to Penn Station.
The MTA subway fare is $2.90 a trip, which can be paid via Metrocard (yes, the same one you used to escape the AirTrain!) or by contactless payment with a credit card or Apple Pay.
Hot New York City Travel Tips: If you're traveling with larger luggage but don't want to take a car, I recommend the LIRR over the subway from JFK. Getting through the subway turnstiles with luggage can require feats of strength you won't have to showcase on the LIRR platform. And yes there are buses, but don't, for your own sake.
Read Next: How to get from JFK to Brooklyn
LaGuardia Airport (LGA)
The beacon of 21st-century American travel infrastructure, LaGuardia Airport (LGA). Until recently, this place was a nightmare of construction and confusion, but now they have pretty indoor water elements and shiny new tile floors to welcome you to the Big Apple with open arms.
Unfortunately, LaGuardia does not have an AirTrain, so if you're traveling via public transportation, your best bet is to board the shuttle Q70+ bus towards the Jackson Hts–Roosevelt Av subway station (at Roosevelt Ave. & 74th St.) and hop on a Manhattan-bound E train from there.
For both the Q70+ bus and the subway, keep in mind you can use a Metrocard or contactless options like a credit card or Apple Pay, and your subway fare will be comped as a free transfer since you've already paid for the bus.
Hot New York City Travel Tips: Use the same payment method you used for the bus when you enter the subway station so you get a free transfer.
Read Next: How to get from LGA to Brooklyn
---
For all three airports, there are many ground transportation options if you'd rather have the peace of mind associated with fewer steps in your travel plan and less maneuvering of luggage.
Just beware, cab and rideshare fares are not cheap, so if you're considering this option make sure to check what those fares look like before you travel. Each airport has a yellow cab taxi line you can wait in if you prefer, or there are numerous private car companies you can hire in advance to take the guesswork out of it (these include Carmel, Dial 7 and Seaman Car Limo, amongst others).
But don't hire a driver on the spot at the airport if you didn't go through the official yellow cab taxi line or order from a rideshare app!
Additionally, some attraction passes (covered later on in this guide) include free transport to and/or from Newark, JFK, or LaGuardia, so if you're considering purchasing one, keep a lookout for these deals.
Best General NYC Travel Tips
You Don't Need A Car
Traveling by car in New York can be a nightmare. Traffic is unpredictable, and it's often quicker to travel by subway, bicycle, or even by foot sometimes.
Of the many New York City travel tips there are out there, here's one that is guaranteed to make your trip better throughout: DO NOT rent a car.
Just don't do it.
Not only will you waste time and money, but parking in NYC is a craft reserved for only the most experienced New York drivers. I've lived here my entire life and still don't understand this aspect of the city.
Signage is complicated, spaces are limited and garages will charge you ridiculous prices, even just for a few hours.
The occasional Uber or cab makes sense in select situations, like if you're traveling a far distance and a train route to get there is unnecessarily complicated, or if it's late at night. During the day, taking the subway is likely your best bet, and your wallet will thank you. And if you get stuck in traffic, that Uber or cab can take longer!
How to Get a Taxi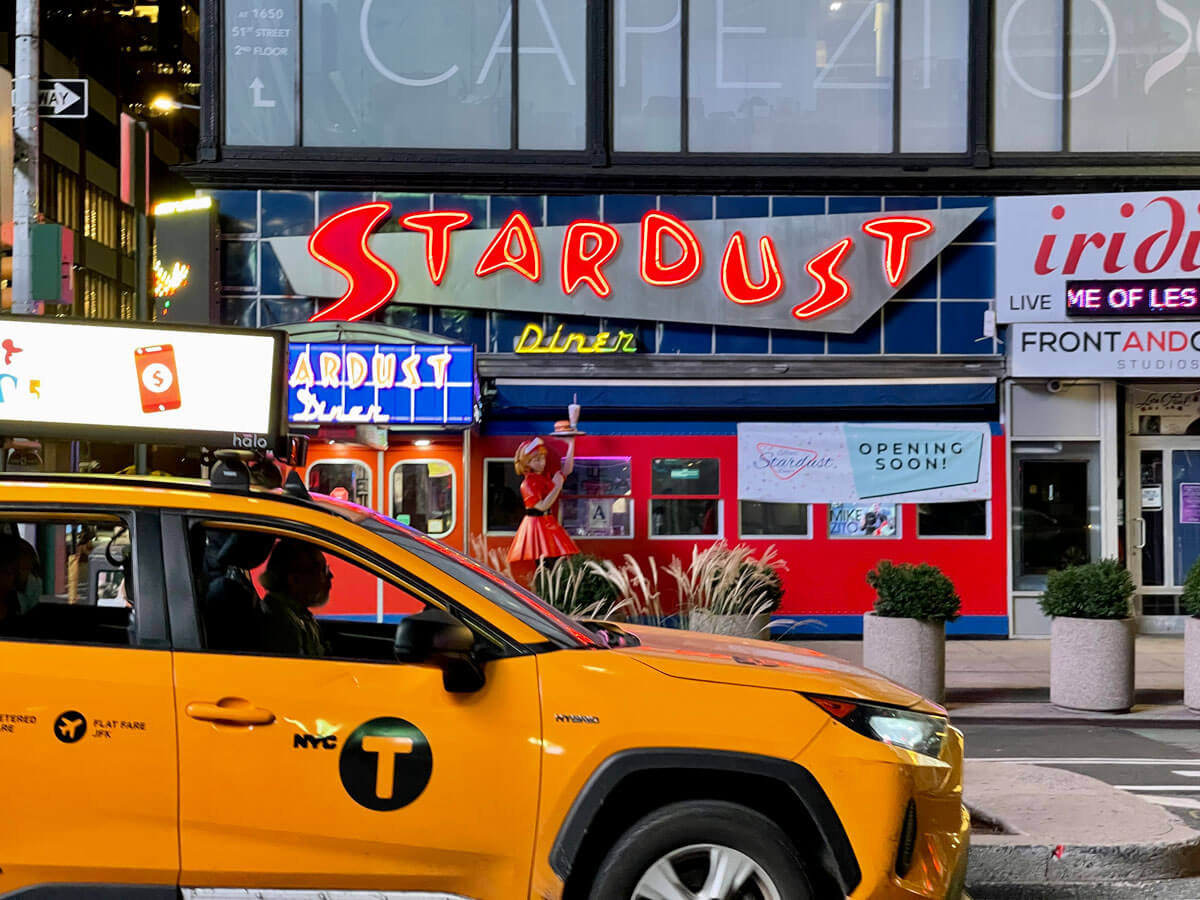 If you do opt to travel by a taxi cab while you're here, there are a few New York City travel tips you'll need to know.
The first is how to hail a cab. In this case, I'm talking about yellow cabs, not anything app-based like Uber or Lyft, which operate similarly around the world regardless of location. Hailing a cab is pretty foolproof and really easy to do around touristy areas of Manhattan.
Take your position on a street or avenue where traffic goes in the general direction of where you'd like to go, take a step out off the sidewalk, and stick a hand in the air. It's that simple.
Yellow cabs all have a light affixed to their roofs, and if the light on a cab is on, it means they are open for business and will pull over if they see your hand stuck up on the side of the road. If it's off, they either have a passenger inside already or they are off duty.
Hot New York City Travel Tips: Do not accept a ride from anything other than a yellow cab if your hand is up on the side of the road. Sometimes black cars will pull over and ask if you need a ride, but they will almost certainly charge you more than you'd pay in a yellow cab, and they have no set rates, for the most part. Yellow cabs have meters that track your ride, so you can see what you're paying as the ride continues.
Best Areas & Where to Hail a Taxi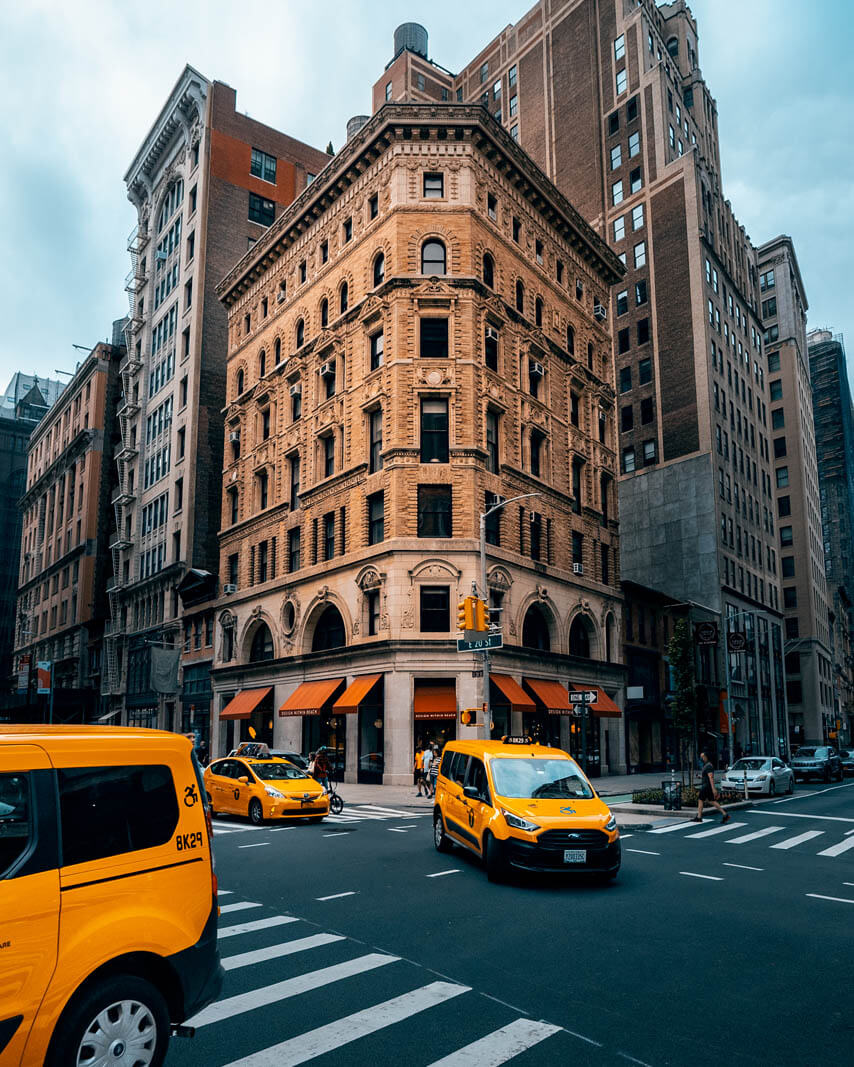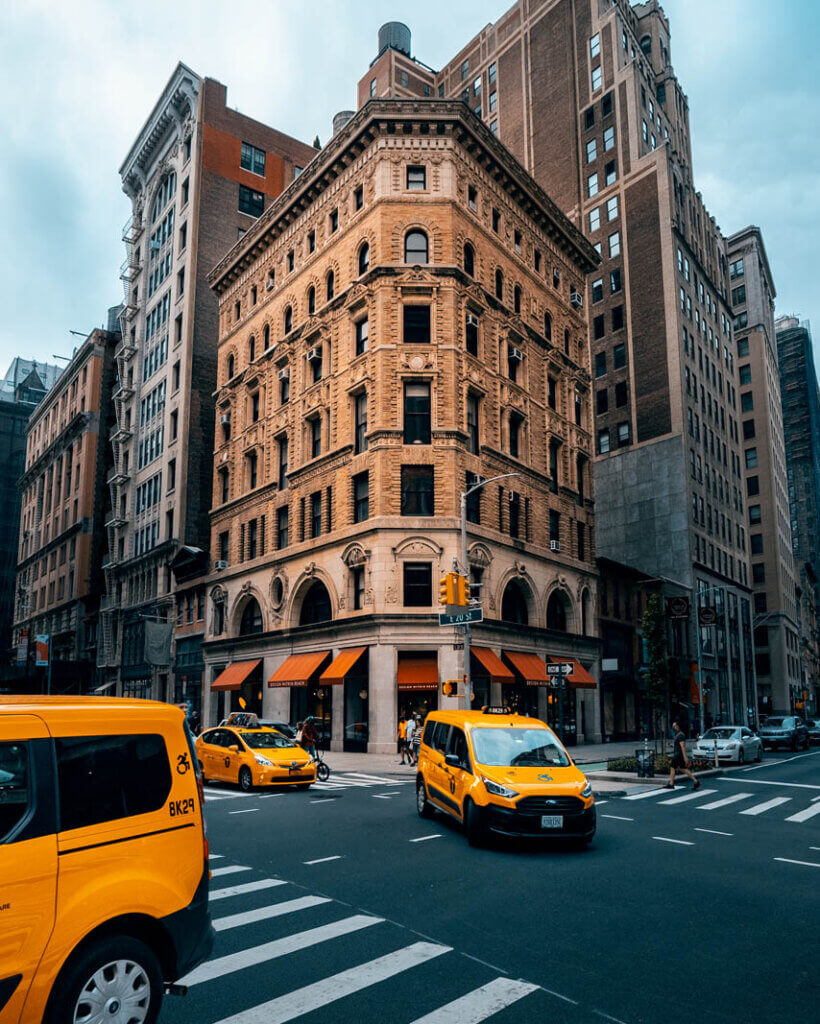 If you get all of it right in tip #5, there is still room for error. Where you enter the wilderness of cab hailing is important, too, not just how you do it.
Generally speaking, find an avenue or main thoroughfare. In Manhattan, this means almost any street that runs north-to-south, south-to-north, or both.
Traffic is heavier here, and so is the density of open cabs. It's best to situate yourself on a corner where an avenue and a street intersect to maximize your chances of getting picked up, and getting picked up quickly.
Anywhere NOT in Manhattan–that means Brooklyn, Queens, The Bronx or Staten Island–the same rules apply, but streets and avenues have a bit less directional rhyme or reason.
If you find yourself in an area where there seems to be very little traffic (you may notice the consistent hum of the city dissipates a bit here), use Google Maps or Apple Maps to find your way to the nearest main thoroughfare, or simply opt for an app-based transportation option like Uber or Lyft. It's likely you'll spend less time waiting and a similar amount of money, and it takes the guesswork out of the whole scenario.
In the boroughs, you may see a green taxi. These are legit. You can get one of these to Manhattan. You just can't start a ride in a green taxi in Manhattan. These green taxis are meant to help service the outer boroughs.
Hot New York City Travel Tips: If you've waited more than five minutes trying to find a cab, even if you've followed these guidelines to a tee, walk an avenue over (this should take about 3-4 minutes most places in the city) and try your luck there. If you continue having no luck but you're dead set on getting to your location via car, give it another few minutes before opting for Uber or Lyft.
Additionally, make sure you haven't stepped in front of anyone else looking for a ride on the same street or avenue. The unwritten rule of NYC cab-hailing is first come, first serve, so if there are others waiting, find a place behind them.
Tipping Your Driver
Tipping culture in New York is pervasive, so for anyone visiting from abroad where tipping is not considered customary (or sometimes even considered rude), this section and others to follow on tipping will be important.
As a rule of thumb, 10% of the cab fare should be your bare minimum tip. For a ride $20 and up, I will typically tip at least $3, or 15%. If you're feeling more generous, feel free to select from the tip options that pop up on the screen at the end of your ride, which starts at 20%.
These preset tip options will likely be present anywhere tipping is applicable, but we'll get into other tipping scenarios later.
NYC Subway Tips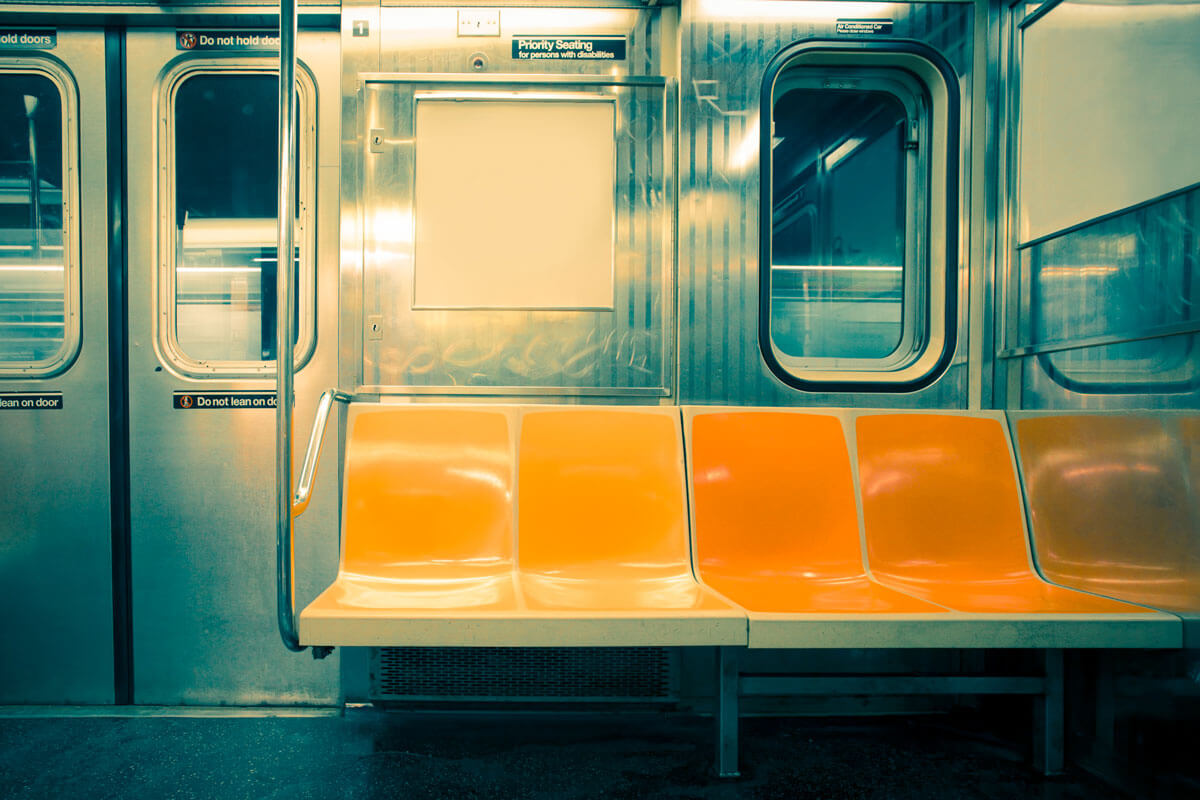 Ah, yes. Here we are, friends. I know it can be quite daunting. But it's tameable, like I promised.
Take a Step Back from the Platform
Priority number one when taking the train is doing so safely. There are dangers not otherwise accounted for when the adventure goes underground, but generally staying alert and aware can prevent a lot of undesired circumstances.
Namely, when the train is arriving at the station, take a step back from the platform edge. The further away the better, especially if you've got a wall or post at your back.
Keep your head on a swivel during this moment to make sure your surroundings do not pose any immediate danger, which they will not most of the time. It never hurts to be prepared and aware.
Other NYC Subway Tips for Safety
Always keep your head on a swivel, even once you've boarded a train and be aware of your surroundings as you would in any city across the world.
If you have to take your wallet, phone, or other valuables out of your pockets, do so while maintaining an awareness of your immediate surroundings. Pickpocketing is less rampant than in the days of old, but it can still certainly happen, especially if you look like a tourist and are around the busiest of tourist spots.
If there is no space to sit, avoid standing against train car doors, and make sure to grab hold of a pole for balance, and keep hold of it. If you need to squeeze in next to others to grab a pole, that's okay–don't be shy. Just don't press your whole body against a pole, as it limits available hand space for other passengers.
Avoid eye contact with strangers as much as possible.
DO NOT transition between train cars through the car doors. If you want to switch to a different car, wait until the next stop and swiftly exit your car through the passenger doors before boarding another.
Uptown vs. Downtown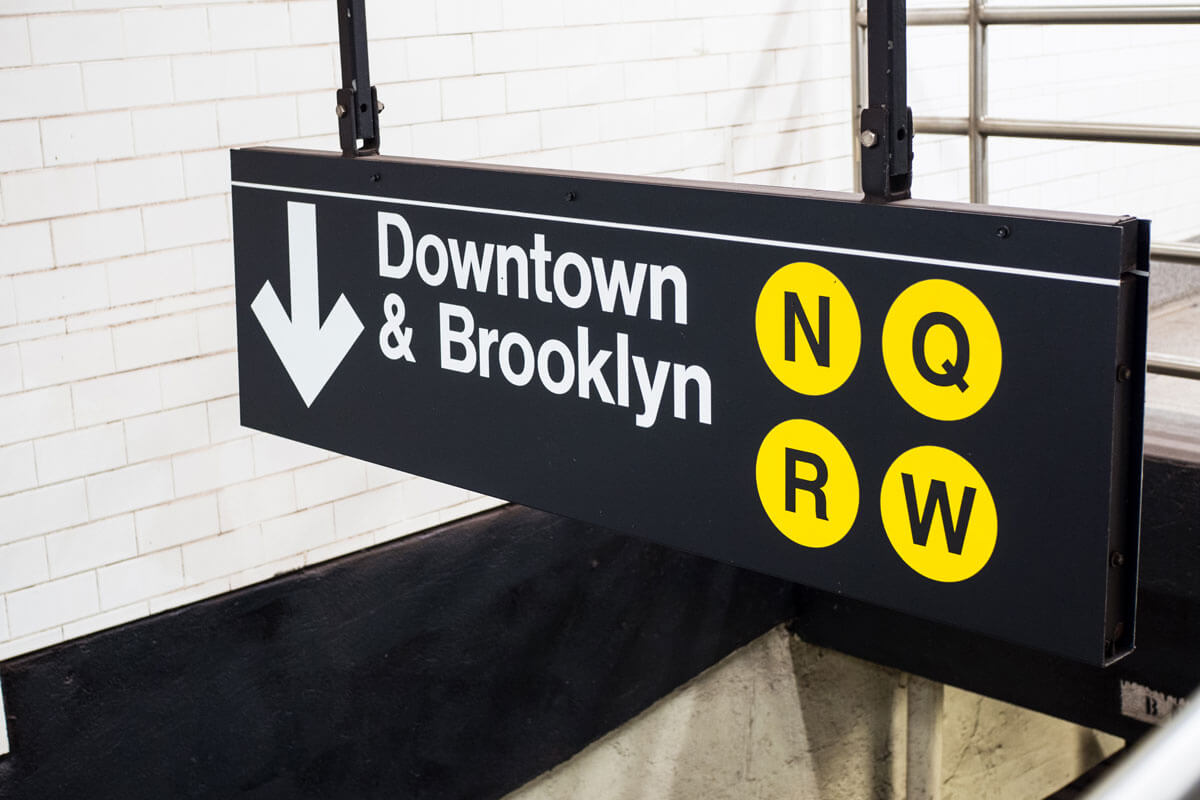 One of the easiest mistakes to make for first-time subway riders is successfully getting yourself into your desired station, only to board a train heading in the wrong direction.
I have a friend from Tennessee who once came to NYC to visit his sister, who was staying in Brooklyn at the time. He only realized he had gone the wrong way when he got to Yankee Stadium on the D train. Don't be my friend from Tennessee.
Generally speaking, trains heading uptown in Manhattan have platform entrances on the east side of avenues, whereas trains heading downtown have platforms on the west side. East, up; west, down.
This doesn't cover every single train line in the city or even in Manhattan, but it'll get you north and south with limited variation. Just make sure that when you arrive at the train platform, look for signage on that specific track denoting the direction the train is heading.
If all else fails and you're not sure, ask someone who looks like they live here which way you should be going. Most New Yorkers will be helpful, despite what you may have heard about us.
Hot NYC Subway Tips: Pay attention to some subway entrances on the street level before entering to see if it says it's only for Uptown or Downtown. Some subways are like this and it takes you directly onto the platform in the direction you're going sometimes without an option to switch once you've swiped in.
If this happens to you, you may have to exit the subway and go back to the street level to enter on the correct side. Tell the attendant (if there is one) to let you in without swiping again or having to pay a double fare.
Subway Fares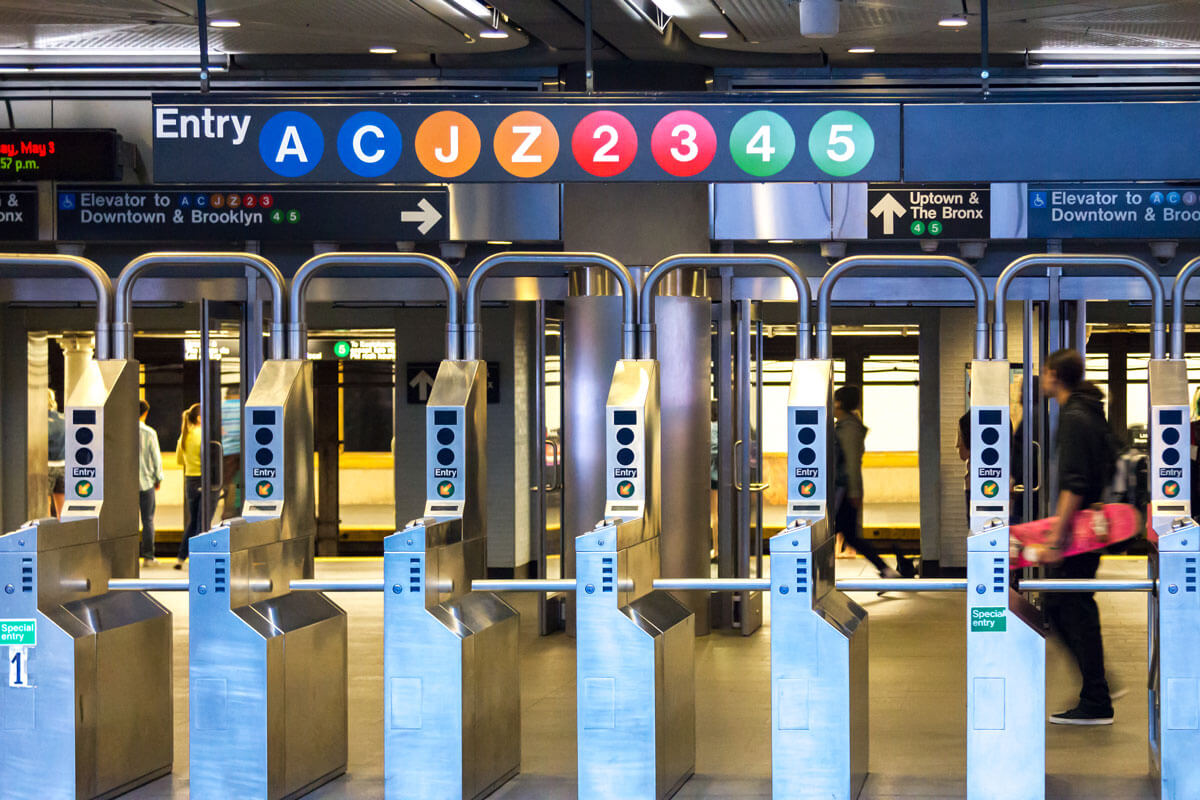 We touched on this before in the airport section, but the MTA subway system requires a fare of $2.90 per ride. This can be paid at the turnstiles by Apple Pay, credit card (if your card has tap-to-pay functionality) or MetroCard.
To obtain a MetroCard, go to any of the kiosks within any subway station and follow the directions on the screen, a new MetroCard will cost you $1. You'll have options for how much money you'd like to load onto your new card, and there are custom amounts as well.
They also have an option to buy a 7-day unlimited MetroCard. This is a good deal if you will be riding the subway alot on your trip. Keep in mind that the unlimited MetroCard only can be swiped every 18 minutes (so each person has to get one). This type of MetroCard does not work for the AirTrain fare, you must have a preloaded amount for the AirTrain since it costs more than a regular subway fare.
To enter the station with a MetroCard, simply swipe it at one of the turnstiles. You'll hear a click, which means the turnstile is unlocked and will let you through.
Hot NYC Subway Tips: There is an art to swiping a MetroCard, and native New Yorkers often wear their ability to swipe in on the first try as a badge of honor. Your pace should be firm but deliberate–not too fast, not too slow, with the entirety of the bottom edge of the card touching the metal panel at all times through the swipe.
Additionally, if you pay by Apple Pay or touch-to-pay, every ride within a week starting on Monday is free after the 12th subway ride. So if you find yourself constantly using the subway while you're here, paying this way might be your best bet to save a little coin.
Watch Out For Express Trains
It would be nearly impossible to synthesize the entirety of the subway system in one go, but there are a few general things you should know. The first is that for each different train line color, most often at least one of those trains is an express train.
What is an express train? It is really handy when you know the routes as it skips over stops and takes you to places quickly – if that's where you're aiming to go. If you accidentally get on an express train though it could pass your stop and you're at the mercy of waiting until the next stop to get off and redo your navigation and route.
In Manhattan, this generally includes the A (blue), 2 and 3 (red), 4 and 5 (green), N and Q (yellow), and D (orange), with some exceptions.
Just make note of where the express stops are by looking on a map, which you can find in nearly every station and within each train car. Express stops are marked with white dots, whereas local stops are marked with black ones.
Hot NYC Subway Tips: Download the MTA Subway Map app so you always have access to a train map. It has annoying ads whenever you open the app, so I don't recommend using it to make last second decisions as the train is pulling in. But it's helpful to visualize and gain a better understanding of the system as a whole or reference as needed.
Weekend Schedules
Trains tend to run slower and less frequently on the weekends and at night, particularly on weekend nights.
Often, express trains run on the local track or routes typically held by certain trains are replaced by other ones. To see service changes, check the side panel in the MTA Subway app and click on "service status."
Most often, Google Maps and Apple Maps will direct you appropriately too, taking into account these changes. And sometimes, stations have signage denoting any relevant changes.
Hot NYC Subway Tips: The L train (gray line) can be an efficient way to get across town, but it is notoriously bad on the weekends. It often does not run or runs very infrequently, sometimes changing its western terminal station to Union Square instead of 8th Avenue and 14th Street. Avoid the L train at night and on weekends if you can.
NYC Ferry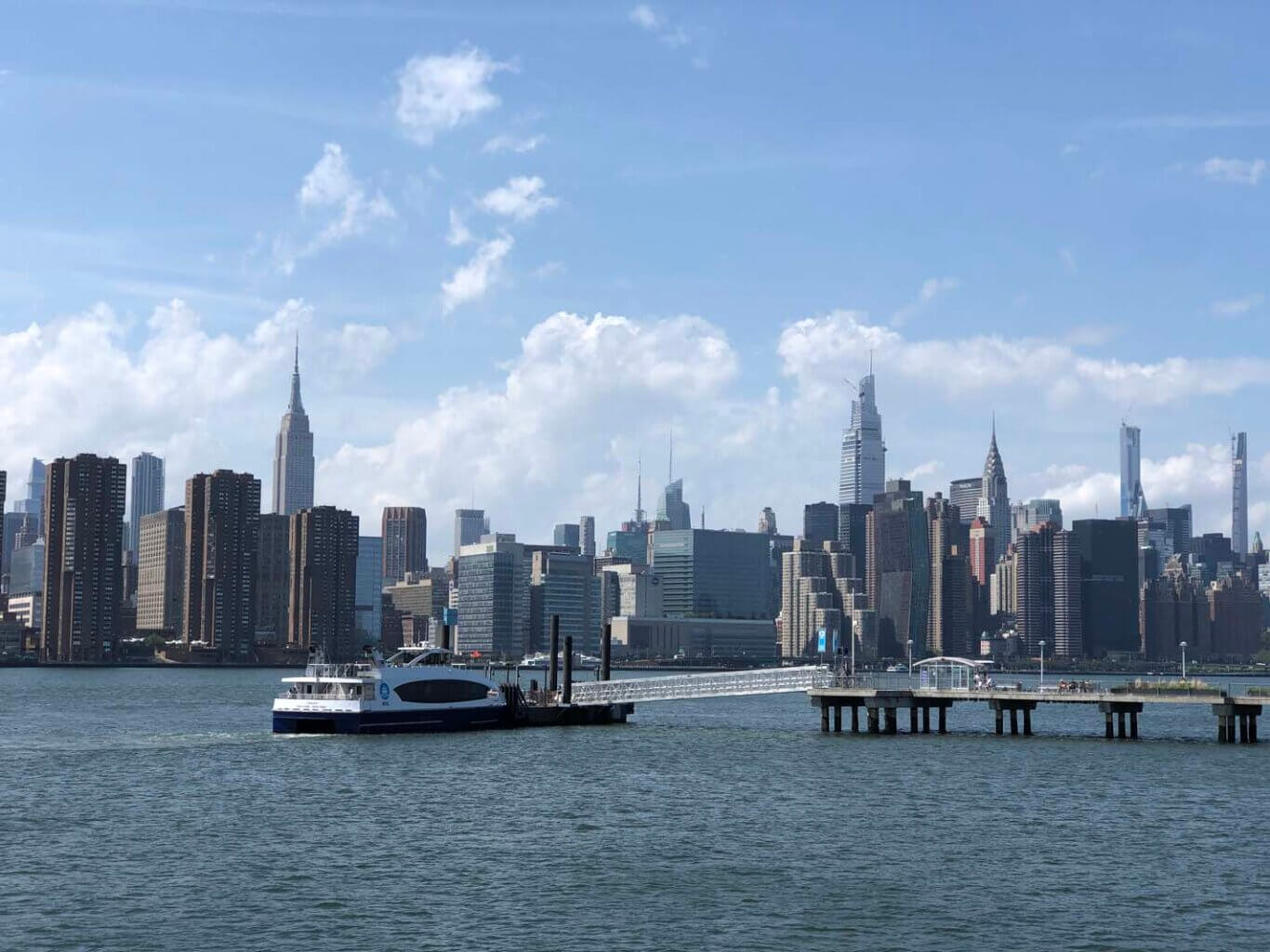 Did you know that the MTA also has ferry routes? Many travelers to New York use Google Maps for navigating and it often doesn't show the ferry routes, which can be really handy and a great way to get awesome city views during your transit time!
Whether you're here for the first time or you've been here a million times, I highly recommend taking a ferry at least once during your trip. It offers views that are hard to get otherwise, and most rides cost little more than a subway fare at only $4.
The NYC Ferry also offers express routes to Rockaway Beach (one of the best beaches in NYC) for $10 (kids under 44 inches tall ride free on these routes), which can get you to the beach in under an hour from Wall Street/Pier 11.
Generally speaking, the ferry may not always be the most practical of transportation options as routes are not as expansive as the subway system, but it's certainly worth a try if your route makes sense via ferry.
If you'd like to see ferry maps and routes, it's best to download the NYC Ferry app to see the schedule while you're sightseeing, and if you do take it, make sure to take schedules into account so that you know you'll be able to hop on a return ferry without waiting too long or getting stranded. You can also buy your ferry tickets on the app.
When you're at the ferry terminal and aren't sure what ferry or route it is, simply ask the attendant there if it stops at where you're trying to go.
Hot New York City Travel Tips: My favorite ferry route is the one from Wall Street/Pier 11 in downtown Manhattan to Brooklyn Bridge Park in DUMBO. It's a super short ride–maybe five minutes–but it's cheap, effective and offers incredible views up the East River and into the harbor on the south side.
Brooklyn Bridge Park is a great destination for locals and tourists alike, so if you find yourself in the financial district with a little extra time to kill, hop on a ferry to Brooklyn and enjoy the open park spaces, recreational activities, and plethora of dining options Brooklyn Bridge Park has to offer. 
Another cool ferry option is taking the South Brooklyn ferry (which leaves from the Lower East Side and Pier 11 in Manhattan) to Governors Island in the New York Harbor. There are so many cool things to do at Governors Island, a former military base that's now a public park with many facilities and even a really cool spa with skyline views!
Tips For How to Avoid Common Scams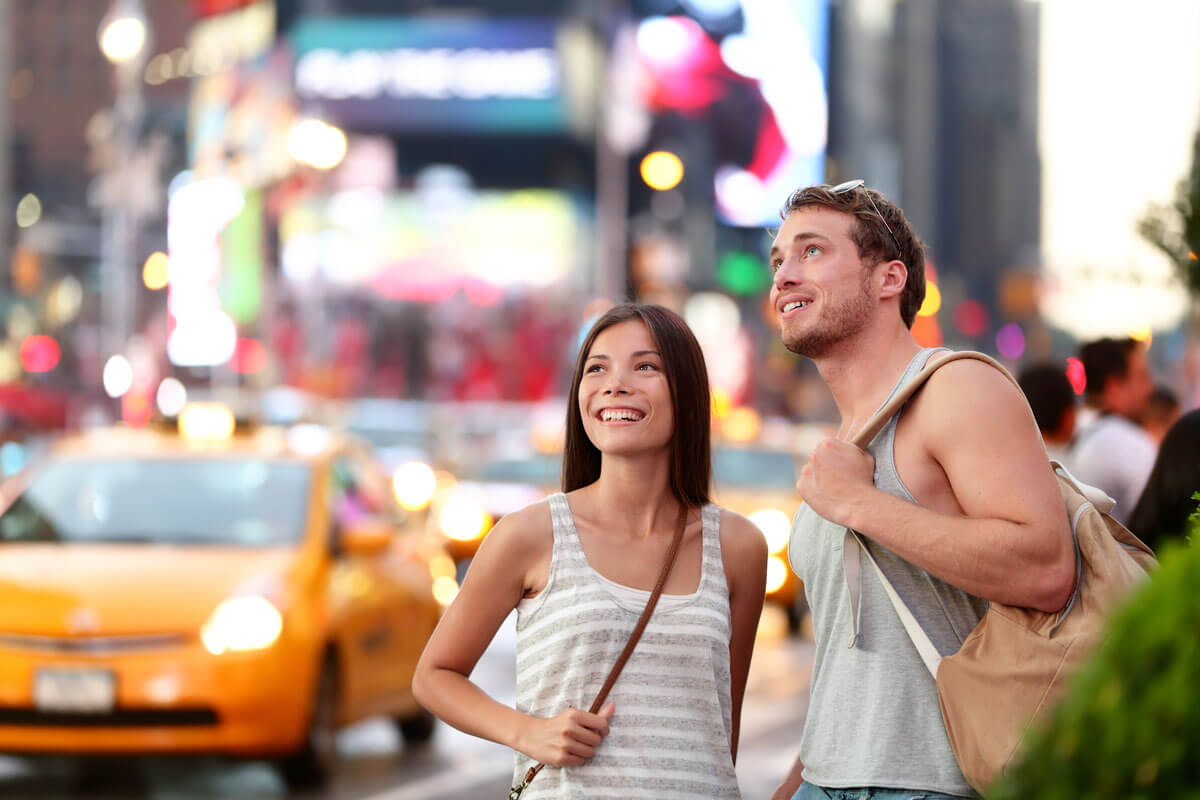 Unfortunately, it's hard not to look like a tourist when you are one. There's no shame in this, it just means that you are more likely to be targeted by scammers than locals. Below is a short list of common scams in NYC to avoid, and how to spot them.
Luggage & Cab Scam
Around busy transportation hubs like Penn Station, there are areas that are better for cab/Uber/Lyft pickups. These are easy to spot as cabs often line up here.
Sometimes, there are scammers who will offer to help you load your luggage into the trunk and then ask you to pay them the cab fare in advance of getting in, as if they worked alongside the drivers.
These scammers are never associated with any transportation department or with cab drivers, and you'll have to pay the cab fare on top of the money you just coughed up to them.
Never let anyone help you with your luggage unless it is the driver, and know that there are no scenarios in which you will pay a cab fare before the ride has ended.
Bump n' Yell Scam
Here's how this one works: a person, or a pair of people, will be walking down the street going the opposite way that you are. They will be carrying something, often takeout food or something breakable, like glasses or glass bottles.
They will then intentionally bump into you, drop their items, and become outraged, demanding that you pay them for their ruined or damaged items.
Do not engage, simply walk away at a fast pace if you can. Draw attention to yourself if they've grabbed hold of you or won't let you pass, and they'll likely move on. If all else fails, threatening to get the police involved should do the trick.
Miscellaneous Selling Scams
There are all kinds of people you may encounter who are selling goods or services on the street, and they will try to draw your attention, often aggressively, so that you stop and engage with them.
A rule of thumb, especially in busy areas like Times Square: keep it moving. A moving target is a harder one to scam.
Some of the most common characters will be "monks," tourist attraction sellers, and musical artists.
Monks will try to sell you religious items like beaded bracelets by putting them on your arm. Do not let them do this, as they will then demand payment rather than taking back the item they've let you try on. Also, they're not actually monks.
People will also try to sell you on fake tourist attractions like comedy shows or bus tours. These are not always scams, but it's always better to buy tickets for attractions at the site of the attraction rather than on the street, to be sure.
And if you run into someone trying to sell you their mixtape or CD, again, do not engage. They will pull similar tactics to the monks by putting a mixtape in your hand and demanding payment rather than returning it to them. Keep it moving, don't engage, and if you're looking for attractions, go to the site of the attraction.
There are all kinds of scammers out and about on the streets of New York, and scammers grow more inventive by the day. That is to say, this is by no means an exhaustive list. We also have a more in-depth list of common scams to be wary of, if you want to educate yourself as much as possible before you visit NYC.
Essential NYC Travel Tips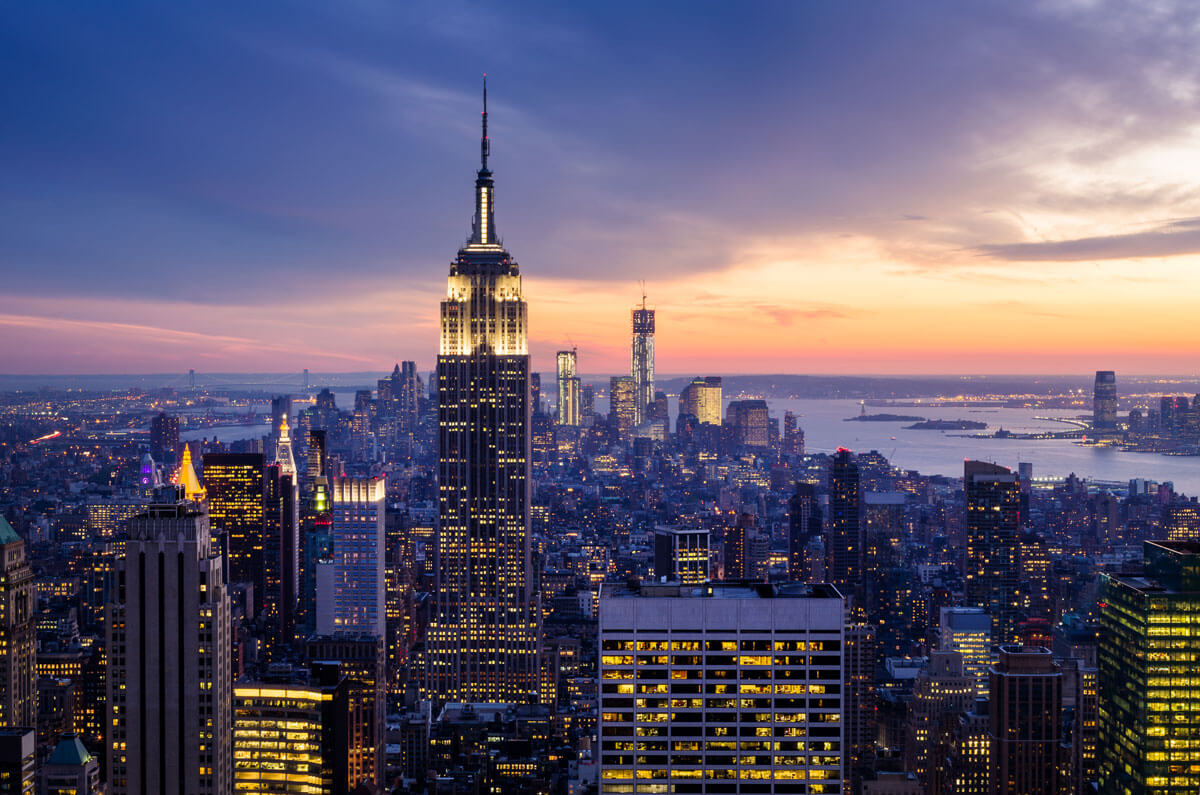 Wear Comfortable Walking Shoes
This one's an easy one. New York is a walking town, and if you've got a packed schedule with activities planned for each day around the city, it means you'll be on your feet plenty.
A great trip can be ruined by a pesky blister or the proclivity to favor fashion over function. And everyone walks more than they realize when they are here.
Make sure to pack your best pair of sneakers or running shoes. Something that offers good support and versatility for the various activities you'll engage in and transportation methods you may encounter (like bicycles, maybe!)
If you're visiting in the winter, make sure to pack a pair of boots for inclement weather like rain or snow. It's simple, but it can make all the difference.
And as a rule of thumb (here we go again with the rules of thumb), do not wear flip-flops unless you plan on remaining in one scenic location like a beach, park, or pier for an extended period of time.
Tipping is Expected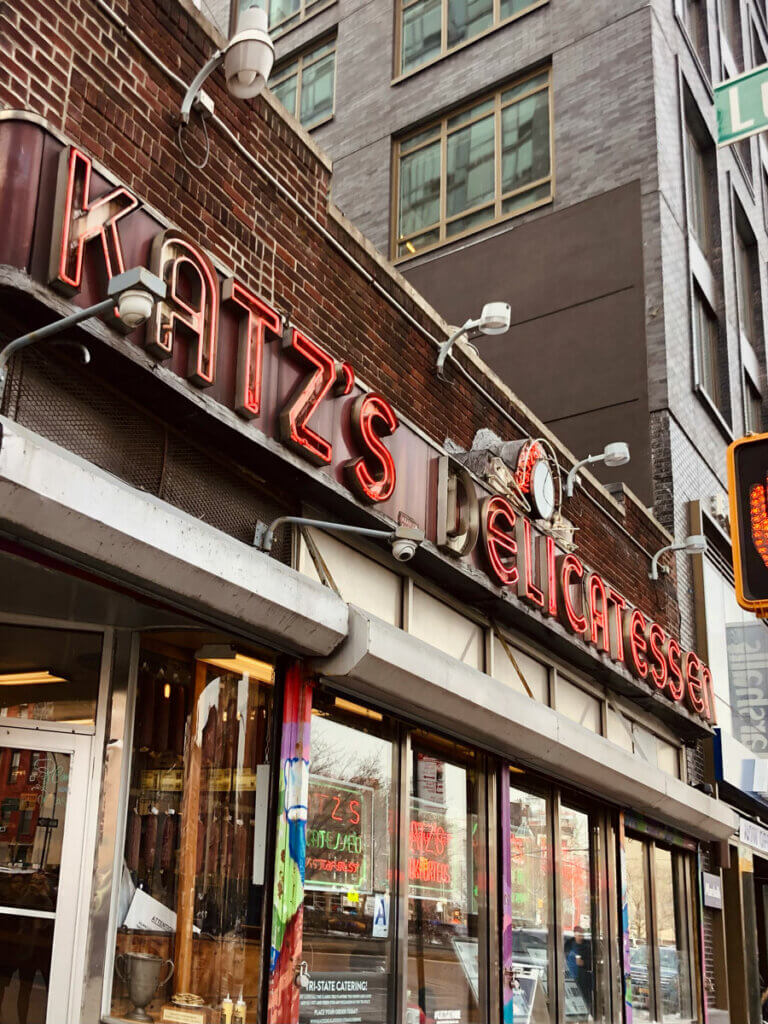 I promised we'd come back to this, so here we are. In many places you'll go, tipping is expected. This includes cabs (as mentioned), restaurants, bars, clubs, barbershops (not that you'll need one while on vacation, hopefully), and more, and there are different expectations for each type of establishment.
If you're only ordering drinks at any location–a bar, club, restaurant, or otherwise–10% is the expected tip. Not only do bartenders and servers earn some of their income on tips, but you'll be more likely to get good, quick service if you're planning on any more than one drink and you've tipped appropriately on that first one.
For restaurants, if you're sitting down for a meal, the expected tip is 20%. If you tip slightly under, say 18%, no one will find it out of the ordinary, but anything less is not enough, for the most part . The only exception is when gratuity is already included on the bill, usually at 18% or 20%. This is often an automatic charge for large groups, but whether you travel in a pack or on your own, make sure to check your bill for an included gratuity before adding a custom tip of your own.
There's no need to double tip, unless you're feeling ultra generous.
For fast-casual or takeout places (Chipotle, Starbucks, pizza places, etc.) tipping is not expected. However, you will often be presented with tipping options on a screen after you've ordered. Simply select the "no tip" option here, unless you're feeling generous, again.
I highly encourage you not to order food delivery if you can avoid it, because the dining experience in New York is unmatched, and we have a guide to all our favorite restaurants in NYC and the most iconic foods to try in NYC.
But if you find yourself jetlagged, unable to leave your hotel room and hungry, and you do order delivery, the expected tip is about $5. For larger orders, consider tipping extra to match about 10-15%, but you should rarely be tipping under $5. If you're ordering takeout, tips are appreciated but not required. At most, if you're feeling generous, tip 10% here.
NYC Bathrooms
Of course, when you're gallivanting around the city having the time of your life, you'll have to stop and pee on occasion. Knowing where you'll be most likely to find an accessible bathroom is key to the enjoyment of your trip.
At times when I've found myself in this situation, my best bet has most often been bars, restaurants or coffee shops. A lot of times, if you ask someone at one of these establishments if you can use their bathroom, they'll say yes.
Sometimes they'll say you have to be a customer, in which case you can buy something cheap.
Sometimes they'll say no outright, and you'll have to try another place. And keep in mind, Starbucks' policy is to let anyone use their bathroom regardless of if they are a customer or not, so you can always find respite here, although sometimes you have to ask for a passcode.
Public bathrooms can be found in most department stores as well. Think Macy's, DSW, Saks, etc. If your search for a bathroom is unsuccessful after trying a handful of bars, restaurants, and department stores (although this is unlikely), there are public bathrooms in most NYC parks.
Ask a park ranger or employee where you can find the nearest bathroom, and they will direct you. Beware–public bathrooms of this nature are typically not kept in pristine condition, so proceed with caution. Unless of course, you find yourself at Bryant Park, who has some of the nicest bathrooms in the city!
You can also reference this map to find public bathrooms all over the city!
Consider Visiting New York City Attractions in the Early AM or Evenings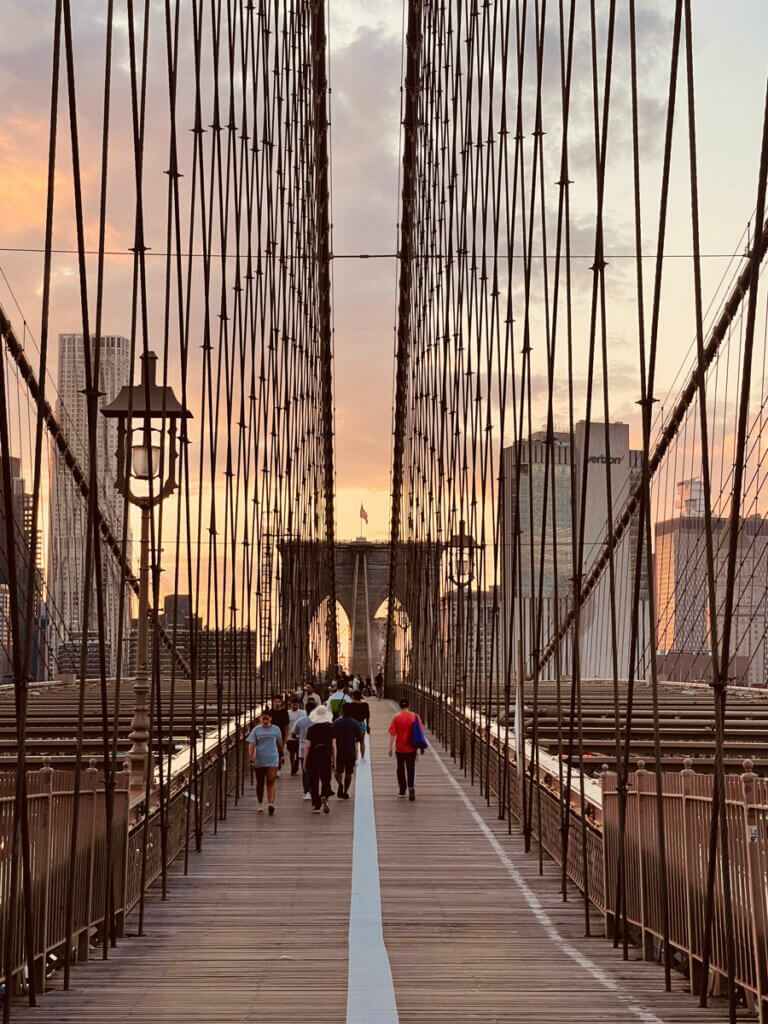 Here's where we dive into some serious insider NYC tips. Keeping with the theme of timing and efficiency–no matter what time of year you visit New York City, certain attractions will almost always have crowds, but there are ways to game the system a bit by following these NYC tips.
One such way is to plan activities in the mornings or evenings. Walking over the Brooklyn Bridge is a great (and free!) option while you visit New York City, but the experience can result in frustration and claustrophobia if you decide to go at the same time everybody else and their mother did.
Consider going in the morning before the crowds gather, or in the evening (which offers incredible sunset views of the harbor and skyline), after most people have finished their activities for the day.
These NYC tips can apply to many attractions–from the Freedom Tower to a Central Park bike tour, shopping in Soho (avoid weekends here), visiting the MoMA and more.
Consider Booking Off-Season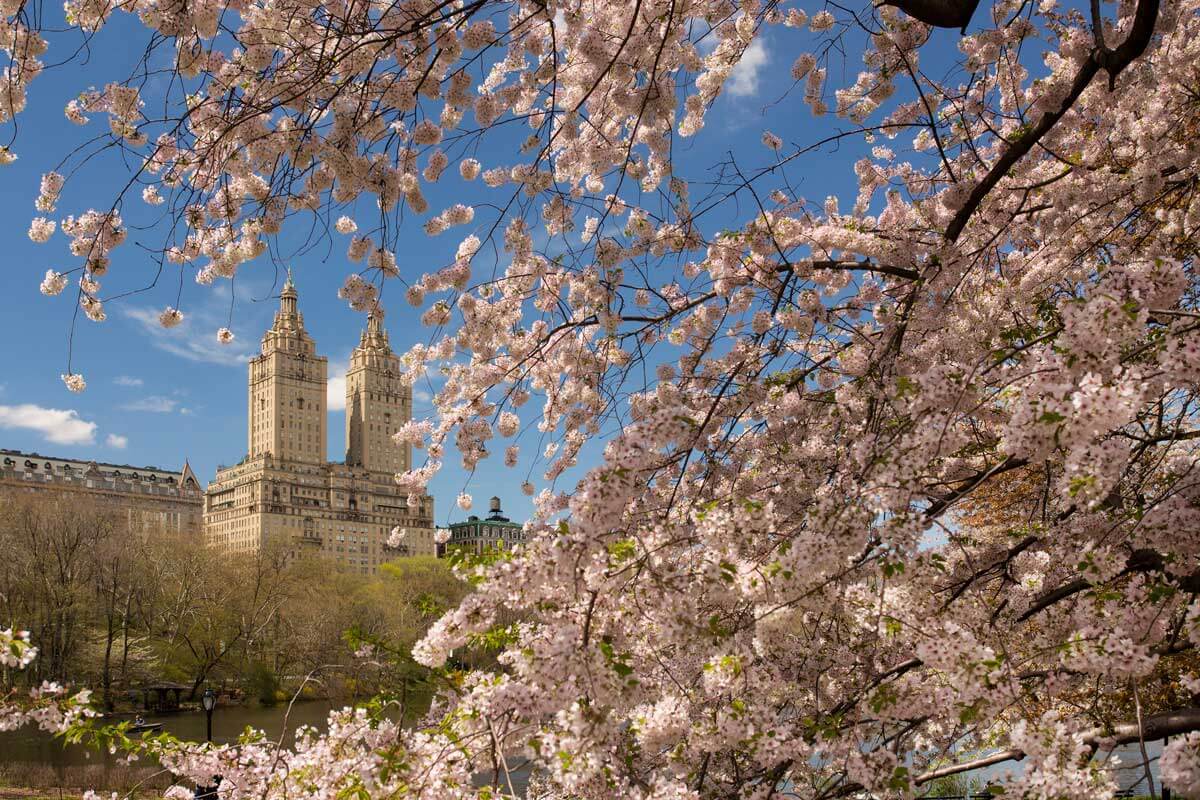 One of the most incredible things about NYC is that even for those of us that have lived here forever, there is always more to discover. This applies 24/7, 365 days a year, which means that you won't truly be missing out on anything if you visit New York City during the offseason.
This comes with a number of benefits: avoiding crowds, experiencing a more authentic version of daily life in NYC (if there is such a thing as "daily life" here) and especially saving money.
Hotel rates are often lower in the offseason–times that don't align with school breaks, national holidays like Christmas or summer vacation–and if you can swing it, visiting New York City during the offseason will dampen the damage done to your wallet.
Visiting New York City is expensive no matter what, so saving money on lodging can allow you to spend some of that extra cash on activities, food and more–or just pocket it and your future self will thank you.
NYC Travel Tips for Saving Money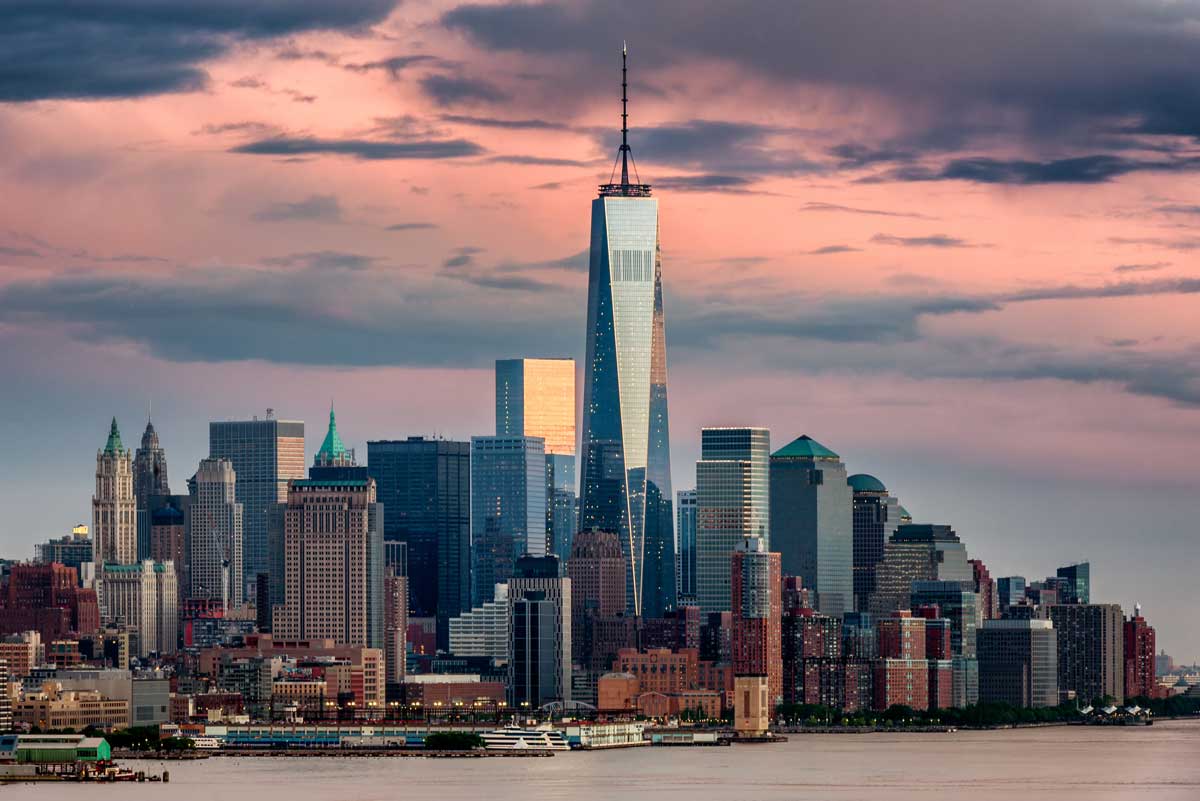 Traveling and visiting New York City on a budget is possible believe it or not! This section of NYC travel tips will give you a few ideas on how to save money!
Cheap Eats & Drinks in NYC
Whereas this guide is meant to offer overall tips for visiting NYC, we'd be remiss not to also offer some staple options for cheap eats in NYC and drinks as a starter pack for entering the fray. Below is a short, inexhaustive list of places to wine and/or dine on a budget.
The NYC Pizza Slice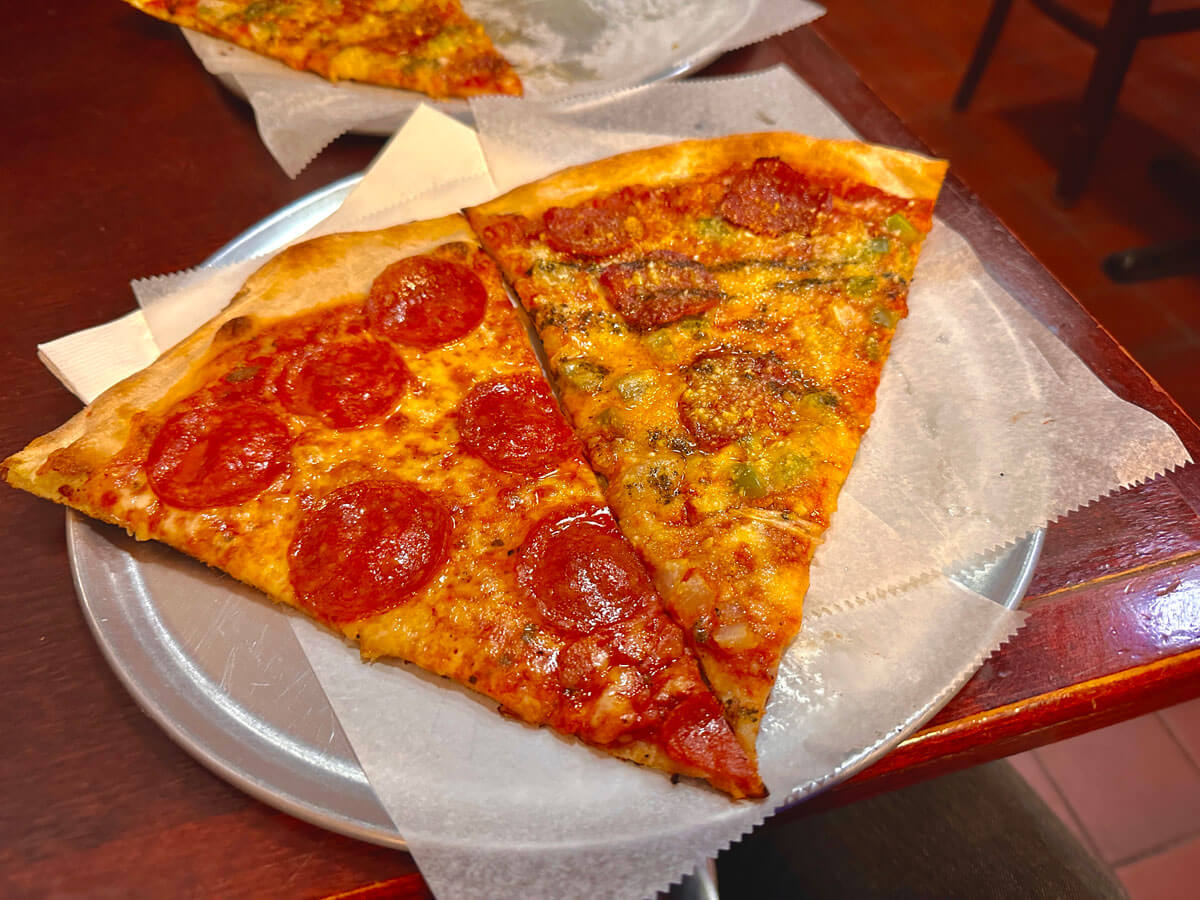 What's more iconic than a slice of New York pizza?! Among the many ways to experience quintessential NYC, ordering a couple of slices at the counter is one of the best, and one of the cheapest.
A few of my favorites in Manhattan for a quick bite:
Joe's (in the West Village, the one in Times Square has crazy long lines. Cash only)
Burrata Pizza (East Village)
Gotham Pizza (Chelsea and the Upper East Side)
Artichoke Basille's Pizza (various locations in Manhattan, Brooklyn and Queens)
If you're really ballin' on a budget, try 2 Bros Pizza (various locations in Manhattan) for a dollar slice. Somehow, they've managed to exist in a world devoid of inflation. It's not the best pizza you'll find, but it's not terrible by any means.
See our full guide to best pizza slices in NYC for more which includes a map to see what's near where you're going.
For sit-down pizza options, check out our guide to the best pizza in NYC where we also include a map to see where they are. Here are a few of my favorites:
John's of Bleecker in the West Village is the best. They only sell pizza by the pie, it's cash only, and often there's an extensive line to get seated, but it's worth it.
Grimaldi's in DUMBO is another great option, and easily accessible by the NYC ferry.
L'Industrie Pizza in Williamsburg is highly touted as one of the best in the city as well–you can't go wrong with any of these options. They also sell by the slice.
Happy Hour Specials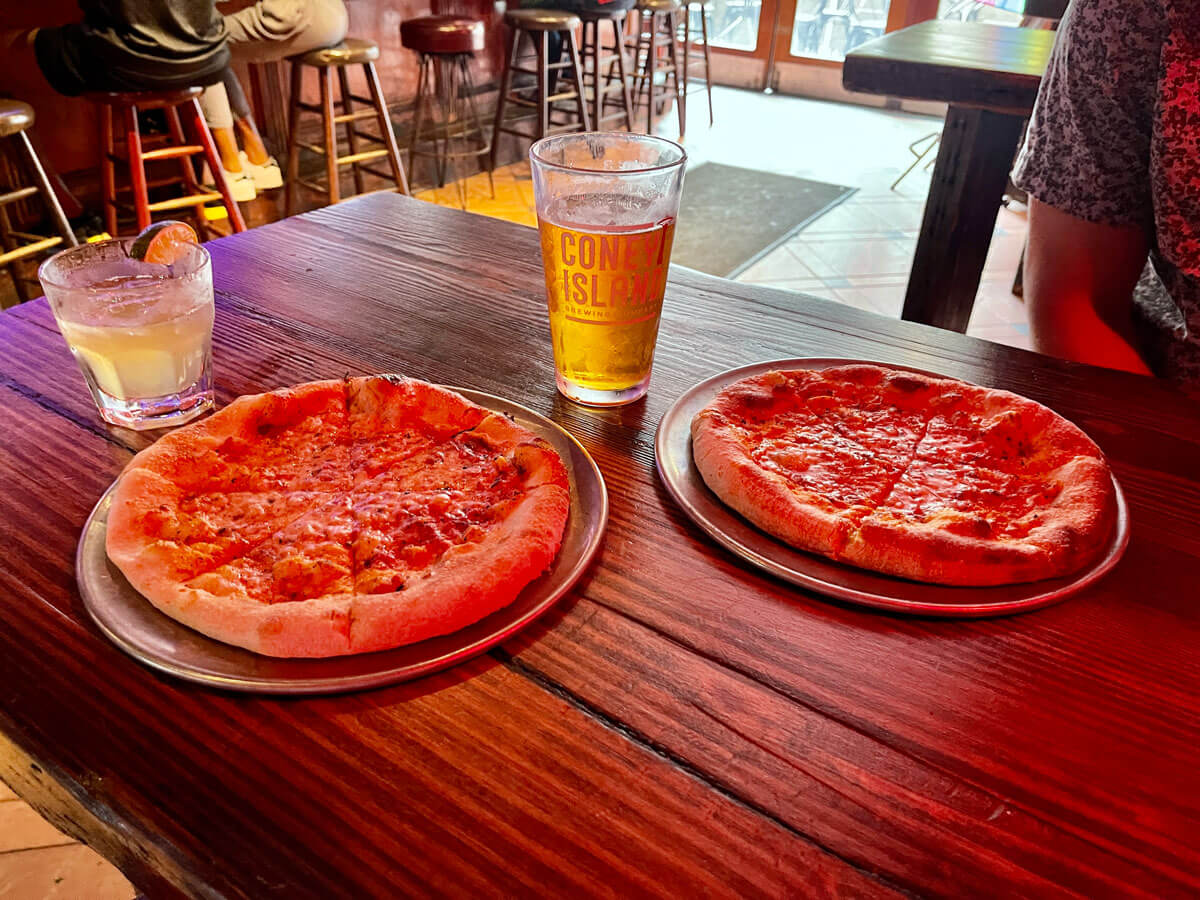 If you're here on vacation, you have an incredible opportunity to take advantage of some of the best happy hour deals that many locals can't experience due to work hours or other limitations.
Most happy hour specials will have reduced price drinks and/or food in the late afternoon to early evening on weekdays, and if you time it up right, you may spend a fraction of what you might at another time. And some have deals on the weekend too.
A few of my favorites include:
Art Bar -Where most cocktails go for no less than $15 in Manhattan, you can order well drinks, draught beer and house wines at Art Bar for $5 a pop during happy hour, which is from 4-7pm daily, including weekends.
VIV – Located in Hell's Kitchen (a short walk from Times Square), you'll find this Thai restaurant and bar with great happy hour specials from 12-3:45pm daily, select wines and cocktails are only $6, and from 5-7pm they go up to $8.
Bareburger – With various locations around the city, they have daily happy hour deals from 12 – 7 PM daily. $3 Miller High Life, $6 mule, $9 margarita or a half-priced glass of wine to go with your burger, and for those who stay away from meat, they have some great vegan and vegetarian options as well.
Alligator Lounge – Located in Williamsburg, Brooklyn this is not even a happy hour special but an everyday special where any drink you purchase comes with a free personal size wood-fired cheese pizza (toppings are $1 extra each).
More Cheap Eats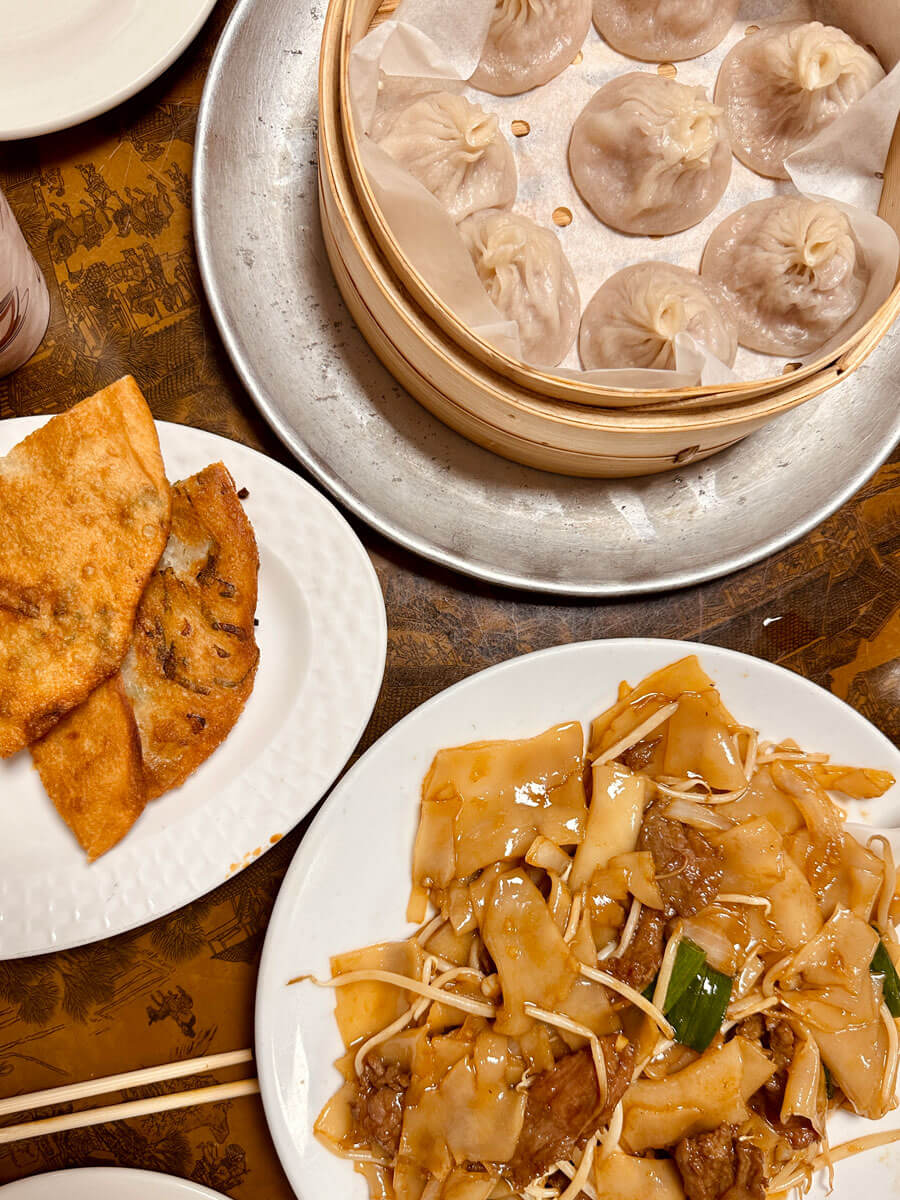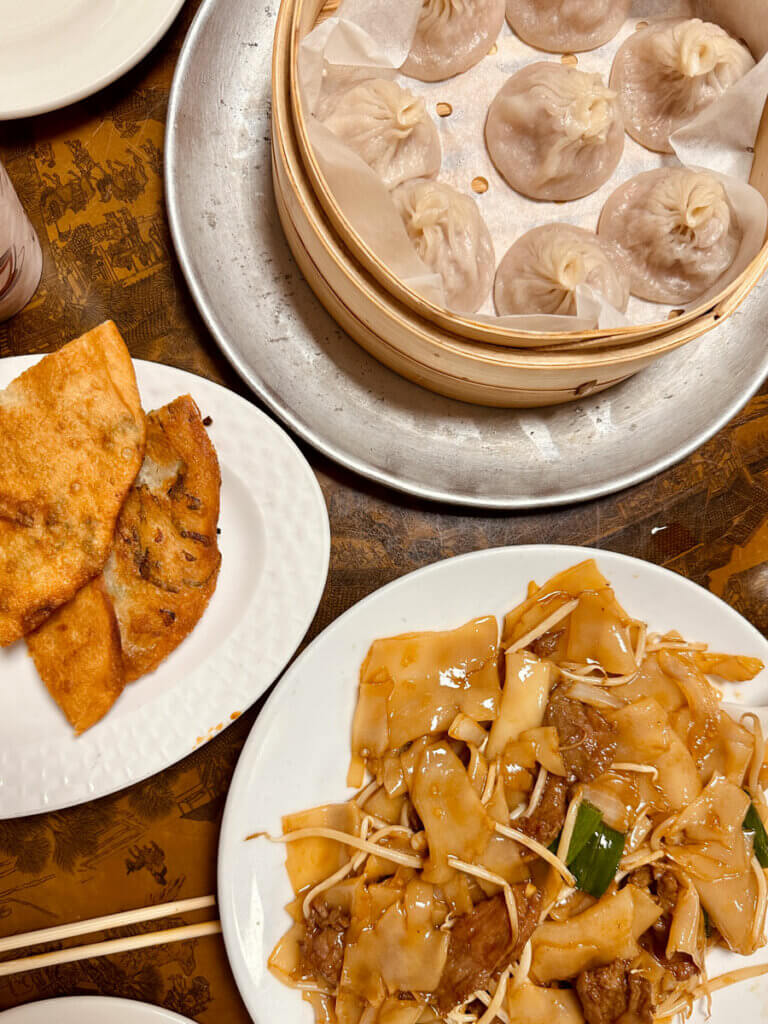 Here are a few more of my favorite cheap eats, but see our full guide to cheap eats under $15 in NYC for more options!
Gray's Papaya – The esteemed New York hot dog is a money-saving food, and there is no better place to find one than at Gray's Papaya on the Upper West Side. They literally have a deal called the "recession special," which consists of two franks with whatever toppings you want and a medium fruit juice for only $6.95. Make sure you bring cash as there is a credit card minimum.
Bodega BaconEggandCheese with SaltPepperKetchup (BECSPK) – No need to splurge on breakfast, look no further than the closest corner store (or bodega, or deli–these are all names for the same thing) you can find. Order a bacon, egg and cheese (BEC) sandwich on a roll from the grill, and make sure you specify that you'd like salt, pepper and ketchup on it. Of all the NYC tips out there, I am staunchest about this one. Most of the time this won't run you more than about $6. Editor's note: BaconEggandCheese is most often pronounced as one word, so if you want to feel like you're living the true New York experience, let it all flow out at once.
Taqueria St. Marks – this East Village sit down restaurant that won't break the bank. Tacos are $4 each, no single food item breaks the $15 threshold, and drinks are on the cheaper side as well.
Deluxe Green Bo – If you run into difficulty getting into some of the better-known places in Chinatown like Joe's Shanghai or Wo Hop, Deluxe Green Bo is a terrific plan B that really should be more of a plan A. Order dishes to share, and make sure to get the soup dumplings. Payment here is done either in cash or by Venmo.
The NYC Bagel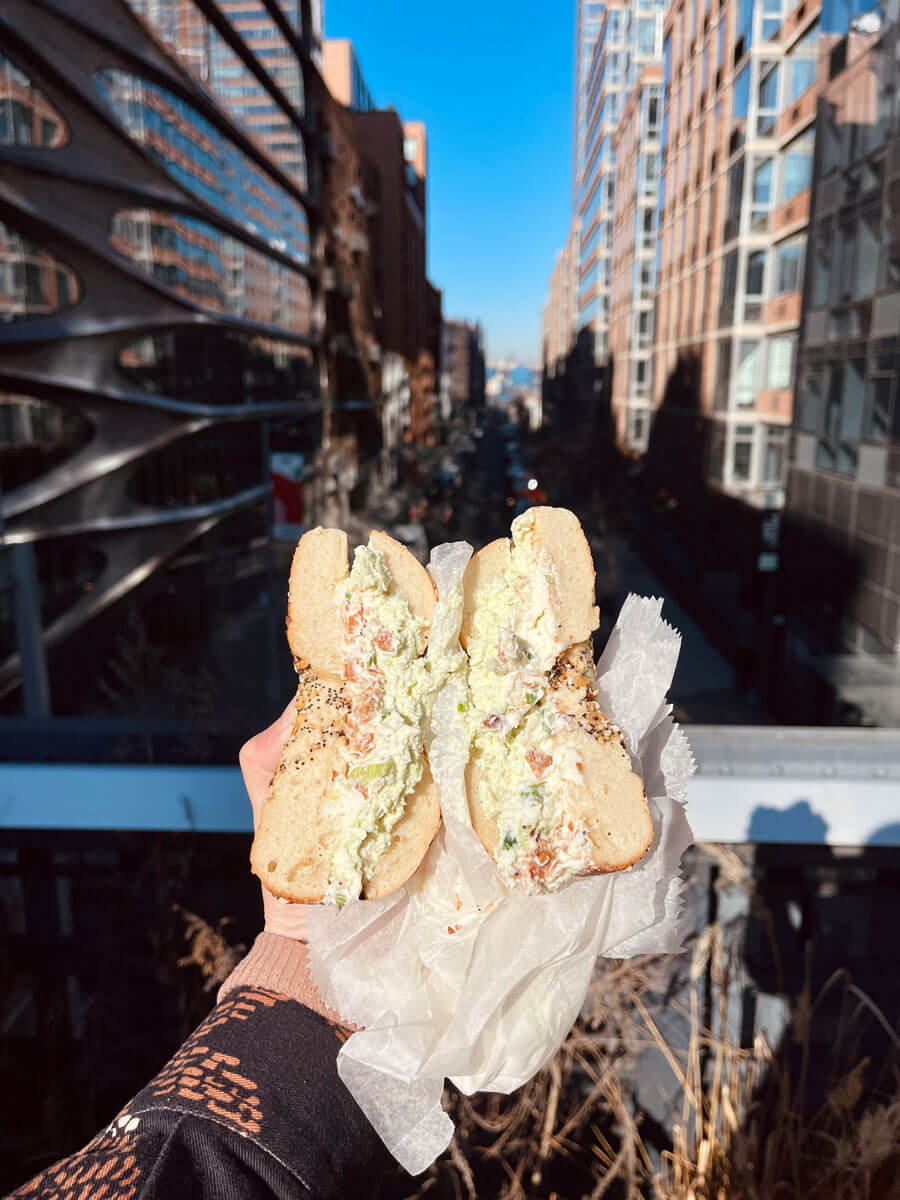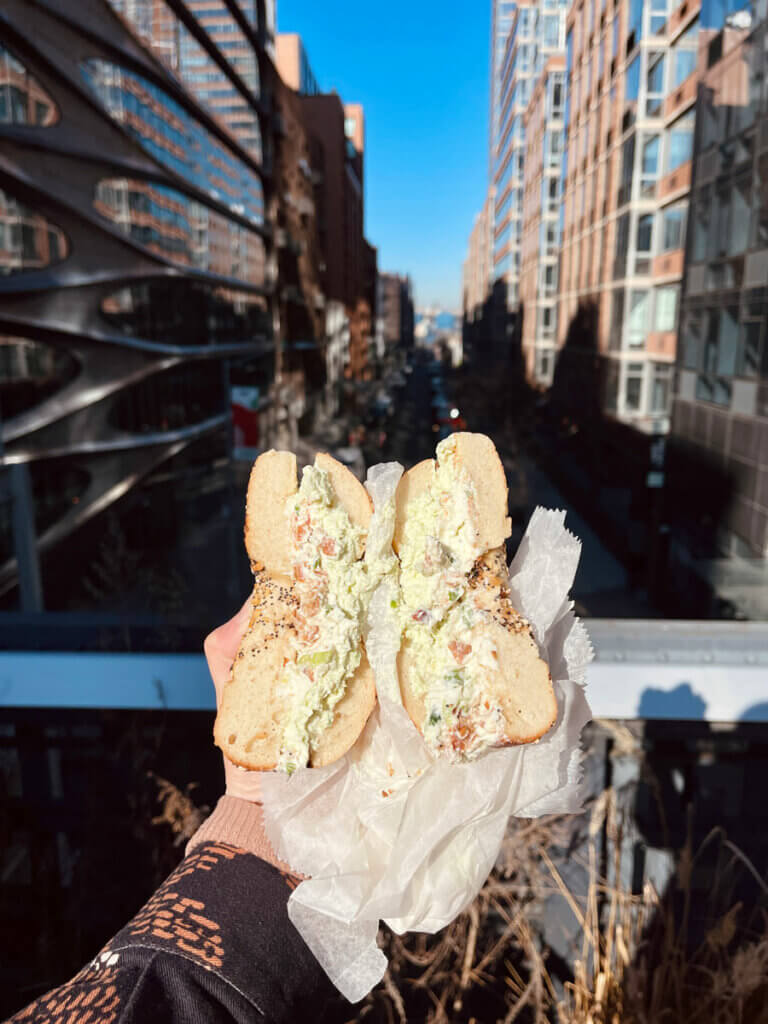 Another great money saving tip for NYC is to enjoy another one of the most quintessential foods in New York, the bagel.
Not only does New York do bagels better than anyone else (and may we suggest checking out our definitive guide to the best New York City bagels), but many of the Big Apple's bagel spots have options that make more than just a breakfast meal that's filling for under $10!
The hard part will choosing what type of bagel to get. Do you want a bagel schmeared with flavored cream cheese, classic lox, or a hearty BEC (baconeggncheese)?
Here are a few iconic places to get bagels in the city:
Russ & Daughters: A Lower East Side institution since 1914, Russ & Daughters offers classic New York-style bagels with an array of smoked fish and toppings.
H&H Bagels: Known for its hand-rolled, kettle-boiled bagels, H&H Bagels has been a staple on the Upper West Side for decades.
Ess-a-Bagel: This Midtown bagel shop has earned a devoted following for its oversized, chewy bagels and extensive cream cheese choices.
Murray's Bagels: Located in Greenwich Village, Murray's Bagels serves up fresh, delicious bagels with a variety of cream cheese spreads.
Brooklyn Bagel Co: One of the best bagels in the city with great flavored cream cheese!
Consider an Attraction Pass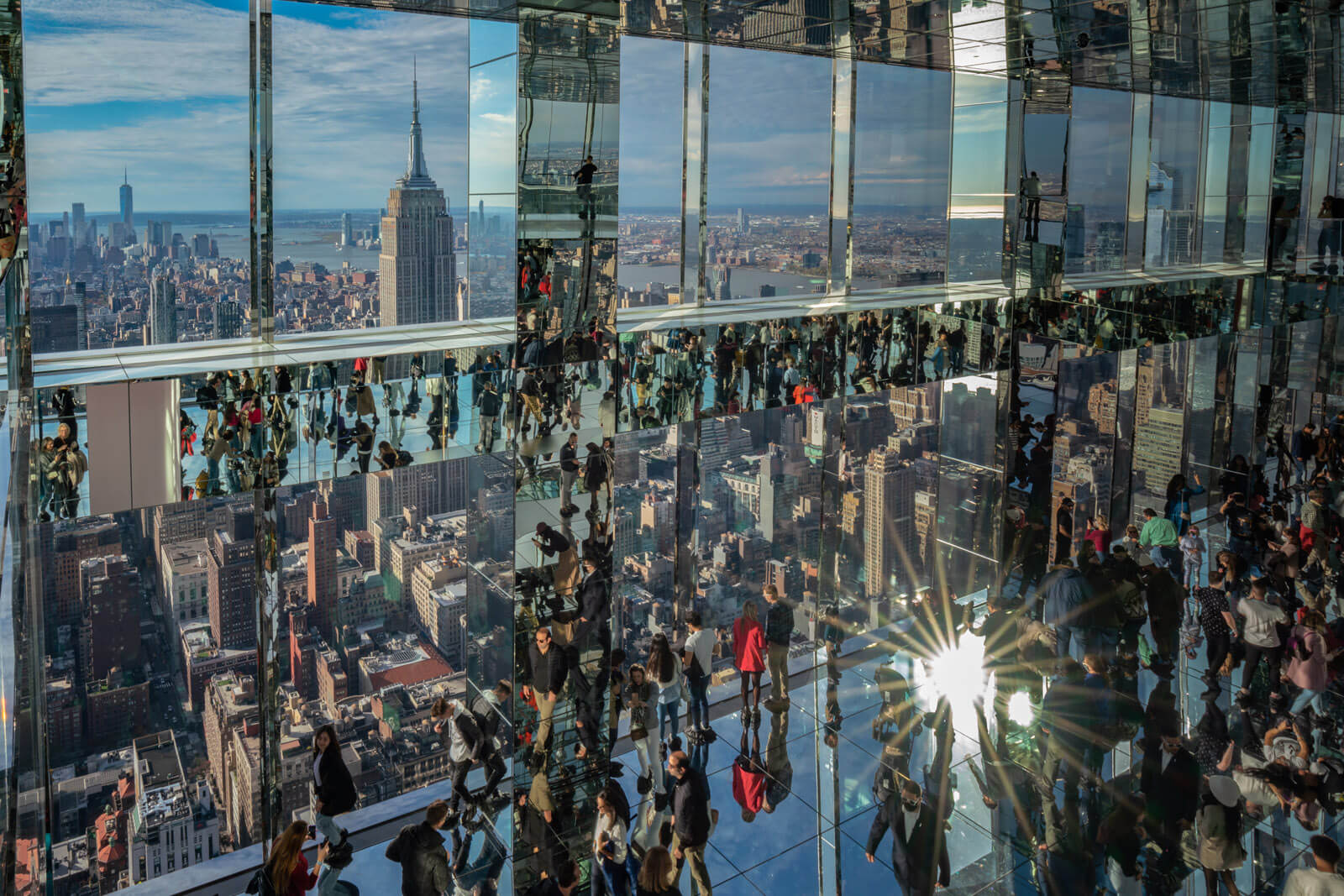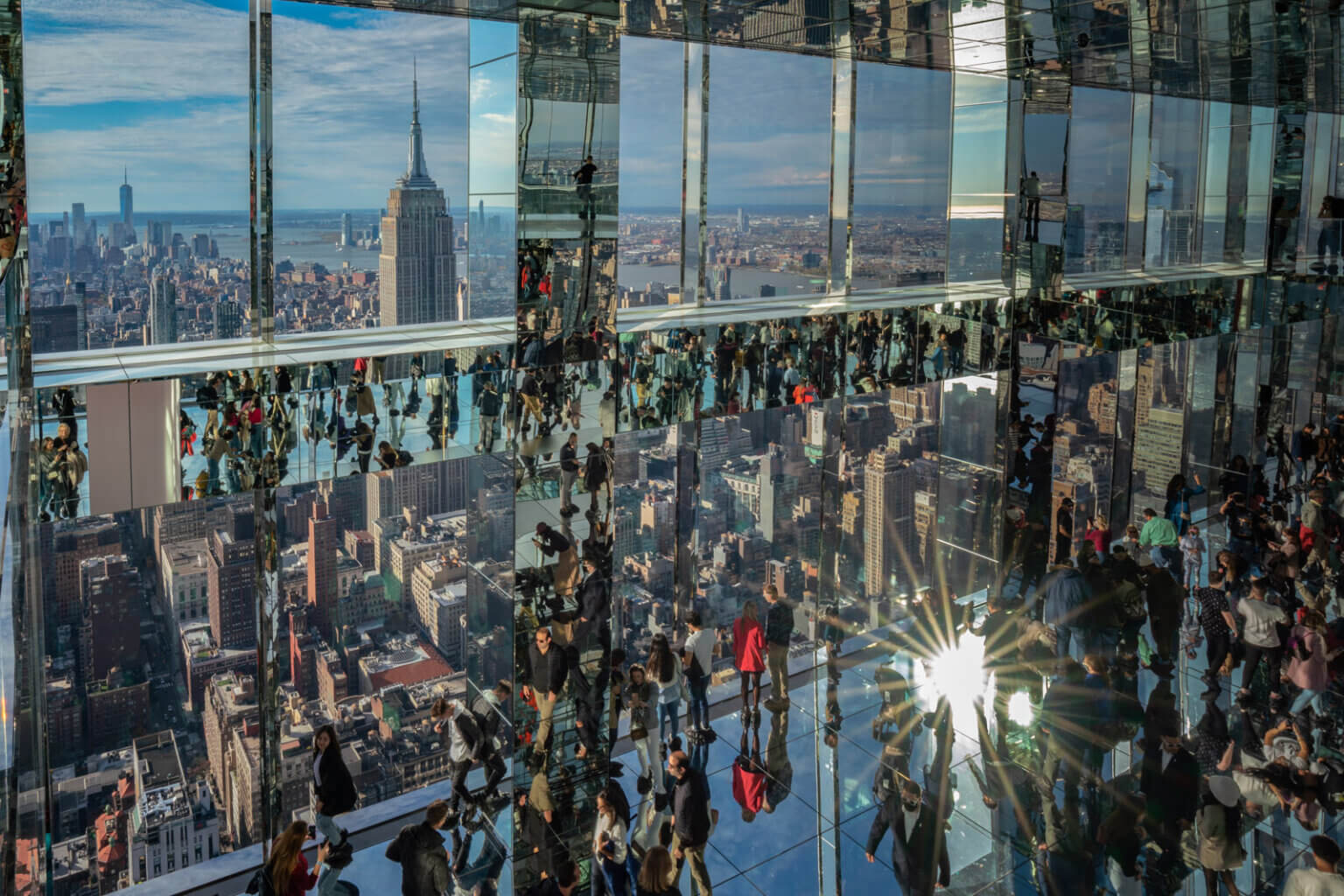 If you're coming to New York City to see alot of the most famous attractions, museums, observation decks, etc., you'll want to look into the attraction pass options to save money.
These attraction passes are paid upfront for a one-time fee and on your trip they get you into multiple different attractions for free meaning that you save some serious money overall. By purchasing an attraction pass you can save anywhere from 35-45% on your attraction passes and saving you hundreds of dollars on your visit!
CityPASS offers a 3 attraction pass or a 6 attraction pass with over 12 city attractions to choose from including popular observatories like the Empire State Building, The Edge, Top of the Rock, 9/11 Memorial & Museum, Statue of Liberty & Ellis Island, the Guggenheim, and more!
Another great option is the New York Pass which you can purchase anywhere from a 1 Day Pass to a 10 Day Pass that gets you into over 100 attractions. Once you purchase your New York Pass you download the Go City app and use that to get up to 45% savings on popular attractions as well as a few hidden gem attractions ranging from the Empire State Building to the Museum of Ice Cream and many of the NYC experiences mentioned in this guide!
See our full breakdown of the New York Pass and our breakdown of the New York CityPASS to see if it's worth it for your visit to save hundreds of dollars on multiple attractions!
Enjoy Free Activities in the City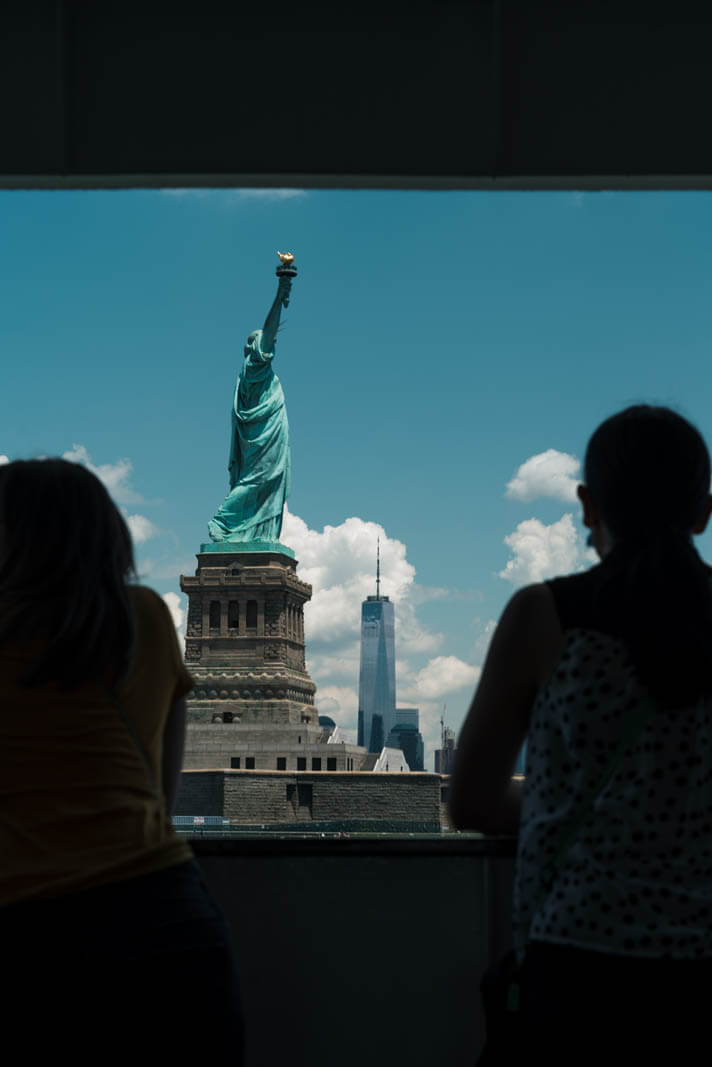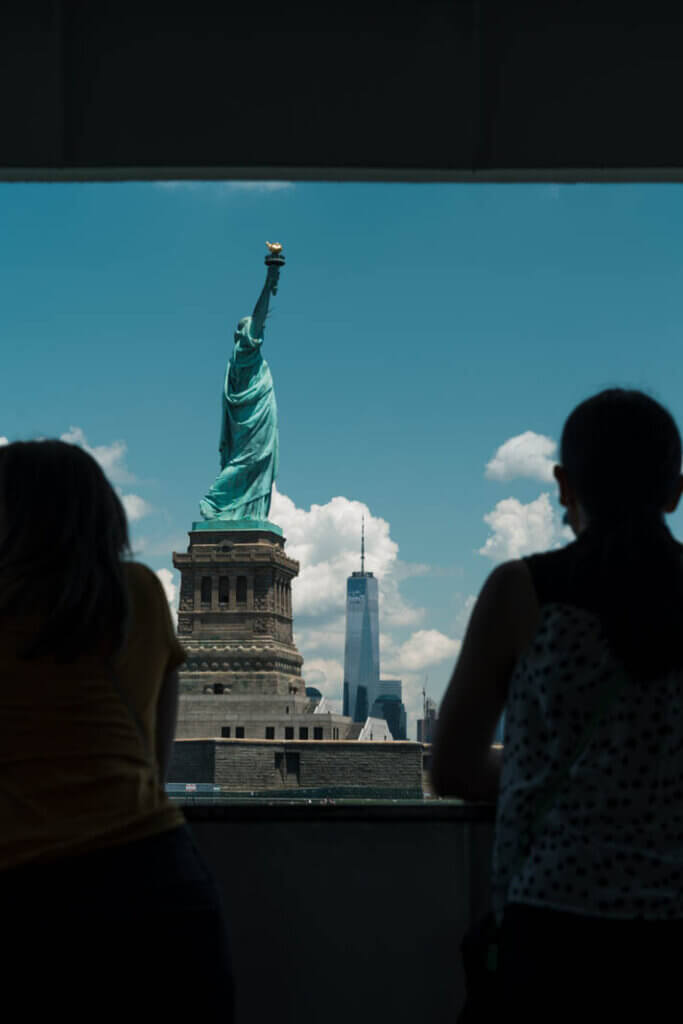 I've said it before and I'll say it again: New York is expensive. Luckily, there are so many incredible free things to do in NYC, which often offer less organized experiences than you might expect from an attraction pass.
In my opinion, if you visit New York City, your trip requires both structured marveling at the grandeur of iconic sights and allowing time for go-with-the-flow-style exploration, which can be supported by a general idea or area of interest, like sauntering through Central Park.
Some of my favorite things to do in NYC are free–and they would still be some of my favorites even if there were price tags attached to them. Below is a short list of New York tips for free activities to do while you visit New York City:
Central Park – there are so many cool things to do in Central Park and Central Park hidden gems to check out . One of my own New York tips which I heed probably more than any other is to visit Sheep Meadow (near the 68th street entrance on Central Park West) for a picnic, check out Poet's Walk, stroll through the Ramble (a lovely wooded assortment of walking paths) up to Belvedere Castle and performances of Shakespeare in the Park (in the summer).
The Museum of the City of New York – This museum covers the city's history and cultural background. Whereas most free museums in the city have a suggested donation (in this case, $20 for adults and $14 for seniors and students over 19), you are not required to pay. That being said, if you can spare a little cash, consider making a donation.
SummerStage Concert Series – One of the best things to do in NYC in the summer is take advantage of the free concert series featuring some of the world's most prominent musical artists for free in a number of parks around the city.
The Staten Island Ferry – if you're looking for a view of the city from the harbor (& amazing views of the Statue of Liberty up close) without the price point, the Staten Island ferry is completely free of charge! You just walk right on and you're welcome to BYOB!
Movies Under the Stars – this is a free program in the summer by the Parks Department which offers movie screenings in parks and public spaces throughout the city. Make sure to check the Parks Department website for showtimes, and bring something to sit on if you can!
Bike Along the Hudson River – this is *almost* free as all you have to do is rent a Citibike for up to 45 minutes (then dock it again and re-rent if you want to go further to not be charged ridiculous fees). Head across the West Side Highway to Chambers Street, Houston Street, or 40th Street and rent a bike so you can follow the bike path along the river all the way up or down until you've had your fix of the breathtaking vistas and beautiful piers.
---
Now that you're oriented, I'll leave you with the last of these NYC travel tips, which I touched on earlier: plan, but don't overplan. One of the most beautiful things about New York is its ability to surprise you, for both locals and tourists alike.
Often for us locals, we find our favorite spots by accident, with zero expectations or thought-out plans. And you can do it too! Of course, if you're visiting New York, you should experience the more popular attractions (and you should plan for them, considering all the variables–from time slots to price ranges to admission policies and more), many of which are listed in this guide.
But you should also leave time to explore and find your own favorites, which can become staples of your own unique trip to New York anytime you decide to come back. And, you'll be able to show off your new hidden gems to your friends who may be considering a trip to NYC for themselves.
New York is weird, the people are weird, our art, music, fashion and dance are weird, and even our animals (rats, pigeons, squirrels and the like) are weird. But there's good weird and bad weird, and New York is mostly good weird.
So come with an adventurous spirit, a positive attitude, a wary eye and your own personal brand of weird, and there's no doubt you'll enjoy yourself. And as Taylor Swift once said, welcome to New York!
---
About Our Guest Author – Eli Kimbell is a born and raised New Yorker and freelance writer from Greenwich Village.
---
How many days do I need to visit New York City?
To fully experience New York City's top attractions and culture, plan for at least 4-5 days. This allows time for iconic sights, museums, diverse neighborhoods, and some leisurely exploration.
Can you walk everywhere in New York City?
While New York City is highly walkable, its size and attractions are spread out. Walking is great for exploring neighborhoods, but you may need public transportation or cabs for longer distances.
What's the best way to get around New York City?
The best way to navigate New York City is by a combination of walking, subway, and occasional taxis or rideshares. The subway system is extensive and convenient for reaching various neighborhoods and attractions.
When is the least expensive time to visit New York City?
Winter (January to February) is often the least expensive time to visit New York City, with lower hotel rates and fewer crowds. However, be prepared for cold weather.
When is the best time to visit New York City?
The best time to visit New York City is in the fall (September to November) when pleasant weather, vibrant foliage, and various cultural events create an ideal balance for exploring the city's attractions.
What is the best area to stay in New York City?
The best area to stay in New York City depends on your preferences. Manhattan neighborhoods like Midtown, Times Square, and the Village offer central locations, while Brooklyn's Williamsburg provides a trendy, more affordable alternative.