Koike no Iekei: Soul Food Ramen – Culinary Backstreets
Ramen has been, arguably, one of Japan's biggest culinary exports in the past few years. Across the globe, new legions of converts will proclaim to be tonkotsu (pork bone broth) fans, avid followers of the shoyu (soy sauce) style, or miso ramen aficionados.
Yet a new store in Sugamo, a northern Tokyo suburb, is throwing its weight behind a type of ramen – iekei – still little known outside of Japan.
Sugamo isn't the kind of place that's known for being trendy. In fact, it's colloquially known as "Obachan no Harajuku" (Grandma's Harajuku) due to the array of shops catering to the elderly – although there are a couple of less salubrious streets geared towards a certain male clientele. Despite the neighborhood's location on the iconic JR Yamanote line which encircles central Tokyo, it's an area that has been largely forgotten, as if it got stuck perhaps fifty years back in the Showa era.
But new ramen stores have been cropping up among elderly fashion stores and shabby shokudo (literally "dining room/hall," casual cafeterias often serving teishoku, set meals). First, in 2015, there was Tsuta, which became the first ramen store to ever receive a Michelin star, before it moved to a more central Yoyogi location. Then, there was Menya Imamura, which serves comforting chicken broth ramen. 
Now, stepping up to the mantle is Koike no Iekei, boldly offering – as its name suggests – iekei ramen.
"When I ate ramen when I was little, there was only iekei ramen," says Koike no Iekei founder Hiromitsu Mizhuara, who hails from Yokohama, Japan's second-largest city and the birthplace of iekei. "I ate it all the time – it really was a kind of soul food."
Koike no Ieke, which opened in October 2022, serves up iekei ramen with a touch of elegance that has earned Mizuhara a reputation as one of the best ramen makers on the scene.
The rich broth is made with soy sauce and pork and chicken bones that have been simmered over three days before the final batch of soup is strained through a fine-meshed sieve. This process creates a smooth, creamy broth without being overwhelmingly heavy, crafting a consistency that expertly coats the dish's trademark thick noodles.
Crunchy onion, blanched spinach and crispy nori – all iekei signature toppings – cut through the richness and saltiness of the soup. It is then finished off with a thin slice of char siu, cooked at a low temperature to a melt-in-the-mouth tenderness.
The bowl is well-balanced, comforting and satisfying – the hallmarks of any good soul food – inviting the diner to relax into each mouthful. This is appropriate, perhaps, given that iekei literally means "home-style."
"Rather than do something new, I wanted to stick to the basics but do it in my own special way," Mizuhara says sincerely.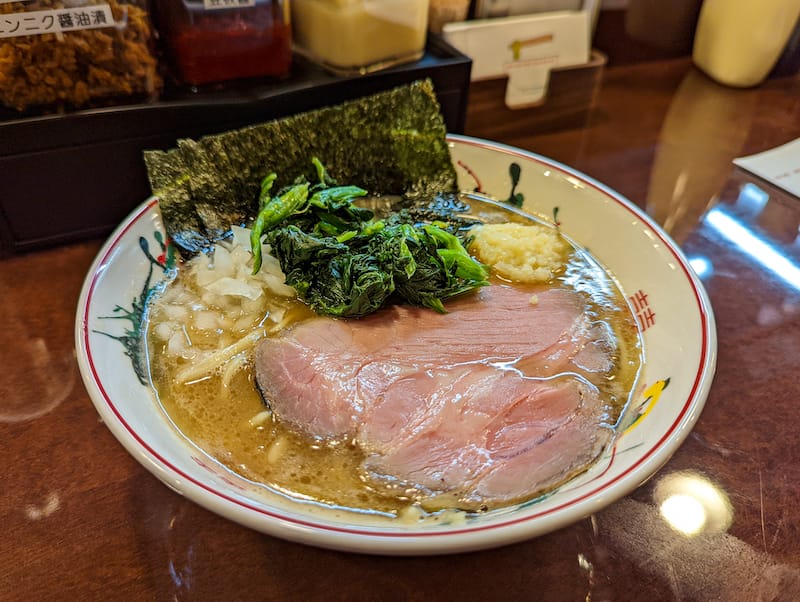 It's a move that requires conviction. New ramen spots on the Tokyo scene are endlessly trendy, making efforts to distinguish themselves among the overwhelming competition. One of the latest Michelin star contenders, for example, takes inspiration from consommé preparations in French cuisine, eschewing traditional tare (sauce); others melt cheese into rich umami-full broths or concoct spicy vegan tantanmen, blending almonds, peanuts and sesame with shiitake.
Yet Mizuhara is someone who clearly doesn't lack conviction. He's a serial "ramentrepreneur" and Koike no Iekei marks his sixth venture. Three of his restaurants have been awarded Bib Gourmands, and Chuka Soba Nishino and King Seimen made the cut in the Tokyo Michelin Guide 2023.
It's a level of success that has taken him by surprise – a 2016 award for his store Ramen Koike came out of the blue.
"I was actually taking a nap on a break at the store," Mizuhara laughs. "And there was a knock knock at the door. I thought it was just a salesman, come to push me to buy something. But when I opened the door and looked at the business card and saw 'Michelin Guide' … well, I really woke up properly then!"
Mizuhara didn't start out working in the restaurant industry and initially struggled to find direction. He played in a band with his friends through junior high school and university, but they split up when they graduated. Floundering for a career path, he decided to enter a vocational school to learn how to make shoes by hand – taller than average height and with large feet, he had always struggled to buy shoes in his size that he actually liked. However, Mizhuara realized that learning the craft would take time, and he would need to put a lot of effort into advertising his wares. Impatient to start earning like his friends, he quit after six months.
Once again facing a reality where, he says, he had "no money and skills," he entered the restaurant industry simply as a way to put wages in his pocket and a meal in his stomach. After years spent working at an izakaya, he began to formulate plans to strike out on his own, settling on ramen as his cuisine of choice.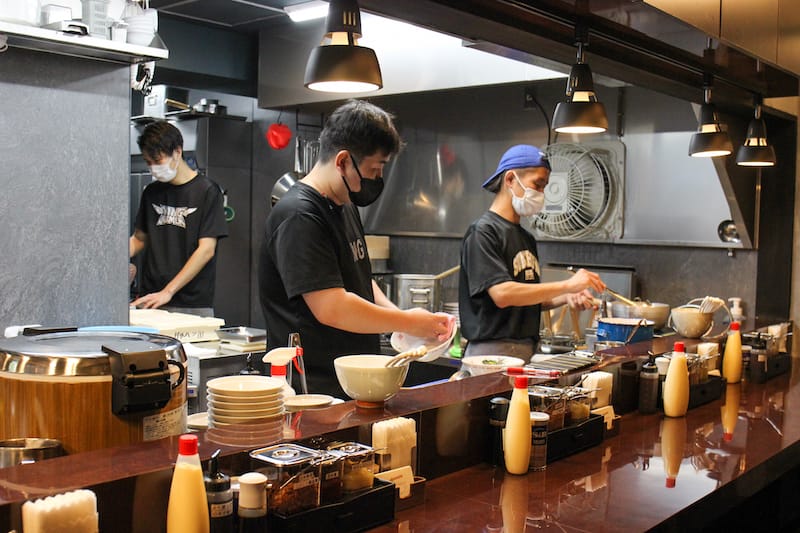 "I don't drink alcohol," he explains. "Working at a store that serves alcohol is totally fine, but when it came to setting up my own store, since I don't drink, I thought I don't really understand the feelings of customers who do. And while we do have alcohol on the menu here, ramen shops are basically places where people tend to just have one drink."
Given that Mizuhara hails from Yokohama, Koike no Iekei represents a kind of belated homecoming within his craft. That's partly as he initially trained in making dashi – seafood and konbu-based broth – and he didn't learn to make animal stock until later on. His first store, Ramen Koike, which first opened under a different name in 2013, is famed for its niboshi (sardine) broth.
Finally, after several years of planning and occasionally serving iekei as a special at one of his other stores, he heeded the call of his childhood memories, and established Koike no Iekei in its own right.
But Mizuhara was careful not to trample on the tradition.
"Iekei ramen has a traditional taste, so I wanted to create a soup within that scope, without making the flavor too unique," he says. "Instead, I focused on other elements to bring out some individuality, such as thinly sliced char siu and producing a soup with a good mouthfeel."
Koike no Iekei's formula seems to be working. While the immediate rush sparked by a new opening from a renowned chef like Mizuhara has subsided, diners can still expect a queue at lunch. The store has also gathered an impressive 86 points out of 100 on Ramen Supleks, a user-driven ramen review site where ramen otaku (geeks) evaluate everything from the texture of a thin sheet of seaweed to the way a slice of pork is positioned in the bowl.
Thinking beyond the hardcore noodle fans, though, Mizuhara has taken steps to create a place that's bright and welcoming, dispelling the image of cramped, greasy noodles shops. Just as he tucked into iekei as a child, he says he wants students and people from the surrounding neighborhood to feel like they can casually drop by.
Iekei ramen is, after all, far more than flavor; it's a style that gently nudges customers to make themselves at home.
August 30, 2022 Menya Imamura
In 2015, a ramen store in Tokyo made waves by becoming the first ever to receive a […] Posted in Tokyo
August 5, 2022 Chabuzen
Daiji Takada, owner of Chabuzen, peeks out over the counter from the kitchen, which has […] Posted in Tokyo
July 5, 2022 UZU House
Follow a narrow alley radiating off the newly renovated Lado Gudiashvili square whose […] Posted in Tbilisi
Published on November 30, 2022