I'm a budget cruiser. Here are 8 easy strategies I used on my recent Royal Caribbean cruise to save money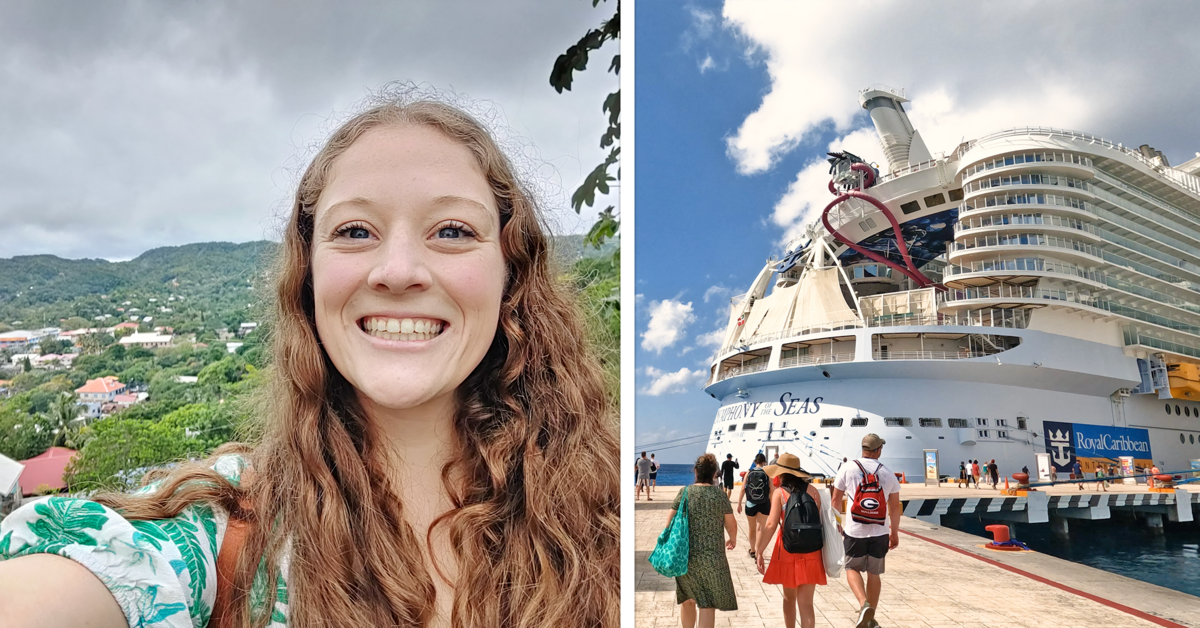 I'm always looking for ways to save money on a Royal Caribbean cruise, from booking interior cabins to skipping shore excursions. So when I booked a cruise on Symphony of the Seas, the second biggest cruise ship in the world, I knew my budgeting skills would be put to the test.
On my 7-night Western Caribbean cruise, my goal was to spend as little extra money as possible while still making the most of my vacation. I wanted to experience not only everything the ship had to offer, but the ports as well, and I knew this would be challenging when cruising on a budget.
Needless to say, I ended my cruise with only $28 spent onboard and $150 spent in port. Here are the 8 easy strategies I used to save money on my Royal Caribbean cruise that you can use too.
Booked my cruise early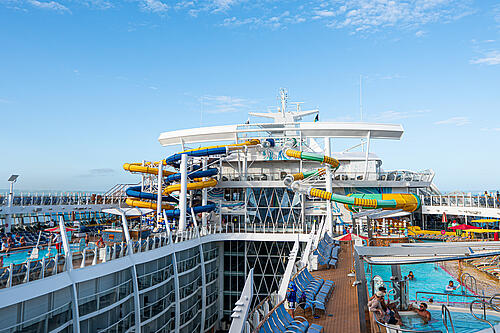 I booked my Symphony of the Seas cruise five months in advance of my February sail date. The total cost of my cruise for two guests, including gratuities, taxes, and fees, was $1656.
My fellow staff member Elizabeth also sailed on Symphony of the Seas with me in a separate cabin. Like me, she booked an interior room, but she didn't book her cruise until late December, just two months before the sail date.
Related: When is the best time to book a cruise?
Despite sailing on the exact same ship and in the same cabin category, the total price of Elizabeth's cruise was $1986!
She paid $330 more than I did for the same cruise just because she booked three months later than I did. I always knew it was better to book a cruise early, but seeing how much more Elizabeth paid for the same experience made me grateful I had booked several months earlier.
Used a Priceline hotel deal
My flight arrived in Miami the night before my cruise on Symphony of the Seas, so I had to book a hotel for one night. Hotels in Miami aren't necessarily the most budget-friendly, so I decided to use one of my favorite hotel "hacks" to save money.
Related: Best Miami hotels near the cruise port
Priceline offers Express Deals, a service in which you can save up to 60% off a hotel for your trip. The catch? The names of the hotels are omitted from the list of deals, which means you "blindly" book a hotel and find out the exact location and name after you book.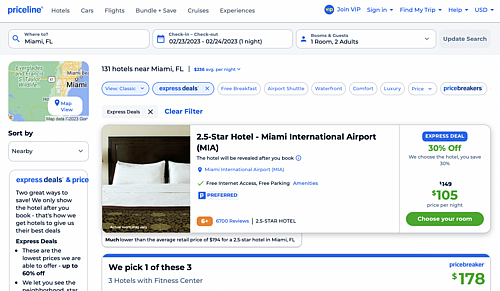 Luckily, you can search a specific location, such as hotels near Miami's airport, and it will populate hotels around the airport. The hotel's rating, number of stars, amenities, and price are listed in the results, so you can feel confident with whatever "blind" booking you make.
I booked a hotel with Express Deals and stayed at the Holiday Inn Miami-Doral Area, located just 10 minutes from the airport. Normally priced at $278 per night, I only paid $215 for the room through Express Deals, saving me $63 on my pre-cruise hotel stay.
Stayed in an inside room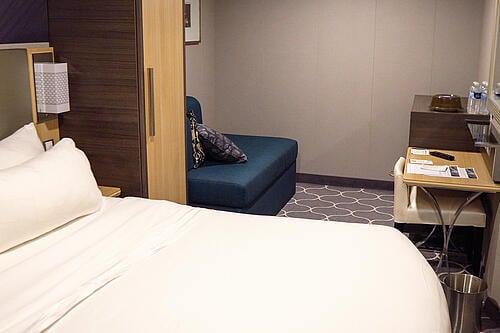 Unsurprisingly, as a budget cruiser, I almost always book inside cabins. And even though I had the chance to stay in an $870 per night suite last month on Liberty of the Seas, that luxury experience was the exception, not the rule.
Needless to say, I booked an interior stateroom for my recent cruise on Symphony of the Seas. While nothing fancy, the cabin had everything I needed for my "home away from home" for the week:
King sized bed
Couch
Desk/vanity area
2 closets
Wardrobe
Mini fridge
Private bathroom
Cruising in an interior room instead of an oceanview, balcony, or suite saved me hundreds of dollars on my cruise. And, since we were sailing on such a big cruise ship, we hardly spent any time in our stateroom anyway!
Booked a guarantee cabin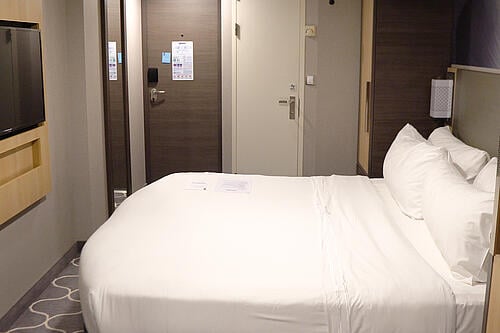 Not only did I book an inside cabin on my recent cruise, but I booked a guarantee inside cabin. Guarantee cabins are when you let Royal Caribbean choose your stateroom location instead of picking it yourself.
While this doesn't offer much control over where in the ship you'll be located, it can be a great money saving hack for cruisers on a budget. In fact, there's even a chance you can get upgraded to a better stateroom if your guarantee cabin category sells out.
Related: I saved $100 by letting Royal Caribbean choose my cruise ship cabin location, and I would do it again
Although I didn't receive any type of upgraded cabin, I was assigned to an inside cabin on deck 11 forward, and had no complaints about the stateroom's amenities, size, or location.
By booking a guarantee cabin over choosing my own cabin location, I saved a total of $97.
Planned port days on my own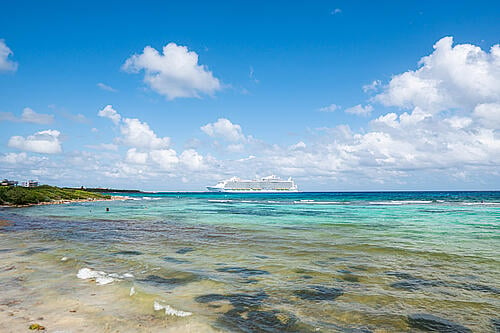 I rarely book organized shore excursions. Not only are they often out of my budget, but I don't love traveling with big groups and having a set itinerary for the day.
Because of this, I prefer to plan port days on my own, and it always ends up saving me money. I research each port before my cruise begins to make note of how I'd like to spend the day.
Related: 7 ways to have a great time in port without a cruise ship shore excursion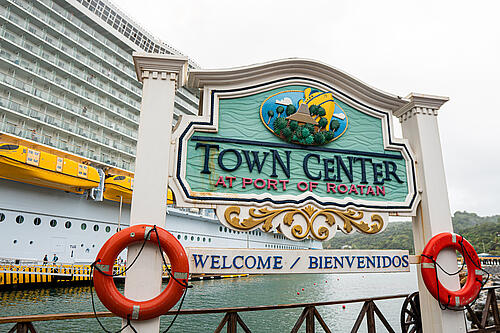 On my recent cruise, we visited Roatan, Costa Maya, Cozumel, and Perfect Day at CocoCay. Here's what I did and how much money I spent in each port:
Roatan: Hired a private driver from Bodden Tours for $46 per person + lunch for $7 per person
Costa Maya: Spent the day at Jaime's at the Blue Reef for $56 per person + $8 taxi
Cozumel: Walked around downtown Cozumel and dined at two restaurants for $25 per person + $8 taxi
Perfect Day at CocoCay: Spent the day at the beach for free!
In total, I only spent around $150 for four memorable days in port. If I had booked shore excursions through Royal Caribbean or another tour company, I could have easily spent over $300!
Avoided spending extra on activities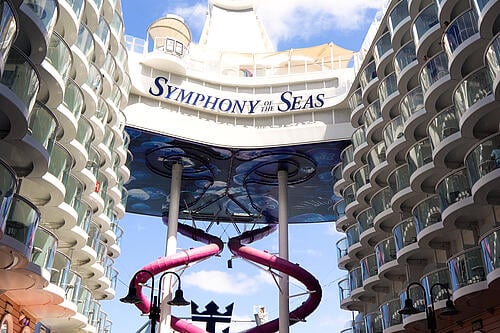 It's easier said than done, but avoiding spending extra on Royal Caribbean's activities and services during your cruise can save you a significant chunk of change.
While most activities are included in your cruise fare, such as zip lining, entertainment productions, and live music, there are a few add-ons that can be purchased throughout the cruise.
I was tempted to reserve a time slot for the escape room, for example, but decided against the $20 fee in favor of free activities onboard. Outside of the escape room, I avoided the arcade, cupcake decorating classes, cocktail seminars, and expensive spa treatments.
Related: Top 30 extra cruise costs that are not included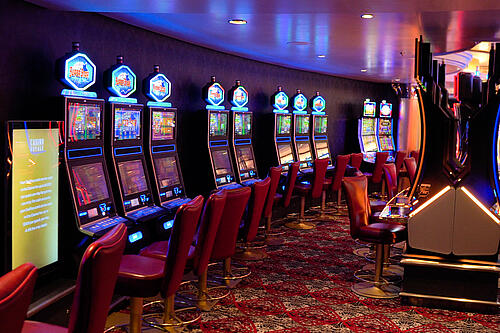 Although I did make a brief trip to the casino to use my free play money, I figured it was best to leave as soon as the free play ran out!
While I'm not opposed to spending money on activities on a Royal Caribbean cruise, there are so many free activities on Symphony of the Seas that I didn't feel I missed out on anything onboard.
Stuck to my Diamond drinks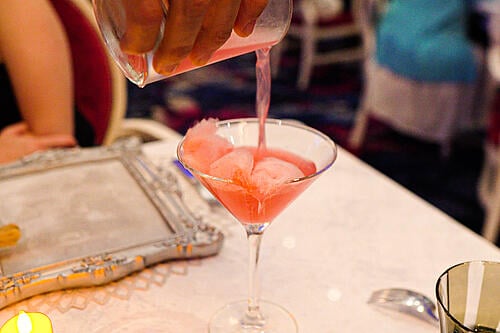 I've never booked a drink package on Royal Caribbean. At around $80 per person, per day, it was always out of my budget, and I never felt like I could drink enough to justify the cost of the package anyway.
As I'm now a Diamond member in Royal Caribbean's Crown & Anchor Society, however, I get four free drink vouchers per day. These vouchers can be used anywhere onboard, from specialty coffees at Cafe Promenade to whimsical cocktails at Wonderland.
Related: Crown & Anchor Society loyalty program info, tips & secrets
I find four drinks per day to be sufficient, but there were a few times I considered going over my daily limit by ordering another cocktail or two. At $14 each, though, I decided against it and stuck to complimentary beverages instead.
Booked specialty restaurants for lunch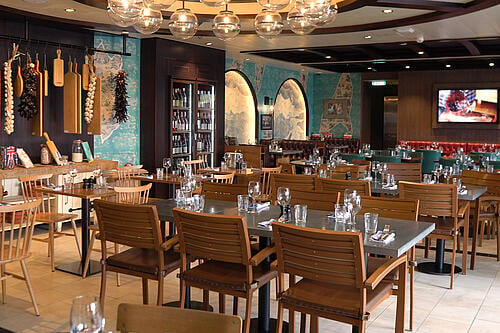 One of the most sure-fire ways to save money on a Royal Caribbean cruise is to eat primarily at complimentary dining venues. From the Windjammer to the Main Dining Room and everywhere in between, there's more than enough food included in your cruise fare.
That being said, I love Royal Caribbean's specialty restaurants, but they can add up quickly. I didn't want to spend hundreds of dollars on a dining package, but I still wanted to try several specialty restaurants on Symphony of the Seas. Here's what I did instead:
Booked Jamie's Italian for lunch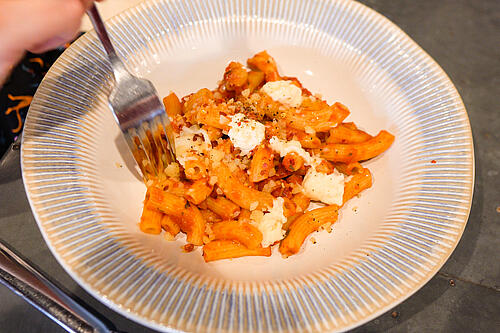 Lunch at Jamie's Italian is $25 per person whereas dinner is $50 per person! The lunch menu is almost identical to the dinner menu but at half the cost. As a plus, we reserved lunch on embarkation day, meaning we could escape the busy atmosphere elsewhere onboard by dining inside the quiet restaurant.
Dinner at Izumi Sushi
Most specialty restaurant dinners cost between $45 to $60 per person, including the hibachi option at Izumi.
The sushi side, however, offers a prix fixe menu for only $35 per person. We booked dinner here on the Cruise Planner prior to our cruise for only $29 per person, which made it an excellent deal on a specialty restaurant dinner.
À la carte dining at Playmakers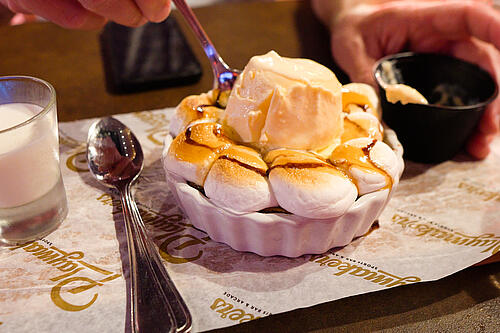 Playmakers Sports Bar and Arcade is a specialty dining venue that offers à la carte options as opposed to a cover charge. This means each item on the menu comes with its own price, and the options are quite affordable, from $3 fries to $9 burgers.
Wanting to try something different without spending too much money, we dined at Playmakers one evening. We spent only $6 on nachos and $6 on the restaurant's famous Campfire Cookie, a skillet chocolate chip cookie topped with toasted marshmallows and ice cream.
Overall, we only spent around $60 each to eat at three specialty restaurants during our sailing, and we were able to use onboard credit for both Izumi and Jamie's Italian!
Planning a Royal Caribbean cruise on a budget? Check out more of our money saving tips & tricks: