How to retire on a cruise ship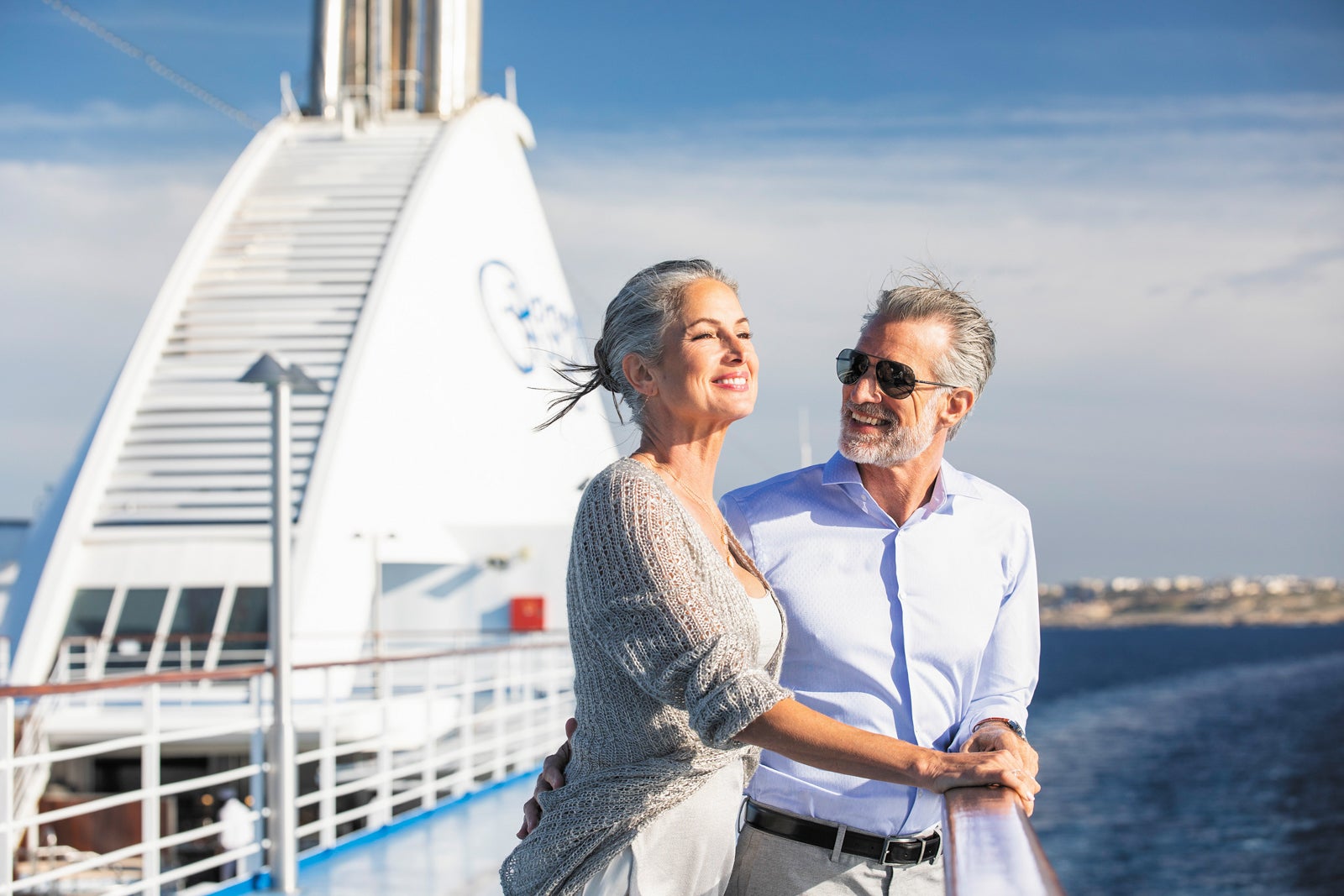 As I approach retirement age, the thought of retiring on a cruise ship has crossed my mind. Okay, who am I kidding? It's a daily obsession.
Retirement living is generally broken into three phases: the active healthy phase where you are fully independent, the phase where you need some assistance with meals and household chores, and the phase where you need a far greater level of care. Cruise retirement life obviously suits the independent phase, but it also closely resembles the assisted living option most people consider on land.
Both cruise ships and retirement communities include food, lodging, utilities, housekeeping and social gatherings, plus enrichment activities like guest lecturers, movies and art, computer or dance classes. Add to that the ability to travel the world without bothering with airplanes and hotels, and it makes sense that many people view living on a cruise ship as an ideal retirement plan.
For cruise news, reviews and tips, sign up for TPG's cruise newsletter.
But how do you go about it? Clearly, you can live on a cruise ship — any good travel agent will happily book you on a year's worth of cruises at a time. But there's no "How to Retire on a Cruise Ship" guidebook to help you make informed decisions about the cost and feasibility of living out your golden years at sea.
What is the best way to go about full-time cruise ship travel? What other considerations should be taken into account? I dug in with some good old-fashioned research to see where that led me. Here's what I learned about how to retire on a cruise ship – and whether it's a good idea.
What does it cost to retire on a cruise ship?
When it comes to a retirement budget, commercial independent and assisted living facilities that provide extras like meal plans, housekeeping services, activities and transportation start on average around $60,000 per year per person, or $164 per night. (Obviously, this pricing will vary based on where you live, inclusions and luxury levels.) I set out to determine if retiring onboard a cruise ship could match (or beat) what's available on land, so I compared facilities with amenities and payment structures closest to what you could get on a cruise ship.
Retiring on a traditional cruise ship
While negotiating with cruise lines for a lower fare on a long-term arrangement is possible in many cases, I found that even without any special deals with the cruise line, I could book 52 back-to-back seven-night Caribbean cruises from Miami on Carnival Cruise Line's newest ship, Carnival Celebration, for around $43,000 per person in an inside cabin. That's around $118 per person per night. (Think carefully whether you can stand to live year-round in a windowless room.)
Shopping for Carnival's cheapest cruises on older ships, I could get the average below $50 per person per night in inside cabins and around $110 in balcony cabins, including port taxes and fees. That means your cruise fare could be as little as $18,250 per person per year. Unfortunately, the fare is not your only cost to consider.
Sign up for our daily newsletter
You would need to budget for flights between ports and occasional hotel stays if you decide to return home or swap ships. Plus, there are tips for staff to consider, which can total thousands per person during the course of a year.
All that puts the minimum for a couple or a single traveling alone (which requires single supplement charges in double occupancy cabins) just over the $50,000 per year mark.
Related: Best cruises for seniors who love to travel by sea
Obviously, there's no upper limit to how much you could spend on retirement on either land or sea, but here are some examples of what I found: A year on Cunard's Queen Elizabeth in a balcony stateroom would run about $64,000 or $175 per night per person. A year onboard P&O Cruises' Britannia in a balcony cabin could be arranged for roughly $53,000 or $145 per night per person. Both options would allow you to see a great deal of the world.
By contrast, a year onboard a luxury cruise line like Silversea, Seabourn or Regent Seven Seas will cost a minimum of $200,000 per person ($548 per person per night). The good news about that price is that cruising on those lines includes things like tours, gratuities, alcoholic beverages and most specialty dining, as well as laundry.
Retiring on a residential ship
An alternative to sailing on a traditional cruise line through your retirement years is to buy or lease a cruise ship cabin on a luxury residence ship. The most well-known of these is The World, but there's been recent buzz about startup company Storylines and its residence ship, MV Narrative, which is set to launch in 2025. Victoria Cruises Line is also planning to turn two refurbished vessels into residential ships for long-term living, with a proposed launch in spring 2023.
Ownership simplifies a few things logistically, and your only additional costs are likely to be port expenditures and/or travel when you opt to leave the ship. You might also be able to rent out your cabin when you aren't using it, helping offset the cost of your cabin.
Storylines, for example, is selling staterooms either for the life of the ship or for quarterly seasonal shared ownership. Twenty-four-year lease options are also available. In addition to the initial purchase or lease cost, residents will pay an all-inclusive living fee per person per month that covers food and beverages, housekeeping, laundry, Wi-Fi, and, of course, fuel for the ship.
How does this option compare, pricewise? To purchase a 237-square-foot inside cabin with a virtual window for the life of the ship costs $1 million on average. A twenty-four-year lease is around $650K. Storylines also charges an additional all-inclusive living fee to cover onboard services (food, housekeeping, Wi-Fi, etc.); for an interior stateroom, this mandatory charge is $2,586 per person per month, based on double occupancy, or $62,064 annually for two people living together. Purchase prices for a one-bedroom, 1.5-bathroom unit averaged $2.7 million, with $111,000 in living fees.
For purposes of comparing the costs to traditional cruise ships, the living fee in the inside cabin on MV Narrative is $85 per person per night and the one-bedroom suite is $152 per person per night. These figures are in addition to the upfront costs of buying or leasing.
If you can invest in ownership or lease of a stateroom, your cost per night (beyond your purchase or rental price) can be lower than cruising traditionally. However, as MV Narrative is not yet under construction and is not slated to be built at one of the main cruise ship-building yards, you'll definitely want to talk to an advisor about investing your retirement savings in a startup company that has not yet brought a product to market.
What's so desirable about retiring on a cruise ship?
We talked about what's included on the ship and the potential of retiring for the same or even less than what you'd expect to pay for land-based retirement accommodations. That may be enough incentive for some, but what else makes retiring on a cruise ship an attractive choice?
For many, it's travel itself. Changing scenery every day can be an inspiring way to live. Even an option that visits the same ports over and over might be more appealing than staying at home for some people.
Simply not having to worry about grocery shopping, meal preparation or home maintenance tops most people's lists of retirement goals, and all of those would fit into a cruise ship retirement. Avoiding weather extremes is another retirement priority. It's possible to plan your retirement cruise itinerary to ensure you are always headed away from cold and snow.
The atmosphere on board a cruise ship is another plus. It's a whole other vibe from your average senior living facility. Whichever ship you choose is likely to be filled with people excited to be on board. That attitude can be infectious. Being surrounded by young people, not just folks of retirement age, can also make cruise ship life more appealing.
Related: Which cruise brand is right for you? A guide to the most popular lines
Living on a cruise ship presents the opportunity to meet new people. In some cases, it would be a shipload of new faces every week or two. Imagine how many new friends you could make in a year. Some cruisers make friends with crew members on every cruise they take. The opportunity to stay onboard and foster those relationships for long stretches might be irresistible.
Then there are people who enjoy being in the company of others, while maintaining nothing but passing interactions with them. Even an introvert might find the social scene of a cruise ship a better arrangement than a more solitary retirement scenario.
What might make you think twice about living full-time on a cruise ship?
For some, the best part of retirement is spending time with family — especially the grandkids. Cruise retirement doesn't rule that out, but it does make it a bit more complicated. It's hard to be the type of granny who can frequently babysit when you live on a cruise ship, potentially thousands of miles away from where the grands live. If your family wants to visit you, they'd have to pay for cruise fare for everyone.
The same holds true for developing lasting relationships. Passengers and crew come and go on ships, so your relationships will be fleeting. Retired singles may find it difficult to find the next love of their life floating around the Caribbean on a ship full-time. For introverts, it can be exhausting to continually make the effort to meet people.
If you prefer the company of animals to people, you're out of luck. In most cases, you can't take pets with you on a cruise, so that can be a drawback for many retirees.
Related: Are dogs allowed on cruise ships? These are the cruises that allow pets
A feeling of confinement is tops on the list of reasons people I talked to said they couldn't retire on a cruise ship. Even on a large ship, you can only go where it goes, plus the room you call your own is likely to be far smaller than what you are used to. There's a certain loss of freedom, but that's common with many forms of retirement living.
Plus, the cabin you book might not be designed for senior living, the way apartments at a retirement home or senior living community would be. You'll also have fewer options for cable TV plans and phone calls and Wi-Fi costs will be pricier than on land.
Though cruise ships have a medical staff, they aren't equipped to handle serious health issues. You'd have to manage prescription medications from a distance for long periods of time, and schedule time off the ship for routine checkups. Any medical emergencies might require you to be airlifted from the ship, and the distance to the nearest hospital could be quite far.
Related: Do cruise ships have doctors, nurses, medical centers or hospitals?
And in most cases, you won't be able to rely on Medicare for your health coverage while out of the country. For that, you'll need a travel or ex-pat health insurance plan, with costs ranging from around a hundred per month to thousands, depending on your coverage specifics. Plus, your cruise retirement could be cut short at any point by health issues. They won't hesitate to kick you off the ship if you need more appropriate care on land – and then you'd need to quickly find a new place to live while suffering from medical concerns.
Besides the health aspect, you'll always need to have a solid backup plan. Things like mechanical breakdowns, disaster-related shutdowns and cruise line business decisions can drastically affect your plans — more so than in most land-based living situations. You would need annual travel insurance as well as enough available money to cover hotels and transportation from almost anywhere on the globe.
How to start planning for a cruise ship retirement
Taking an extended cruise is a good first step toward deciding if you want to make cruising a more permanent retirement option. I met a woman last year when I cruised on Royal Caribbean's Grandeur of the Seas who was in the planning stages for the cruise line's 274-night world cruise. This woman was testing out several storage products she hoped would make life easier on her extended cruise. From drawer organizers to under-bed rolling plastic bins, she was traveling with things most weeklong cruisers would never think of.
She was also working on boosting her loyalty status with Royal Caribbean. There are perks available to the highest loyalty levels that would save money when retirement time arrives. Complimentary laundry tops the list of valuable perks at the top levels on the mainstream lines, along with spa treatments and specialty restaurant meals, Wi-Fi discounts and free or discounted cruise nights. Even luxury lines like Silversea and Seabourn offer top loyalty members discounts and free nights.
The higher your status when you retire, the more perks you start out with – though you'll quickly climb through the loyalty ranks if you sail on the same line for an entire year.
The woman I met was using low-cost solo cruises (which earn double points) on Royal Caribbean's smallest ship to boost her status point total. Status is shared with domestic partners or spouses living in the same household, regardless of whether they went on the same number of cruises. Other ways to boost status would include taking advantage of double points offers like the one Celebrity Cruises is running this year on European cruises or by cruising in upper-level suites.
Related: A beginner's guide to cruise line loyalty programs
Initial steps toward cruise ship retirement might also include selling one's home (or preparing it for becoming a rental), disposing of excess possessions and re-homing pets. You will also want to consult with a financial advisor to help with residency laws and money management that might allow you to cruise even longer into retirement.
Bottom line
Retiring on a cruise is an intriguing possibility, whether you book a year's worth of back-to-back cruises on a traditional cruise ship or purchase a floating apartment on a residential ship. Either way, retirement at sea comes with both advantages and disadvantages. While you will have the opportunity to explore the world and meet lots of new people, you may find yourself missing the people you left behind.
The financial aspects, particularly when it comes to health insurance, are likely to be tricky, requiring careful planning with expert advice. And you'll need a backup plan should your health at some point prevent you from remaining on board.
The best plan is to plan well ahead, starting with a few long cruises to make sure it's a good fit. Many of the steps you would take in planning for a world cruise would be the same things you would do to pave the way for a full cruise ship retirement. Once you're convinced you're cut out to cruise year-round for years on end, you can begin to make the arrangements to dismantle your old life on land and build a new one at sea.
Planning a cruise? Start with these stories: