How to Find Cheap Flights with a VPN in 2023


We may receive commissions
for purchases made through links on our website. We appreciate your support.

If you're a frequent traveler, then you probably know how expensive flight tickets can be. Their prices can vary based on where you're based. This means that you can use a VPN to change your geographic location and get different prices.
By connecting to a server where tickets are cheaper, you can get a pretty good deal. The best VPN for cheaper flight tickets will spoof your IP address, making it appear as if you're in a different location.
In this article, we've compiled a list of the best 3 VPNs for changing the prices of flight tickets. We've also explained how this VPN flight hack works in simple steps and what other ways you can use to get cheaper tickets.
How to use a VPN to get cheaper flight tickets
First, choose a VPN from our list. We recommend ExpressVPN as it has thousands of servers in 94 countries.
Download and install the VPN.
Connect to a server in any country and check the prices of your tickets.
Clear your browser's cookies, connect to a different server, and check the prices again. Do this several times and note the differences in the prices.
Find the best server for your tickets and enjoy traveling!
Why do you see different prices for flight tickets?
The reason why you see different prices for flight tickets is because of your location and your online profile. Generally speaking, if you're based in a first-world country, you're more likely to see higher prices. The cheapest country to book flights from is
Here are some factors that influence flight ticket prices:
Browsing history and cookies – If you repeatedly search for the same route on the same browser, there's a good chance you'll see higher prices. This is because sites can track your online activities using cookies and they know what flight you've been searching for.
Devices – Sometimes, you'll see different prices based on what device and browser you're using. Mac users may sometimes end up paying more than Windows users, for example. This is why you should search for tickets on different devices before making any decision.
Time of booking – If you book your ticket in advance, you'll easily find lower fares. Prices tend to surge closer to the date of departure.
Other factors – There are many other factors that determine the prices of flight tickets, most of which we may not even know about. Some of these factors include: seasonality, demand, currency exchange rates, supply, and more.
Top 3 VPNs to get cheaper flight tickets
Using the best VPN, you'll be able to change your location in a matter of seconds and find cheaper airline tickets. Here are our top 3 recommendations:
ExpressVPN – Best VPN for finding cheaper flight tickets in 2023
NordVPN – Feature-packed VPN for saving on airline tickets
Private Internet Access – Affordable VPN you can use to get cheap flights
Here's a more detailed look at each of these VPNs:
1. ExpressVPN – Best overall VPN to get cheap flights with in 2023
ExpressVPN is one of the most "global" VPNs on the market currently. With over 3000 servers in 94 countries, you can easily find cheaper flight tickets by changing your IP address. ExpressVPN can help you save up to $500 simply by connecting to a server based in a different region.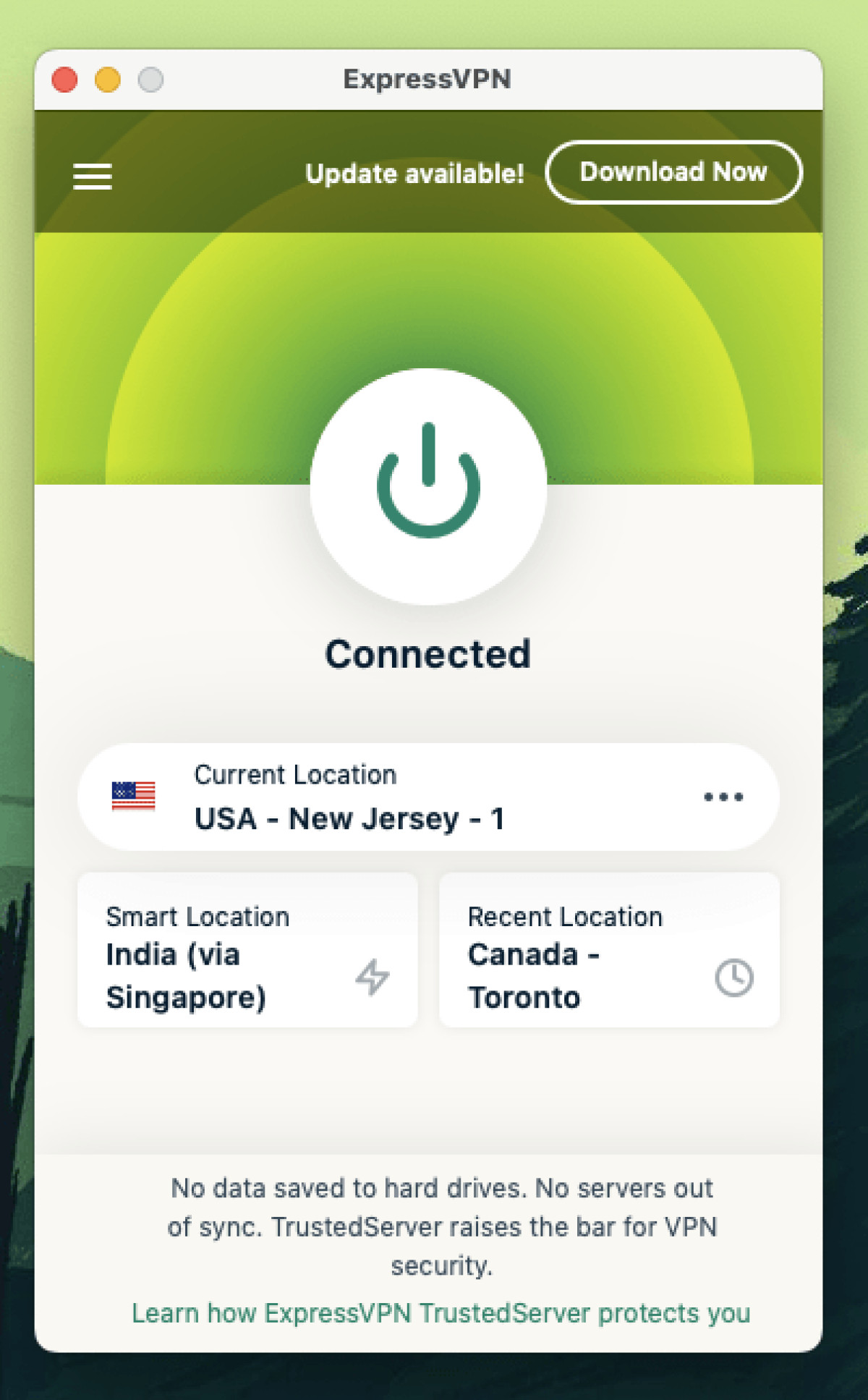 Using ExpressVPN to find cheaper flight tickets.
All the apps have the same minimalistic interface, which makes it easy to use them. To connect to a server, all you have to do is press the button in the center of the app. ExpressVPN comes with several features, including military-grade encryption, a kill switch, and split tunneling.
Compared to other top services, ExpressVPN comes with a high price tag. Plans start from $8.32 per month, but they all come with a 30-day money-back guarantee.
| | |
| --- | --- |
| Location | The British Virgin Islands |
| Number of servers | 3000+ in 94 countries |
| Price starting from | $8.32 per month |
2. NordVPN – Feature-rich and secure VPN for finding cheaper tickets
NordVPN also has tons of servers based in 59 countries. You can use it to find cheap airline tickets by connecting to servers in Montreal, New York, Manchester, and more. Moreover, it provides excellent security thanks to all the advanced features it comes with.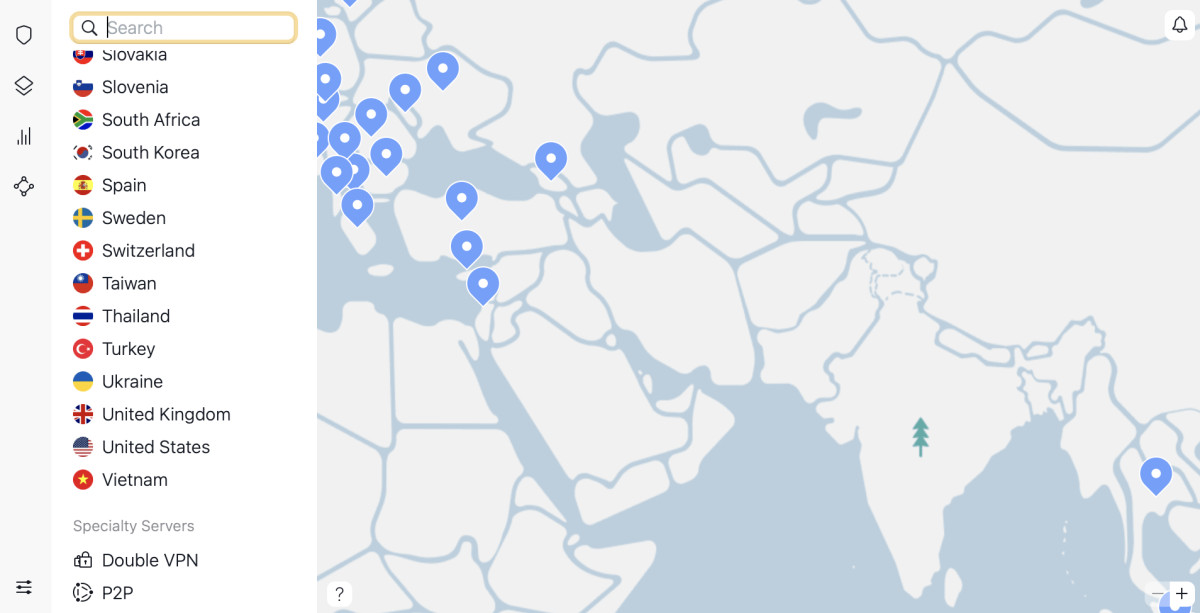 NordVPN on macOS.
Some of its most prominent features include military-grade encryption, dark web monitoring, Onion over VPN connectivity, Double VPN servers. These features allow you to browse the web for cheap tickets while keeping your online traffic safe and secure.
NordVPN is also one of the best VPNs you can use for geo-blocking and watching content on sites like Netflix, Amazon Prime Video, and Disney+.
You can get NordVPN for $3.79 per month. It also has a money-back guarantee of 30 days and offers a 7-day trial on Android.
| | |
| --- | --- |
| Location | Panama |
| Number of servers | 5000+ in 59 countries |
| Price starting from | $3.79 per month |
3. Private Internet Access – Budget-friendly VPN that can help you find cheap airline tickets
Private Internet Access is a great option for those who want to save money on flight tickets as well as VPNs. It has over 35,000 servers in 84 countries and a single plan can be used on any as many devices as you want. With this VPN, finding cheaper tickets should be a breeze!

Private Internet Access's app in the menu bar of macOS.
The app has a customizable dashboard, allowing you to change what you see on the main screen. It comes with several features, including a kill switch, DNS leak protection, and even a dedicated IP (albeit with an additional fee).
PIA has a free trial version on Android and iOS that lasts for 7 days. You can get the premium version for $2.03 per month with a 30-day money-back guarantee.
| | |
| --- | --- |
| Location | Colorado, USA |
| Number of servers | 35,000+ in 84 countries |
| Price starting from | $2.03 per month |
How does a VPN help with finding cheaper flight tickets?
VPNs help with finding cheap flight tickets by altering your IP address, helping you browse the Internet from different locations.
They have two primary objectives: to mask your original IP address and to encrypt your online traffic. The former helps with finding cheaper tickets and the latter prevents sites and your ISP from finding out that you're using a VPN.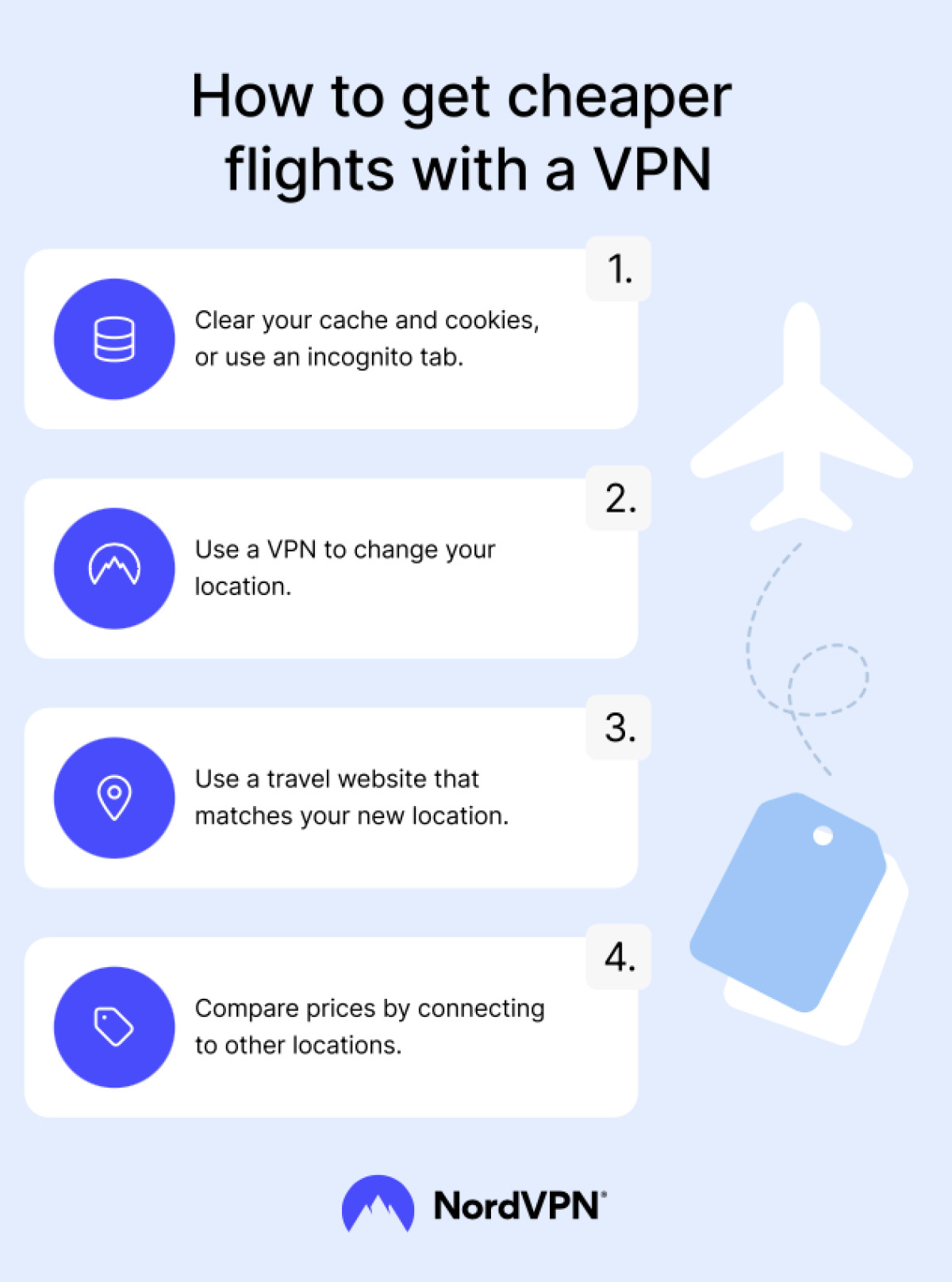 How to use a VPN to find cheaper flights.
Airlines adjust ticket prices based on your geographic location, which they determine with the help of your IP address (and sometimes the GPS on your phone). You can change your location with the help of a VPN.For example, if you're based in New York and you connect to a server in London, any site you visit will see your location as London.
Geo-restriction isn't limited to airline and travel sites. Many streaming sites do it, too. For example, you can get YouTube Premium cheaper with a VPN. In Turkey, you can get it for just $1.11 per month, whereas in the USA, it's $13.99 per month. This practice is called price discrimination.
The best way to bypass these geo-restrictions is to change your IP address with a premium VPN like ExpressVPN.
Other ways to get cheaper flight tickets
There are a couple of other ways you can find cheap flight tickets, and most of these methods don't require you to pay any money. Here are a few options we recommend trying:
Can I use a free VPN to get cheap airline tickets
Yes, you can use a free VPN to get cheap airline tickets, but you won't have a lot of servers to connect to. Free VPNs have limited features and they only let users connect to 2-5 server locations.
To find cheaper tickets, it's essential to have access to a large pool of servers so you can compare prices across various locations.
Another problem with free VPNs is that many of them show ads and sell your data to advertisers since they don't have any other way to make money. They also don't have unlimited data so you can't use them all the time.
Windscribe is a good option because it has many free servers in the USA and Canada, but it has a data limit of 2 GB/month. We recommend checking out our list of best free VPNs to explore other options.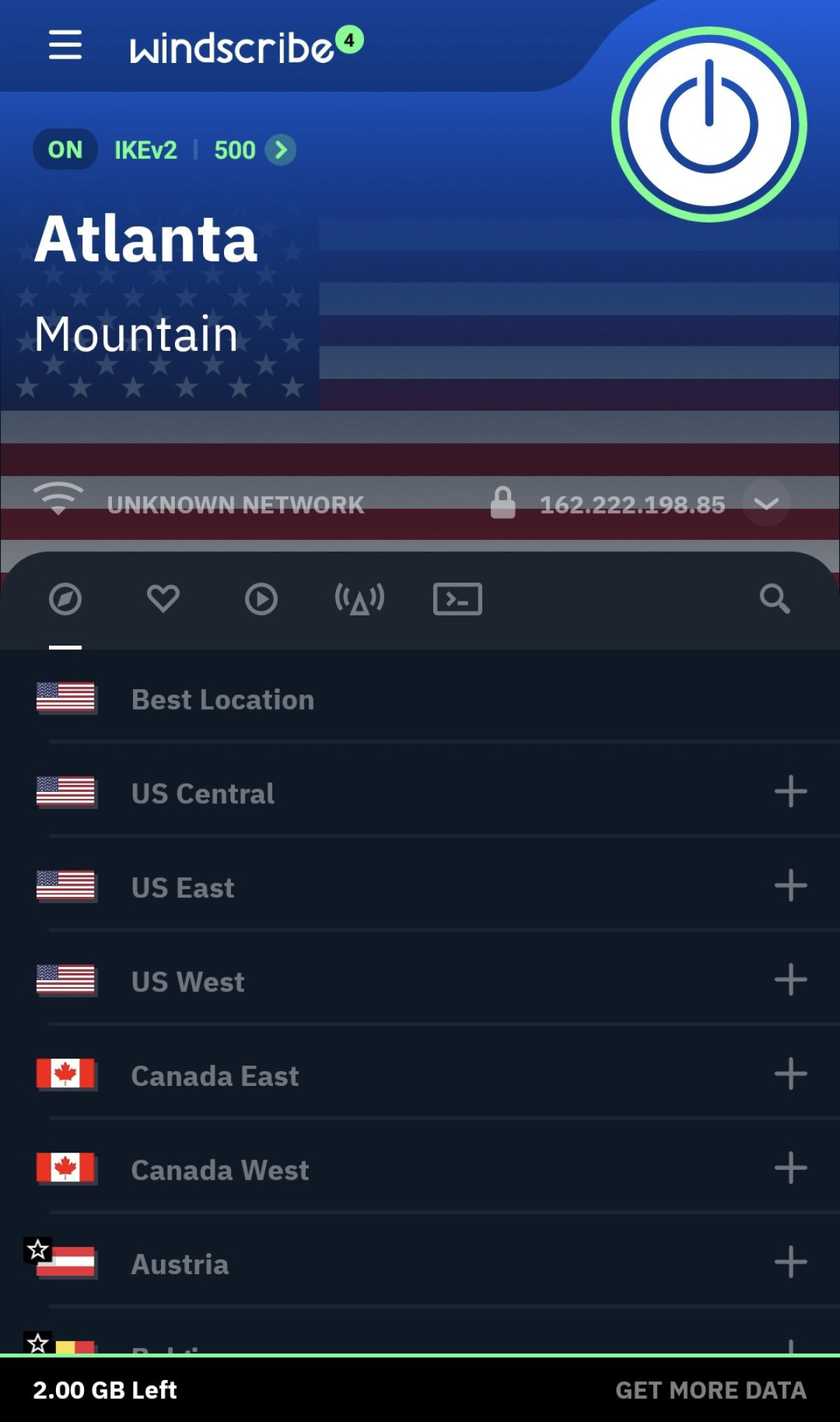 Windscribe's free iOS app.
That being said, it's much safer to use a premium VPN like ExpressVPN. It has 3000+ servers and unlimited data, so you can use it as much as you want.
Bottom line
Flight tickets can be expensive, but there are many strategies that can help you find more budget-friendly options. Airline sites usually determine ticket prices based on where you're located and how often you've visited them. They use cookies and other methods to track your online activities.
A premium VPN, such as ExpressVPN, can help you find cheaper tickets by changing your location. It'll change your IP address and encrypt your online traffic, so airline sites can't find out if you're connected to a VPN server.
You can also give other methods a try if you're not ready to spend money on a VPN. Clearing your cookies, booking in advance, and using incognito mode are some methods that may help you find cheaper tickets.
But we recommend sticking to ExpressVPN as it has a 30-day money-back guarantee, which means you can request a refund if you're not satisfied with the results.
Frequently asked questions