Get Instant Text Alerts for Rare 'Unicorn Fares' with Thrifty Traveler Premium+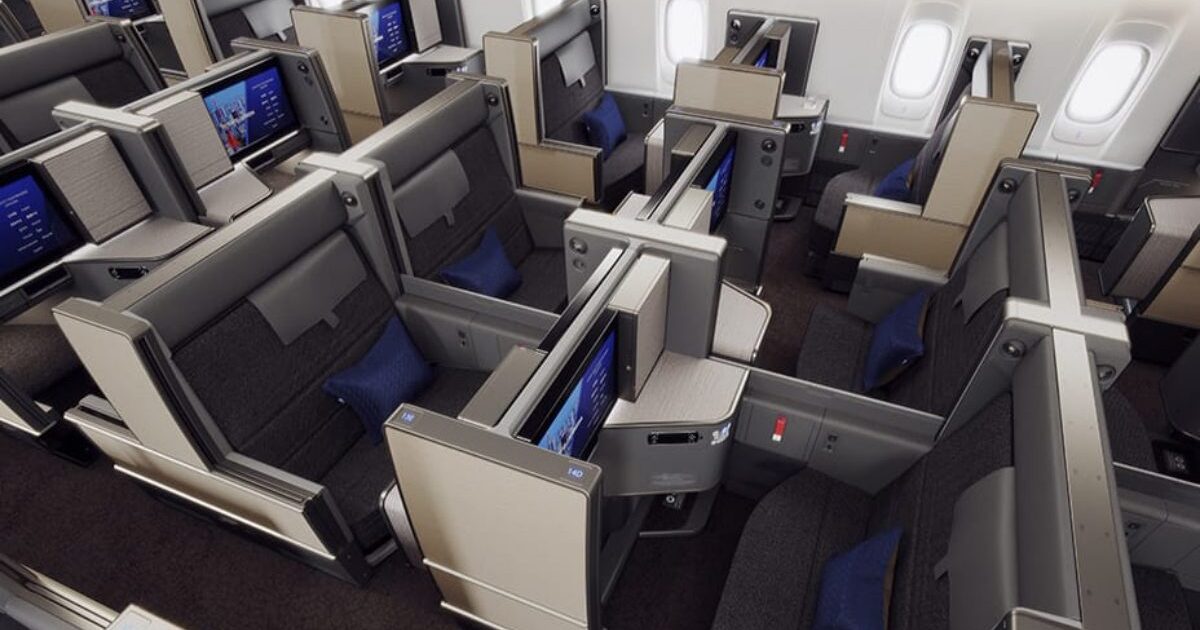 Mistake fares – when airlines mess up and accidentally sell flights for a fraction of the normal cost – are the holy grail of flight deals. But there are other, equally fantastic and hard-to-find fares: Ultra-rare first class seats to Tokyo or lie-flat seats to Australia bookable with miles. Deeply discounted business class deals. Too-good-to-be-true economy fares like sub-$100 flights to the U.S. Virgin Islands.
We call all of these amazing deals Unicorn Fares. With booking these, every second matters because they can disappear within minutes. That's why we've added a new feature to our Thrifty Traveler Premium+ service: Members can now get instant text alerts for all these rare unicorn fares so they never miss an amazing deal.
Text alerts for mistake fares have been a staple of our flight deal alert service for years, but now they're expanding to more amazing deals. Thrifty Traveler Premium+ members can log into their accounts and opt-in for these text alerts, be it a dirt-cheap cash fare or an ultra-rare award space alert to use your points and miles.
Are you a longtime Premium member who signed up for text alerts way back when? You're all set – no need to do anything more!
Here's a look at some of the amazing unicorn fares we've been finding lately.
 
Unicorn Fares: Mistake Fares, Massive Discounts & Rare Award Space
Mistake Fares
Nothing beats the rush of booking a mistake fare. Over the years, we've seen unbelievable $63 fares to Santiago (SCL) in Chile, a $238 roundtrip to Croatia, and even business class mistake fares like a $600ish roundtrip to Southeast Asia.
But the steady stream of two to three mistake fares a year has slowed down in recent years. Airlines have wised up, tightening their backend systems to root out these errors before many – if any – eager travelers can gobble them up.
One of the last great mistake fares we've seen was last spring, when Virgin Atlantic briefly sold its excellent Upper Class suites from New York City (JFK) to London-Heathrow (LHR) for under $900 roundtrip – closer to the normal cost of economy seats. That fare was one of the craziest deals we found in all of 2022, so go figure it disappeared within two hours.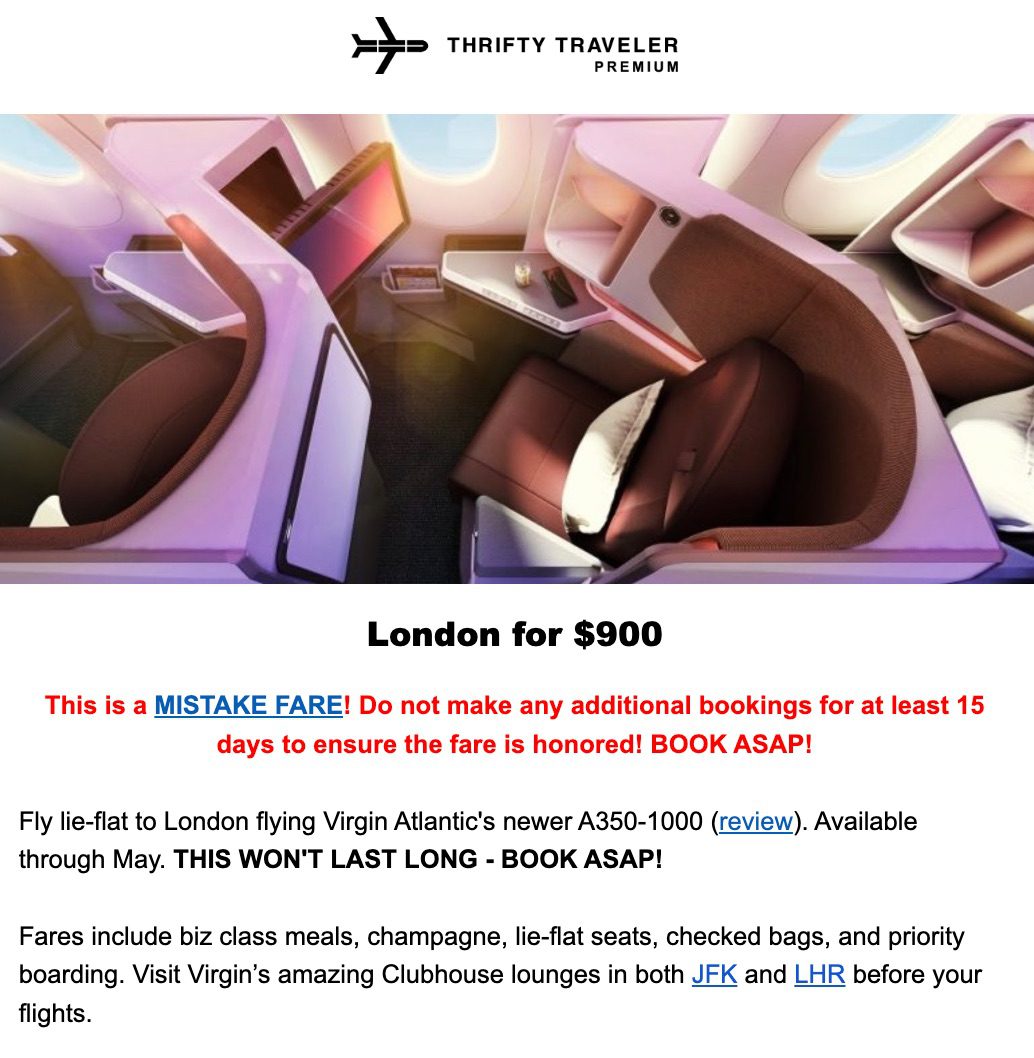 So yes, all mistake fares are unicorn fares. But not all unicorn fares are mistake fares: There are far more time-sensitive deals where it can pay to get a split-second alert, even if the airline hasn't explicitly screwed up …
Deeply Discounted Business & Economy Fares
Just because it's not a mistake fare doesn't mean it's not a good deal.
How about this one: Another deeply discounted business class ticket to London, this time flying from Boston (BOS) in British Airways' brand new Club Suites … and during the middle of summer 2022, to boot! This one clocked in at just over $1,000 (or $800 after using the British Airways AARP discount).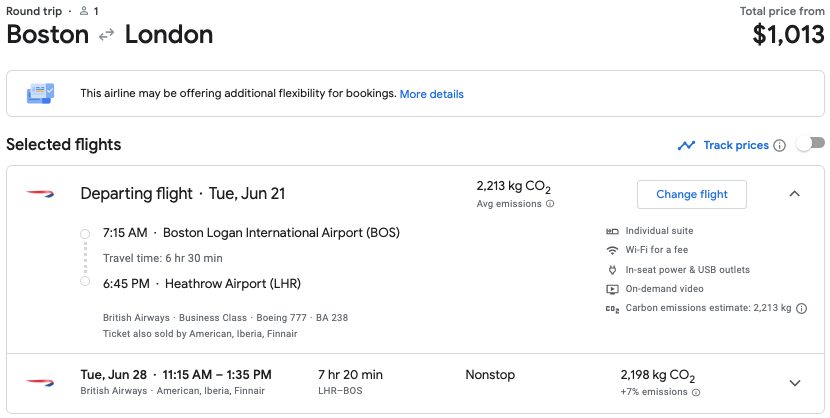 This dirt-cheap business class fare is long gone now – get a text alert to book the next one with Thrifty Traveler Premium+!
While it wasn't clear if this one was a mistake by the airline, it was obvious that booking quickly before these deals disappeared was critical. The same was true for a trip to Chile and back last year, where lie-flat seats can make all the difference on that nine-hour flight far down south in the Southern Hemisphere. When airlines are selling these business class fares for $1,200 roundtrip, they sell out fast.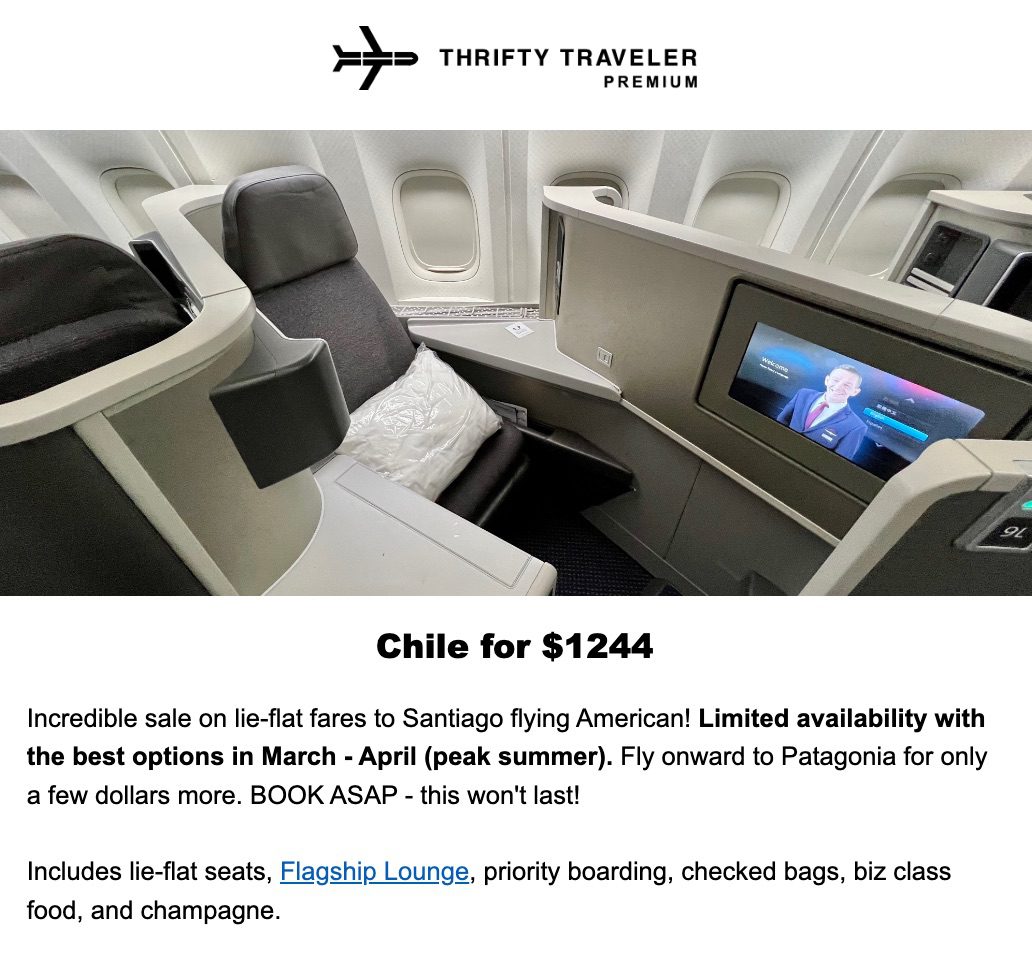 How about flying premium economy to Europe with a wider seat, far more legroom, and better meals for far less than your typical cramped economy seat? Just a few months back, we found the unicorn of all premium economy deals: Roundtrip fares from almost anywhere in the U.S. to more than a dozen European cities for as low as $516 roundtrip, flying Delta Premium Select or with Air France.
 

Even some standard economy flights occasionally fall into the unicorn fare territory, too. When airlines typically charge $900 or more to get to Scandinavia, you know you're getting the deal of a lifetime when you can book roundtrip flights for less than $250 … and you know you have to book those seats fast before they disappear.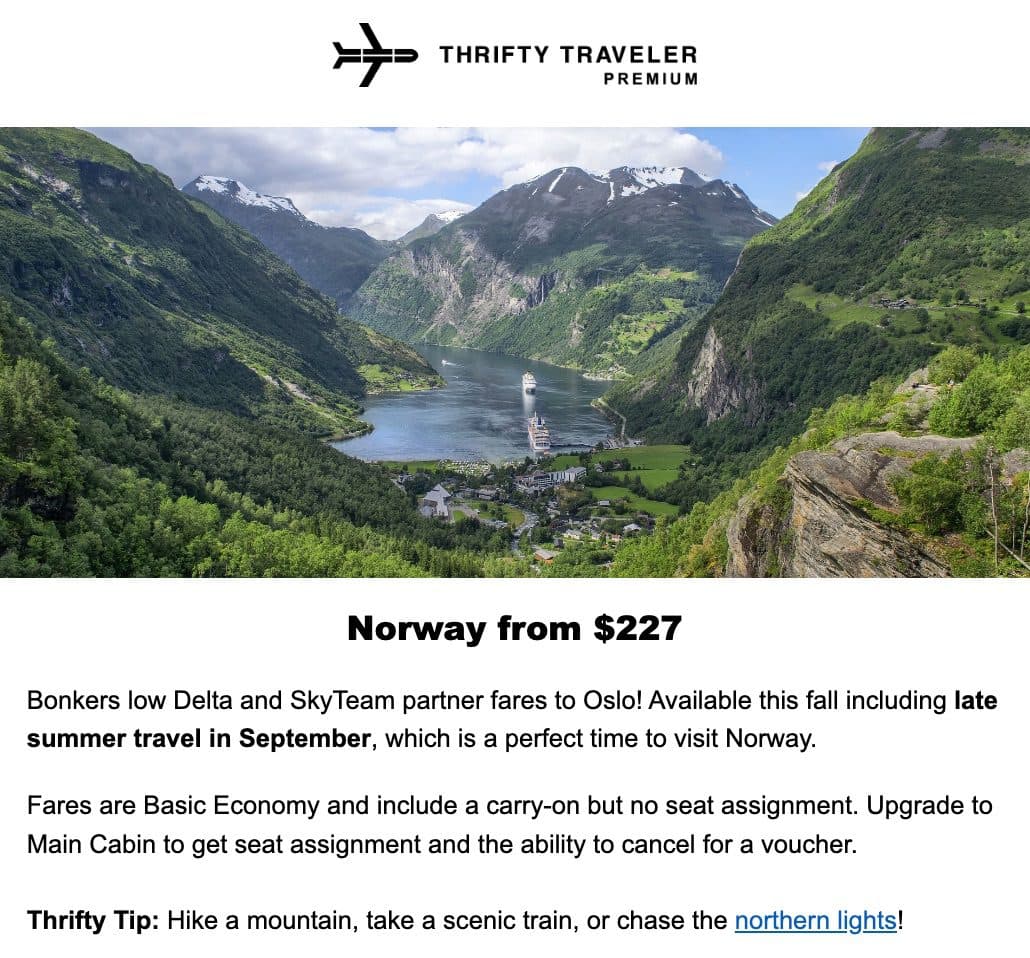 Ultra-Rare Points & Miles Alerts
It doesn't matter if you have all the points and miles in the world, they won't do you any good if you can't find the award availability to actually book a flight with your miles. Some routes and airlines are fairly easy to book, but others can feel nearly impossible.
That's where Thrifty Traveler Premium+ really shines. We're the only flight deal service on the market that finds both cheap cash fares and deals to use your points and miles, too. And lately, we've been finding some of the rarest, hardest-to-find award space out there, helping travelers lock in a dream trip using fewer points and miles.
Long before other travel sites and bloggers caught wind, we alerted our members to some wide-open award space flying ANA First Class to Tokyo later this year bookable for just 55,000 points each way via Virgin Atlantic. After more than a year without a single seat available, we unearthed a goldmine of availability to book ANA's latest-and-greatest first class suites from San Francisco (SFO) for two or more passengers all spring, summer, and even into the fall. Just a few days later, we also found flights in these same suites from Honolulu (HNL).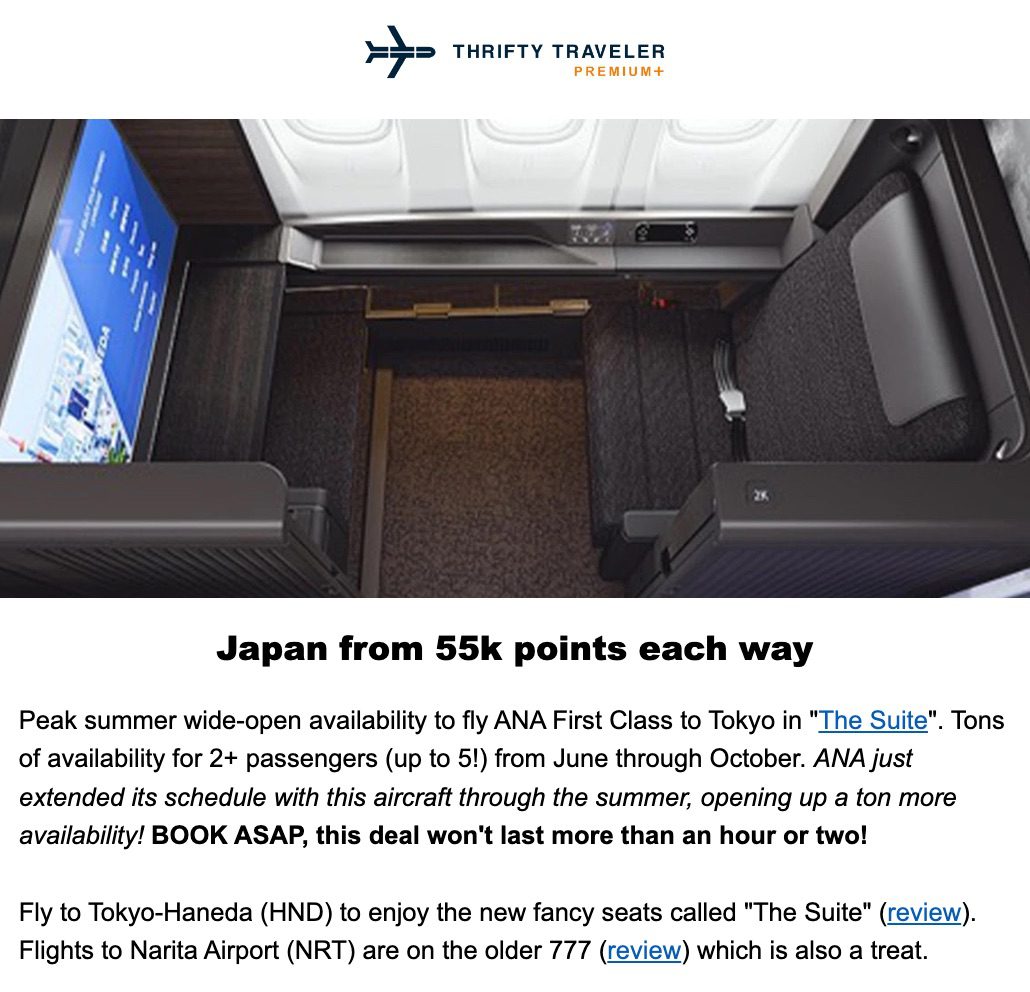 These first class seats to Tokyo got gobbled up within hours – get the next rare award alert with Thrifty Traveler Premium+!
Even booking ANA business class has become a chore these days, particularly if you're set on flying the airline's new "The Room" seat, incredibly spacious and well-designed suites equipped with a door. Just a few weeks ago, we alerted our members to wide-open seats for a last-minute trip this winter from seven different cities in the U.S. and Canada – and we're constantly on the lookout for more opportunities, shooting a text to our Thrifty Traveler Premium+ members when things open up.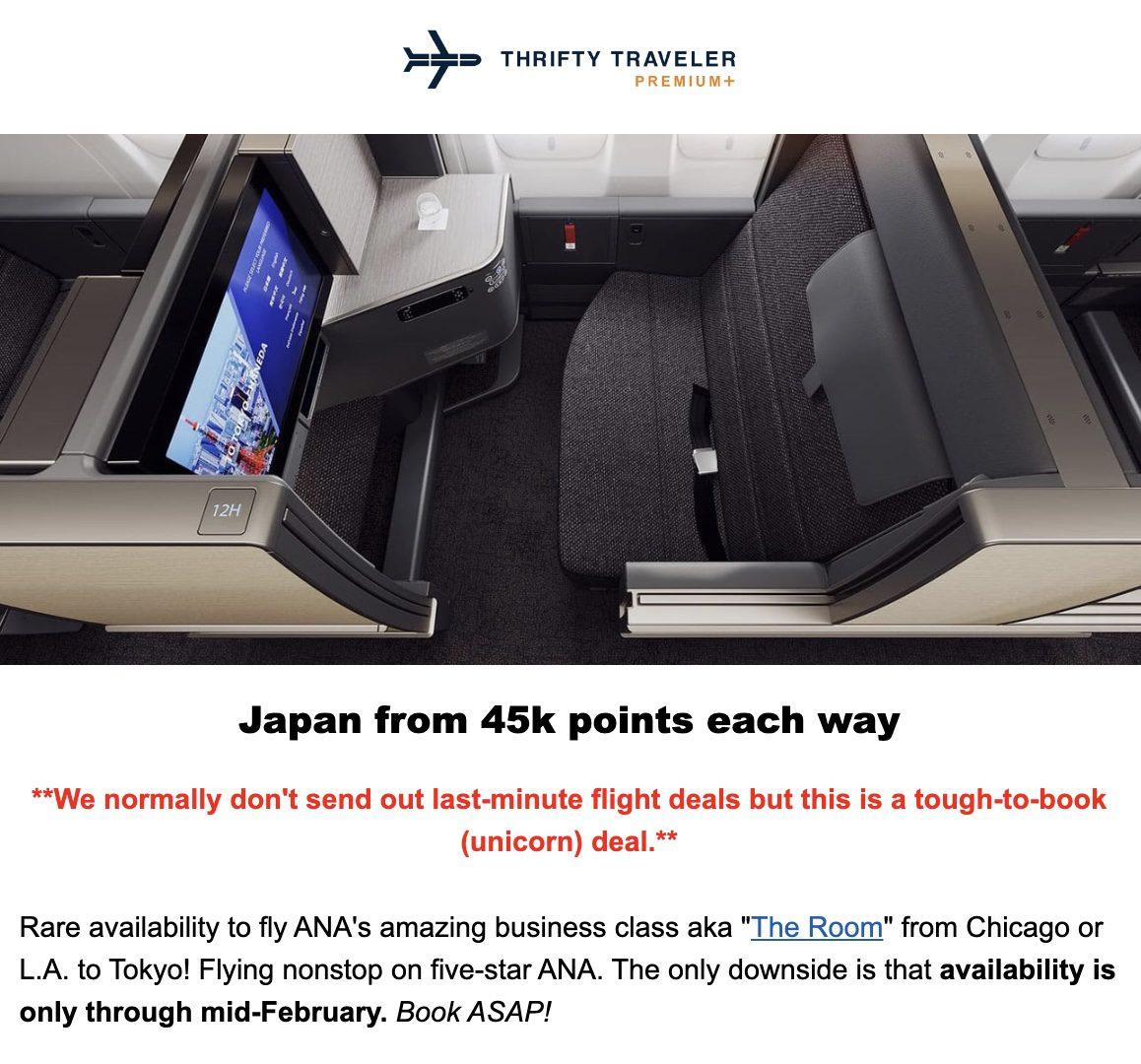 Booking flights to Australia using miles is another one of the hardest redemptions to pull off, especially in business or first class. So when we find award space to get to the land down under in a lie-flat seat, you want to know about it ASAP. That rare award space to Australia is just what we found a few months back, with seats for two flying Qantas business class to either Melbourne (MEL) or Sydney (SYD) for November 2022 through this month – Australia's summer!
This amazing deal was bookable for just 55,000 Alaska Mileage Plan miles or 80,000 American AAdvantage miles.
 

Finding flights to New Zealand with your points and miles can be a real challenge, too. So what could possibly beat wide-open availability to book United Polaris business class to New Zealand, eventually getting all the way to Wellington (WLG)? Just one thing: A serious pricing snafu from United that made those seats bookable for a fraction of the price of flying economy.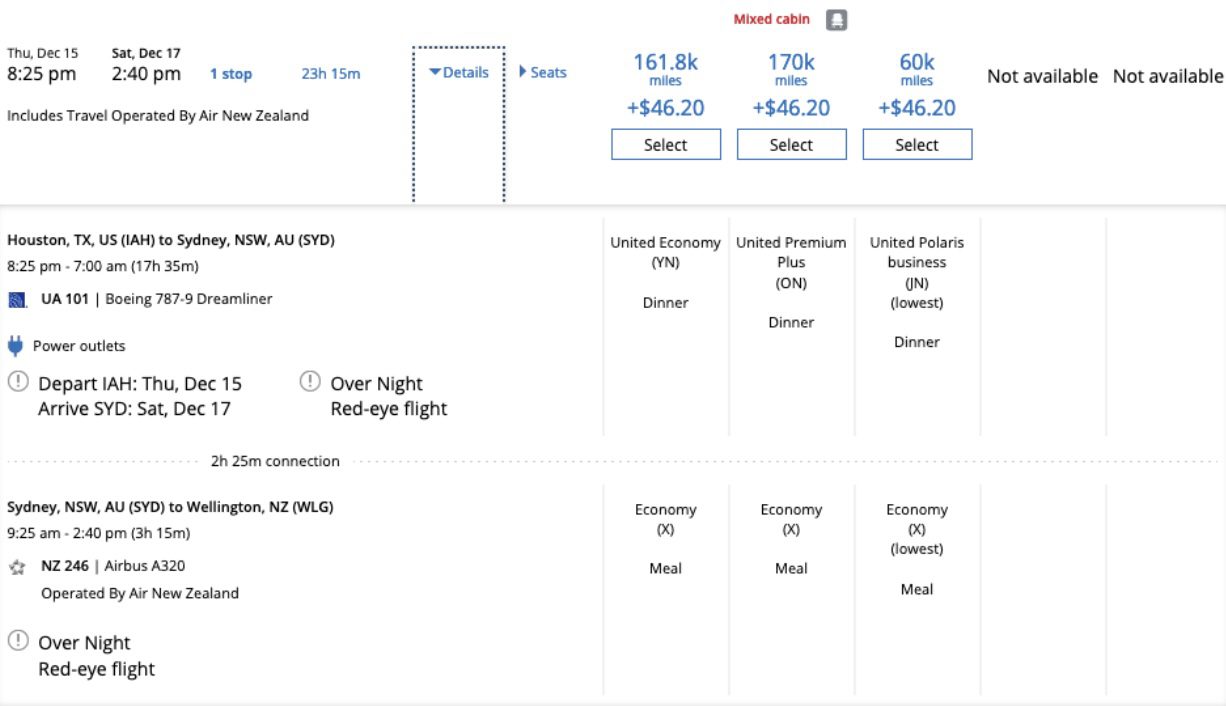 Would you rather use 162,000 United Miles to fly to New Zealand in economy? Or would you rather save 100,000 miles each way and take that in a lie-flat seat?
That's not a trick question. We still have no clue what happened here – it was unparalleled. And that meant we had to share it with our Thrifty Traveler Premium+ members immediately, especially since it was available from practically every airport across the country, too.
Everybody loves a good deal to Hawaii, and we know it. Cheap flights to Hawaii aren't rare, per se. But what is rare is getting to Hawaii and back for less than 10,000 SkyMiles. That's exactly what we saw last month with one of our favorite Delta SkyMiles flash sales of all time, slashing award rates from Los Angeles (LAX) and Seattle (SEA) to several Hawaiian islands down to just 9,000 SkyMiles roundtrip.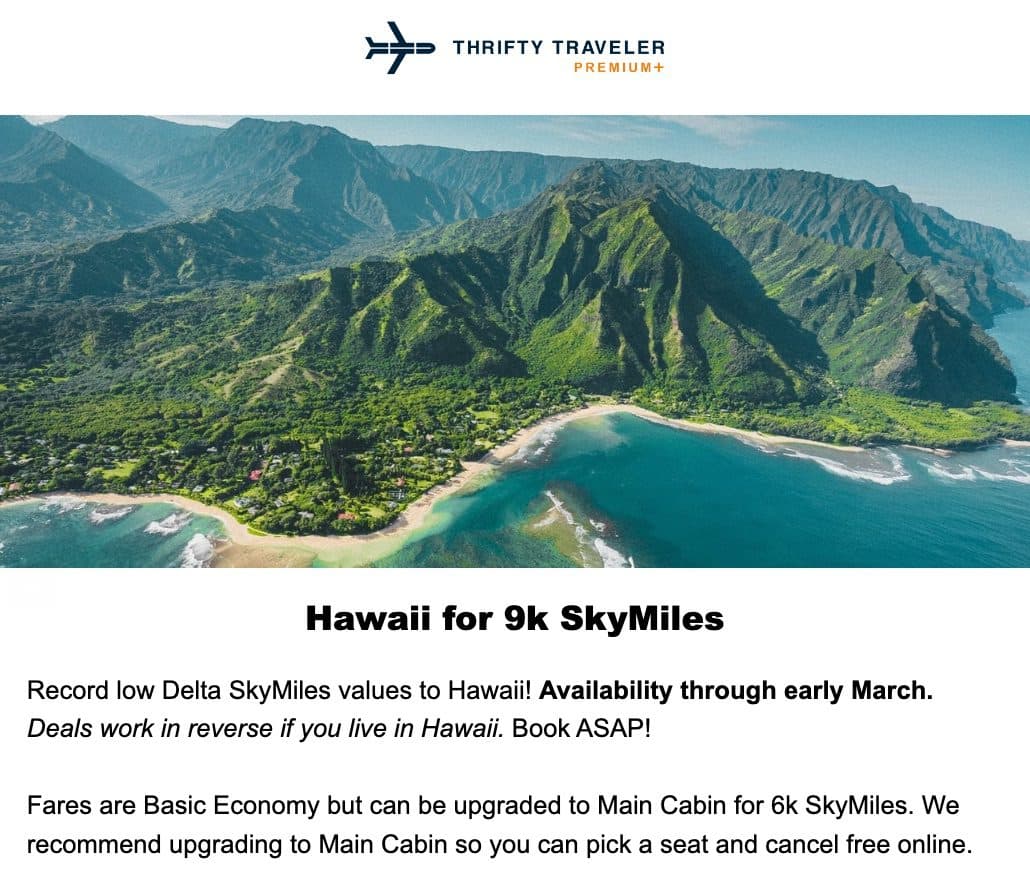 This incredible deal disappeared within a matter of hours – maybe even minutes. A text alert could make the difference between sitting on the beach with a Mai Tai in hand or sitting at home, staring out the window.
How to Get Text Alerts for Unicorn Fares
You'll find 10 unicorn fares we've found within the past year on this list. And that's what Thrifty Traveler Premium+ members should expect: 10 incredibly rare alerts each year – maybe more, if we (and you!) get lucky.
Don't want to get a text alert for deals like these? No problem: You'll keep getting them in your email inbox. But if you want to opt-in to get an alert via text before an email can hit your inbox, it couldn't be easier.
So long as you're subscribed to Thrifty Traveler Premium+, just sign into your account. From your main account dashboard, you'll see the option in the lower right corner to enter a mobile phone number.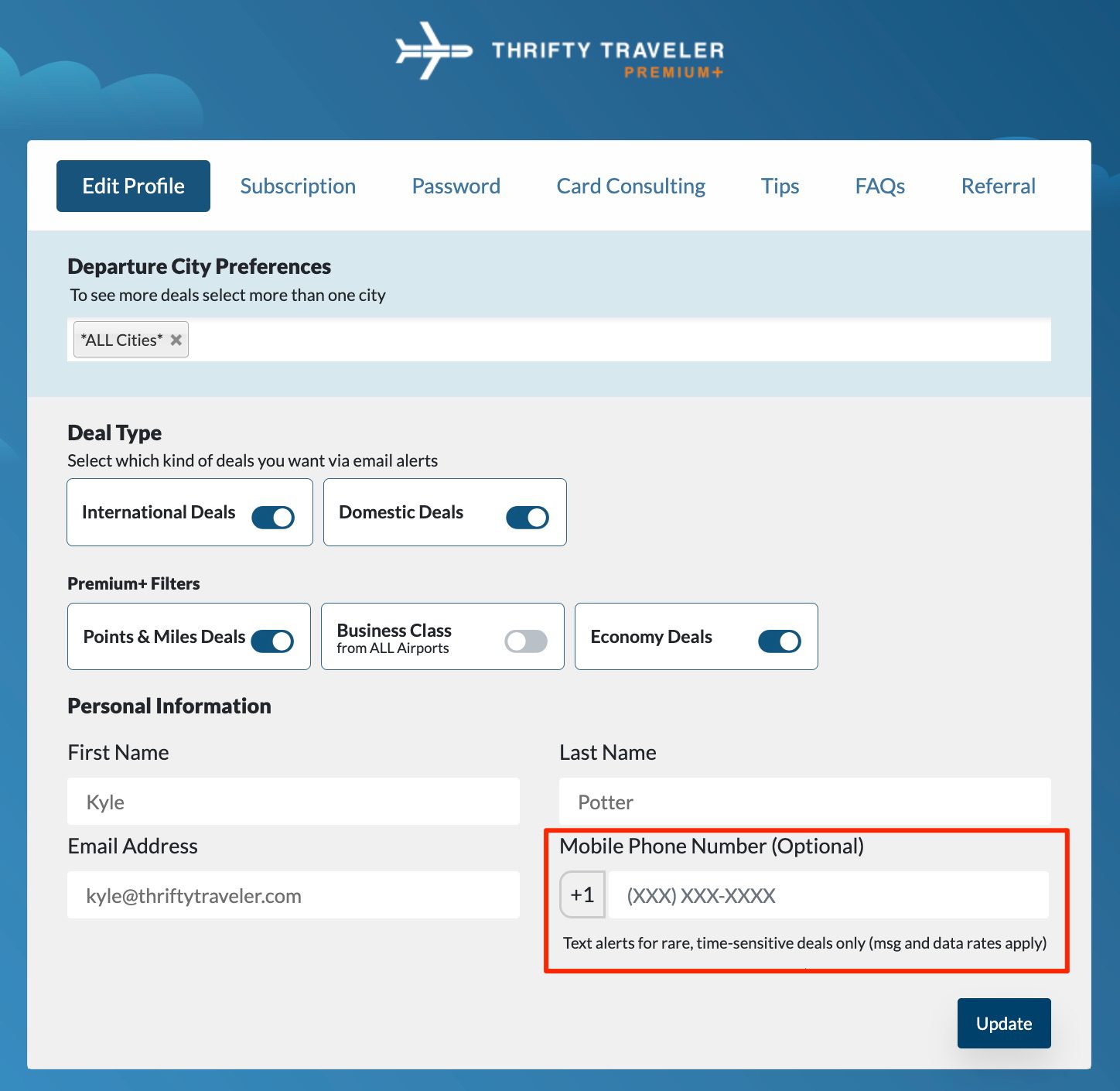 Tap in your cell number, hit update, and voila: You're signed up! Within a minute or so, you should get a confirmation text from us that you've signed up to receive Thrifty Traveler Premium+ unicorn fare alerts. If you had previously signed up for mistake fare text alerts, you should be all set!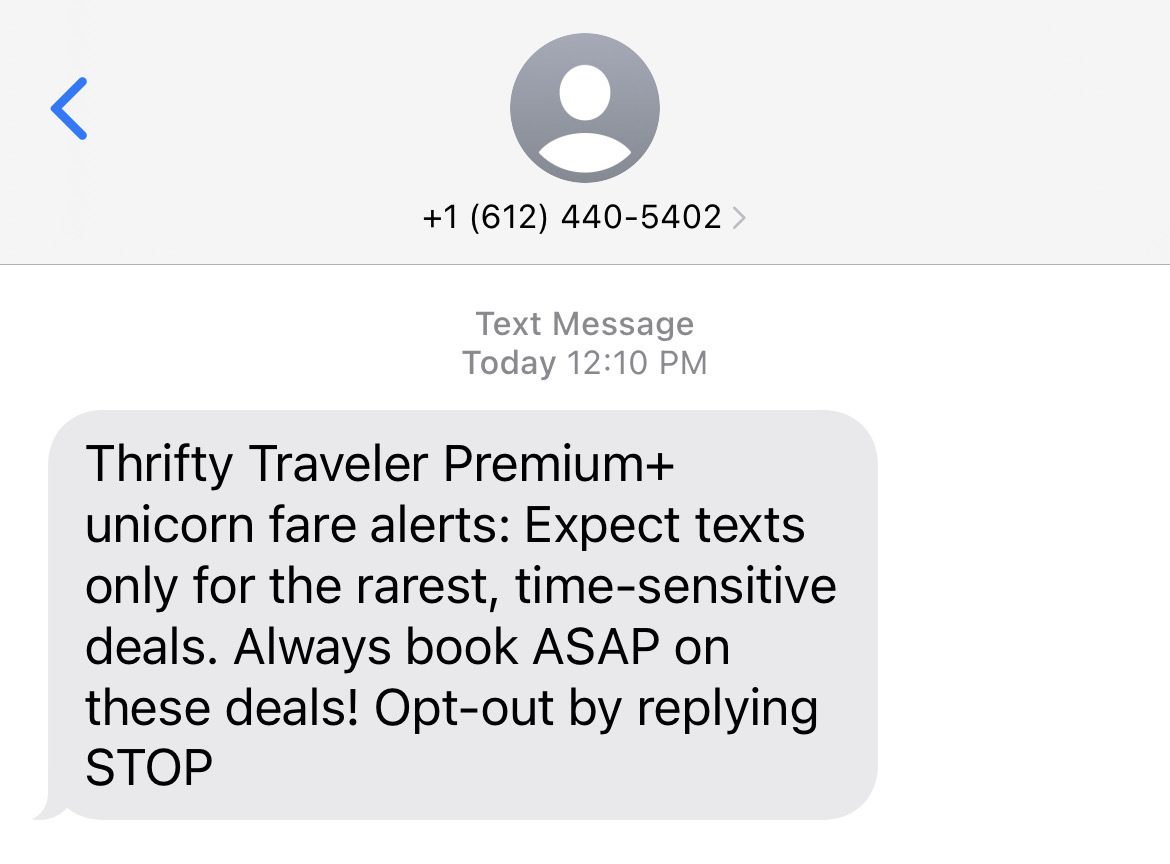 The next time we find one of these unbelievable unicorn fares, you'll be the first to know with a text describing the deal and how to book. If it's a cash fare, we'll include a Google Flights link so you can book with just a few clicks. Here's an example from when we found some amazingly rare award space to fly Singapore Airlines first class suites to Europe a while back.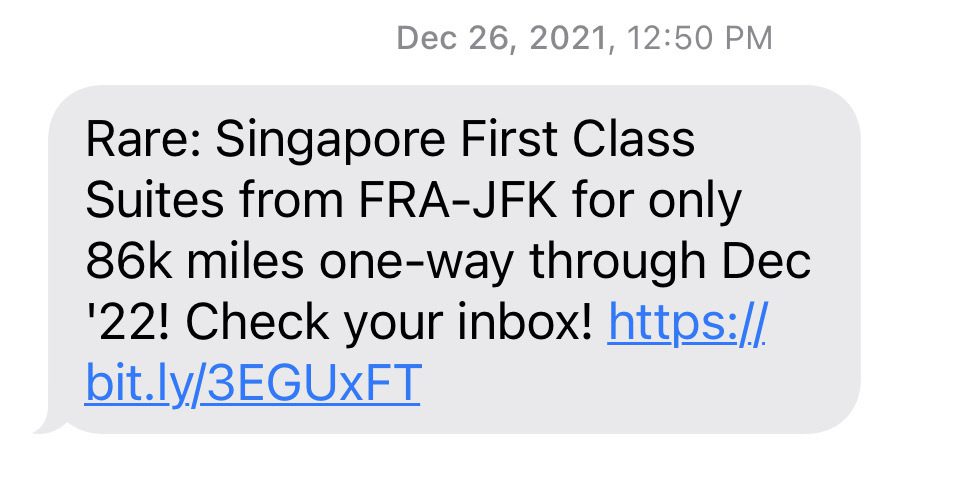 Then it's up to you. Book now and ask questions later before these jaw-dropping deals disappear … or wait for the next alert.
Bottom Line
We're just a bit biased, but we're confident that Thrifty Traveler Premium+ is the best flight deal alert service on the planet. This latest change makes it even better.
Whether it's an unbelievable mistake fare, a deeply discounted business or first class ticket, or an incredibly rare award space alert to use your points and miles, get an instant alert via text for these unicorn fare deals so you never miss them. Sign into your Thrifty Traveler Premium+ account now to opt-in!
Lead photo courtesy of All Nippon Airways (ANA)