From Tokyo to Thailand, Cheap Flights to Asia Are Back!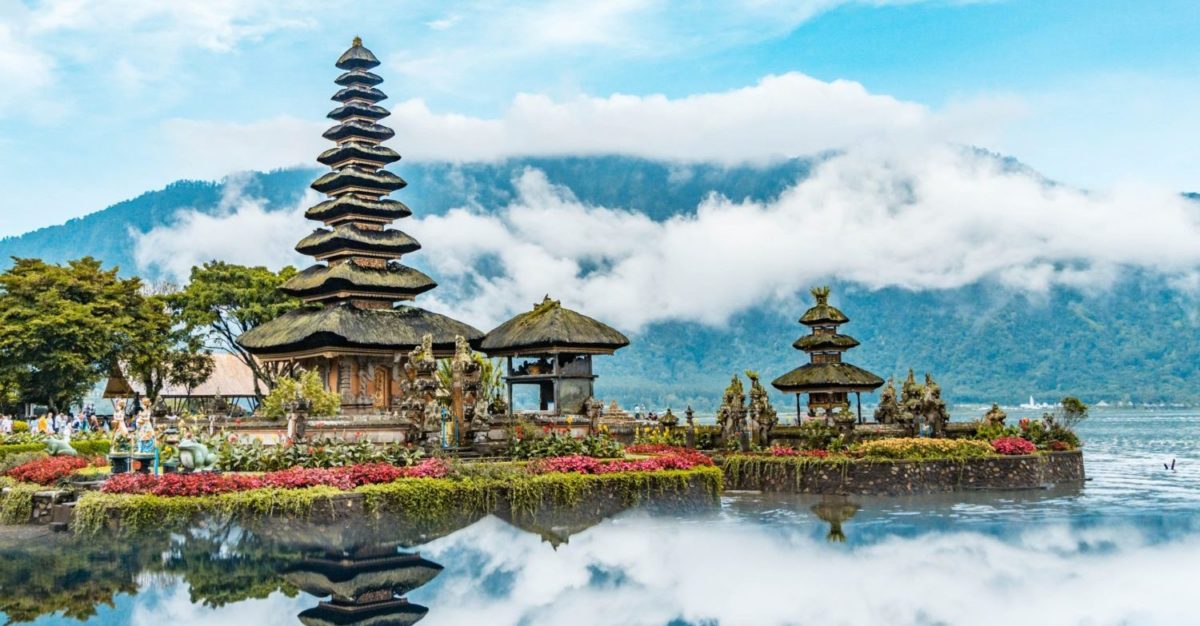 After two-plus years off-limits, trips to Japan are suddenly a reality again. Same goes for Thailand, Vietnam, Singapore, Taiwan, and almost everywhere in between.
It took a bit longer than the rest of the world, but nearly all of Asia has reopened to travelers … and the timing couldn't be better. Whether you want to score a flight for under $700 roundtrip (or much less) or score a lie-flat business class seat using your points, cheap flights to Asia for a trip in 2023 are back on the menu, too!
From Phuket to Tokyo, our Thrifty Traveler Premium team keeps finding tons of great fares to visit some of the best destinations on the continent. And Thrifty Traveler Premium+ subscribers have had their pick of the litter when it comes to award deals to get somewhere exciting next year.
Read Next: Our Country-by-Country Guide to Asia Travel Restrictions
Let's take a look around the continent and see what flight prices are looking like for a trip in 2023.
Cheap Flights to Asia are Back!
Japan reopened to fully vaccinated Americans in October, and we know nothing gets travelers excited quite like a cheap flight to Tokyo.
Normally, the best cash fares to a sought-after destination like Tokyo are from Los Angeles (LAX), where we see sub-$800 nonstop fares between the west coast hub and Tokyo-Haneda (HND) and Tokyo-Narita (NRT). But our most recent Tokyo deal featured this awesome nonstop route from San Diego (SAN) instead – flying one of the world's best airlines in economy.
 
Get deals like this in your inbox with Thrifty Traveler Premium!
Anything below $800 to Asia is typically a bargain. But when you fly on another five-star airline like Cathay Pacific, it's an even sweeter deal. This deal featured a handful of Cathay Pacific's North American destinations, including Los Angeles (LAX), New York (JFK), San Francisco (SFO), and Vancouver (YVR) with low fares to Bali (DPS).
 
Read next: Our Guide to Visiting Bali
But Cathay Pacific wasn't done there! Just a few weeks later, they opened up the sale even further with more connections into Asia through its Hong Kong (HKG) hub!
 
Just look at this fare from Vancouver all the way to Kuala Lumpur (KUL). This is not a typo, and I don't know how to use photoshop. That's a sub-$600 fare for a flight across the world on a five-star airline.
 
United and its partner ANA weren't going to let Cathay Pacific and Japan Airlines have all the fun, though. For travelers looking to visit the super thrifty and incredibly popular nation of Thailand, the Star Alliance airlines offered this coast-to-coast sale on flights to Bangkok (BKK). Whether you live in New York City (EWR, LGA), Ottawa (YOW), or Redmond, Oregon (RDM), you could get to Bangkok for less than $895 with this one.
 
From the electric streets of Hanoi to peaceful Ha Long Bay and the beaches of Phu Quoc, Vietnam is one of our favorite countries to visit. Make it even cheaper with a deal on flights like this one, and you're running out of excuses why you can't see for yourself in 2023.
 
And let's not forget about the second most populous country in the world, either. Cheap flights to India aren't a slam dunk, but this deal was exactly that … and on nonstop flights from Chicago-O'Hare (ORD) or Newark (EWR) for under $600 roundtrip, to boot!
 
Let's dabble in a little bit of extra comfort, though, right? These journeys to Asia are long. It would be nice to stretch out a little bit more, have some more wiggle room, and get some fancier amenities and food on the journey, right? Enter premium economy – namely, Singapore Airlines Premium Economy.
 
Starting at just $1,215, you could fly from NYC to five different Asian cities in premium economy on this deal.
 
From the Philippines (MNL) to Phuket (HKT), this is one of the loveliest ways to book a comfy ride to Asia using cash.
Amazing Points Deals to Get to Asia
What beats a cheap flight to Asia? Just one thing: A nearly free flight to Asia … using your points and miles.
You're in luck: As much of Asia has reopened for travelers and airlines have ramped up flights, we've sent Thrifty Traveler Premium+ more and more deals to put their points and miles to use for a trip to Asia in 2023.
We'll start in Tokyo again because it's on everyone's list – and it should be. With just 60,000 Delta SkyMiles, you were in the perfect position to pull the trigger on the first Delta SkyMiles flash sale to Japan we had seen in years.
 
Only Thrifty Traveler Premium+ members get Delta SkyMiles deals like this, plus other award alerts to use points & miles!
The lowest fares were available from Seattle (SEA) and Los Angeles (LAX), but here's the best part: This deal extended nationwide, meaning you could get from almost anywhere in the country over to Japan and back for 70,000 SkyMiles or less.
But we also found another great deal to fly Delta to Japan … for a fraction of the points. How?! Well, it wasn't using Delta SkyMiles – you'd use Virgin Atlantic points instead.
 
Read more: Save Your SkyMiles, Book Delta Flights with Virgin Atlantic Instead!
This workaround is one of the best ways to get to Asia using miles, as you can transfer points to a Virgin Atlantic account from Chase, Capital One, American Express, Citi, and even Bilt Rewards. That loaded roster of transfer partners makes Virgin points extremely easy to earn, and makes taking advantage of deals like this a breeze, too.
These two deals flying Delta in economy were the perfect way to get to Japan and back for cheap next year. But we can't blame you for wanting some extra comfort for those long flights across the Pacific Ocean…
Stellar Biz Class Award Deals to Asia, Too
Again and again, we've found great award space to help our Thrifty Traveler Premium+ members get to Asia next year flying amazing business class seats. Nothing beats a great meal and a full-night's sleep on a 12-hour long flight.
We'll start again in Japan, where one trend is very clear. If you want to book Japan Airlines (JAL) business class seats to Tokyo, you'd better start earning some American Airlines miles.
We've found wide-open opportunities to fly Japan Airlines business class to Tokyo over the last several months, for two (or more!) passengers – including to see the cherry blossoms bloom in April!
 
Want to fly business class? Get the next award alert we send with Thrifty Traveler Premium+!
That's right: Just 60,000 American Airlines miles and $5.60 in taxes and fees for a lie-flat business class trip to Japan. It might be the best way to get to Tokyo.
 
But Japan doesn't have a monopoly on great business class award deals to Asia. Let's poke around a bit and start in South Korea.
 
This United Polaris business class deal to Seoul (ICN) is a steal at 68,000 miles each way, thanks to Turkish Airlines Miles & Smiles. Plus, you get access to the United Polaris lounge before your journey, and (of course) enjoy champagne and business class food offerings throughout.
If you're looking to head to Thailand instead of South Korea, jump on United's partner airline and fly EVA Air business class instead. We've found great award space to book these seats to popular destinations throughout Asia in 2023, connecting in Taipei (TPE) on one of the world's best airlines.
Flying like this for less than 88,000 points each way is tough to beat.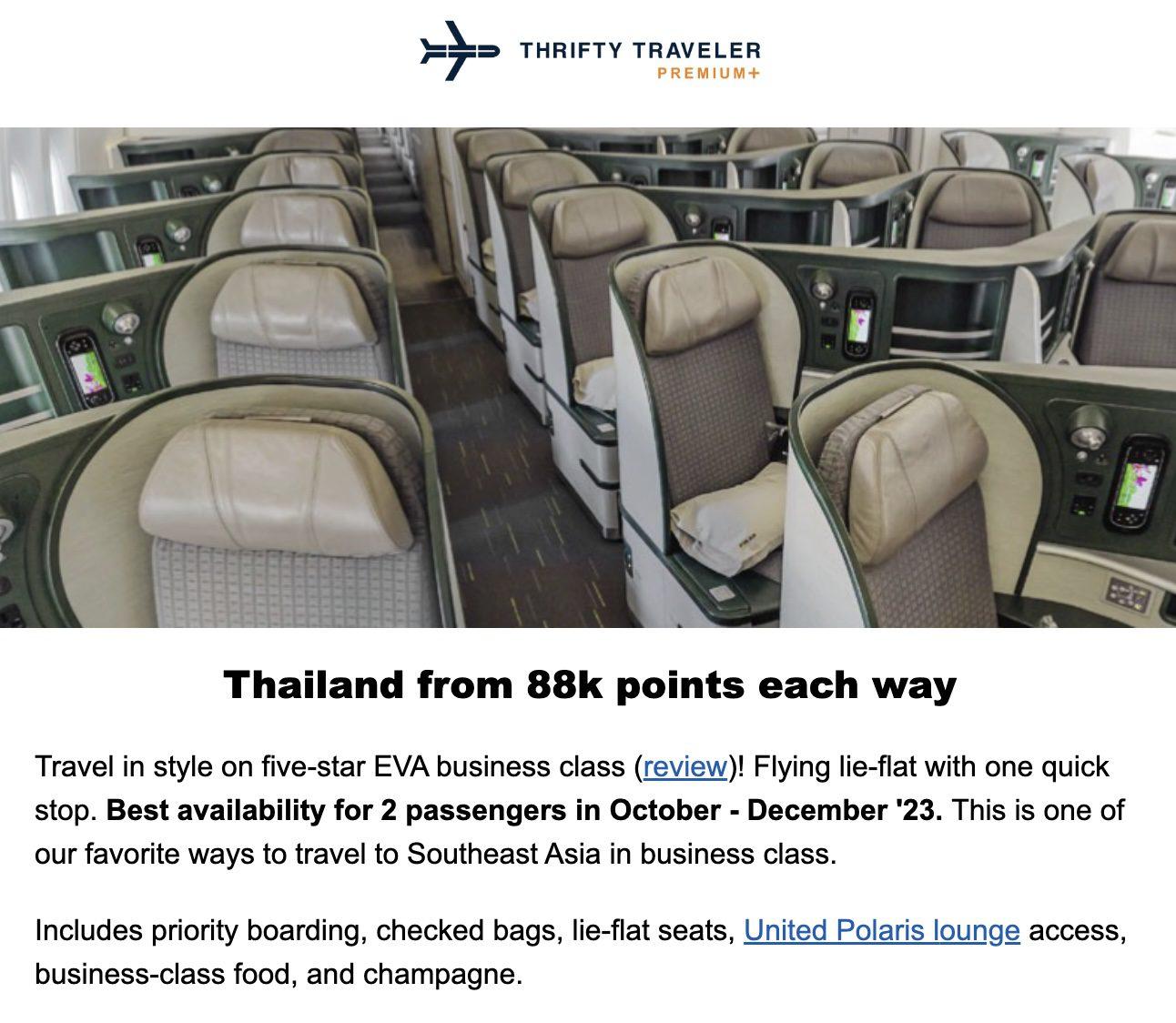 Similarly, you get access to the Polaris Lounge in San Francisco (or the Chicago Polaris Lounge) and get to paradise on a top-rated airline.
 

Singapore Airlines also has a beautiful business class seat that can take you to Asia. And thanks to a brand new way to book Singapore Airlines business class using Air Canada Aeroplan, these seats are available starting at just 75,000 points each way!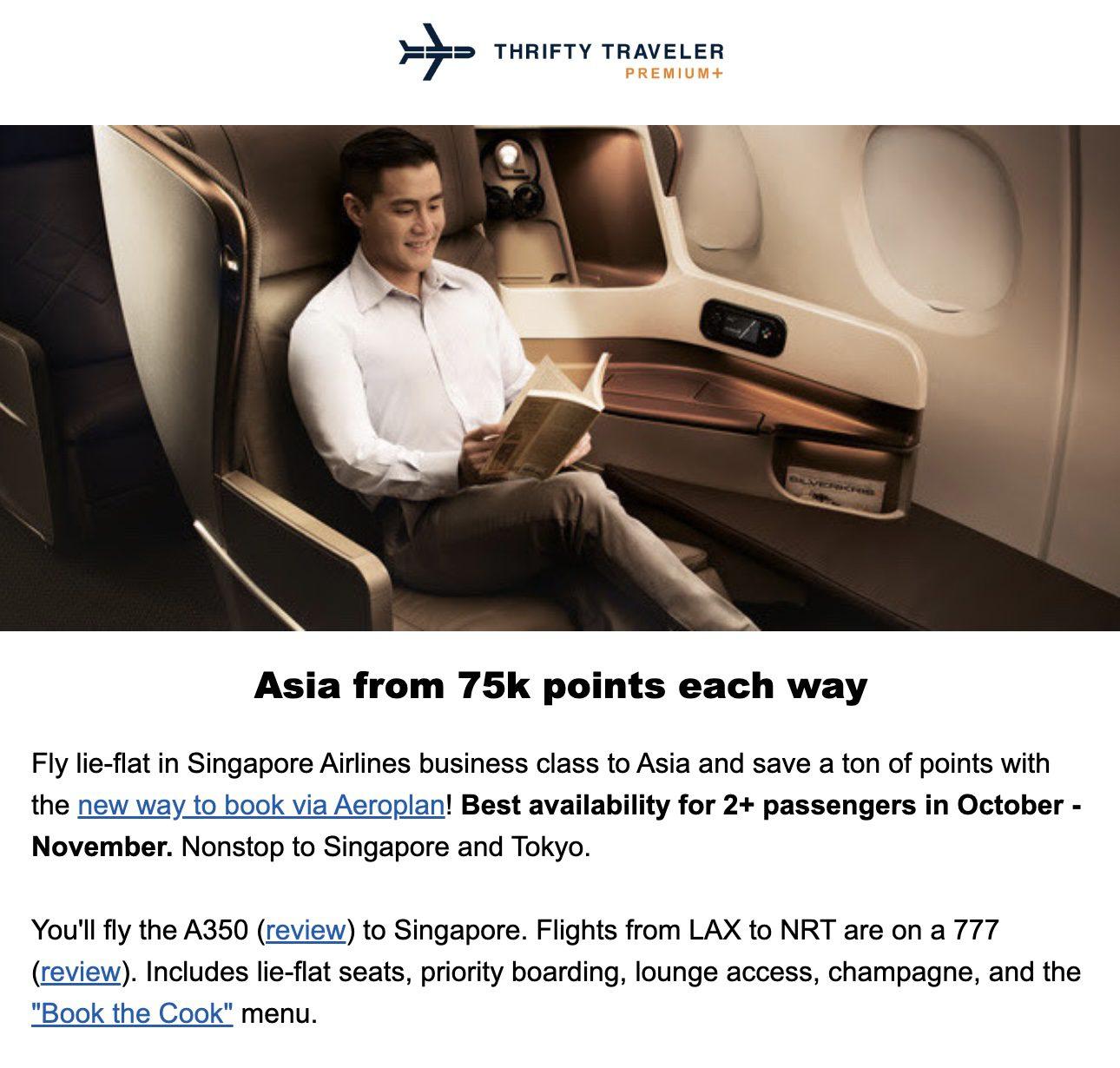 Just look at this list of destinations you can book, too. And that's just half the list!
 
A little comfort goes a long way on the way to Asia, and these seats are all a lot more than a little comfort. Using your points and miles to fly business class is one of the best ways to get the most value.
Bottom Line
Asia is back on travelers' wish lists for 2023, and amazing flight deals are on tap, too.
If you have had an Asia trip on the bucket list and have held off for the last few years, it's time to dig into planning because the flight deals are plentiful. Whether you want points and miles business class deals or a cheap cash fare, there's been a little something for everyone.