Explore some of Los Angeles' most popular attractions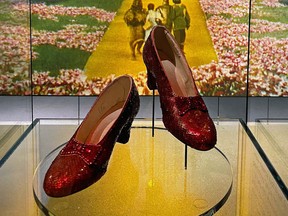 There's plenty to see, from the Hollywood Walk of Fame to Universal Studios,
Article content
When you think of Los Angeles, most people with children could sum up their experience with one word — Disneyland. As a mother of four children, I've flown into Los Angeles many times and every trip included a visit to "The Happiest Place on Earth" in nearby Anaheim — sometimes with an excursion to a beach or another area attraction. The side of Los Angeles known as Tinseltown is something that completely escaped me — until I took my first trip sans-kids.
Article content
If you're going to visit The City of Stars without kids, you should explore it like a movie star. Rather than choosing a hotel with a waterslide in walking distance to a theme park, my husband and I decided to splurge on a place right on the Avenue of the Stars.
Set on the former backlot of 20th Century Fox Studios, Fairmont Century Plaza first opened in 1966 and has a long history of glitz and glamour. Over the years, the hotel's ballroom has hosted the Emmys, the Grammys and even a presidential state dinner. The iconic duo Sonny & Cher performed nightly at the hotel in the 1970s and recorded their first live album there in 1971. The Plaza Century has history, and you can feel it when you stay there.
The iconic hotel underwent a five-year, $2.5-billion renovation and reopened seven months ago. We had plans to go out and begin exploring Tinseltown, but we didn't — at least not right away. We spent our first day just enjoying the incredible rooftop pool, the huge fitness centre, the 14,000-square-foot spa, and ended with dinner at the on-site restaurant, Lumière Brasserie. We may not be movie stars, but we felt like we were.
All about Hollywood
We devoted the next day to visiting Hollywood and exploring museums about the movie industry. This included a stop at the Hollywood Museum, located in the historic Max Factor Building. The history of the building is as interesting as the artifacts it contains. It's the place where Lucille Ball became a redhead and Marilyn Monroe went from "brownette" to blond. All the top stars got the Max Factor treatment, and you can see the salons where they were transformed.
Article content
The museum has quite an eclectic collection of memorabilia including more than 10,000 items. There are costumes, props, photographs, scripts, star's personal belongings and other vintage movie memorabilia. Some of the key artifacts on display include Monroe's wedding nightdress, Elvis Presley's bathrobe, the jail cell from Silence of the Lambs, Rocky's boxing gloves, Indiana Jones' whip, and several vehicles including a Ghostbusters car and a Back to the Future car.
Some of the displays are very random. For example, they have a display of the actual bathroom wall from actor Roddy McDowall's home, covered with notes and photos by celebrated friends who attended his infamous house parties. It's an interesting place to wander around for a few hours.
Hollywood Walk of Fame
Outside the museum, we took a stroll along the Hollywood Walk of Fame. There are more than 2,700 brass stars embedded in the sidewalks along 15 blocks of Hollywood Boulevard and three blocks of Vine Street. These stars bear the names of musicians, actors, directors, producers, and other members of the entertainment industry. Some people visit the website and look up the exact address of their favourite stars. We preferred to wander along to randomly see which names we recognized.
How to get an Oscar
If you want to feel like a top-tier movie star, you must step onto a stage and hear the applause of your peers as you accept an Academy Award. The Academy Museum of Motion Pictures has an Oscars Experience that allows you to record your moment holding a replica Oscar. My biggest revelation was the realization that an Oscar is surprisingly heavy. After receiving our Academy Awards, my husband and I spent several hours exploring this fascinating museum. There are more than 13 million artifacts from films such as Star Wars, The Wizard of Oz, Black Panther, Jaws and many more. There are also several real Oscar statues on display.
Article content
Universal Studios Hollywood
We couldn't go to Hollywood without visiting a single theme park and Universal Studios Hollywood is a theme park, but it's also an active studio. We had fun on movie-themed rides like Jurassic Park and Harry Potter, but we also enjoyed the studio lot tour.
Warner Bros. Studio Tour Hollywood
On our last day, we took in the Warner Bros. Studio Tour, something we had never experienced before and one of the most interesting and fun attractions we visited on our trip. The recently revamped studio tour experience featured memorabilia from popular films and award-winning TV shows like Casablanca, Harry Potter, Friends, The Big Bang Theory, Batman, and Wonder Woman. The tour has an interactive sound stage and other displays that let you explore the entire process of making a film from start to finish. There were also many unique hands-on activities like visiting movie and television sets, sitting under the sorting hat from the Harry Potter film and holding a replica Oscar. We savoured our second Academy Award experience.
There's something magical about movies and television shows. They make us laugh, make us cry, and transport us to another world. Hundreds of people work together to create the best films and shows — including the actors and directors who are in the forefront of the industry. Exploring the City of Stars is a fascinating look at what goes into making magic.
— Debbie Olsen
Debbie Olsen is an award-winning Métis writer and a national bestselling author. Follow her at www.wanderwoman.ca.