Explore Adelaide's best bars with award-winning mixologist Callan Fleming
The SpeciaList
|
Food & Drink
(Image credit: Dylan Minchenberg)
From hybrid "clubstaurant" 99 Gang Social to the stylish and hidden Maybe Mae, award-winning mixologist Callan Fleming shares his favourite bars in South Australia's capital.
F
Flanked on three sides by picturesque wine regions and blessed with an array of award-winning distilleries, South Australia's capital has always punched above its weight when it comes to high-quality alcohol. But until recently, Adelaide was a city where the corner pub reigned supreme and many of the best drops were destined for export.
"When I started, there was no such thing as small bars," recalled Callan Fleming, who spent 15 years working as a mixologist in the city and now acts as a consultant for new venues and runs bottled cocktail company Privée. But after the introduction of new regulations in 2013 that simplified licencing requirements for small venues, a new category of boutique bars began to crop up on the backstreets of Adelaide's central business district.
More than 150 small bars have opened in the last decade, "and that scale means the cream always rises to the top", said Fleming. "But the proximity of the bars is what really sets Adelaide apart." A decade ago, Leigh Street was an unremarkable thoroughfare used mainly by office workers, and neighbouring Peel Street was even quieter. Now these two backstreets form the centre of a thriving precinct where dozens of bars within easy walking distance attract revellers most nights of the week – but they're just the tip of the iceberg.
This proliferation of new venues is a boon for Adelaide residents and visitors alike – and it makes having a good guide more important than ever. Here, Fleming shares his favourite Adelaide bars for live music, natural wine, sustainable cocktails and more.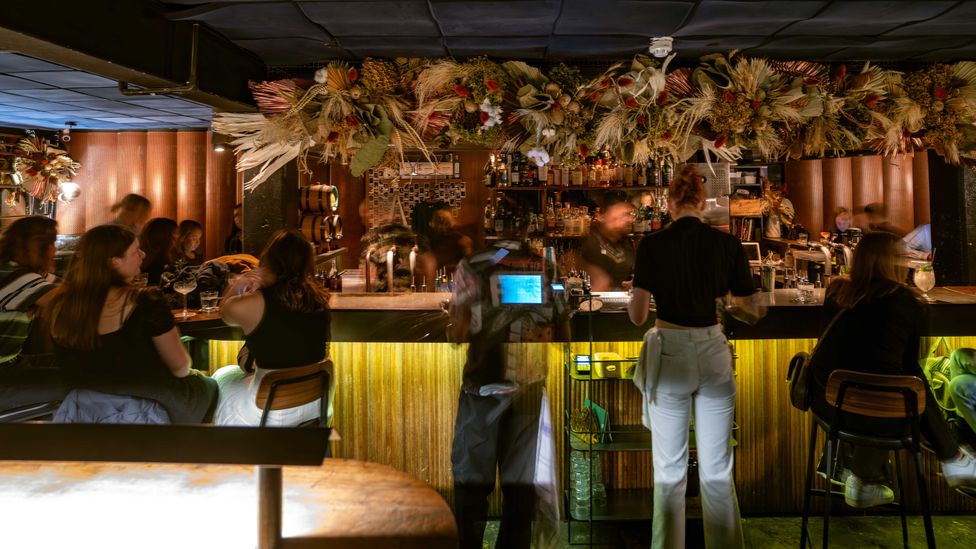 Head to Maybe Mae for impeccably balanced and inventive cocktails (Credit: Josh Lefevre)
1. Maybe Mae
If you can't decide whether to head to Leigh or Peel Street, this stylish venue hidden beneath an arcade that connects the two allows you to split the difference. "To find this bar, you go down a set of stairs and push on a wall that opens up into a space like the lounge bar of a member's club where a maitre d' takes care of you," said Fleming.
Part of the first wave of small bars, Maybe Mae still has a reputation as the place to go for impeccably balanced and inventive cocktails. And while the low ceilings and large booths make speakeasy comparisons all but inevitable, this was one of the first bars in Adelaide to offer non-alcoholic drinks made with the same level of detail as the cocktail list.
Working with the best ingredients necessarily means there's a highly seasonal component to the drinks menu, and a focus on sustainability means you'll rarely find lemon or lime on the menu as they both create a substantial amount of waste. Instead, expect to see preserves and ferments featuring prominently, and "using the whole plant every time they make anything leads to some unusual ingredients," said Fleming, "but the table service means they're very good at explaining that."
Website: maybemae.com
Address: 15 Peel Street
Telephone: +61 0416 498 192
Instagram: @maybemaebasement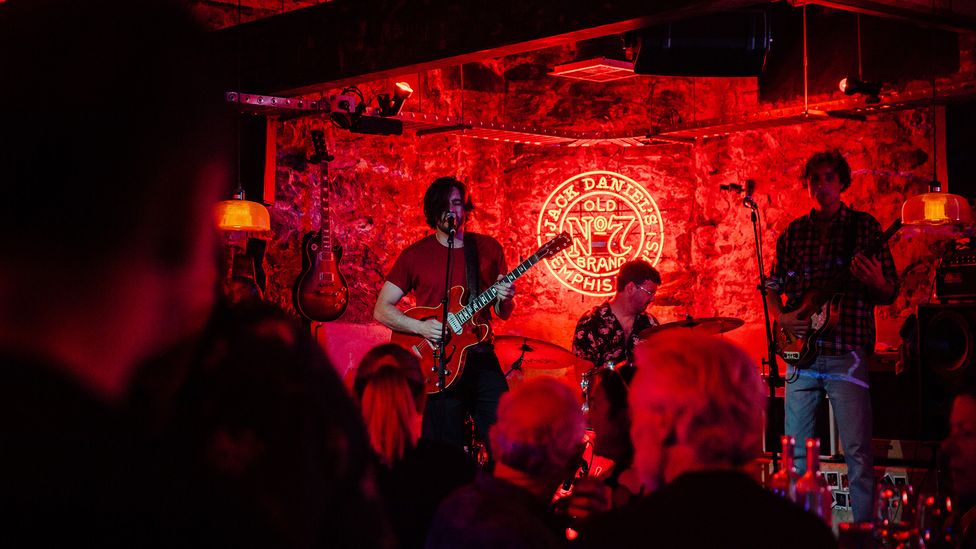 Memphis Slim's House Of Blues has live bands five nights a week (Credit: Dylan Minchenberg)
2. Memphis Slim's House Of Blues
"Started by an ex Maybe Mae bartender, this place is a lot more raucous," said Fleming of Memphis Slim's House Of Blues. "When you walk in it feels like you've stepped onto the set of The Blues Brothers, which is a lot of fun to have on a backstreet in Adelaide."
Music is unsurprisingly at the heart of the offering at the venue and you can catch live bands five nights a week, but Dusty Lee's Blues Jam on Thursday is the undisputed highlight. The freeform sessions draw a rotating roster of Adelaide's best musicians for "an all-in jam that starts at old-school blues and ends at hard rock".
And while the attention is firmly on the stage (and dancefloor), the long wooden bar holds up its end of the bargain with "all the classics that you would want from a blues bar. That means clean beer and hard whisky, plus a couple of really interesting cocktails that show the Maybe Mae bloodline."
Website: memphisslims.com.au
Address: 22 Gilbert Place Basement Level
Instagram: @memphis.slims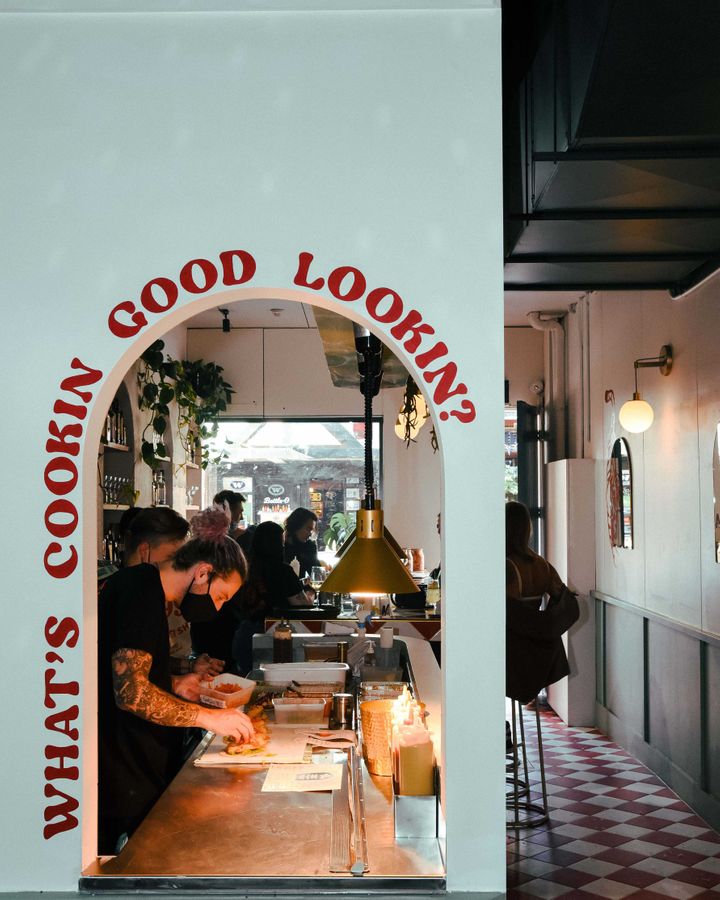 99 Gang Social is a cross between a restaurant, a burger joint and a nightclub (Credit: Jack Fenby)
 3. 99 Gang Social
The counter seating and red-and-white chequered floor tiles at new arrival 99 Gang Social give off retro diner vibes, but the mirror ball dangling overhead points in an entirely different direction. As a result, "it rides this interesting line between being a restaurant, a burger joint and a really fun club," said Fleming.
A menu that focusses on burgers, tacos and fried chicken reflects the owners' background operating a popular local food truck, while the hybrid "clubstaurant" model is a creative way to maximise revenue from a bricks-and-mortar space. Dinner service begins at 17:30, and at around 20:30, "the mood shifts as the volume goes up, the soundtrack gets a bit more disco and people begin to move a bit more".
A drinks list centred on resort-style cocktails fits the anything-goes ethos, with Fleming citing the Pandan Pina Colada as a personal favourite. "It's always served ice cold and is perfectly balanced; you get all the richness of the coconut, and the beautiful fattiness of the pandan sits against the sharp acidity of the pineapple."
Website: goodtimegang.co/99gangsocial/
Address: 99 Hindley Street
Instagram: @99gangsocial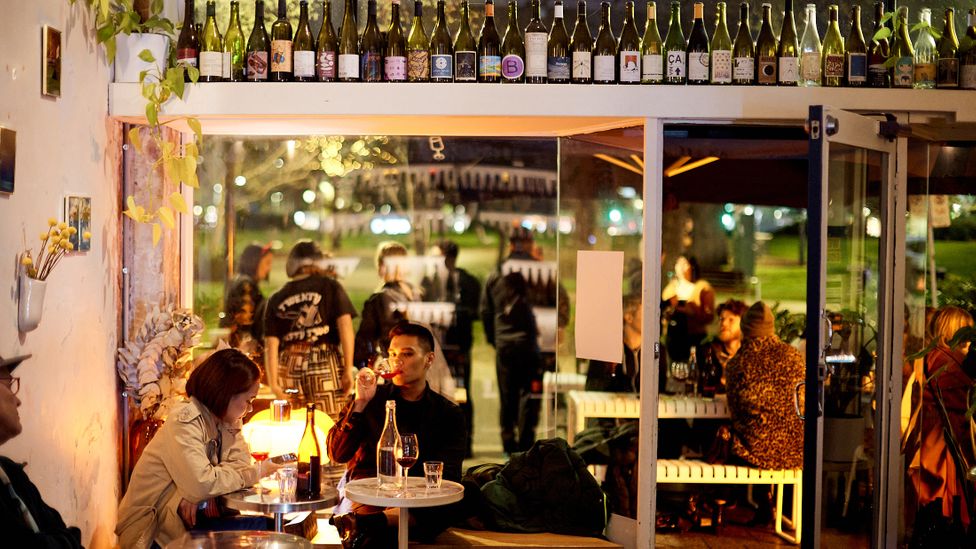 The wine list at LOC Bottle Bar is packed with low intervention wines from local producers (Credit: Andre Castellucci)
4. LOC Bottle Bar
Adelaide is one of only a dozen Great Wine Capitals worldwide, and the proximity of three wine regions (Adelaide Hills, Barossa Valley and McLaren Vale) means it's not unusual to see budding winemakers working behind the bar to fund their studies. "There are plenty of wine bars where you can get great service while tasting elegant, well-structured wines that are still really affordable," said Fleming. "But what makes LOC a joy to go to is the fact that you're always going to get something interesting and unusual there."
That adventurous spirit makes it a magnet for creatives, and strong local representation has always been a feature of the low intervention wine list. "A big wall of the funkiest, nattiest, most biodiverse wines rattling around south-eastern Australia" is the minimalist interior's most eye-catching feature, says Fleming. But the absence of a traditional bar is equally important and the lack of separation between customers and waiters is an obvious metaphor for the spirit of inclusivity that fuels the venue.
Website: locdotcom.au
Address: 6 Hindmarsh Square
Instagram: @locdotco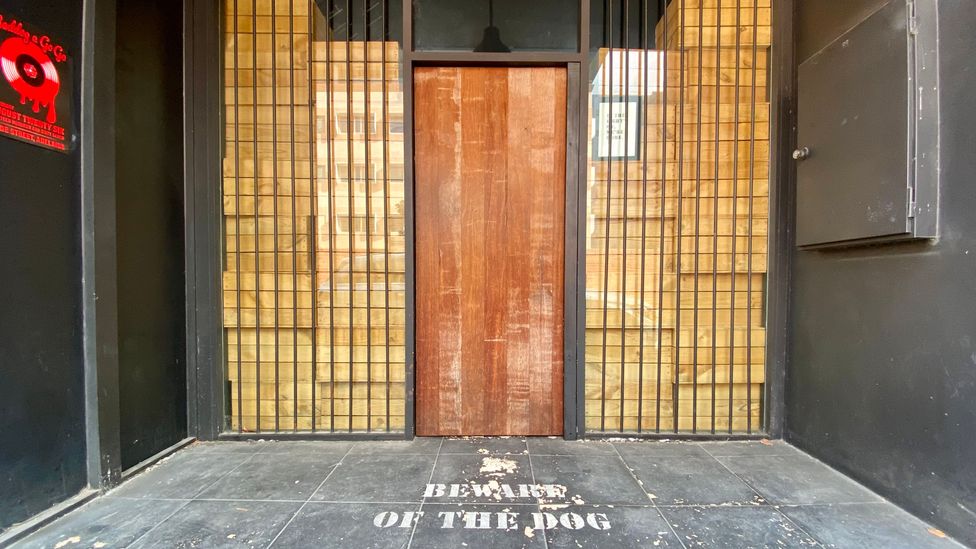 A light above the unsigned door at Baddog signals when the bar is open (Credit: Alexis Buxton-Collins)
5. Baddog Bar
"There's not much to see if you're standing on the street out the front of Baddog," said Fleming. "It's just a wooden door in a windswept alley. But when you step inside, it feels like you've walked into a saloon created by someone with an industrial design degree; it's dark, there's always blues playing and there are chains and guitars hanging on the wall."
The hours depend on the whims of owner Zac Markov and a light above the unsigned door signals when the bar is open, but you'll always find it pumping on Fridays, Saturdays and Mondays, the latter a nod to Baddog's enduring popularity with local bartenders.
North American whiskey is the house speciality, with more than 250 bottles of bourbon, rye and single malt behind the bar. "And because he's got direct lines to distilleries and distributors, Zac gets his hands on stuff that wouldn't usually get imported into Australia. So if you pull up a chair and ask him to take you on a journey, you're going to have an amazing night."
Address: 63 Hyde Street
Instagram: @baddog_bar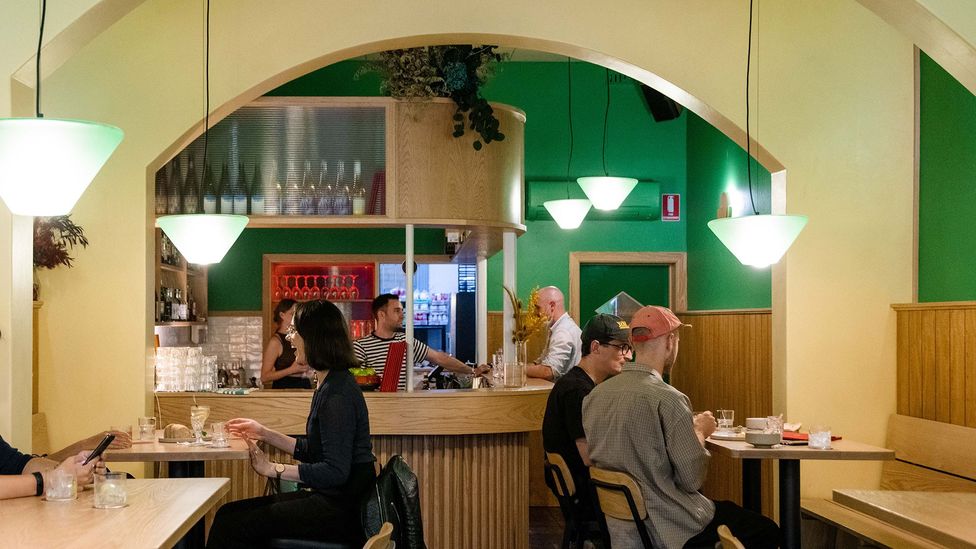 Located next to the iconic Exeter Hotel, Smokelovers is a classic cocktail and wine bar (Credit: Jack Fenby)
6. Smokelovers
Generations of Adelaideans have grown up visiting Rundle Street's Exeter Hotel, where students and office workers can often be seen sharing space in the front bar. It's a classic pub that still feels like a pillar of the community, and this neighbouring bar "takes that old-school hospitality and transfers it to a beautiful wooden space with a modern design aesthetic".
Started by a former Exeter bartender, Smokelovers' narrow shopfront and deep interior give it a hole-in-the-wall feeling that makes it ideal for people-watching – especially during the Adelaide Fringe arts festival, when the city's East End is awash with tens of thousands of revellers.
"But if you don't want to watch all the characters passing by outside, you can disappear into one of the small booths further back," said Fleming. "And though it's not a disco bar, you'll sometimes find DJs playing, so it has a fun, upbeat energy that makes it a great place to take a date."
Website: smokelovers.com.au
Address: 244 Rundle Street
Instagram: @smokelovers_bar
;