Disney Cruise Line Guide: What to Know Before You Go on a Disney Cruise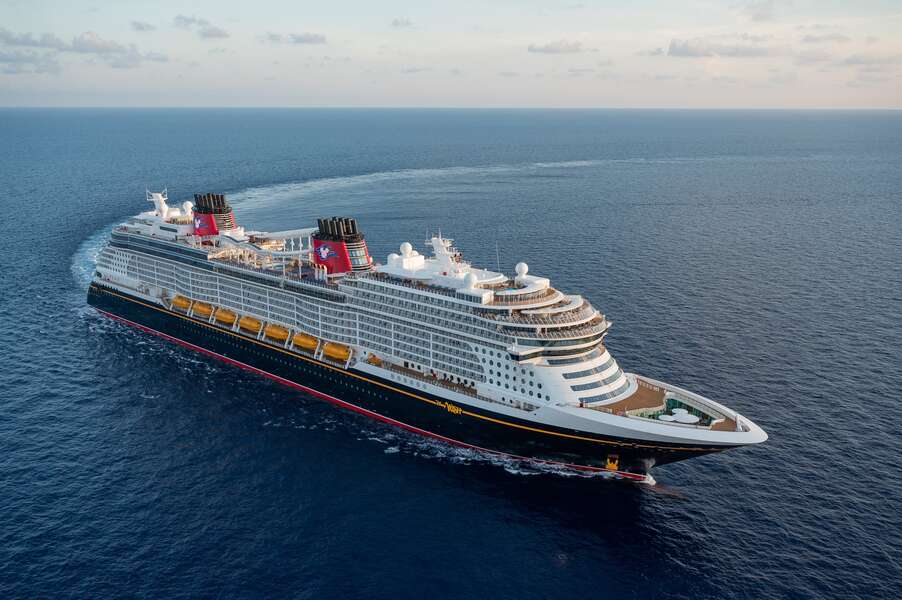 Cruising with Disney is great for an avid fan or annual passholder, but also for families that don't want to choose between the magic of Disney's theme parks and a trip to a tropical destination. If you've frequented any of the parks, you know that the thought and design put into every aspect really brings beloved stories to life. The company's 1,000-foot ships are no different. These aren't your average cruises; they come staffed by thoughtful cast members and covered in wall art that comes to life, and the ships' horns play "When You Wish Upon a Star"… because why wouldn't they? A Disney cruise is a vacation designed to make dreams come true.
Whether you choose to set sail for three nights or a whole week, you'll find more than just character interactions to keep you entertained onboard. From Broadway-style performances and firework shows to trivia, silent disco parties, and whiskey tasting, Disney has thought of every activity to make sure your vacation at sea is a nonstop blast.
Ready to take to the sea with Mickey and friends? Here's everything you need to know about the best things to do, port excursions, money-saving tips, and helpful things to keep in mind before setting sail on a Disney cruise.
The Disney Cruise Line Navigator App is your holy grail
Since you'll be miles away from the shoreline for a majority of your trip, you can't expect your phone to remain fully functional. But a great workaround is to download the Disney Cruise Line Navigator app, which you can use as both a resource and messaging app. Once you receive your booking confirmation number, you can check in through the app and plan your onboard activities—but it becomes especially helpful once you board the ship.
During your cruise, the app will connect you to what's happening on the boat at any time of day. You'll be able to chat with others on the cruise for free, purchase a premium internet package to make your phone even more functional, view any photos from Disney photographers, plan your daily schedule, book excursions at your destinations, and more.
You can choose destinations around the globe
There are a total of five Disney cruise ships: Dream, Fantasy, Magic, Wonder, and the Wish, which made its debut in 2022. These ships set sail all over the world, offering a notably long list of sailing destinations. These destinations include the Bahamas, the Caribbean, northern Europe, the Mediterranean, the Norwegian Fjords, the British Isles, Bermuda, Alaska, Canada, Hawai'i, New Zealand and Australia, the South Pacific, and Mexico. It's possible to sail the whole world with Disney, and many individuals do.
In the US, ships can depart from Port Canaveral (about an hour from Walt Disney World in Orlando), Miami, or Fort Lauderdale, Florida; Galveston, Texas; Honolulu; New Orleans; New York; San Diego, and San Juan, Puerto Rico.
International departure ports include Auckland, New Zealand; Barcelona; Brisbane, Australia; Civitavecchia (Rome); Copenhagen; Southampton, England; Sydney; and Vancouver, Canada.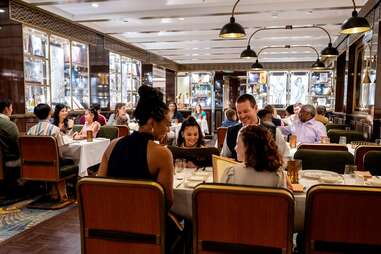 You'll rotate between different dining options each night
There are an average of four casual dining restaurants on each boat that are included in the price of your cruise. Unlike other cruise lines, meals aren't exclusively served buffet style, and the variety of dining options means you're likely to see a new and often-elegant menu every day. If you're wondering why Disney cruise costs are a bit higher than other cruises, this is one of the reasons—but you may find the quality of the food and experience justifies the price.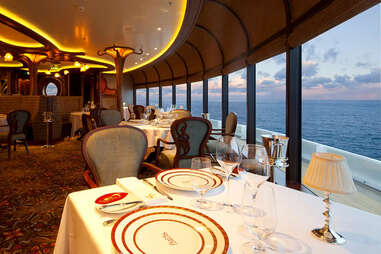 Every day, your family will be assigned a restaurant for your chosen dinner dining time: 5:45 pm or 8:15 pm. You'll have the opportunity to visit every dining location during your cruise, and your wait staff will follow you every night. "The ability to build that connection after day number one when the wait staff already knows what your preferences are, makes such a difference," says the cruise line's hotel director Sam Jones. "Over the cruise you see the kids run to their table because they want to see their service team. I think as a cruise line it's been something unique and we've kept it all the way since the beginning and it's been a real success."
For adults looking for a more romantic dinner setting or to escape the kids for one night, every ship offers adults-only dining at Palo, a northern Italian-themed restaurant. Aboard the Disney Dream and Disney Fantasy, adults can also enjoy the elegant French menu at Remy. Reservations are available for booking through the app and are not included in the price of the cruise.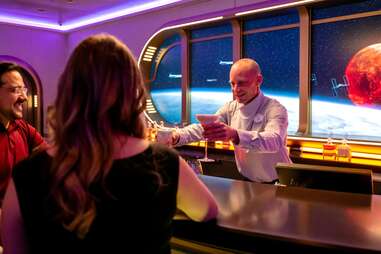 Alcohol isn't included in the cost of the cruise
Unlike other cruise lines, Disney doesn't offer an alcohol package for their guests. This means that those piña coladas are going to cost you. Guests 21 years and older, however, are permitted to bring a maximum of two bottles of unopened wine or six beers on board at the beginning of the trip, as well as at each port. The bars on board also offer happy hours with discounted drinks, plus there's a daily $5 specialty cocktail, and a refillable Disney beer mug is available for purchase.
There are activities for all ages
Disney cruises are ideal for families, and offer activities for people of all ages from 7 am to 11:30 pm each day. There's sunrise yoga, Marvel Trivia, karaoke, napkin folding classes, character meet-and-greets, silent disco dance parties, musical performances, fireworks, and more.
The younger members of your family can take part in a variety of age-appropriate programs while on board, including the Oceaneer Club and Oceaneer Lab for those ages 3 to 12. These kids-only areas feature several themed play zones, computers, a reading area, an animator's studio, and a craft area. Kids ages 11 to 14 can head to Edge, while older teens between 14 and 17 can visit the Vibe lounge to watch TV, play video games, listen to music and meet others their age. Available only on the Disney Wish is The Hideaway, a third club option where older teens and young adults can dance and socialize.
 
For those traveling with babies or toddlers under the age of 3, all ships offer babysitting services in the It's a Small World Nursery. Unlike the free kids clubs for the older children, the nursery has a charge of $4.50 per hour, for a minimum of an hour.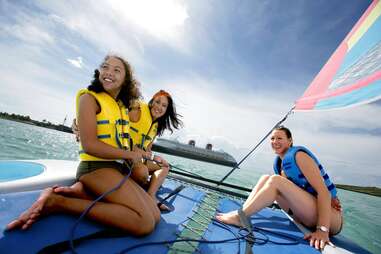 Book your excursions in advance
Whenever your cruise reaches its port destination, you can disembark and explore the city on your own, or through Disney's Port Adventures. These shore excursions vary by port, age range and activity level, and are operated by local independent contractors. You can book your Port Adventure online 75 days prior to your departure date if you're a first-time passenger, or 120 days before sailing if you're a Platinum Castaway Club member or if you've booked a Concierge Stateroom or Suite.
Possible shore excursions include adrenaline-pumping tours like zip lining or ATV riding, as well as wildlife viewing, boat rides, and private beach visits. Additionally, there are adults-only excursions available for booking, such as historic tours and wine tastings.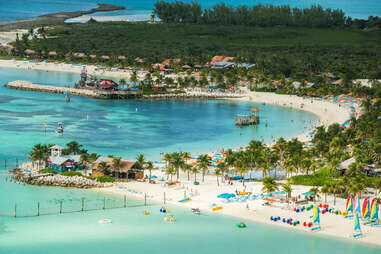 Disney has its own private island in the Bahamas
Castaway Cay is Disney's private island, and it's a port destination for many of the Bahamas and Caribbean cruises. It's divided into three sections accessible via a tram: Scuttle's Cove, Pelican Plunge, and the adults-only Serenity Bay. Much of the island offers things to do for the whole family, including kayaking, biking, and snorkeling. There are lounge chairs, umbrellas, sand chairs, and even a few hammocks available on the beach on a first come, first-serve basis.
As you'd expect, Disney seems to have spared no expense on the island's design, covering the property in decorations, water slides, gift shops, and cabanas. While making your way around the island, you'll find popular characters such as Minnie Mouse, Goofy, Pluto, and more, on the beach, as well as quick dining options for a free barbecue lunch.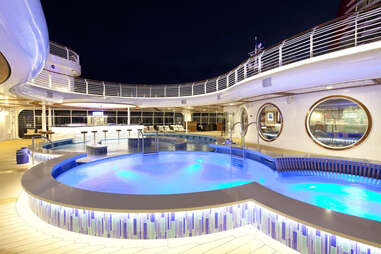 Take advantage of the adults-only areas
On all five of Disney's ships, keep an eye out for adults-only sections, which include top deck shallow pools and lounges, a swim-up bar, a spa, as well as several themed bars, nightclubs and lounges. Every night these areas offer events such as musical performances, karaoke, game shows, happy hours, and dance parties. If your cruise itinerary includes a stop at Disney's Castaway Cay, adults can also escape the younger crowd by visiting Serenity Bay for a private outdoor eating space, cabanas, and beach.
The customer service is top tier
Disney cruises come with a lot of amenities, but it's the crew members who really make the experience special. From the cruise events director appearing before every Broadway-style show to make a grand intro and kids' club counselors leading arts and crafts, to dining staff remembering passengers' dietary preferences or gifting the kiddos Pixar silly straws, Disney cast members are dedicated to making your cruise memorable.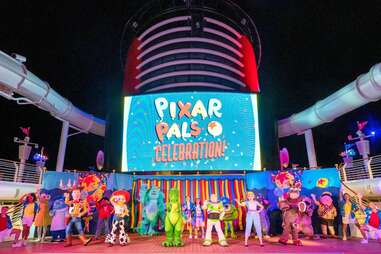 Some cruises have special themed days
Disney cruises have begun offering exclusive themed days with select sailings, such as the Pixar Day at Sea or the Marvel Takeover at Sea. During themed days, guests are immersed in the stories of their favorite toys, monsters and supers. For example, the Pixar Day at Sea includes a sing-along breakfast, themed activities and treats, pool parties and character encounters—culminating in a dance party with popular Pixar characters and a fireworks finale. The Marvel Takeover, on the other hand, features all-day entertainment and encounters with a large assembly of Marvel heroes and villains from the comics, films, and animated series.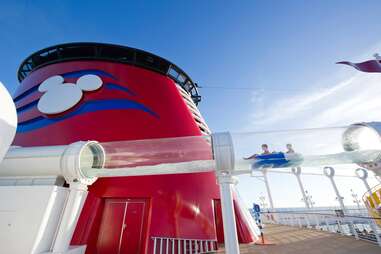 You'll pay a higher price for one-of-a-kind perks
It's a known fact that Disney in its entirety is expensive (and getting pricier). The brand's cruises are no exception, which is why it's important to know where your money is going—and how much of what's offered on board is included in your price. Your cruise ticket includes the enchanting entertainment, Disney's private island and beach essentials, and dining options ranging from upscale restaurants to casual dining (plus poolside snacks and 24-hour room service). The cost of your cruise also covers non-alcoholic beverages, themed youth clubs for every age, nightclubs and lounges for adults, and pools and recreation (like the waterslides, mini-golf course, and basketball court).
Special cruise rates are available for Disney+ subscribers, as well as for Florida and Canadian residents, or for those booking through a travel agent.
What to do before you board
Keep in mind that you can pre-book shore excursions, childcare services, spa and wellness treatments, and activities like character meet-and-greets, mixology classes, and dinner reservations at adults-only restaurants. You'll want to nab these as far in advance as possible, so you can be sure you'll be able to do everything you want.
When packing for your trip, remember guests go all out for these cruises, from decorating their rooms and doors with magnetic Mickey heads to dressing up in Disney merch or costumes. Feel free to pack all of this and more to embrace the full magic of the cruise.
On the day of boarding, every guest traveling on the cruise ship (even the infants) will need their passport, birth certificate, or other acceptable proof of citizenship. Your group will also need to bring a signed Online Check-In Port Arrival Form provided by Disney prior to your departure. For sailings departing from the U.S. and Puerto Rico, Disney no longer requires guests to be COVID-19 vaccination or tests, but it's strongly recommended that all unvaccinated guests take a COVID-19 test two days prior to their cruise.
Once all that's taken care of, you're ready to set sail with Disney—and you're sure to have a blast.
Caroline Boden is the SEO Coordinator at Thrillist.