Cheap places in the US to fly to for a cruise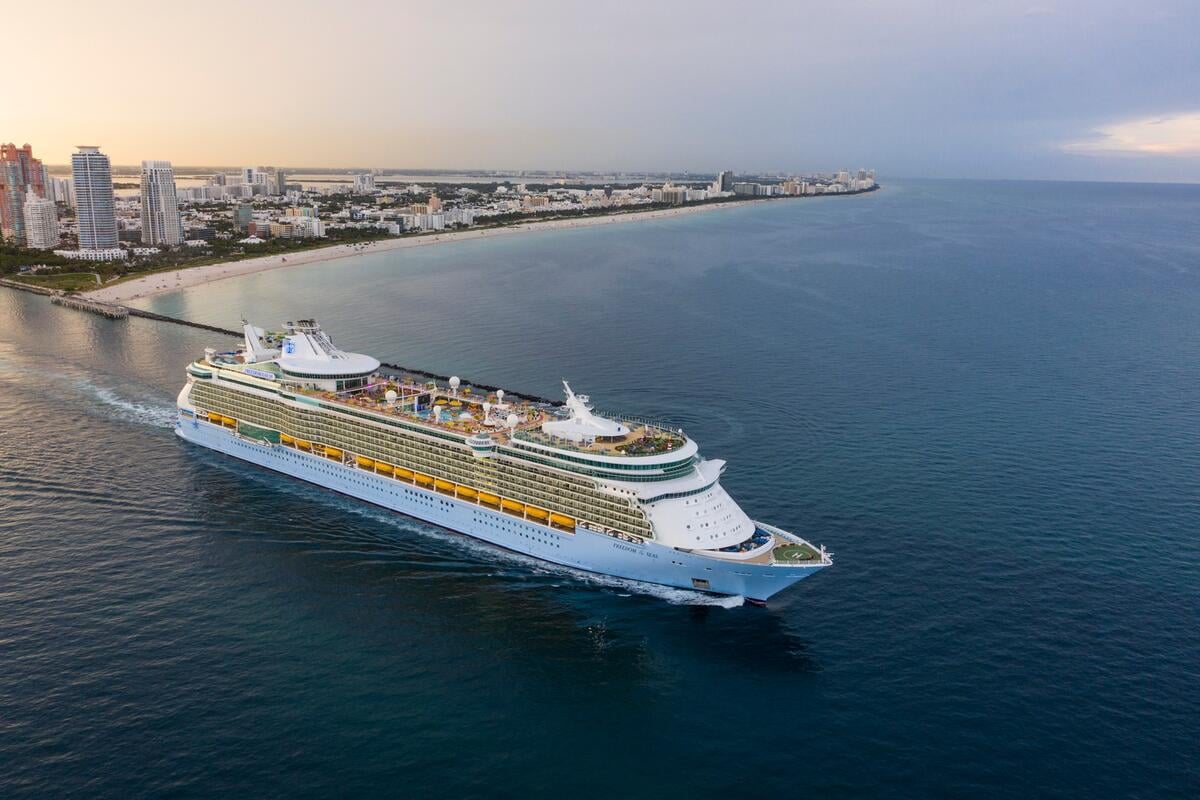 Finding a cheap flight deal is almost as exciting as finding a cheap cruise deal, especially when the flight brings you to your cruise embarkation port. It's cheaper to fly to certain cities than others, though, and we're sharing the cheapest US destinations to fly to before a cruise.
Flight deal company Going (formerly Scott's Cheap Flights) recently published a report of the US destinations with the most flight deals. They compiled data from cities with over 300,000 people and ranked airports by the amount of flight deals they had sent to Going members within the past six months.
5 of the 10 destinations on their list just so happened to be popular cruise ports, including New York, Fort Lauderdale, and Los Angeles.
For the millions of passengers who fly to their cruise port each year, finding affordable flights is high priority, and here are the cheapest places in the US to fly to for a cruise.
Tampa, Florida
Tampa may be a smaller cruise port, but the city's airport has direct flights to over 75 cities in the United States. This makes the port easily accessible from most major cities, with 13 airlines flying to and from the airport.
As another plus, Tampa International Airport (TPA) is a hub for Silver Airways, a low-cost airline with direct flights from several cities in the southeast including Charleston, Savannah, and New Orleans. Additionally, Frontier, Spirit, and Breeze Airways—three low-cost carriers—serve a number of flights from Tampa.
Even if you don't book a flight on a budget airline, you can come across some impressive flight deals to Tampa. A few of Going's recent flight deals to Tampa have included an $88 roundtrip flight from Richmond to Tampa and a $158 roundtrip flight from Detroit to Tampa.
Where can you cruise to from Tampa?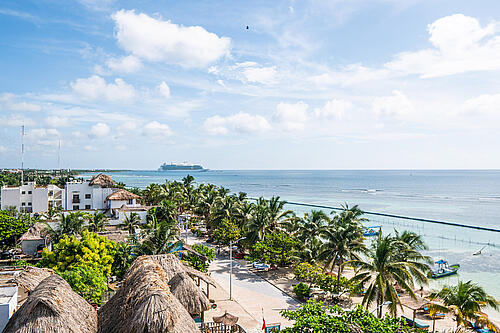 Everything from short 4-night cruises to 2 week itineraries are offered from Tampa. 
Most 4-night cruises visit either Cozumel, Mexico or both Key West, Florida and Nassau, Bahamas, although some may visit Perfect Day at CocoCay and Progreso, Mexico.
5-night itineraries visit two ports with two days at sea. Ports include Key West, Nassau, Costa Maya, Cozumel, Grand Cayman, and Progreso.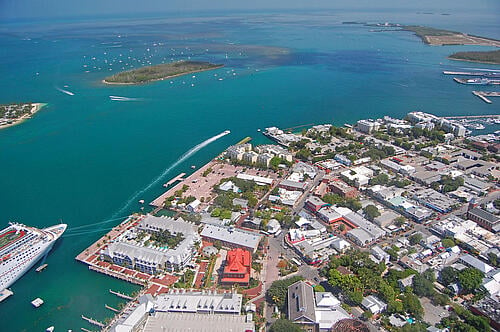 Weeklong cruises can travel further from Tampa to visit between 3 and 4 ports in the Western Caribbean, Eastern Caribbean, and Southern Caribbean, with some traveling as far south as Costa Rica!
The longest itineraries, over 12 nights, are repositioning cruises, during which a ship transfers homeports from one city to another. It's common to see ships repositioning from Tampa to Los Angeles or Boston prior to the summer cruise season, and they typically offer a fantastic value.
Which Royal Caribbean ships sail from Tampa?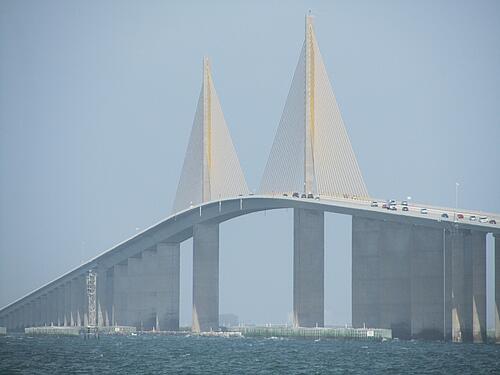 Cruise ships arriving and departing Tampa must pass under the Sunshine Skyway Bridge, and this limits the size of cruise ships that can sail from Tampa.
Royal Caribbean can only offer cruises from Tampa on Vision and Radiance Class cruise ships, as their smaller size allows the ships to safely pass under the bridge.
Related: 12 differences between the big and small Royal Caribbean cruise ships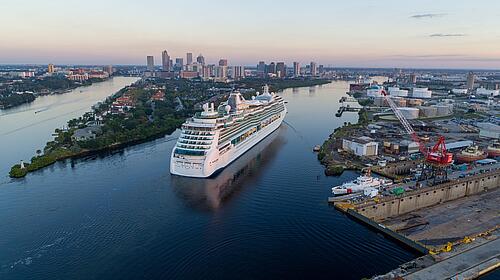 You shouldn't let an older, smaller cruise ship deter you from cruising from Tampa. Many passengers love sailing on an older ship due to the more relaxed atmosphere onboard, more affordable prices, and ability to fit into unique ports.
Currently, cruises from Tampa are offered on Enchantment of the Seas, Grandeur of the Seas, Radiance of the Seas, and Serenade of the Seas.
Boston, Massachusetts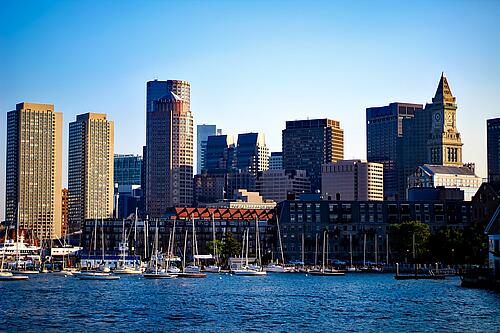 Boston, Massachusetts is a seasonal cruise port, with Royal Caribbean cruises only offered in the fall, usually from September through early November.
However, the itinerary options and cheap flights to Boston make it an enticing option for a cruise embarkation port. Boston Logan International Airport (BOS) offers direct flights to and from 87 cities in the United States.
13 domestic airlines serve the airport—it's a hub airport for Delta Air Lines and Cape Air—and a focus city for JetBlue. This means deals to the city are common, especially during the fall months which are outside the peak summer season.
Some of the deals Going has found to Boston include a $147 roundtrip flight from Savannah to Boston and an $87 roundtrip flight from Washington, DC to Boston.
Where can you cruise to from Boston?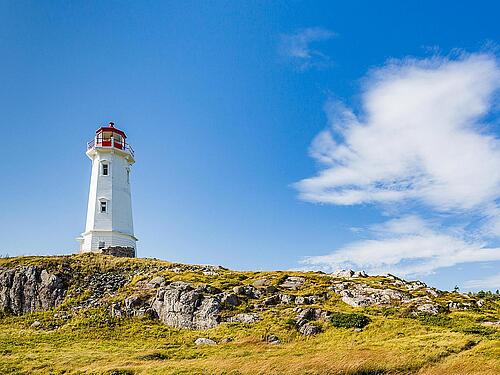 Boston's location in the northeast makes the Caribbean a far reach—it would require several days at sea each way. Instead, cruises from Boston primarily serve the northeast and Canada cruise market.
While an occasional 4 or 5-night cruise may depart from Boston, the majority of cruises from the city are 7-night Canada cruises. These sailings visit three or four ports in the northeast of the United States and Canada, which vary between:
Portland, Maine
Saint John, New Brunswick
Halifax, Nova Scotia
Bar Harbor, Maine
Sydney, Nova Scotia
Related: Why fall is a great time to cruise to Halifax, Nova Scotia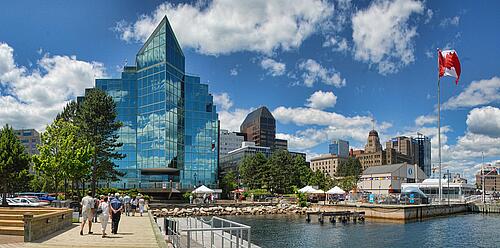 A major appeal of a Canada and New England cruise is the opportunity to see the gorgeous fall foliage of the region. Beyond just the picturesque scenery, however, are quaint towns with delightful cuisine and intriguing history.
Whether kayaking in the Bay of Fundy, tasting lobster rolls in Portland, or visiting breweries in Halifax, you're sure to find something interesting to experience on a cruise to Canada and New England.
Or try something even more unique: a cruise to Greenland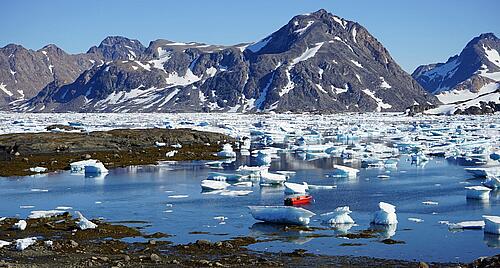 In search of one of Royal Caribbean's most unique cruise itineraries? Wave goodbye to busy Boston and set sail for the Arctic.
While uncommon, Royal Caribbean occasionally offers cruise itineraries to Greenland from Boston. Currently available to book is a 15-night Greenland cruise, which visits some seriously unique ports.
En route to Greenland, Grandeur of the Seas will make port stops in Sydney and Halifax, Nova Scotia. Once in the Arctic, she calls upon Nanortalik, Qaqortoq, and Nuuk, and the final port stop is a day in St. John's, Newfoundland before returning to Boston.
Which Royal Caribbean ships sail from Boston?
Royal Caribbean homeports one ship in Boston each fall season. For the fall of 2023, Serenade of the Seas will be based in Boston whereas 2024 will bring Grandeur of the Seas to the city.
As a Radiance Class and Vision Class ship respectively, the two ships offer a traditional cruising experience perfect for the quiet, unique ports visited on itineraries from Boston.
While they may lack the bells and whistles like waterslides, surfing simulators, and Broadway shows, they still offer everything you need in a cruise vacation, including comfortable cabins, an adults-only Solarium, and a selection of complimentary and specialty dining venues.
Miami/Fort Lauderdale, Florida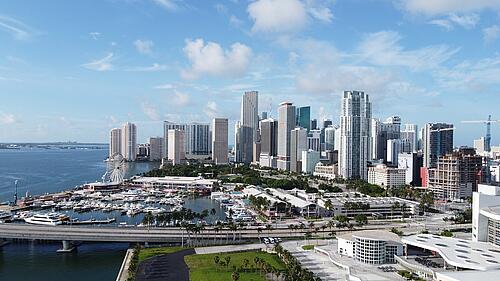 Two of the busiest cruise ports in the country are easily accessible with a wide selection of affordable direct flights. Due to the close proximity of Miami International Airport (MIA) and Fort Lauderdale-Hollywood International Airport (FLL), the two airports compete with each other for passenger traffic, which helps bring amazing flight deals to the region.
Fort Lauderdale's airport has direct flights to over 88 destinations in the US and is served by over 15 domestic airlines. As a focus city for Spirit Airlines, JetBlue, and Allegiant, as well as a hub airport for Silver Airways, it's common to find cheap flights to the airport on both budget and full service airlines.
Related: Guide to cruises from Fort Lauderdale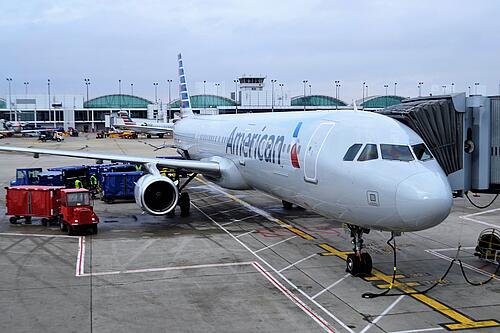 If you're flying American Airlines, you'll find a range of deals to the airline's hub at Miami International Airport. Outside of American Airlines, 8 other domestic airlines serve 78 nonstop routes to and from US destinations, and it's a focus city for budget airlines Frontier and Spirit.
On average, Going has sent subscribers 9 deals per month to South Florida, which have included a $178 roundtrip flight from San Diego to Fort Lauderdale and a $98 roundtrip flight from New York to Fort Lauderdale.
Related: Guide to cruises from Miami
Where can you cruise to from Miami and Fort Lauderdale?
South Florida is the hub of the cruising industry—its proximity to the Caribbean makes it a short sail away from the nearby Bahamas or more distant Aruba.
A quick search for cruise itineraries from Miami and Fort Lauderdale brings up nearly endless itinerary options, including:
3-night Bahamas & Perfect Day cruise visiting Perfect Day at CocoCay and Nassau, Bahamas
7-night Eastern Caribbean cruise visiting Perfect Day at CocoCay, San Juan, and St. Thomas
8-night Southern Caribbean cruise visiting Curacao, Aruba, and Perfect Day at CocoCay
15-night Transatlantic cruise visiting Perfect Day at CocoCay, Tenerife, Seville, Lisbon, and Vigo
14-night Panama Canal cruise visiting Cozumel, the Cayman Islands, Cartagena, Panama Canal, Puntarenas, and Huatulco
Whether you're searching for a weekend getaway or longer, more in-depth itinerary, you're sure to find a cruise that fits your needs sailing from Fort Lauderdale or Miami.
Which Royal Caribbean ships sail from Miami/Fort Lauderdale?
Miami and Fort Lauderdale offer cruises year round, with the widest selection of ships available to book during the winter months. Throughout the year, you can find cruises on every class of Royal Caribbean cruise ships, from the fleet's smallest ships to its newest and biggest cruise ships.
In fact, Royal Caribbean's newest ship, Icon of the Seas, will set sail from Miami starting in January 2024. With a waterpark, indoor AquaTheater, exclusive suites-only neighborhood, and upgraded, family-focused amenities, Icon of the Seas will be a gamechanger for the cruising industry not just in South Florida, but in the world.
You can currently book cruise itineraries from South Florida on over 15 Royal Caribbean cruise ships. Because there are so many options available, remember to do thorough research into which cruise ship will fit your needs best. Consider the ship's size, amenities, dining options, cabin categories, and entertainment before booking to ensure you don't end up disappointed with the ship once onboard. 
Related: 8 questions to ask yourself before picking a cruise ship
Los Angeles, California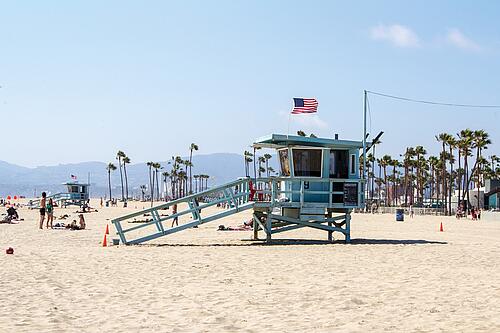 Getting to cruise ports on the east coast is a trek for west coast cruisers. Luckily, Royal Caribbean restarted cruises from Los Angeles in 2021, and flight deals to the Los Angeles metropolitan area are frequent and cheap.
Los Angeles International Airport (LAX) is the second busiest airport in the United States, with direct flights to a whopping 113 domestic destinations. 14 domestic airlines serve the airport and it's a hub for four airlines: United, American, Delta, and Alaska Airlines.
In addition to LAX, however, are several other airports in the Los Angeles area, including Long Beach Airport (LGB) and Hollywood Burbank Airport (BUR). This provides extra competition in the region, which results in lower prices across the board.
Going has sent subscribers an average of 12 flight deals per month to Los Angeles. Flight deals included a $78 roundtrip flight from Las Vegas to Long Beach and a $138 roundtrip flight from Chicago to Los Angeles.
Where can you cruise to from Los Angeles?
Royal Caribbean's itineraries from Los Angeles are more limited than those in the Caribbean due to the fewer number of cruise ports available. Whereas the Caribbean has dozens of cruise ports, the west coast only has a handful, most of which are in Mexico.
There are three main cruise itineraries from Los Angeles:
3-night weekend cruise visiting Ensenada, Mexico with one sea day
4-night cruise visiting Ensenada, Mexico and Catalina island with one sea day
7-night Mexican Riviera cruise visiting Cabo San Lucas, Mazatlán, and Puerto Vallarta
Related: Mexican Riviera cruise guide
Occasionally you can also find repositioning cruises to and from Los Angeles. While en route to Alaska for the summer season, some ships may offer a 5 or 6-night Pacific Coastal cruise visiting ports such as Santa Barbara, California and Astoria, Oregon.
Longer repositioning itineraries include Panama Canal cruises, which depart Los Angeles on the way to Florida. These itineraries visit ports in the Caribbean and Central America, including Cabo San Lucas, San Juan del Sur, and Cartagena.
Which Royal Caribbean ships sail from Los Angeles?
Navigator of the Seas is the only Royal Caribbean ship based in Los Angeles. Although the ship launched in 2002, she was recently refurbished in 2019 to include many of the cruise line's top features and amenities, including a Caribbean resort-style pool deck, waterslides, and updated dining venues.
As a Voyager Class cruise ship, Navigator of the Seas can hold 4,000 passengers, making her neither the biggest nor smallest of Royal Caribbean's cruise ships. Many cruisers enjoy the size of a Voyager Class vessel as it offers a nice blend between a traditional and modern cruising experience.
Related: Navigator of the Seas Guide & Review
Occasional itineraries along the Pacific Coast and Panama Canal are offered on Radiance Class cruise ships. You can currently book these itineraries on Brilliance of the Seas, Radiance of the Seas, and Serenade of the Seas.
New York City, New York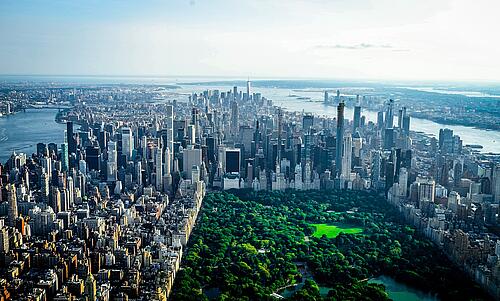 It's easy to find cheap flight deals to New York City's three major airports. JFK offers direct flights to 70 domestic destinations whereas LaGuardia (LGA) flies to 81 and Newark (EWR) to 93 US cities. Many major US airlines have a hub in New York City as well, including United at EWR, American at LGA, and Delta at JFK.
The sheer number of flight options available to and from New York City make flight deals frequent. Going consistently sends cheap deals to the Big Apple, and you can almost certainly find a cheap deal from most major domestic airports in the United States.
If you're cruising from New York City, the most convenient airport option is Newark Liberty International Airport, as it is the closest to Royal Caribbean's terminal in Cape Liberty, New Jersey.
Where can you cruise to from New York?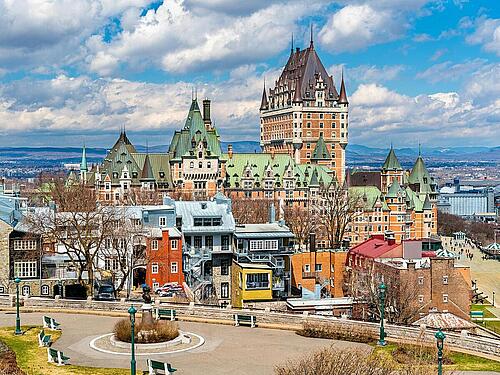 Cruises from New York sail year round. Depending on the season, you can cruise to the Caribbean, Bermuda, or the northeast and Canada. Transatlantic cruises are also offered in late spring in preparation for the European cruise season.
Related: Guide to cruises from New York
During the winter months, cruises depart Cape Liberty en route to sunshine and warmer temperatures in the Bahamas and Caribbean. Most itineraries are 7-night cruises visiting Cape Canaveral, Perfect Day at CocoCay, and Nassau, although longer itineraries may visit ports in the Eastern and Southern Caribbean.
Bermuda cruises are offered from May to October. These 5-night itineraries include two days at sea and two days in Bermuda with an overnight visit.
If you're cruising from New York in the fall, you can also cruise to the northeast and Canada. 9-night itineraries from Cape Liberty to the northeast include port stops in Boston, Portland, Bar Harbor, Halifax, and Saint John.
Occasionally, one-way fall foliage itineraries may be offered as well. These 10-night cruises travel one-way from Cape Liberty to Quebec City (and vice versa) during the peak fall foliage season. Ports on these itineraries include Boston, Saint John, Charlottetown, and Saguenay.
Which Royal Caribbean ships sail from New York?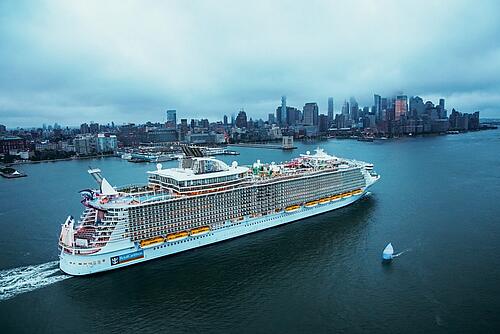 You can currently book cruises from New York on 7 Royal Caribbean cruise ships: Anthem of the Seas, Enchantment of the Seas, Jewel of the Seas, Liberty of the Seas, Oasis of the Seas, Odyssey of the Seas, and Symphony of the Seas.
Exact ships can vary by season and year, but you will find a wide variety of Royal Caribbean vessels sailing from New York, including some of the fleet's newest, most modern ships.
How to find cheap flights for other cruise ports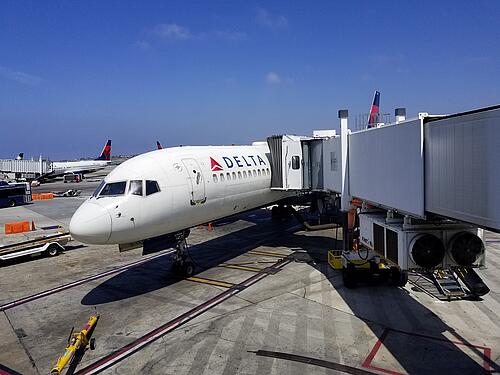 If you would prefer to cruise from a cruise port not mentioned on this list, there are still ways to find cheap flight deals. Whether you're flying to Houston, London, or Singapore, here are our top tips for finding a cheap flight for your cruise vacation:
Track flight prices on Google Flights
Google Flights has a tracking tool in which you can be notified when a flight price drops or increases to a city on a particular date. If you're eyeing flight prices to Barcelona, for instance, consider tracking the flight so you can be notified whenever the price changes.
Subscribe to a flight deal newsletter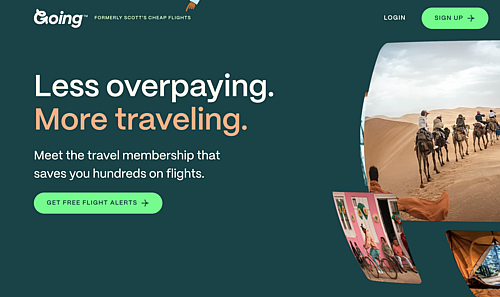 If you'd prefer to be notified about flight deals rather than search for them yourself, consider subscribing to a flight deal newsletter. Going, for example, finds deals from your chosen US airport and sends an alert when cheap deals arise.
The company has three subscription models: Limited, Premium, and Elite. Each model comes with its own deal notifications, from low frequency economy class deals to high frequency business and first class deals.
Check nearby airports
Another way to find cheap flight deals is by checking prices at all airports in your destination. If you're cruising from Los Angeles, search for flights not only to LAX, but also to Burbank, Long Beach, and Orange County. You may find cheaper flights and better itineraries when expanding your search coverage.