Best UK holiday ideas for 2023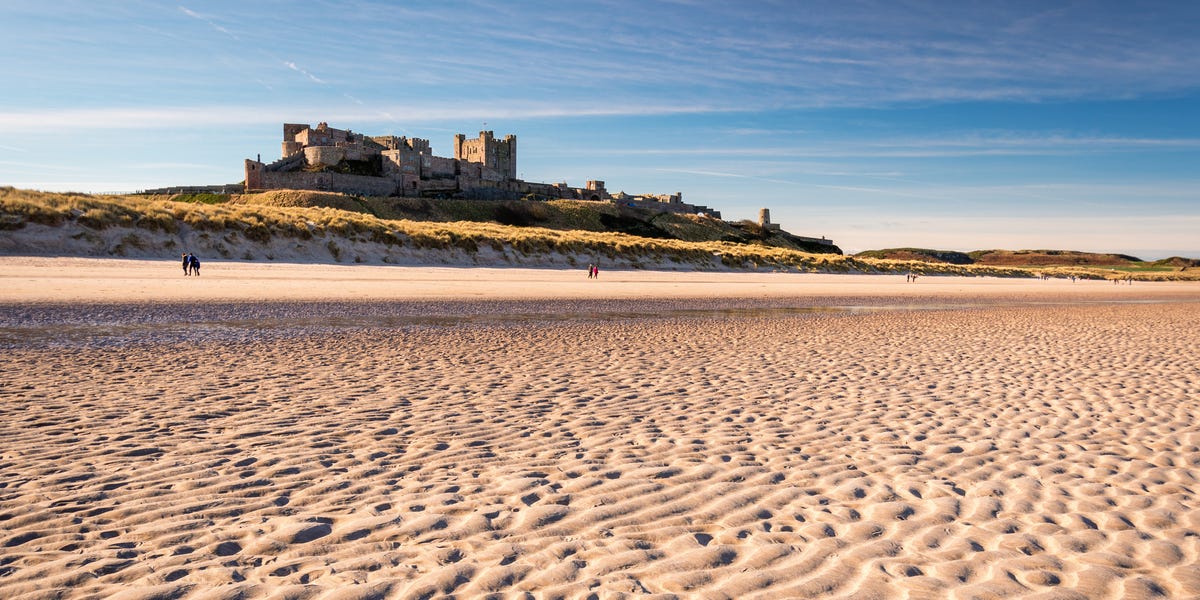 Looking for holiday ideas to explore Britain's wonderful highlights? We're here to help and have rounded up the very best UK holiday destinations to visit.
When it comes to escaping the daily grind, UK holiday destinations offer incredible sites you just won't find abroad. From our amazing railways taking you through breathtaking countryside to our quaint villages and historic cities, there's so much to explore at home.
The best UK holiday destinations are found all around Britain too, from north to south. There are the Scottish Highlands, offering wild, remote beauty, and the Cotswolds that leave you utterly mesmerised by their unspoilt scenes.
Pembrokeshire is an exceptional place for dramatic views, while the Isles of Scilly are ideal for experiencing Caribbean-like beaches without the carbon footprint. The opportunities to see the charms of the UK are endless.
Whether you're planning on travelling as a couple, a family or solo, you'll find a variety of places in the UK for an amazing staycation this year.
Whatever the time of year you're travelling in, be it spring, summer, autumn or winter, these are the UK holiday destinations to consider.
1. Scottish Highlands
Scenic, remote and one of the real treasures of Britain, the Scottish Highlands offer a truly wild escape, where you can get lost among mountains, lochs and beaches. Home to Britain's largest national park, the Cairngorms, as well as the legendary Loch Ness, mighty Ben Nevis and Eilean Donan Castle, the Highlands are also where you can ride the amazing Jacobite steam train, aka the Hogwarts Express from the Harry Potter film series.
Taking you over the 21-arch Glenfinnan Viaduct, just like Harry and his friends, and close to Ben Nevis, Loch Morar and Loch Nevis, the Jacobite is an absolute must-do. This summer, you can experience a ride on the Jacobite during a four-day Scottish steam break.
When? June and July 2023
Or, in May you can join TV star and weather presenter Carol Kirkwood while you explore the Highlands. Carol will give you a talk about her life during the luxurious seven-night sailing.
When? May 2023
Alternatively, join TV presenter Kirsty Wark as you make your way around the Highlands and islands of Scotland, stopping in pretty Fort Augustus, descending the eight locks of Neptune's Staircase experience a train ride across the breathtaking Glenfinnan Viaduct.
When? October 2023
BROWSE PLACES TO STAY IN THE HIGHLANDS
2. Northumberland
England's northernmost county is prized for its expansive rural landscapes, from vast grazing land in the north to the Pennine moors and dales in the south-west, as well as the sandy beaches and dunes of the eastern coast. There are mysterious castles dotting these landscapes, like Alnwick Castle, which has made appearances in the Harry Potter films and Downton Abbey.
Another of Northumberland's selling points is its pristine dark skies and extremely low levels of light pollution. It's one of the best places in the country to discover the night sky and go stargazing, boasting International Dark Sky Reserve status. You can visit Northumberland with Country Living in March 2024 to witness a spectacular show in the skies overhead. You will be joined by an expert local astronomer, Richard Darn, who will visit two observatories with you.
When? March 2024.
3. Pembrokeshire
Pembrokeshire is an incredibly beautiful part of south-west Wales. Surrounded by the sea on three sides, this county offers seemingly endless coastal walks with awe-inspiring views. Along the coast you will discover meandering trails leading to quaint harbours, hidden coves, and quirky towns, including Britain's smallest city, St Davids.
One highlight of the Pembrokeshire coast is the pretty village of Fishguard. From here you can explore the ancient woodlands of the Gwaun Valley, on a walking trail that takes in the River Gwaun, the medieval Llanychllwydog Pillar Stones, and the ancient St Brynach Church.
You can visit Fishguard and the Gwaun Valley on our exclusive cruise, where you'll also discover the wildlife, remote islands and spectacular scenery of Britain's coastline.
When? April to August 2023
BROWSE PLACES TO STAY IN PEMBROKESHIRE
4. Windsor
We're lucky to have a vast number of fascinating historic palaces to explore in the UK. One of the most impressive is Windsor Castle, the oldest and largest occupied castle in the world. The towers and battlements of the castle peer over the town of Windsor, creating a spectacular skyline.
You can visit Windsor on our special three-day tour this year. You'll enjoy a private, after-hours tour of Windsor Castle and a champagne reception and will be joined by royal biographer Robert Hardman for a fascinating talk.
When? September 2023
BROWSE PLACES TO STAY IN WINDSOR
5. Cotswolds
One of the most picturesque regions you'll find in all of Britain, the Cotswolds are home to chocolate box villages, miles of rolling countryside and grand stately homes. Covering 800 square miles of Gloucestershire, Oxfordshire, Wiltshire, Warwickshire and Worcestershire, you can only imagine how much there is to explore – from 'England's prettiest village' Castle Combe to the gardens of King Charles' country retreat Highgrove House.
You can explore the Cotswolds' gorgeous gardens on three exclusive trips with Country Living. During a trip with Countryfile's Adam Henson, you'll visit beautiful gardens, castles and his farm. He'll meet you at his farm and throughout the trip, you'll explore impressive Sezincote, Sudeley Castle and Batsford Arboretum.
When? September 2023
Alternatively, you can join Gardeners' World presenter Rachel de Thame on a five-day trip to the Cotswolds, where you will explore the gardens of Bourton House, Hidcote and Eastleach House.
When? June 2023
BROWSE PLACES TO STAY IN THE COTSWOLDS
6. Yorkshire Dales
The Yorkshire Dales offer spectacular rural scenery where you can truly soak up the beauty of England in the north of the country. This is a land of rolling hills, scenic rail journeys, quaint market towns and bracing walks. Travelling by heritage railway is one of the best ways to explore the gorgeous Dales, and the Pennine Bridleway offers fabulous routes for taking in the scenery by foot.
Walking is an excellent way to take in the Yorkshire Dales' beautiful views and charming villages. You'll also want to hop aboard the Keighley & Worth Valley Railway and the Embsay & Bolton Abbey Railway, and steam through the landscapes that inspired the Brontë sisters. You can experience them all during a five-day rail and waking break with Country Living.
When? August and October 2023, April, August and October 2024
7. Hebrides
The wildlife, white sand beaches and ample walking opportunities, Scotland's Inner and Outer Hebrides are an utter delight. The more than 50 inhabited islands off the west coast of the country offer island hopping at its finest – because who needs Greece and Croatia when we have the islands of Islay, Mull, Harris and Lewis?
It's here that you can truly immerse yourself in Britain's natural beauty by spotting puffins, eagles and deer. There are enchanting castles to discover too, such as Duart Castle on Mull and Dunvegan Castle on Skye, plus there's whisky to try and dark skies for stargazing. Experience the ultimate island hopping cruise around the Hebrides with Country Living in spring.
When? April and May 2023 and 2024
BROWSE PLACES TO STAY IN THE HEBRIDES
8. London
It might not be the first place you think of for a staycation if you're looking to practice slow travel this year, but there's more to the capital than its famous squares and skyscrapers. Look beyond the concrete and there are some glorious gardens and green spaces to find peace and nature in the city. Royal Botanic Garden, Kew is a classic example. With over 320 acres of green space and tropical glasshouses, it's a paradise in the city.
Then there's the smaller or lesser-known gardens, such as Chelsea Physic Garden, located on the edge of the Thames and home to one of the oldest rock gardens in Europe. It also has a herb garden with culinary and medicinal plants, rare plants and tender species, and the largest outdoor olive tree in Britain. The 18th-century Chiswick House and its gardens is another highlight for its 19th-century Italian Garden filled with temples and statues. Garden-lovers won't want to miss the RHS Chelsea Flower Show, one of the best garden events in the world. You can experience the Chelsea Flower Show and explore London's magnificent gardens during a wonderful four-day tour, which includes annual RHS membership.
When? May 2023
BROWSE PLACES TO STAY IN LONDON
9. Belfast
Britain's most underrated capital city, Belfast is compact but packed with delights, from its Botanical Gardens, which are free for everyone to visit, to its maritime history, which you can get to know at the architecturally-stunning Titanic Belfast. For more history, you'll want to stroll in front of City Hall and stop for a pint at one of the most beautiful British pubs around, the National Trust-owned Crown Liquor Saloon.
The best thing about Belfast? It's a city that nature-loving active travellers will appreciate. Due to its size and location, you're just a few minutes from beaches and scenic Strangford Lough. This is the place to get up close to wildlife by kayaking the calm waters (try an experience with Mobile Team Adventure), where you'll spot seals and make your way to the lough's deserted isles.
Another way to explore Belfast is by taking a magnificent 13-day cruise around the UK as you stop in Belfast, the Isle of Mull, Dartmouth and more beautiful destinations.
When? May and June 2023
BROWSE PLACES TO STAY IN BELFAST
10. Kent
A haven for gardeners, Kent is a superb county for seeing England at its very best. Here, you can stroll through writer Vita Sackville-West's Sissinghurst Castle Garden, take in impossibly pretty manor house Ightham Mote and sip delicious wine at Chapel Down.
There's plenty to explore in Kent, from gorgeous gardens to vineyards and castles. A great place for a couples' escape, there's romance all around and if you're after a quintessential British country getaway, there's miles of it to discover on two feet – or two wheels!
Kent has a huge range of hotels, cottages and cosy inns for a mini-break, but for a special trip in the summer, join garden designer Sarah Raven on an exclusive tour of Kent and Sussex's gardens. You'll also have a private tour of Sissinghurst and lunch at Sarah's garden at Perch Hill.
When? June 2023
You can get to know Kent's vineyards during a wonderful day trip to Hush Heath Estate, which you will reach by luxury train, the British Pullman. Not only will you enjoy a tasting and tour of the Balfour Winery, but you'll get to sip bubbles with the legendary Dame Joanna Lumley, who will host an exclusive talk at the Kent vineyard.
When? June 2023
11. Jurassic Coast
A place so beautiful it often features on posters for British tourism, the Jurassic Coast is a UK holiday destination everyone should visit at least once. It was England's first natural UNESCO World Heritage Site and if you like beaches, you'll find a whopping 95 miles of dramatic coastline to discover.
Lulworth Cove and Durdle Door are its most iconic spots, while the pretty seaside towns of Swanage, Lyme Regis and West Bay are worth adding to your list. This spectacular region in Dorset has plenty of history, too – we're talking dinosaur history! Famous around the world as one of the richest heritage sites for prehistoric remains, the Jurassic Coast is the place to join a fossil hunting walk.
Around 20 minutes from Lulworth Cove and Durdle Door lies The Bear Hotel in Wareham, a quirky boutique hotel, combining 18th century charm with modern day luxury. Or get to know the Jurassic Coast on Country Living's five-day rail tour…
When? Whenever you like!
BROWSE MORE PLACES TO STAY ON THE JURASSIC COAST
12. Isles of Scilly
Sitting 28 miles off the coast of Cornwall, these idyllic islands are the UK's answer to the Caribbean. The heavenly white sands, turquoise waters and slightly milder climate make the Isles of Scilly a UK holiday destination everyone should have on their bucket list. Five of the 140 isles are inhabited (St Mary's, Tresco, St Martin's, Bryher and St Agnes) and boast some of Britain's most outstanding attractions, including Tresco Abbey Garden.
There are dark skies for stargazing, wildlife that thrives (including puffins and Atlantic grey seals), plus the laidback lifestyle that's high on most island holiday wish lists.
You'll find a range of hotels, cottages and B&Bs to book in the Isles of Scilly, such as St Mary's Hall Hotel in Hugh Town, St Mary's, but for an unforgettable tour of the islands, join Country Living's exclusive trip with wildlife and nature expert Julian Branscombe to really get to know the destination in spring.
When? July 2023
BROWSE PLACES TO STAY IN ISLES OF SCILLY
13. The Trossachs
Visit the Trossachs National Park in Scotland and you'll discover an enchanting landscape of forests, hills and locks to the east of the calm waters of Loch Lomond. This national park is easy to explore on foot, with gentle walking routes skirting the edges of the water and some more challenging hikes up into the hills, where you'll be treated to exceptional views of the surrounding countryside.
You can join Country Living on inspiring craft escapes at Gartmore House, an 18th-century, traditional Scottish manor house, near the Trossachs. Watercolour painting is one of the arty ways to enjoy a mindful retreat in 2023.
When? July to October 2023
14. Norfolk
With its royal attractions, wonderful wildlife and stunning natural scenery, Norfolk is a marvellous destination for your UK bucket list. Marvel at its windmills, watch the seals and their pups, and be amazed by the unspoilt countryside. There's no better way to explore Norfolk's charms than by train, with the Bittern Line, Poppy Line, Bure Valley Railway and the Mid-Norfolk Railway providing relaxing rides.
Whether you're there to experience the variety of rail journeys, visit the Royal Family's Sandringham Estate or take in the nature of the Broads, you'll find charming inns, small hotels and sprawling halls where you can book a stay to explore Norfolk.
When? Whenever you like