Best Irish food and drink: 26 things you need to try in Ireland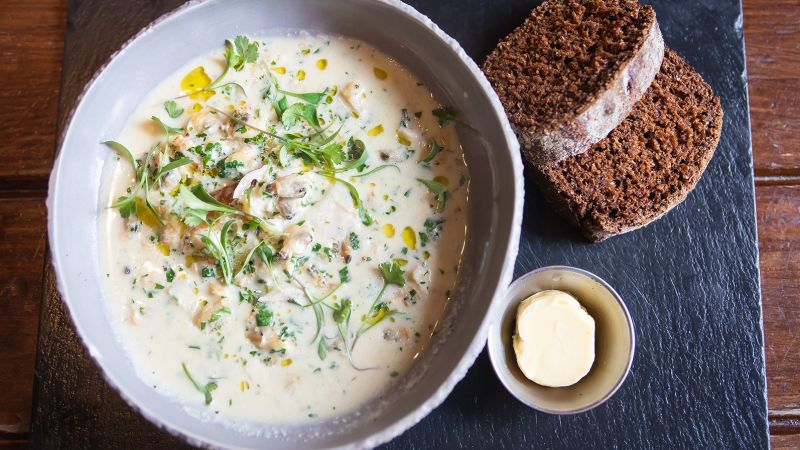 CNN
 — 

There's a lot more to Irish cuisine than stout and spuds, although both should be high on your must-try list when visiting the island of Ireland.
That rich green patchwork that greets the eye as your plane descends produces some of the world's finest beef, lamb and dairy, while the gray-blue waters that froth against its shoreline are alive with fish and shellfish.
Irish butter is rightly celebrated and is most delicious when soaking into a pile of floury potatoes or spread thick on one of the many local breads you won't find for sale outside of the country.
Here are Ireland's most-loved foods which visitors should pile on their plate.
Chowder: When winds are bracing and there's a bite in the air, there's no finer way to restore one's spirits than with a warming bowl of chowder. This thick soup is made with cream or milk and a dash of white wine and should be swimming with hearty chunks of salmon, haddock, shellfish and potato. While chowder is not unique to Ireland, the local twist is that it comes served with sweet dense slices of brown soda bread – more on which later.
Oysters: The best day to feast on oysters is on Bloomsday, Dublin's annual celebration of the writer James Joyce held on June 16. Purists love to suckle the salty flesh straight from the shell, but the more cautious can enjoy them grilled with bacon or baked with breadcrumbs and garlic. The drink of choice is chilled white wine or – best of all – a glass of creamy stout.
Cockles and mussels: These tasty mollusc morsels became part of Dublin mythology through the song "Molly Malone," but you can enjoy them anywhere within reach of the coast. Cockles can be eaten raw with vinegar or steamed in their shells, while mussels are often eaten Belgian-style with white wine, parsley and butter and a side order of chips (or fries, as they're known in the US).
Smoked salmon: Salmon is native to North Atlantic waters and the Irish enjoy vivid orange-pink slivers of the smoked variety with eggs for a posh breakfast, with potato bread or boxty (see below), or on brown soda bread as an open sandwich. Alternatively, baked salmon is an enticing dish when cooked with Irish whiskey and honey.
Bacon and cabbage: Yes, that's right – the Irish original is bacon, not corned beef. And to confuse matters more, in Ireland corned beef is a processed meat often sold in a can; what Americans call "corned beef" is known as "salt beef" in Ireland and the UK. However, you'll struggle to find bacon and cabbage sold in many Irish restaurants, or even served up in Irish homes. The fact is there are too many tasty alternatives more in line with current culinary fashion.
Irish stew: This is the dish Irish people are most likely to roll out for St. Patrick's Day celebrations. Hearty chunks of lamb are slow-cooked in a rich gravy with onion, potatoes, carrot and parsley. Coddle is a traditional Dublin stew with sausages, onion, potato and bacon – or rashers as they're known locally. And then there's beef and Guinness stew: a dark booze-enriched concoction with carrot and potato. It's Ireland's answer to beef bourguignon or goulash.
Crossover classics: Unsurprisingly for two neighboring islands with a long shared history, a lot of the British classics you'll be familiar with are also popular Irish fare. Weekend treats include fish and chips on a Friday night and a roast dinner on a Sunday afternoon. Round off a weekend break by stopping into a pub or restaurant for juicy servings of grass-fed Irish beef, lamb or even venison served with potatoes, gravy and vegetable sides.
Full Irish breakfast: So what makes an Irish fried breakfast distinctive from its English counterpart? There'll be the usual bacon, eggs, sausages, mushroom, baked beans and fried tomato, but the Irish version will often include black and white pudding. Black pudding is an iron-rich blood sausage, while white pudding is the same grain-filled sausage minus the blood. One of the biggest pork sausage brands is Denny; Oscar nominee Paul Mescal got his big break in a Denny TV ad a few short years ago. An Ulster Fry, found in the north of the country, will also feature fried potato bread and soda bread.
Soda bread: This is a yeast-free bread made with buttermilk and is thick, filling and fabulous in both its white and wholemeal varieties. Brown soda bread – known as wheaten bread in Northern Ireland – is usually in loaf form and is at its utmost deliciousness when toasted, with pools of butter melting into its every cranny (Kerrygold is the nation's favorite spread). White soda bread is often enjoyed as farls, toasted or fried and laid high with bacon and eggs, or in sweet varieties made with sultanas or even treacle.
Veda: Passionately loved in Northern Ireland and little known anywhere else, Veda is a commercially produced malt loaf made with treacle. It must be toasted – novices make the mistake of eating it straight – and loaded with butter, perhaps with a topping of cheese or jam.
Cheese: Gubbeen – from the Irish word gobín, meaning small mouthful – is a nutty, semi-soft cow's milk cheese made in County Cork. Cashel Blue is a mild blue-veined cheese from Tipperary, named after the nearby Rock of Cashel. Try them with a dollop of Ballymaloe Relish, a tomato-based bestseller.
Colcannon: This side dish is a fluffy mound of mashed potatoes mixed with cabbage or kale, plus butter and milk or cream. And if you want less of those do-gooding greens, a Northern Irish alternative is champ, which is creamy mashed potatoes mixed with scallions.
Boxty: Boxty is a potato cake made from grated potato and flour which is then fried on a griddle, with delectable results. Potato bread or potato farls are thin bread slides made from mashed potato and potato mixed into a dough. You can buy them in stores and fly them up or pop them in the toaster before spreading them with – yes, you guessed it – a lovely slather of butter.
Tayto crisps: The flavored potato chip was invented in 1954 by Joe "Spud" Murphy (yes, really), who founded Tayto Crisps, Ireland's most iconic snack. Cheese and onion is the original and definitive flavor and it also works great in a crisp sandwich (let actor Jamie Dornan show you how). There are two separate Tayto companies, one in the Republic of Ireland and one in Northern Ireland, both with their own Mr Tayto mascots. If you want to know which tastes better, you'll need to try them both yourself.
Kimberley, Mikado and Coconut Creams: Once produced by the Jacobs factory in Dublin and now available through a variety of manufacturers, these are the traditional tea-time treats that have graced Ireland's homes for decades and are a staple in international grocery aisles for the homesick Irish abroad. The exotically named Mikado, with its two lines of pink coconut-speckled marshmallow piped down a soft ginger biscuit (or cookie, as Americans would call it), with a thinner line of jam between, is the first you should try.
Traybakes: Traybakes – sweet and gooey confections made in sheet trays, with or without the use of actual baking, then cut into squares – are a particular favorite in Northern Ireland, where you'll see them for sale in every cafe and rows upon rows of them in convenience stories and gas stations. Fifteens might just be the sugariest of all: They're equal parts digestive biscuits, marshmallows and glace cherries, combined with condensed milk and dessicated coconut. You'll need a cup of tea to wash it down.
Dulse and yellowman: You might not think to pair dried purple seaweed with brittle yellow honeycomb toffee, but the two flavors have gone hand in hand at the Ould Lammas Fair in the seaside town of Ballycastle, County Antrim, for hundreds of years. If you're visiting on the last weekend of August, you can combine it with a trip to the Giant's Causeway UNESCO site.
Barmbrack: This sultana-studded loaf – sweeter than regular bread but not as sweet as cake – is served plain or toasted and is often improved with a smear of butter. Traditionally it was baked at Halloween, with prizes such as rings or coins hidden inside for the eaters.
Chicken fillet roll: The ingredients might not sound particularly Irish, but this is a deli item the nation has taken to its heart. In convenience stores across the land you'll find baguettes prepared on site with breaded chicken, lettuce, mayo and condiments galore. The morning sandwich of choice is a breakfast roll: Comedian Pat Shortt (from "The Banshees of Inisherin") even had a No. 1 hit extolling its virtues.
Irish salad: Before the words vinaigrette or rocket were ever heard on these shores, a salad consisted of sliced ham, lettuce, pickled beetroot, slices of boiled egg and fresh tomato, and perhaps some chopped scallions. You'll still find this protein-rich dish being served up in more traditional rural homes.
Lasagne and coleslaw: Italians may balk at what the Irish – particularly outside major metropolises – like to serve with their stacked-layer dish of pasta and ragu. The hot carb-heavy dish is often accompanied by a cold side of mayo-heavy coleslaw as well as additional carbs such as chips and garlic bread. All we can say is: Don't knock it till you've tried it.
Feed after midnight: There are a number of late-night food options that have achieved legendary status. A curry chip or gravy chip is thick-cut fries slathered in a MSG-heavy curry sauce or a meaty gravy. A spice bag is a fusion dish sold in Chinese takeways: Fries are accompanied by shredded salt and chilli chicken, red and green peppers, fried onions, chopped chili and a variety of spices. And if you simply want a good old burger, Supermac's is the nation's biggest fast food chain. If you're wondering about that name, it successfully won two trademark lawsuits raised by McDonald's.
Tea: Ireland is, in consumption per capita, the world's biggest tea-drinking nation after Turkey. And like Tayto, the choice of brew gets tribal (we didn't even get into the Tayto vs. King crisp debate). There's Barry's Tea, started 1901, Lyon's Tea, started 1904, and in the North there's Punjana, going strong since 1896. Whatever you do, brew it strong and make sure you have the good biscuits ready for visitors.
Minerals: The Irish aren't as gasping for booze as the stereotype has it: Ireland's not even in the global top 10 for frequency of alcohol-drinking and there is a sizable population of teetotalers. Minerals is a quaint term for soda that you might still hear used by older people and one of the most distinctive soft drinks is Club Rock Shandy, a zingy mix of orange and lemon. Shloer is the festive drink of choice in many low-alcohol homes: it's a sparkling juice that comes in "white" and "red" flavors for that sophisticated wine-style feel.
Guinness and Baileys: Here come the big dogs. A "pint of plain" does, scientifically, taste better on home turf and sampling a glass of Guinness, or some of Ireland's other stouts, in one of the country's many celebrated pubs is an essential part of any beer-drinker's visit. Baileys Irish credentials are weak – the liqueur was invented by a South African marketing guy in London in 1973 – but it's so moreish we'll forgive it everything. The hardcore drink it with brandy – the liquor cuts through the sweetness, creating a superlative cocktail.
Whiskey: Ireland's whiskey industry is booming, with more than 40 distilleries currently operating on the island. So move beyond bestseller Jameson and try newcomer Teeling, Northern Ireland's mighty Bushmills, or the ultra-premium offerings from Midleton Very Rare and Craft Irish Whiskey. As for cocktails, the essential is the Irish Coffee, the picturesque glass of coffee, whiskey and sugar topped by a layer of cream, which was invented at Shannon Airport in 1942 to wow high-class transatlantic passengers on their way to the States.