Best food dehydrator in 2023, tested by editors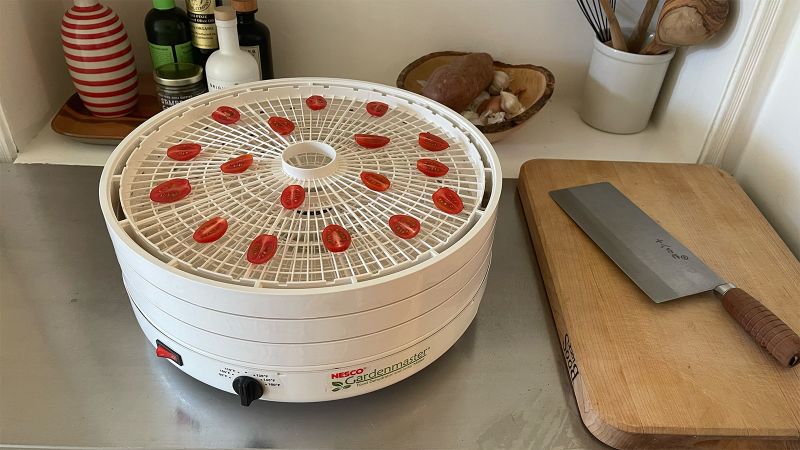 If you frequently purchase dried snacks like banana chips and beef jerky, or need to preserve your garden harvest, a food dehydrator could be a practical and cost-saving investment. Using a fan and heating element to circulate warm air, these handy appliances extract excess moisture from food items placed inside, extending their shelf life and allowing them to be stored safely without a refrigerator or freezer. They come in a wide variety of sizes and prices too, so there's one out there that should suit your specific needs, whether that's drying tomatoes or preparing piles of meat.
After researching the most popular dehydrators online, we put 11 models to the test, dehydrating a variety of food items to get a sense of their overall ease of use, speed and — most importantly — ability to dehydrate evenly. In the end, we finally selected the Nesco FD-1018A Gardenmaster as our top choice for most people's needs.
Best food dehydrator overall
With hassle-free operation and consistent drying, the Nesco Gardenmaster offered the best balance of simplicity and performance of any food dehydrator we tested, and is a great choice for anyone looking to preserve herbs, fruits and vegetables or meats.
This vertical, bottom-mounted fan dehydrator from Nesco is a popular and well-respected model, and after my testing, it was easy to see why. Combining hassle-free operation and consistent drying courtesy of a powerful 1000W fan, the Nesco FD-1018A Gardenmaster offers the best balance of convenience and performance of anything we tested. If you're getting into food preservation, this is the machine to get.
My favorite aspect of the Gardenmaster is how easy it is to use. A power switch and thermostat control knob on the base are the only controls you need to worry about, you can stack the multiple trays however you like and the lid goes on top. That's it. The circular, stackable trays fit together well, and unlike some other stackable units, I never had to do any extra shifting or jostling to get them straight.
The Gardenmaster performed well in all of my tests, and although it wasn't the fastest dehydrator we tested, the overall evenness of the drying made it stand out. This meant that unlike other models, I rarely needed to rotate or reposition the food items to make up for any slow-drying "dead zones" on the racks.
Apart from the occasional tomato or jerky slice that ended up a little thicker than others (which we could chalk up to user error), the majority of the food pieces were finished at about the same time. (This isn't to say that it's a deal breaker or even out of the ordinary to have to periodically check and remove items that finish sooner than others, but it's definitely an inconvenience.) Checking on my food while drying was convenient too. The lightweight metal lid has a circular cutout in the middle for venting air, and I found that lifting it off was easier and faster than opening a swinging door and pulling out a tray, as we had to do with some other models.
The Gardenmaster's consistent drying is likely due to Nesco's unique "Converge-a-Flow" design. Channels direct air up the sides and then across the middle of each tray, flowing evenly over the food. I'll admit that this sounded a bit gimmicky at first, but when I fired it up, I could definitely feel the difference between the Gardenmaster and other circular units that seemed to just blast warm air around in all directions.
Related: The best air fryer in 2023
The Gardenmaster provides an impressive amount of bang for your buck in terms of surface area. Its eight trays are 14 inches in diameter, providing 8 total square feet of drying area. Nesco also claims that the Gardenmaster can be expanded to up to 30 trays, which, depending on the scale of your dehydrating projects, could be a huge advantage over rectangular models and their fixed tray quantity. Plus, unlike almost every other unit that provided one or two accessory liners, the Gardenmaster includes both a mesh and solid liner for each tray. These accessories, combined with the expandable design, makes the Gardenmaster one of the more versatile options out there.
Even though the Gardenmaster is relatively lightweight at 17 pounds, it still feels nice and sturdy. With a metal base and lid, I was never concerned about its overall durability or felt like any components were flimsy or cheap. This light weight also makes it comfortable to move around, which could be convenient for those who don't plan on keeping it as a permanent countertop fixture.
We only had a couple of very minor quibbles with the design. The Nesco lacks a timer function, but I never really missed it. (Since dehydrators can take a long time to work, precise timing isn't really critical, so unless you plan on being in your kitchen all day, using a phone or watch timer to remind yourself to check back later in the day is actually more convenient.)
Cleaning the Gardenmaster isn't as convenient as more expensive horizontal units, so keep that in mind. The plastic trays are technically dishwasher-safe, but since you'll need to store them in the top rack to avoid heat damage, you probably won't be able to fit more than one or two at a time. Hand-washing is probably your best bet.
A food dehydrator removes the moisture from food, drying it out. It does this by using a fan and heating element to continuously circulate warm air, which draws out moisture from the food inside, and then vents that moist air out. Mesh or screen trays support the food as it dries, which allows for maximum airflow and encourages even drying. This process not only inhibits bacteria growth and spoilage — extending the food's overall shelf life — but since only moisture is removed, the food experiences very low nutrient loss.
It's important to know that dehydrating isn't permanent, especially in humid climates — if you leave your dried food out in the open, it will rehydrate and spoil. Dehydrated food should be stored in a cool, dark place, inside of an airtight container like a Mason jar or freezer bag. According to the National Center for Home Food Preservation, dehydrated foods will last between four months and one year.
A food dehydrator probably isn't the most important kitchen appliance to have, but it could be surprisingly useful to a lot of people. Hikers and campers in specific will appreciate the portability of dehydrated food, and its light weight will add minimal weight to their pack. Those who tackle especially rigorous or extended hikes will also appreciate the high calorie-to-weight ratio.
If you're an avid gardener who frequently finds themselves with a surplus of fruits and veggies, dehydrating is a great way to preserve your harvest. It requires much less effort and know-how than canning, and unlike freezing that can lower nutritional value, dehydrated foods hold onto their nutrients for a long time. When winter rolls around, a supply of dried herbs and veggies will be especially convenient for rehydrating into stews and soups.
Anyone interested in emergency preparedness should consider a food dehydrator. Natural disasters and other emergencies that result in long-term power loss will render your freezer useless, and even a generator won't last forever. A good supply of dried food will ensure that you'll have instant access to safe, nutritious food at any time. Of course, just like any preserved food, make sure to clearly date your batches so you're aware of their eventual expiration date.
If you don't want to buy a dehydrator, your oven may be able to accomplish the same tasks, though it may not be quite as convenient as a purpose-built device. Just make sure it's capable of maintaining the proper temperature — some won't go below 200 degrees — and keep your eyes peeled for uneven drying areas. Some items (like herbs) that need to be dried at very low temperatures can even be air-dried if the humidity level is low enough.
Regardless of the type of dehydrator you go with, consider how much food you plan on dehydrating. Since dehydrating can take a long time, getting as much done at once can be a huge time saver. Make sure you compare total square footage between dehydrators so you don't end up with a smaller unit that requires you to split up batches more than you'd like, or spending money and counter space on a bulky machine you don't need.
You'll find two types of dehydrators out there: vertical and horizontal. Both types can be effective at dehydrating, but also have their own pros and cons.
Vertical dehydrators are typically circular, with their fans positioned on either the top or bottom of the unit, which blows air through the stacked trays. They're easier to use and tended to dry more evenly in my testing, and although they typically provide less square footage than horizontal units, their light weight and removable trays make them convenient to store when not in use. For most newcomers to this sort of food preparation, these simple-to-use, affordable and easy-to-store models are the way to go.
Horizontal models are cabinet-shaped with a rear-mounted fan that blows air across the trays, which slide in and out like an oven. Horizontal units are more expensive, but they offer more space, and they tend to have more of a professional look that would blend in with other appliances in your kitchen. They're also more likely to have additional features like dual-temperature modes, and without a hole in the center of their trays, make it a little more convenient to arrange larger pieces of food. Horizontal trays are usually made of stainless steel instead of plastic, and they're more convenient to wash in a dishwasher.
Unless you plan on dehydrating frequently, you're probably going to want to store your dehydrator in a cabinet or pantry when it's not in use. Consider both the overall shape and dimensions as well as the weight when choosing a dehydrator. I found that weight can vary significantly between models, with horizontal, cabinet-style machines being the most heavy. (The Excalibur 3926TCDB 9-Tray Electric Food Dehydrator is the main exception here, which is very large in size but still really light at 18 pounds.)
Food dehydrators come in a variety of sizes, styles and shapes, and our comprehensive testing process helped to compare one versus another. It's important to note that food dehydrating will likely require some trial and error on your part, since factors like water content of the food, overall humidity and room temperature can extend or shorten drying times. For this reason, I used the drying time results in my testing as more of a comparison tool and less of an accurate depiction of their specific drying time.
Since one of the main selling points of food dehydrating is its simplicity, it's important that the dehydrator itself is easy to use. I judged each dehydrator on how easy or complicated they were to get set up and running out of the box as well as the overall design and interface of their controls. I read through each model's instruction manual as well, noting if it was well thought out and helpful or frustrating and complicated. This is especially important for more complex models that featured different drying modes or required specific setup instructions to work correctly. I also noted how easy it was to insert and remove trays, and check on food items during the drying process.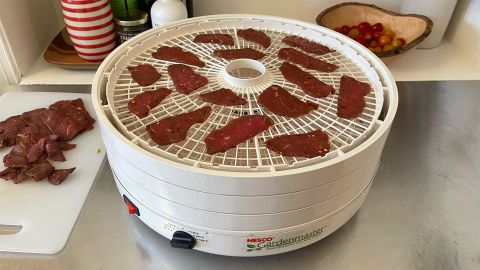 I then used each model to dehydrate three food items at different temperatures: fresh thyme sprigs at 90 degrees, halved cherry tomatoes at 140 degrees and marinated beef jerky at 165 degrees. The variance between these items allowed me to confidently judge each model's versatility, and ability to handle a range of foods. I compared each model's overall drying time with each item, and more importantly in my opinion, how evenly their tray and fan design worked.
While some units dried the food relatively evenly, others had obvious "dead spots" of air that resulted in some pieces finishing much slower than others. This inconsistency isn't a total deal breaker, but it means that you'll need to occasionally rotate trays and keep a closer eye on items that are finished and need to be removed before others. I did notice a pattern in my testing: that vertical dehydrators tended to dry more evenly than horizontal models, likely due to their lack of corners and airflow-focused design.
Throughout my testing, I also compared the overall build quality and construction of each model, noting if any components or trays felt flimsy and cheap, or especially sturdy and durable. Noise level was another factor I made note of, which I found to be significantly different across the board.
I also compared the overall cleaning process required by each model, noting how easy or challenging it was to clean any leftover material off the trays, and whether or not they could be placed in the dishwasher without damage.
Since some users will have different space requirements or storage preferences, I used the overall size and weight of each unit to get a rough idea of what instances they'd be most convenient. I also considered any design features or accessories that would affect portability, such as travel cases, built-in handles or trays designed to nest flat for easy storage.
This Nesco dehydrator shares the same circular shape and "Converge-a Flow" tray design used in our top pick, the Nesco Gardenmaster, but its top-mounted fan made it less convenient to use. Unlike bottom-mounted fan units, the Snackmaster requires you to lift and remove the heaviest part of the unit every time you want to check your food. A carrying handle makes this process less of a hassle, but not by much. This unit was also one of the noisier models I tested, and similar to the Elite Gourmet model, its unspecific control dial makes it unclear exactly what temperature you're setting.
A simple, no-frills machine, the Samson 6-Tray Dehydrator features a straightforward control panel for setting the timer and temperature, and provides a good amount of drying space for the price. Its vertical door isn't as convenient to use as swinging versions, though, and must be slid in and out of its tracks whenever you remove it. I also found that food at the front of the trays dried slower than in the center and rear, which required me to rotate trays periodically. That said, the price is a great value, its fan is quieter than most and the unit is covered by an impressive five-year warranty.
If you prefer the look and design of a horizontal-style unit, I'd recommend this Magic Mill dehydrator. Its solid, sturdy construction gives it a high-quality feel, and the bright display screen is easy to read from across the room. It's also more versatile than most, and in addition to the mesh tray cover and nonstick liner, it also includes a hanging rack for suspending items like sausages or bacon strips. The door latches securely in place too, like a microwave, which I assume contributes to its extremely quiet operation. If you're looking for a machine that will blend in with the rest of your appliances, and live on your countertop full time, this could be a great choice.
I loved the simple control interface of this Cosori dehydrator, and consider it to be the best horizontal unit in terms of straightforward operation. The large, bright display was easy to read, which I really appreciated during early-morning drying sessions when I didn't feel like turning all the kitchen lights on. Its overall speed did rank fairly low compared to the other units, however, and I experienced a moderate amount of uneven drying during operation. The heavy-duty construction is a big plus, and although its 23-pound weight was heavier than most, the two recessed handles on either side made it really comfortable to transport and store.
This vertical dehydrator from Presto dried evenly during my tests, but I found its tray setup and noisy operation to be more trouble than they were worth. Since the Presto uses two different tray shapes, allowing them to nest inside each other for convenient storage, you must stack them in a specifc, alternating order when it's time to use it. I frequently found myself shifting and nudging them to get them to fit together properly, a stark contrast to the effortless fit of the Nesco FD-1018A Gardenmaster trays. I also found the Presto to be one of the noisest machines I tested. The digital controls were easy to use, though, and despite the sometimes frustrating design, all the parts felt sturdy, thick and well made.
If you're short on space and looking for a compact machine under $100, this Hamilton Beach model could be a great choice. Despite its small size, or perhaps because of it, this dehydrator was able to work extremely quickly, even finishing my thyme test before any other model. Food in the corners tended to dry slower, though, and required occasional repositioning to make up for these drying "dead zones." Its 3.75 square footage ranks almost dead last among the testing pool, but if you don't plan on drying large amounts of food, it could be a fine option for the occasional user who doesn't have much room to spare.
Although this folding model was surprisingly easy to assemble, and boasts 11 square feet of drying surface, its somewhat inconsistent drying required more rotating and rearranging than most other models. That being said, I did appreciate its obviously high-quality construction, and the digital controls were simple to use and easy to read. Even the zippered transport bags looked to be well made, and all the components fit neatly inside for organized storage. I also found the Brod & Taylor website to be more informative than most. The helpful recipes, tips and how-to videos make it clear that they want their customers to have a positive experience with their product. If you've got the counter space (this is a bulky unit), plan on doing a lot of dehydrating and don't mind periodically rotating the contents, this dehydrator could be worth the investment.
Related: The best toaster ovens in 2023
At $550, this Tribest Sedona model was the most expensive dehydrator I tested, but it was also the fastest. Its 11 trays offer a ton of surface area (nearly 10 square feet), and the entire unit has a nice solid, sturdy feel to it. In my opinion, the controls are a bit more complicated than necessary (nine buttons seems like overkill), but the instruction manual does a good job of walking you through the settings. Its stainless steel trays are dishwasher-safe, and the glass door was simple to wipe down after testing. A two-stage temperature timer allows you to start your food at a higher temperature before automatically dropping it to your desired level, and I didn't experience any noticeable "dead zones" while testing. If you can justify the price, and speed is a priority, this could be a great choice.
This cost-friendly model could be a convenient option for those on a tight budget, but its slow drying times (compared to the rest of my testing pool) and compact size really limits its functionality. The transparent trays are a nice perk, though, and not typically found on circular units. They allow you to keep an eye on your food items without lifting the lid, and also makes it easy to access individual trays quickly without having to go one by one. The manual temperature dial is ideal for those who want to keep things simple, but its vague labeling makes it difficult to know exactly what temperature you're at. That said, if you're just getting started, and aren't comfortable investing hundreds of dollars, this could be a fine choice.
During my online research, I found Excalibur dehydrators to be a popular and trusted brand among the dehydrating community, and after my testing, I'd have to agree. Just keep in mind that it's expensive, bulky and loud, and the removable door design isn't very convenient for those who don't have a lot of space. This size does allow for a wide, 7-inch-diameter fan, and room for 15 square feet of drying surface, by far the highest of all my testing pool. The front of the trays dried slightly slower than the center and rear, though, and tray rotation was required. I was surprised at how much I enjoyed using its plastic trays, which, although not as convenient to clean as stainless steel, were noticeably lighter and more comfortable to remove and insert one-handed. I really appreciated that each tray also had its own mesh liner as well, so no need to use a separate one for herbs and other small items.