45 ways to save money on a Royal Caribbean cruise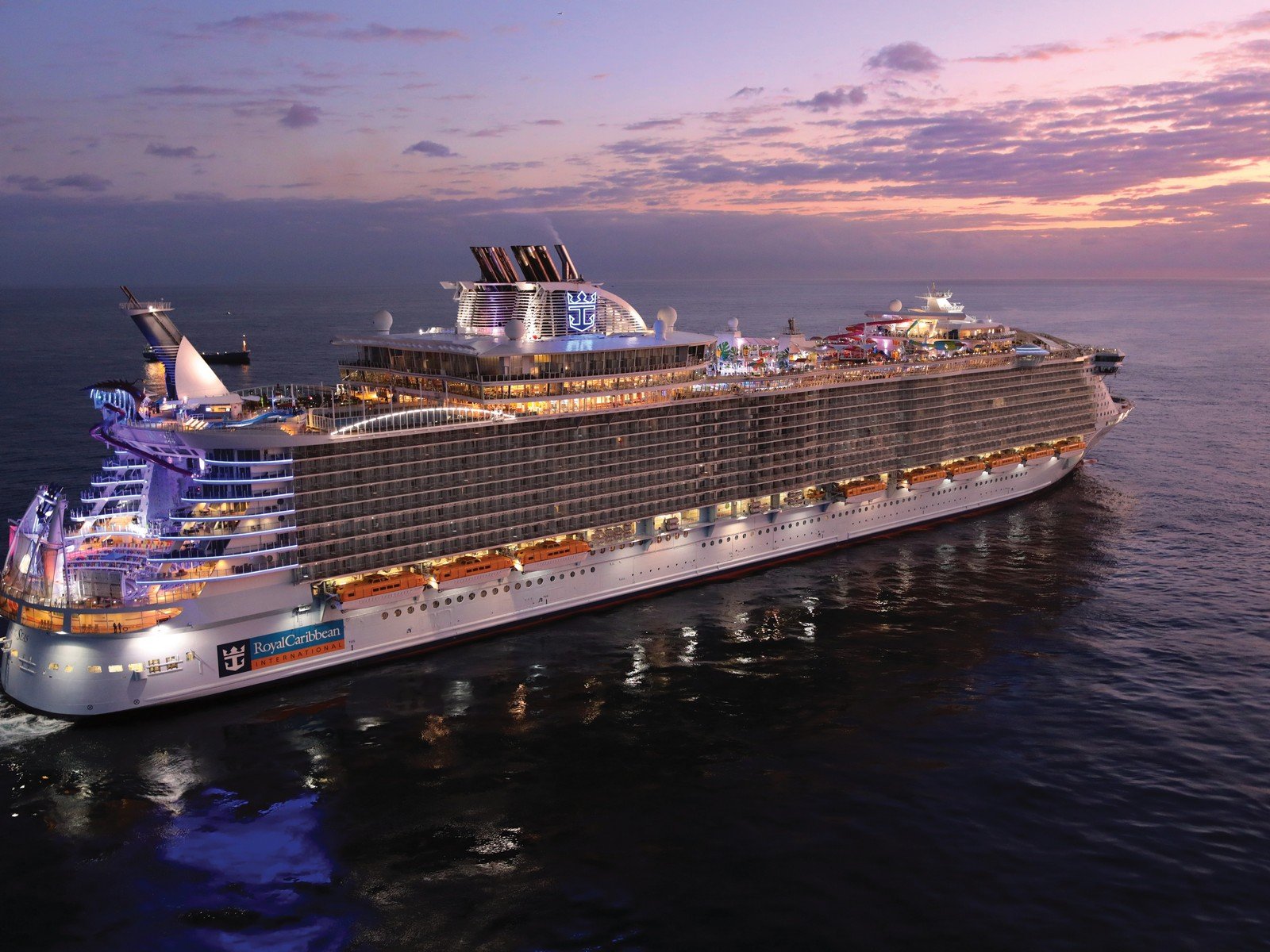 Everyone wants to save money on a cruise, so here are all of the easy ways to save money on your Royal Caribbean vacation.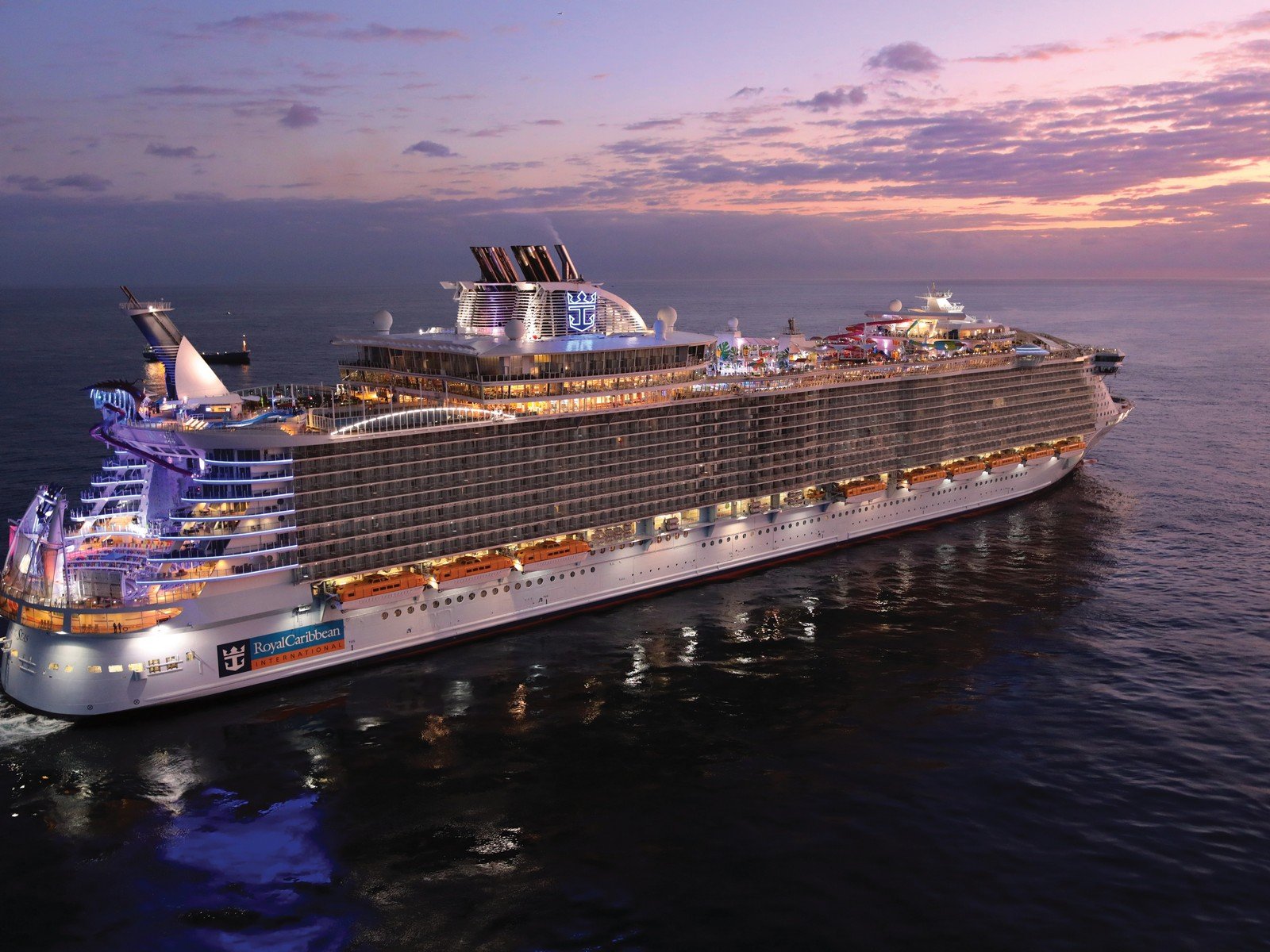 While you might not be able to utilize all 45 tips for one cruise, a great many of these can be combined to help bring down the overall cost.
These are tried and true money saving secrets that will hopefully work for you as well!
Book with a travel agent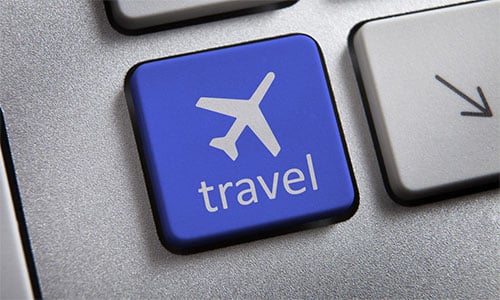 The easiest way to make certain you have the best price on your cruise fare is to use a travel agent.
I recommend everyone use one, because you only stand to benefit from using a travel agent.
Travel agents provide great service to folks looking to take a Royal Caribbean cruise because they are keyed in on the latest promotions and they can be your best advocate for finding promotions that help you, not just the day you book but every day until final payment.
A good travel agent will be able to assist with the booking process, and give you every single permutation of pricing to figure out which itinerary, stateroom or promotion makes the most sense for you.  I cannot count the time I have saved by having the travel agent jump through the proverbial hoops for me to figure out what is the best deal for my family.
The reality is you only stand to benefit from using a good travel agent, both in convenience and time saved.
Book as early as you can for lower rates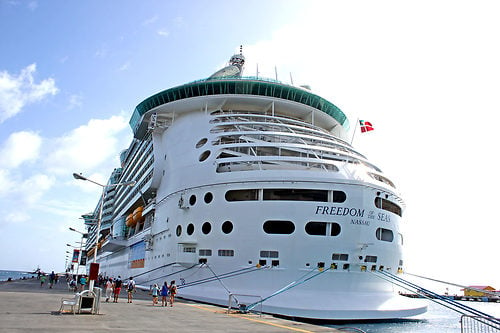 The earlier you book your Royal Caribbean cruise, the better the price in the long run.
Generally speaking, prices tend to be lowest when sailings go on sale. As more people book a given sailing, prices tend to rise because there is less inventory available and prices go up.
Your best bet is to book early and place a deposit on a sailing that can lock in that price until your final payment date.  This not only gives you the lowest possible price, it also gives you the most time to make payments on the cruise.  Plus, that deposit is fully refundable if you happen to change your mind later.
If you cannot book two years in advance, that is okay too.  They key is not to wait, but instead book a cruise as early as you can.
Look for pre-cruise deals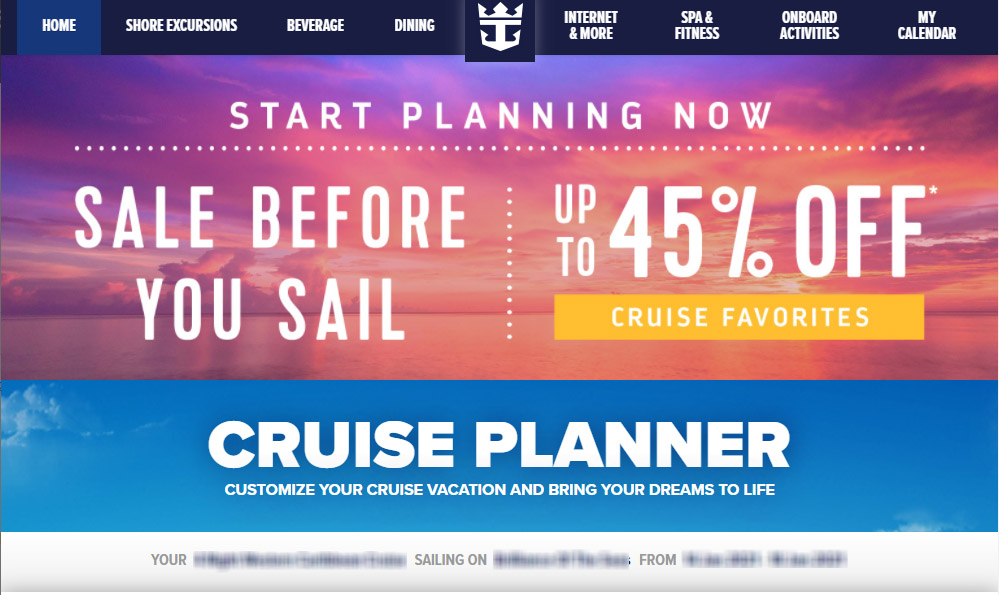 In the months leading up to your cruise, Royal Caribbean will offer pre-cruise discounts on things like shore excursions, drink packages, wifi and more.
Every so often, there is a new sale that you can find by logging into Royal Caribbean's cruise planner site and checking if the price has changed.
These sales occur fairly regularly, and I always post about them here on the site as a reminder as well.
You can re-price pre-cruise purchases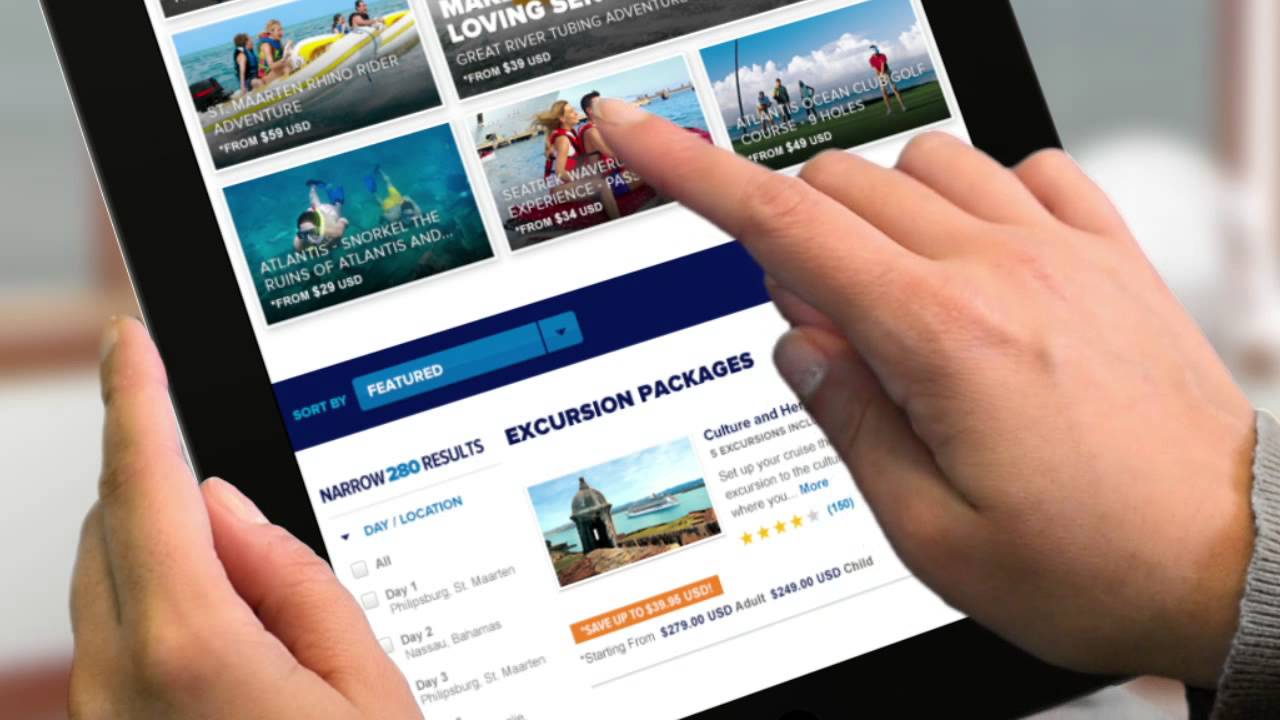 If you buy a drink package or excursion before your cruise and next week, month or year it drops in price, you can re-price it easily.
If you spot a better discount on something you already pre-purchased, you should be able to cancel the purchase and then re-purchase the same item under this promotion.
Bring your own wine onboard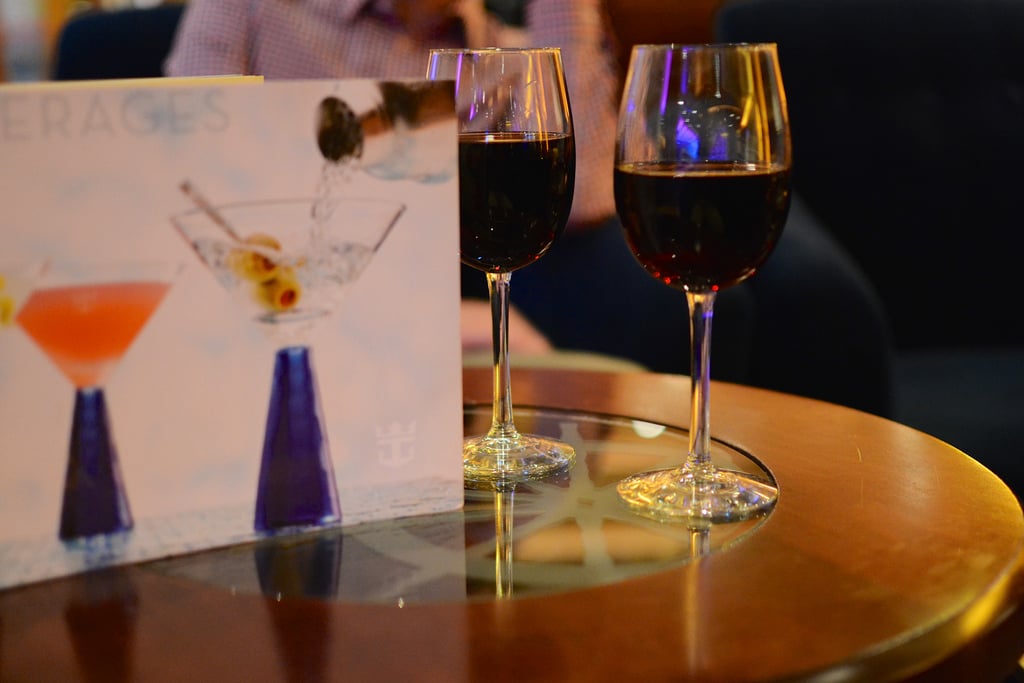 Did you know that Royal Caribbean allows its guests to bring a limited quantity of wine on a cruise?
Guests may bring up to two bottles of wine per stateroom on embarkation day. Each bottle of wine may be up to 750ml in size. 
Do not put the wine in the luggage you hand over to the porters on embarkation day.
You can bring soda and water onboard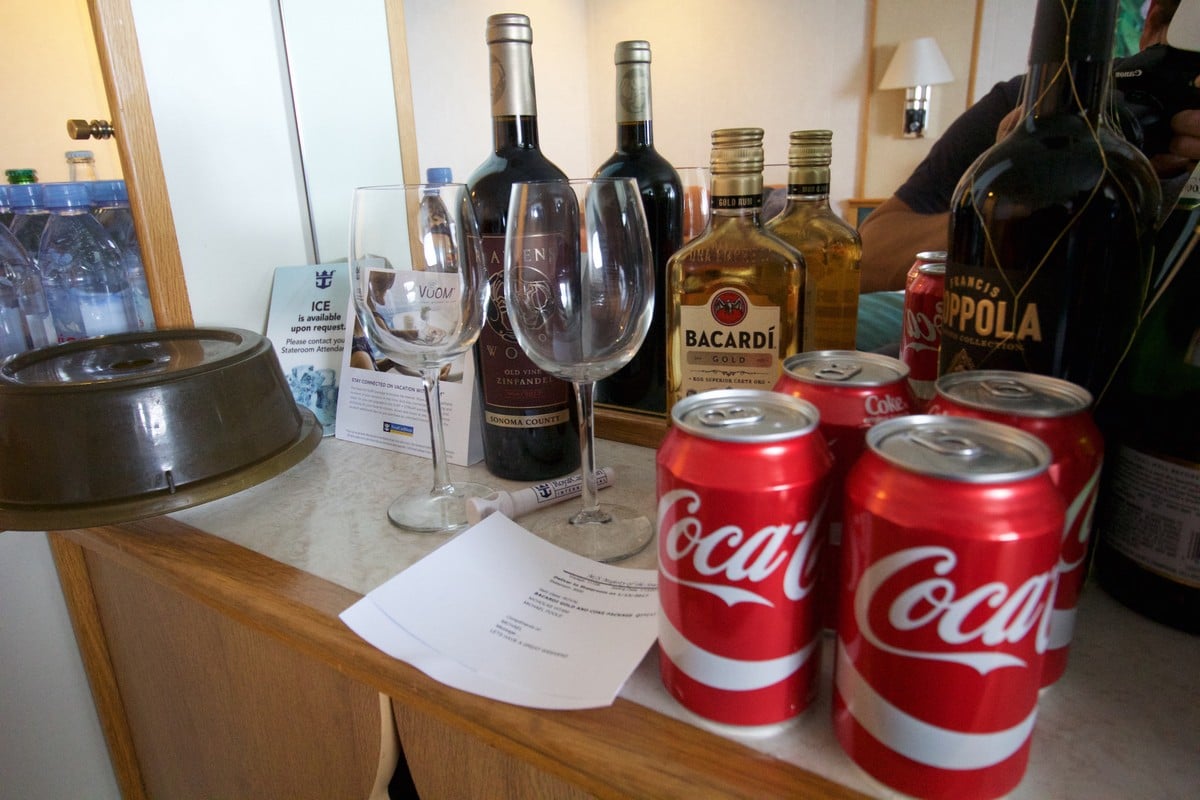 In addition to wine, you can also bring non-alcoholic beverages onboard on the first day as well.
Small quantities of non-alcoholic beverages can be brought in a carry-on or hand luggage onboard only on boarding day. 
Specifically, non-alcoholic beverages brought onboard may not exceed 12 standard (17 oz) cans, bottles or cartons per stateroom. Distilled water or specialized beverages such as, milk for medical purposes, dietary or infant use, are permitted.
Don't buy WiFi on the first day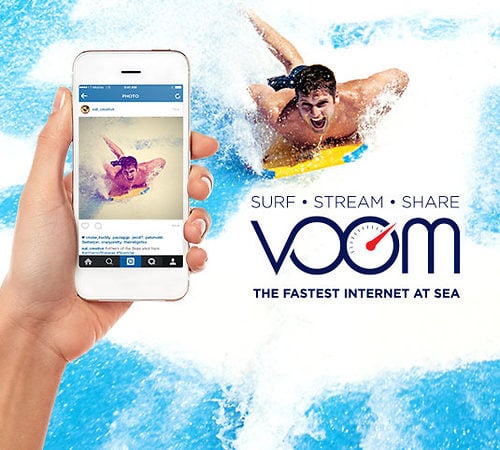 A great way to shave off the cost of a WiFi package is to skip buying it on the first day.
Your first day on a cruise is busy, and you are in port for most of the day, where your cell phone works normally.
If you can go without WiFi until midnight (or later) on day 2 of the cruise, you will not have to pay for the first day and only pay pro-rated amount for the rest of the sailing.
Dining packages will save you money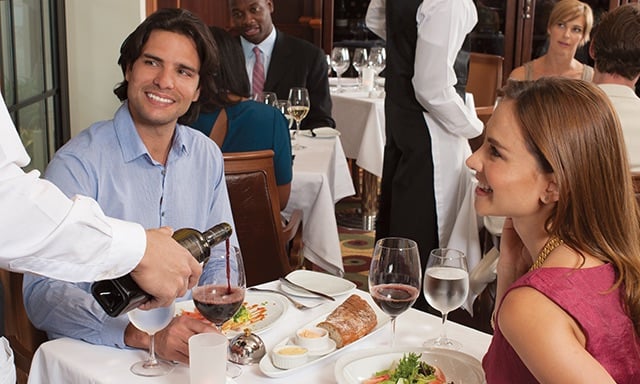 If you want to enjoy some specialty restaurants without paying full price, invest in a dining package.
Royal Caribbean's dining packages provide a set amount of specialty restaurants at a fraction of the list price to dine there.  Quite often, a dining package can knock as much as half off the regular per person price.
Purchase this before your cruise and make reservations on embarkation day.
Look for residency discounts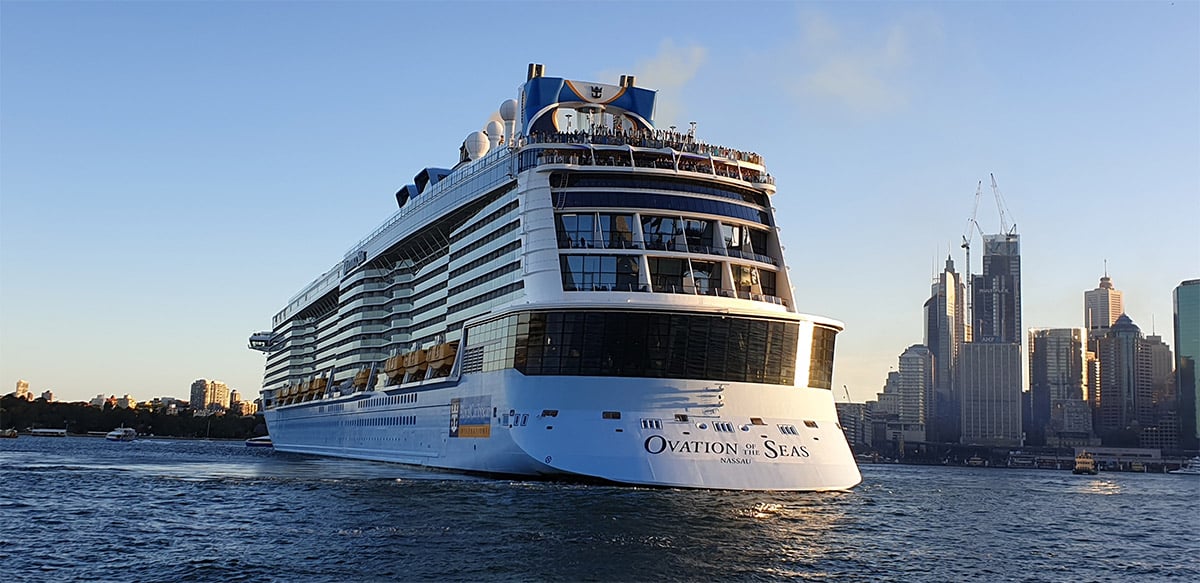 Before you book a cruise, ask your travel agent if there are any special rates for residents of your state.
You would be surprised how many residency deals there are, and not just for states that have cruise ships sailing from them.
Royal Caribbean regularly targets different areas of the United States and the world with special rates.
Crown and Anchor discounts available for balcony rooms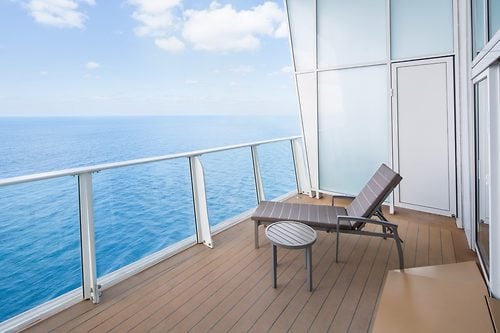 Once you hit Platinum in Crown and Anchor Society, you automatically qualify for a balcony stateroom discount on every cruise.
The exact balcony discount rate depends on your status level in Crown and Anchor Society, and it goes up with each tier you reach.
Before you assume that balcony or suite is too expensive, make sure you include your balcony discount.
Extra onboard credit for rebooking onboard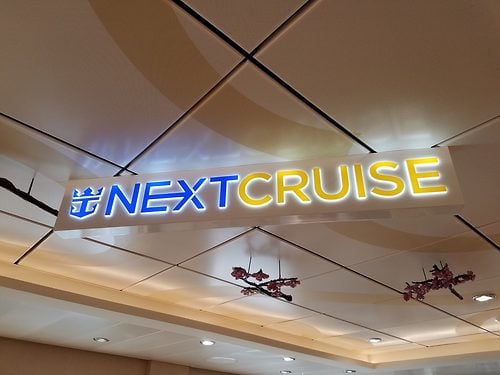 Royal Caribbean's Next Cruise program rewards guests that book another Royal Caribbean cruise while onboard their current cruise.
Essentially, booking another Royal Caribbean cruise onboard with Next Cruise gets you free onboard credit for doing so. 
Unlimited drink packages have the potential to save money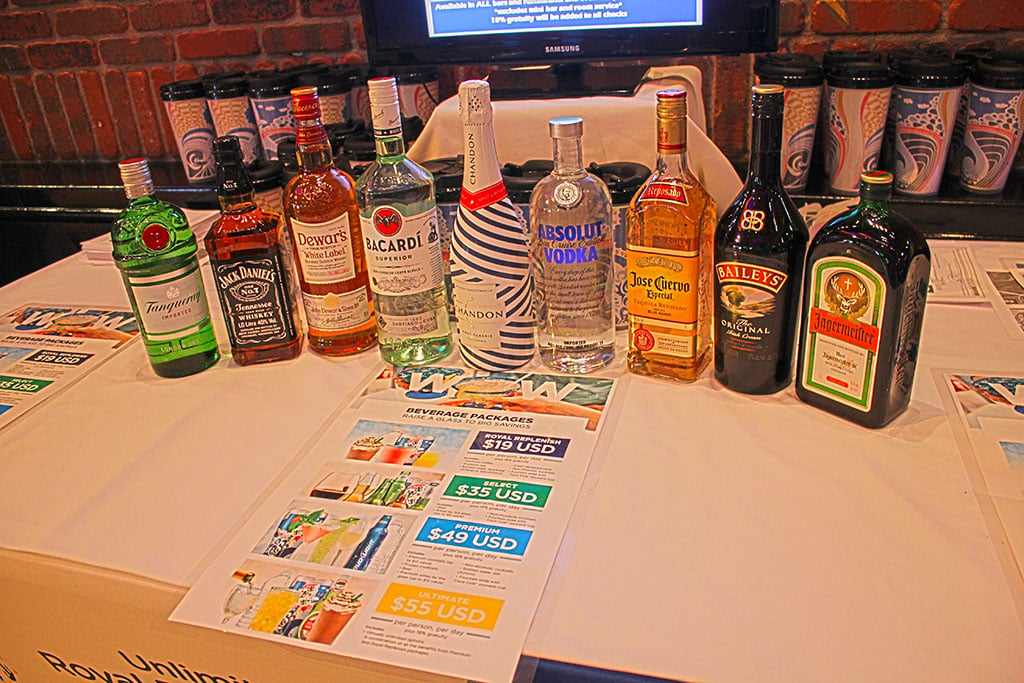 You will save much more money by not buying any alcoholic drinks on your cruise, but since so many do enjoy cocktails, beers and other beverages during the cruise, the best way to savor these within a budget is to buy a drink package.
If you buy a drink package in the months leading up to your cruise, you can lock in a lower price compared to what it costs onboard, and you will spread out the total cost of the cruise.  A drink package purchase requires full payment up front, so that means it could be on a different credit card billing cycle from your cruise fare.
There is no question a drink package has the potential to save money, it just relies on you to take full advantage of what the drink package offers.
Discounts sometimes available for certain occupations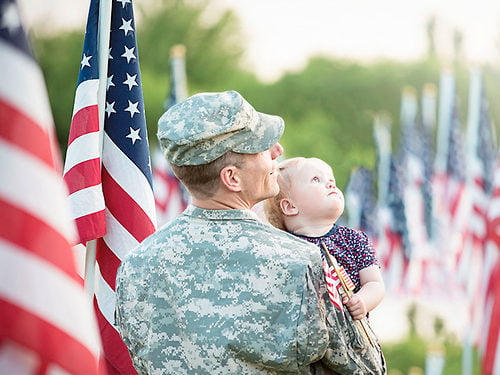 Royal Caribbean regularly offers discounts to guests who have certain jobs, including active or retired military, teachers, police officers and more.
Among the many available discounts, there can be special rates reserved for certain vocations, so be sure to let your travel agent know what you do for a living, and if you are active or retired military.
Casino offers special rates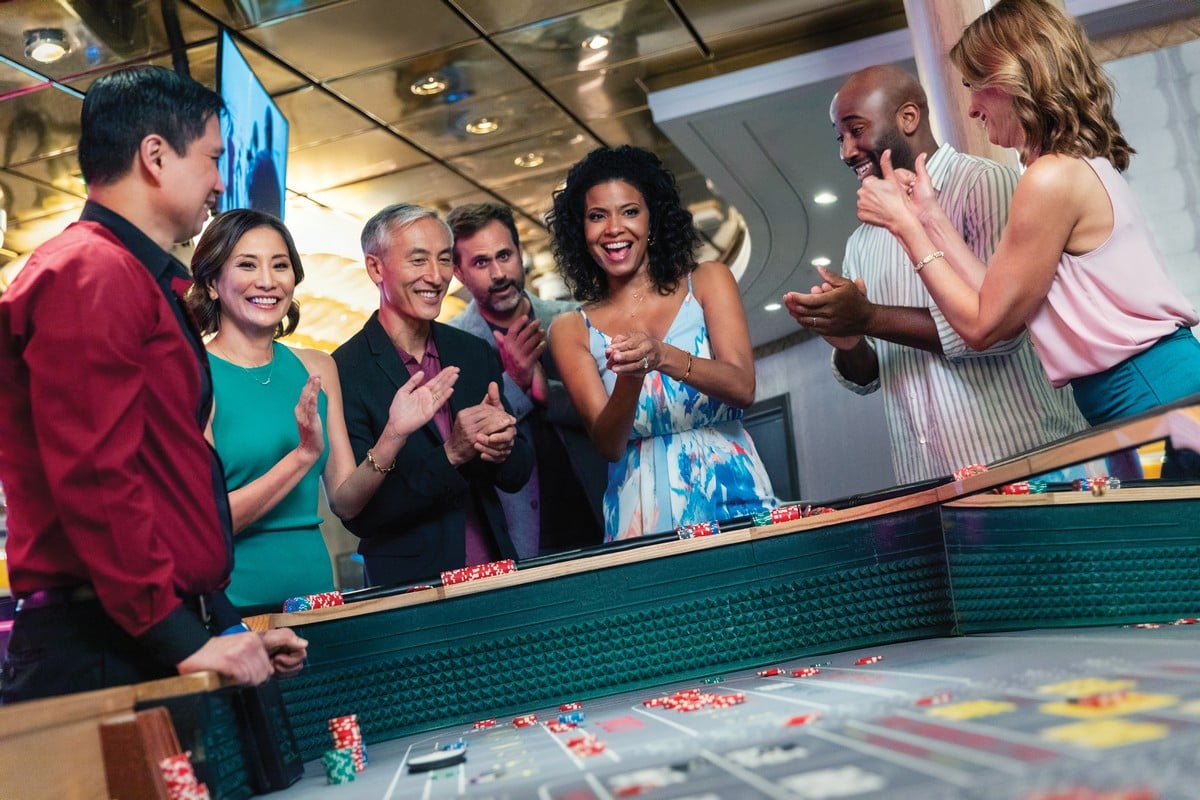 If you have gambled enough on Royal Caribbean cruise ships in the past, you might qualify for incredibly cheap fares or even free cruises.
Just like land casinos, Casino Royale offers special offers to entice gamblers back onboard and low cruise fares and complimentary sailings are one of those perks.
Royal Caribbean credit card can rack up discounted fares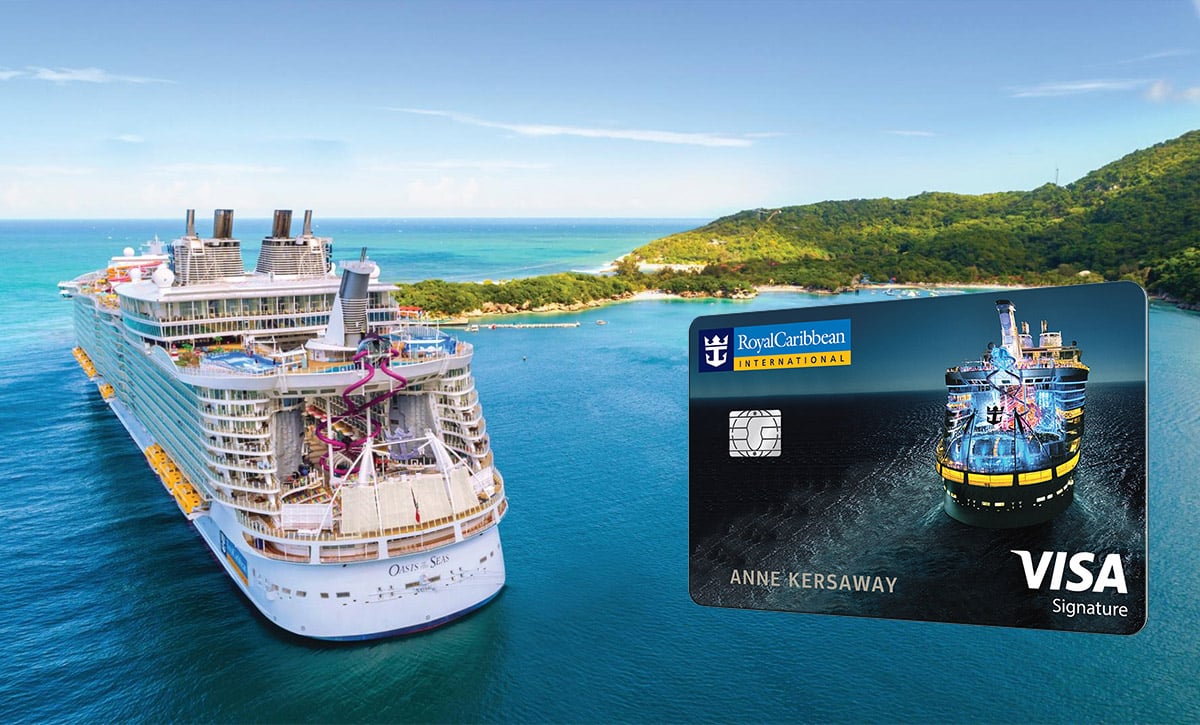 Just like an airline branded credit card, Royal Caribbean's credit card is aimed at cruise line loyalists who want to earn rewards for a cruise vacation.
By using the Royal Caribbean credit card you can earn discounts or even a free cruise from everyday purchases.
Pre-pay gratuities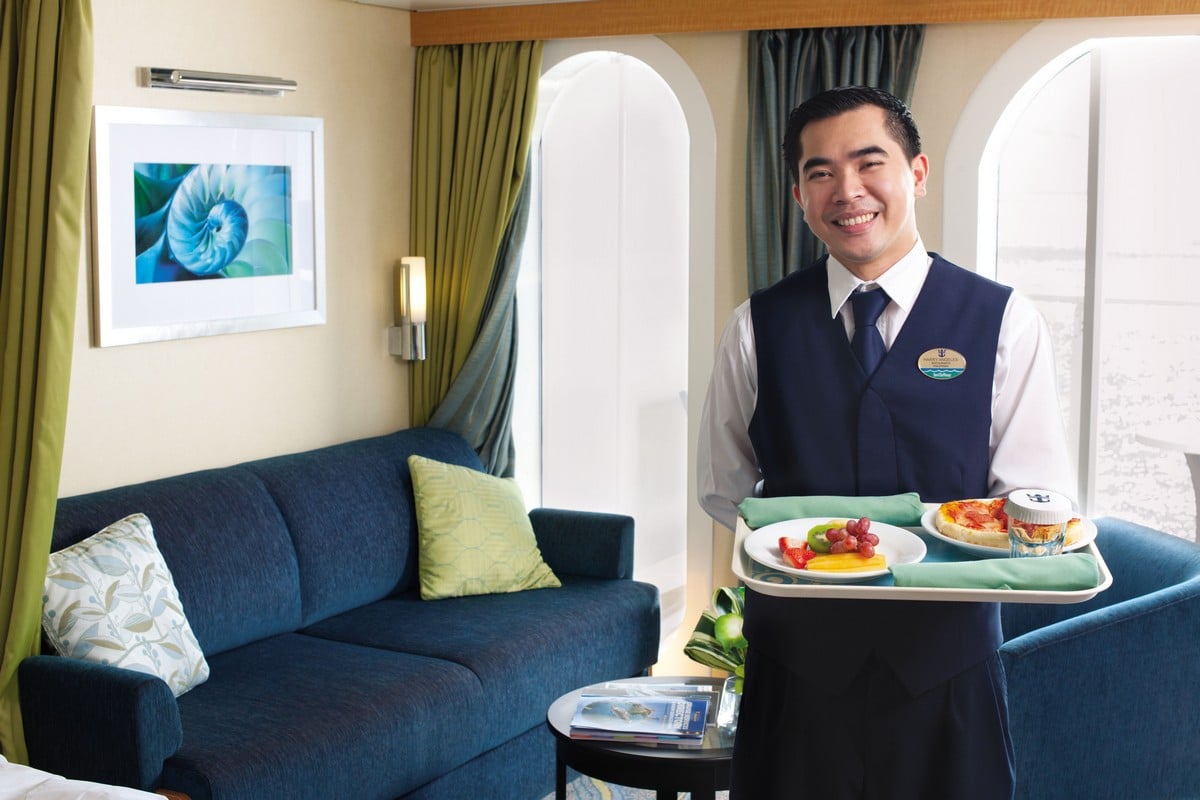 Pre-paying gratuities allows you to lock in the current gratuity rate, as well as assist in budgeting the total vacation cost by having part of the cost be paid at different times.
Every so often, Royal Caribbean adjusts the gratuity rate, but if you have opted to prepay, you will be grandfathered into the old rate.
Look for drink specials onboard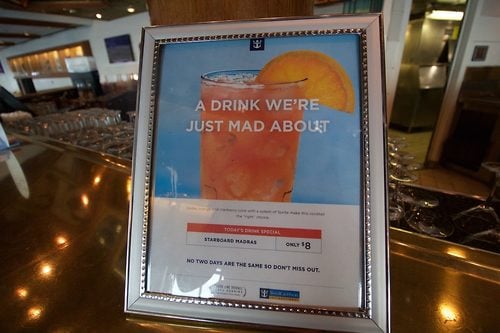 When looking at Royal Caribbean drink prices, many guests base their math of whether a drink package makes sense off the regular price for drinks, but in reality, there are drink specials all around the ship that bring that price down.
One of the best ways to get a deal on a cocktail is to order the drink of the day.  The drink of the day is a select cocktail that changes every day, which has about a 20% discount on it and is available from most bars onboard.  You can just ask the bartender or waiter what the drink of the day is and take advantage of those savings.
In addition, individual ships will run their own bar specials, like 2 for 1 deals, drink combo deals and other happy hour discounts.  The exact details of a drink special will vary from ship to ship, and sailing to sailing, but it is important to understand that they exist.  
To find drink specials, consult the Cruise Compass for some advertised deals, as well as walk around bars and look for posted signs.
Book spa treatments on port days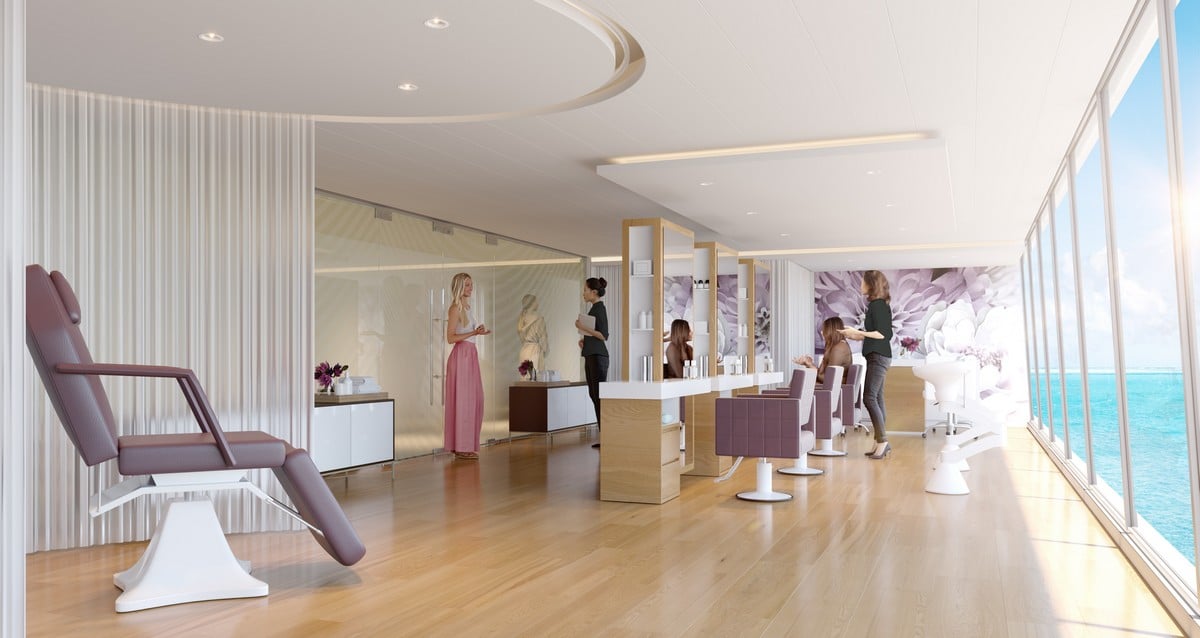 Fans of spa services will find port days to have the best deals.
The spa usually offers the best deals on port days to attract guests to book services because everyone is off the ship.  Check the daily spa specials on your port day to see what's available.
Put your phone into airplane mode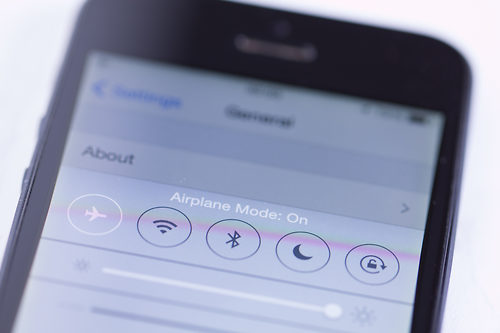 If you leave your cellphone active while on a cruise ship, it can connect to the ship's cell phone antenna while at sea, or to a local network at one of the ports you are visiting. Nearly every cell phone plan calls this "roaming", and that means you pay a hefty price for placing calls, sending texts and using data.
To avoid this mistake, simply put your phone into airplane mode once you get onboard on the first day. Airplane mode will disable your phone's antenna and prevent it from connecting to any network.
You can still use apps and other functions of your phone while in airplane mode, including connecting to WiFi. 
Ask for no souvenir cup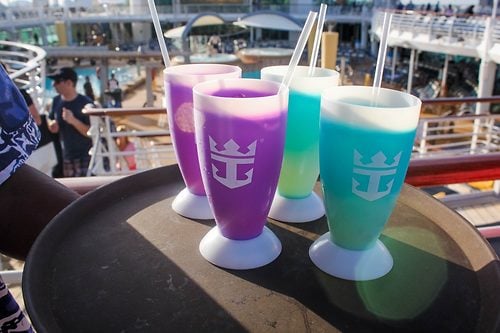 One way to cut down the cost on those tasty cocktails is to skip the souvenir cup.
Often a waiter will walk around the pool deck with a great looking drink in a souvenir cup, but if you ask for the same drink in a plastic cup, the price of the drink will go down.
Book a cruise during less-busy months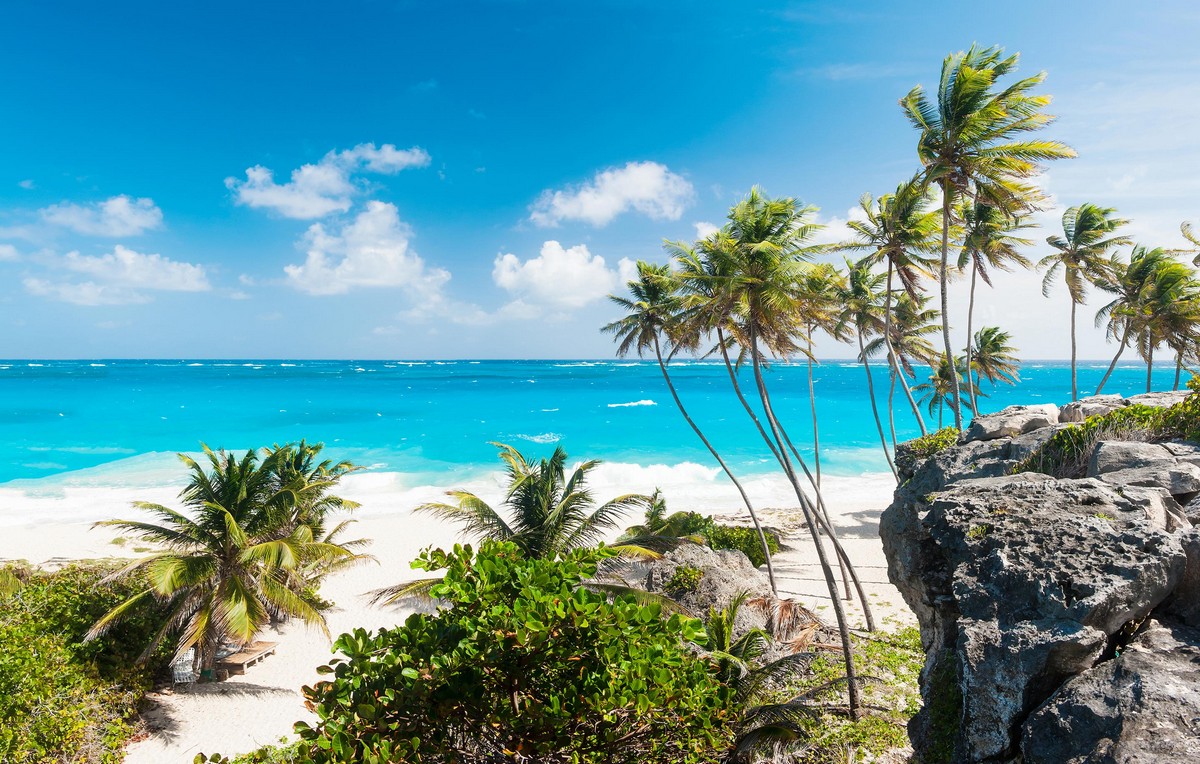 Royal Caribbean offers cruises throughout the year, but there are certainly times of the year when cruising is more in-demand than other times. 
If you can, consider taking a Royal Caribbean cruise when most schools are in session because these are the times of year when you will be able to net some super savings.
The best months for the lowest fares include
January (except New Years)
February (except Presidents Week)
First two weeks of March
October
November (except Thanksgiving)
First two weeks of December
Book a cruise on older ships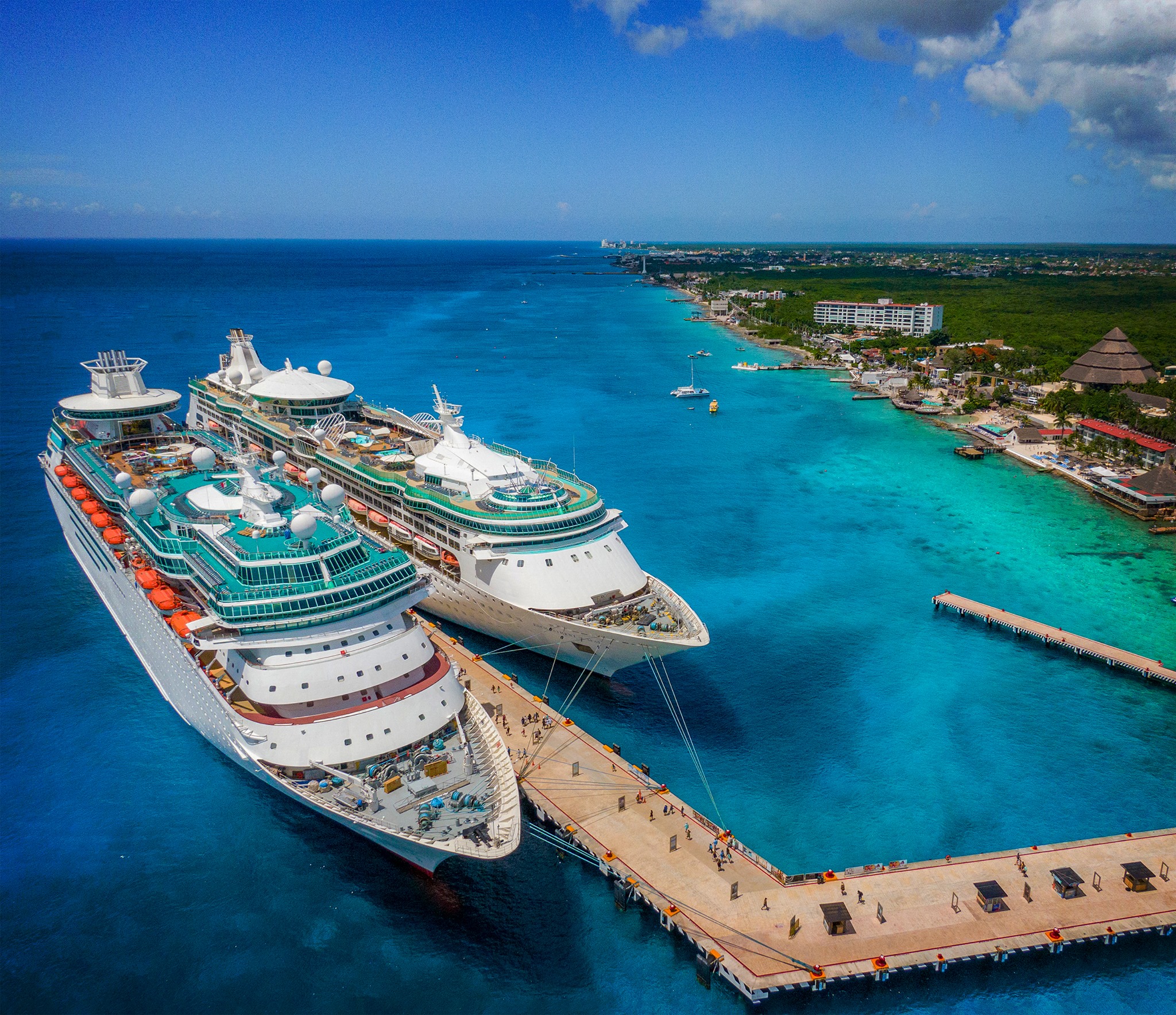 When you watch any of Royal Caribbean's television commercials, you will see scenes from their Quantum and Oasis class ships and they are absolutely amazing experiences, but they also come with premium pricing.
To save money, book a cruise on an older ship instead.
I know it sounds like with an older ship they will not have all the whizz-bang features of the new ships, but Royal Caribbean has spent millions of dollars in upgrading these ships and I would not hesitate to cruise on them.
Take advantage of Kids Sail Free offer
A great money-saving promotion for families it the Kids Sail Free deals.
During select times of the year, Royal Caribbean offers third and fourth passenger fare for kids 12 years old and under staying in the same room as their parents.  
The "catch" is there are lot of blackout dates, primarily around school holidays and breaks.  If you can manage to book a cruise while Kids Sail Free is offered, it can represent tremendous savings.
Book a guarantee stateroom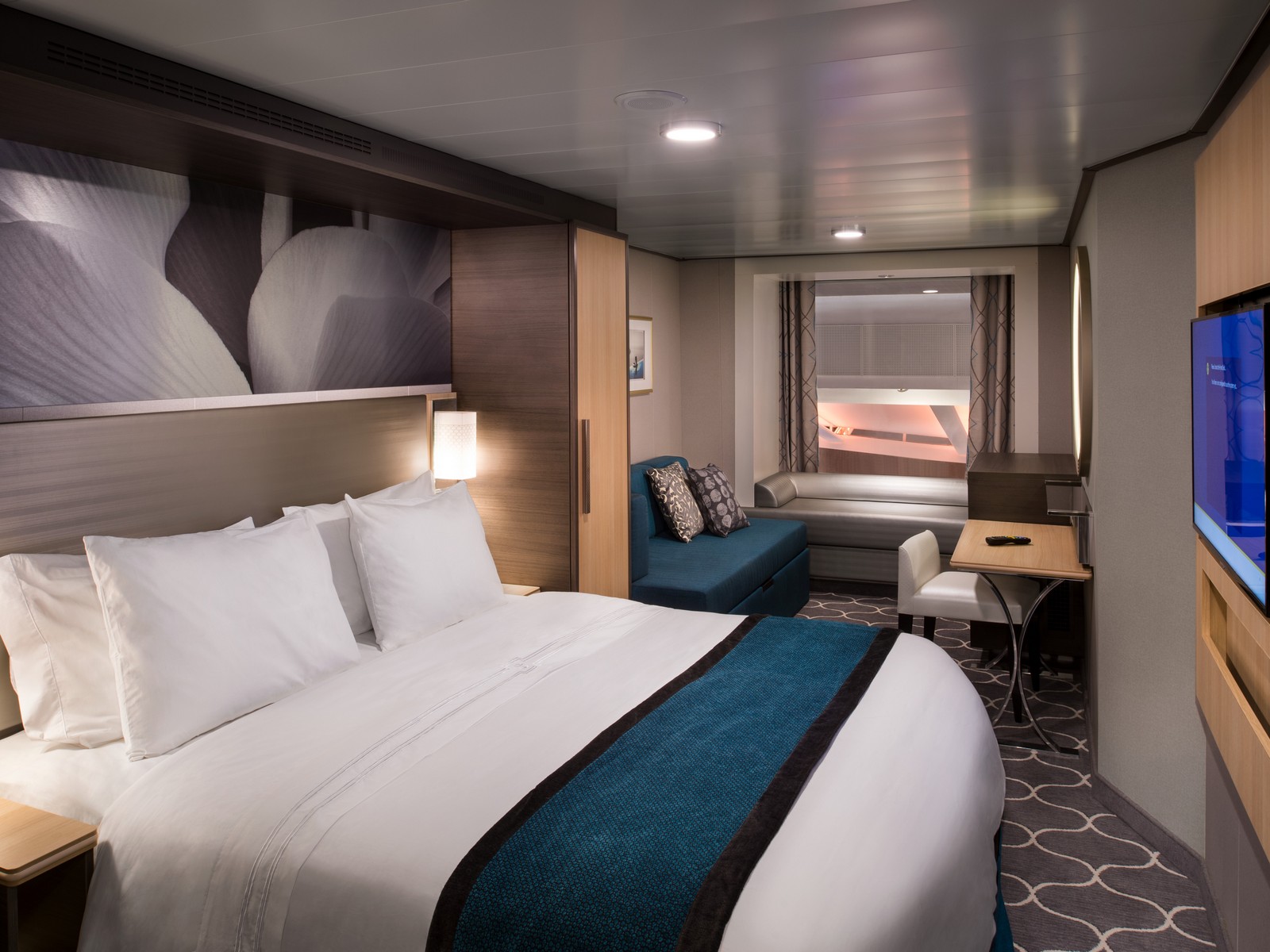 If you do not care which specific room assignment you get, a guarantee stateroom can shave off hundreds of dollars from your cruise.
A guarantee stateroom is when Royal Caribbean gives you a discount on a particular category of rooms in exchange for giving up the ability to choose your exact room.
The exact discount you can expect for opting for a guarantee room depends on the sailing.
Repeat cruisers get onboard discounts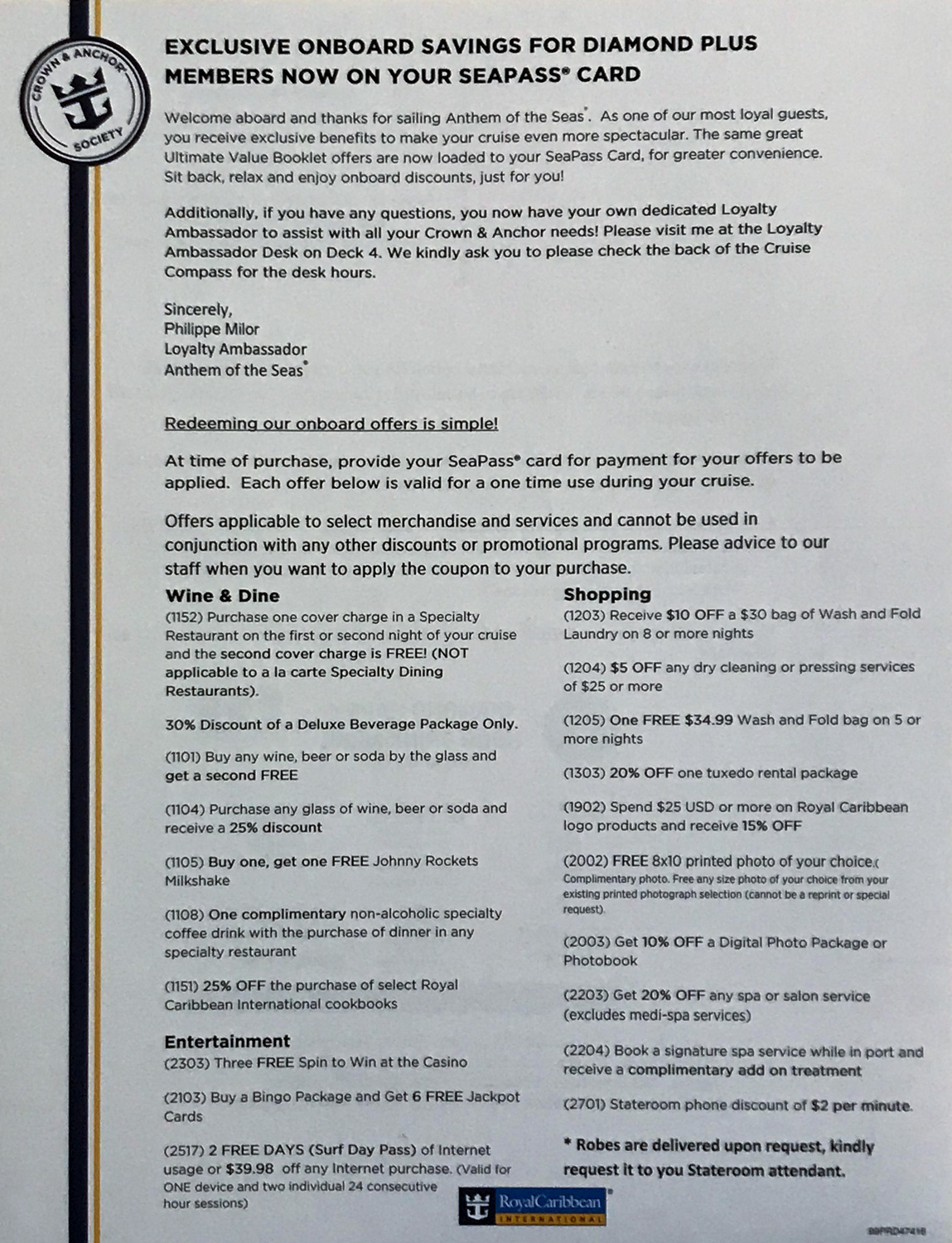 After just one Royal Caribbean cruise, you can expect a list of onboard discounts available to use on every sailing.
These discounts are provided by the Crown and Anchor Society, and it includes discounts on drinks, internet, laundry and more.
The exact discounts vary from tier to tier of the customer loyalty program. As you move up each tier, the discounts get more lucrative.
Look for a sheet in your stateroom with the exact discounts available.
Don't book too many shore excursions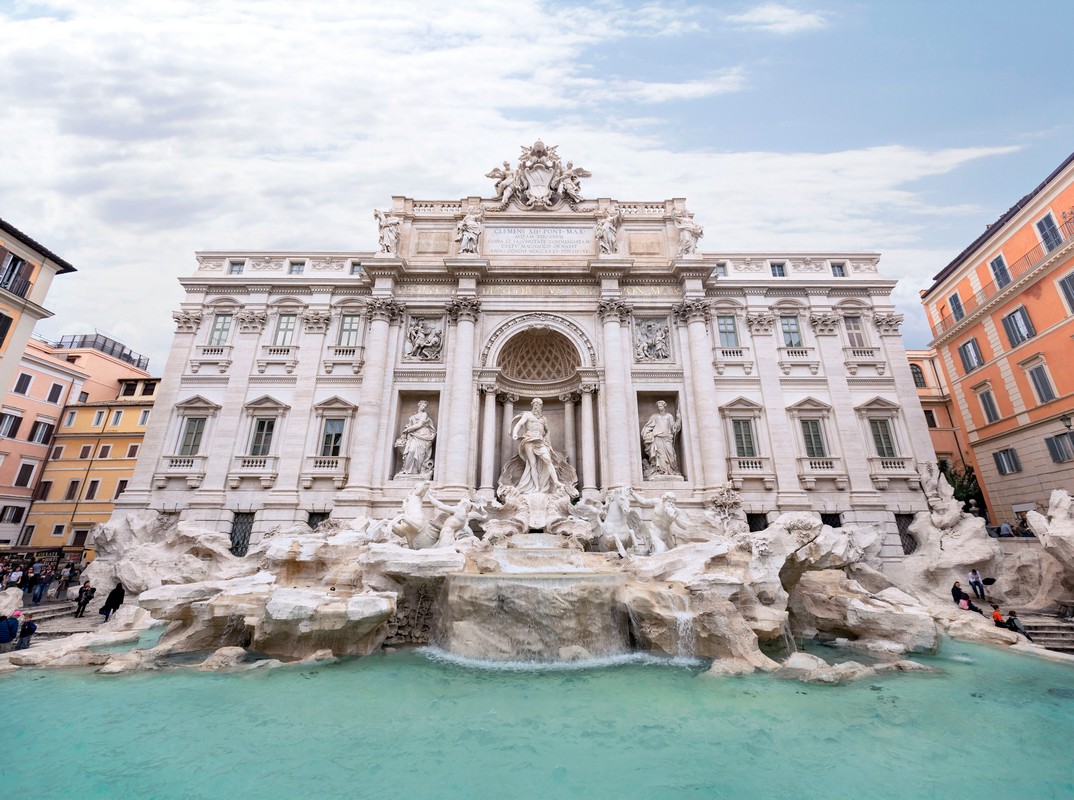 While there are tours available in every port you will visit, you do not necessarily need to book a tour in order to see the sights.
In Europe in particular, it is easy to visit the biggest attractions on your own by walking or relying on public transportation.
This can be much less expensive than touring with a group on an organized tour, and maybe more enjoyable, too.
Bring every toiletry that you might need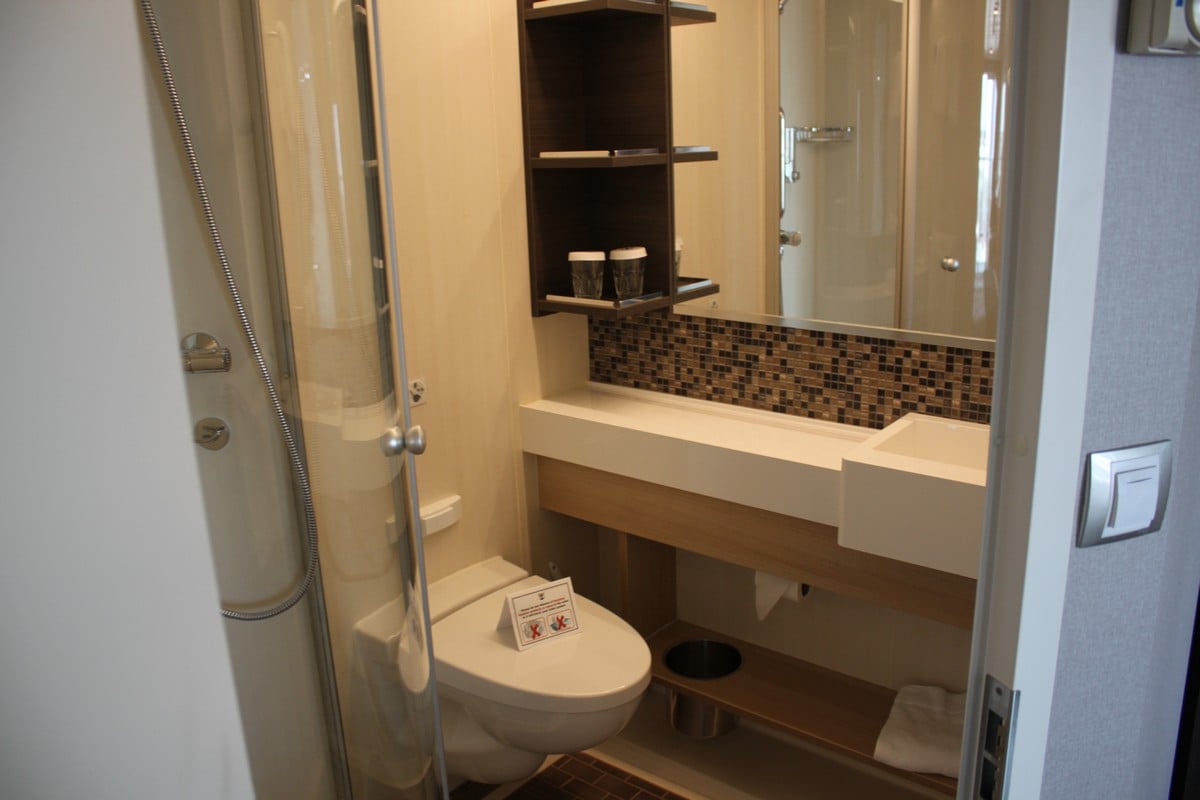 While Royal Caribbean sells most toiletry item you might need onboard its ships, it will cost much more than buying it at your local store.
To avoid overpaying for toothpaste, sun screen or medicine, be sure to bring more than enough of it all to ensure you do not run out.
Avoid double tipping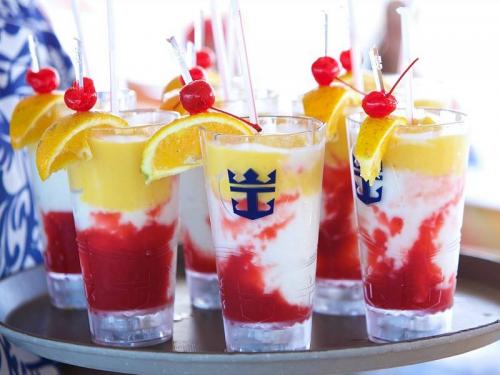 If you order a beer or alcoholic beverage, Royal Caribbean will automatically add a gratuity to your bill, so unless you really loved the bartender or waiter, don't tip them twice.
Often guests don't really read the receipt and are so accustomed to adding a tip that they don't realize gratuity has been automatically applied to the bill. 
Ask for specialty restaurant specials onboard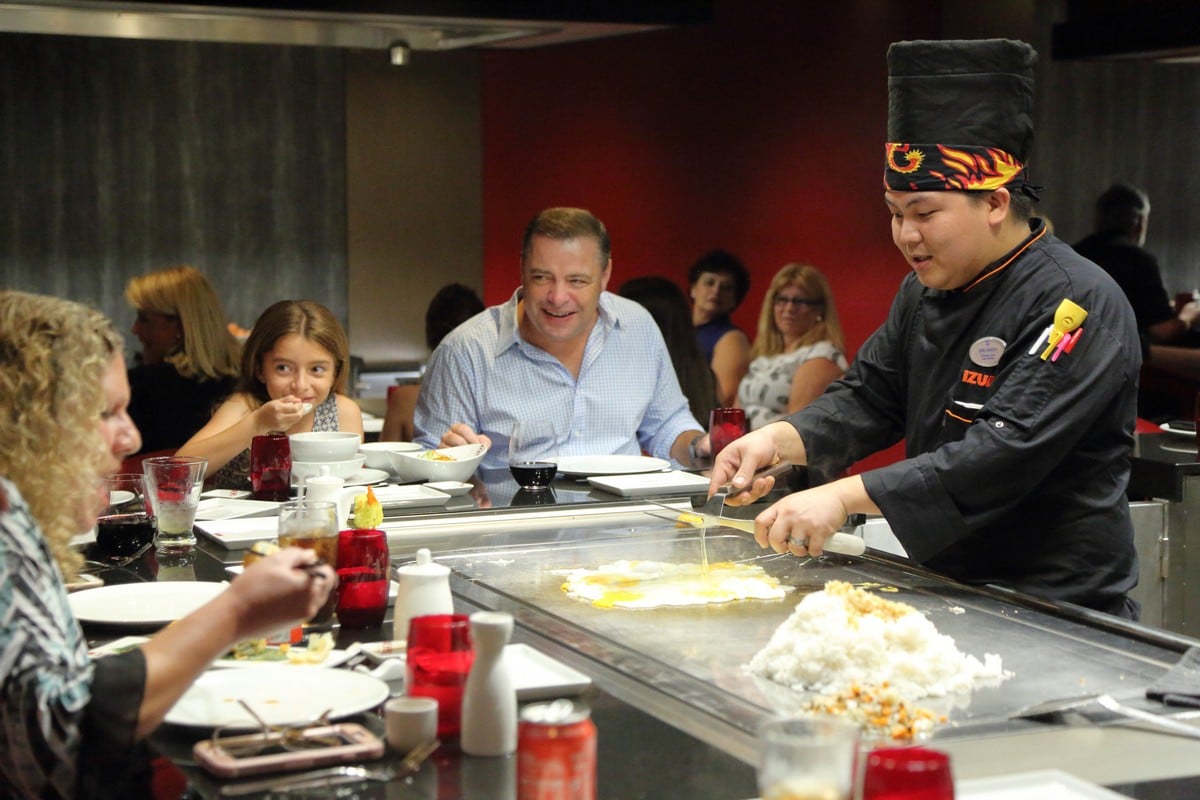 If you see a waiter walking around the ship asking if you want to dine at their specialty restaurant, ask if there is any special price they can offer.
When the restaurant sends someone around to drum up business, it is usually a sign they want to fill spots, and (nicely) asking for a discount is not unusual.
You may need to commit to a reservation that day to get the deal, but it is a great way to sweeten the deal.
Senior Citizen discount
Are you over 55 years old? You may qualify for a special discount!
Guests who are 55 years or older can qualify for reduced rates, so you will need to contact Royal Caribbean or your travel agent to inquire about exact rates.
Look for the drink card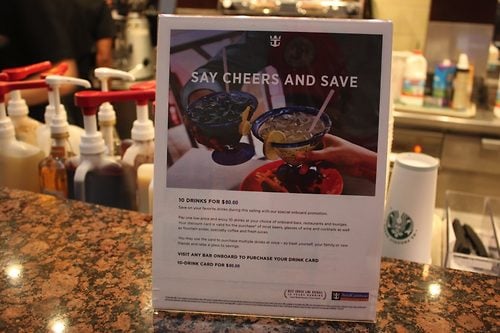 Have you heard about something where you can pre-purchase 10 drinks for a set price? Usually the price is somewhere between $75-85 and you can share the drink card with anyone you want. That means a $12 cocktail would cost you really about $7.50-$8.50 each with the drink card.
The "catch" with the drink cards is you cannot pre-purchase them for your cruise, and there are no guarantees they will be available on any particular sailing.  Generally, it will be offered on the third to fifth day of a 7 night cruise.
If the drink card is available, it usually becomes available around half way through your sailing, so on a 7-night cruise, it might show up on day 3 or 4.  
Again, there is no means of which to know if a drink card will be available on your cruise with any kind of certainty.
Take advantage of free drinks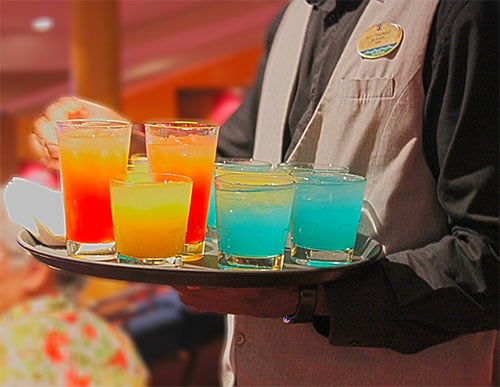 Believe it or not, there are ways to get free drinks on your Royal Caribbean cruise.  Granted, there is no way to effectively drink all day like this, but any free drinks you can get are less drinks you have to buy!
One of the best ways to get free drinks is by being a Crown and Anchor Society member.  Diamond level and above members are eligible for three free beverages per evening from 4:30 to 8:00pm, in addition to the unlimited complimentary beverages in the Diamond Lounge during those hours.
All Crown and Anchor Society members will have special coupons pre-loaded on their SeaPass account that provide deals like Buy One, Get one beer, wine or soda by the glass.  In addition, Royal Caribbean holds Crown and Anchor Society events onboard for members, with complimentary cocktails served.
Free champagne can also be found at select events, including art auctions, Captain's Welcome and during holiday celebrations.
Free onboard credit if you own Royal Caribbean stock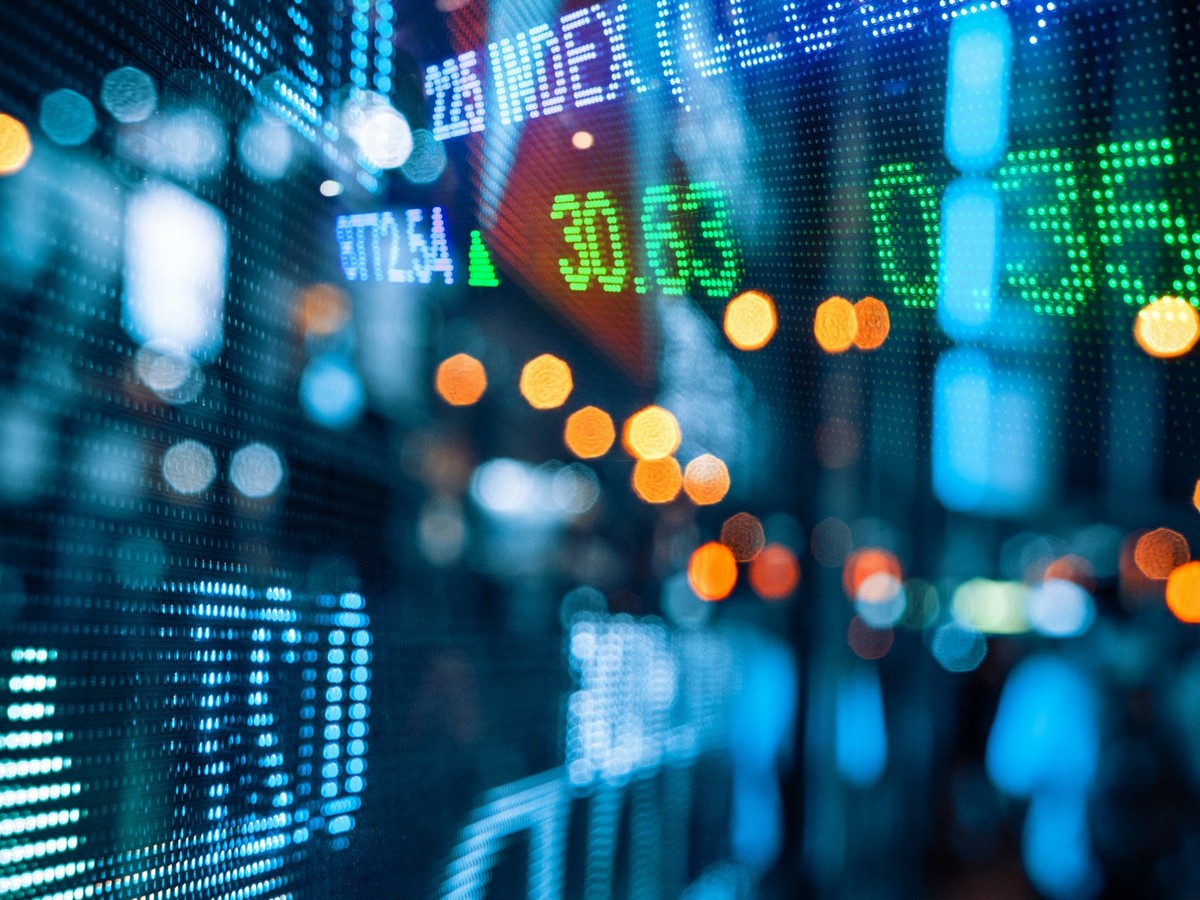 If you own at least 100 shares of Royal Caribbean Group stock (RCL), you can get extra onboard credit.
You could get up to $250 in onboard credit by being a shareholder, so be sure to take advantage of this offer if you qualify.
Last minute deals
While I always advocate booking a cruise as far in advance as possible, last minute deals are possible.
Around 60 days before the cruise departs, you can look to see what availability and pricing is present.  Around this time, cruisers whose plans have changed have already canceled, cruise lines have a good read on passenger load, and last-minute deals begin to emerge. The reductions may or may not continue as the sailing date draws closer.
Ask your travel agent for "Going, Going, Gone" rates as another way to quickly identify discounted sailings that are coming up.
Wave Season deals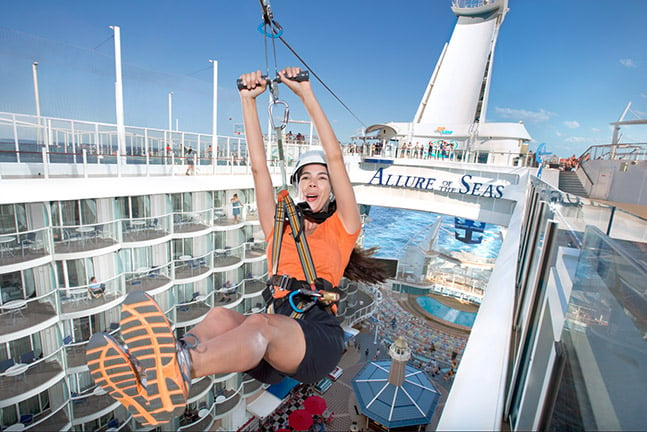 The cruise industry has the most offers in the early part of the year, known as Wave Season.
Between January and March, cruise lines tend to roll out their best deals of the year in an effort to set up bookings for the rest of the year.
It is always a good idea to track the new offers during Wave Season to see if there are any particularly good deals to jump on and book.
Avoid laundry costs by packing enough clothes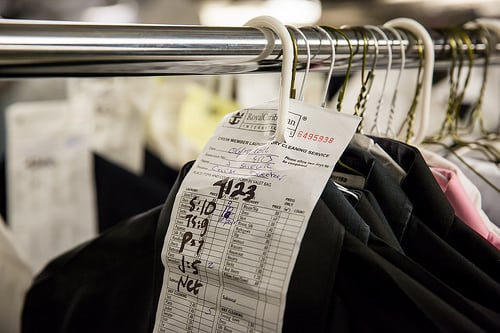 Since Royal Caribbean does not offer self-service laundry, the only laundry options you have will cost you extra.
Your best bet is to pack enough clothing to avoid having to send any laundry out during your cruise. Planning ahead with extra outfits can ensure you do not have to spend more on getting clothes cleaned.
You might also consider buying single-use detergent packs so you can wash small garments in your stateroom bathroom sink.
Cabin upgrades for less
One way you might be able to get a stateroom upgrade for less is to bid for it.
The Royal Up program allows guests to place bids for a stateroom upgrade in the weeks leading up to their cruise.
This is a blind stateroom upgrade bidding program, where close to your sail date you can let Royal Caribbean know how much you would be willing to pay if an upgrade situation presented itself.
Bring your own snorkel equipment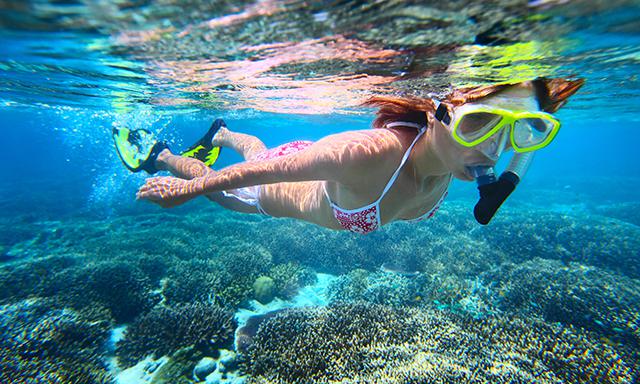 One of the most popular Caribbean shore excursions is to go snorkeling, and bringing your own equipment would not only save you money on an excursion, but allow you to use it in more than one port.
There are no restrictions on using your own snorkel equipment, even Royal Caribbean's private destinations of Perfect Day at CocoCay or Labadee.
Note that if you don't have your own snorkel vest, you will be required to rent one while snorkeling at its private destinations. 
Keep checking prices after you book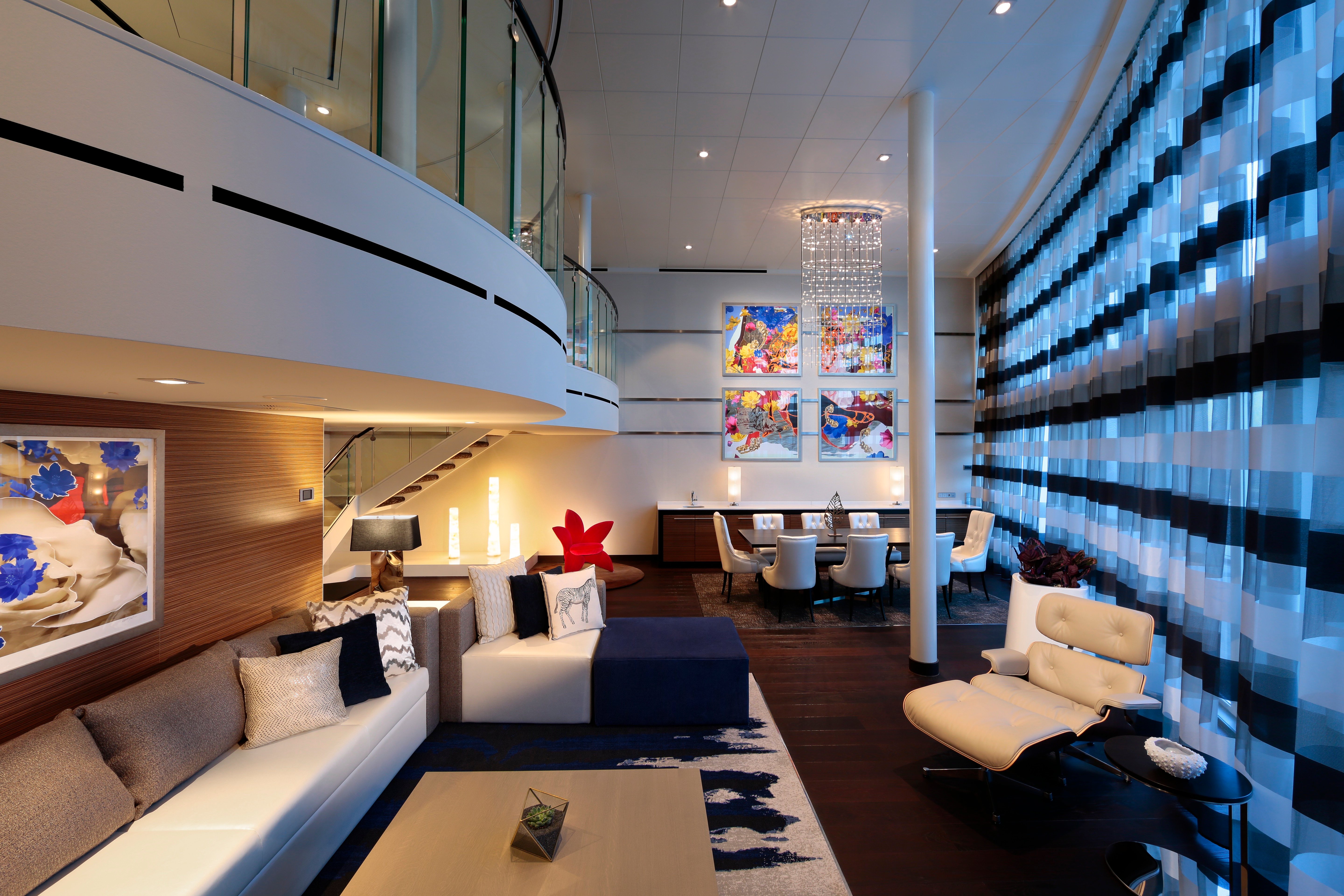 After you book your cruise, you can take advantage of price drops all the way up until your final payment date.
If you spot a better price for the same room category and sailing you are on, have your travel agent reprice the cruise to get the lower rate.
Being able to reprice is not available in all countries (such as the United Kingdom or Australia), but for guests in the United States or Canada, it is a great way to get the best price.
Repositioning cruises tend to be the best values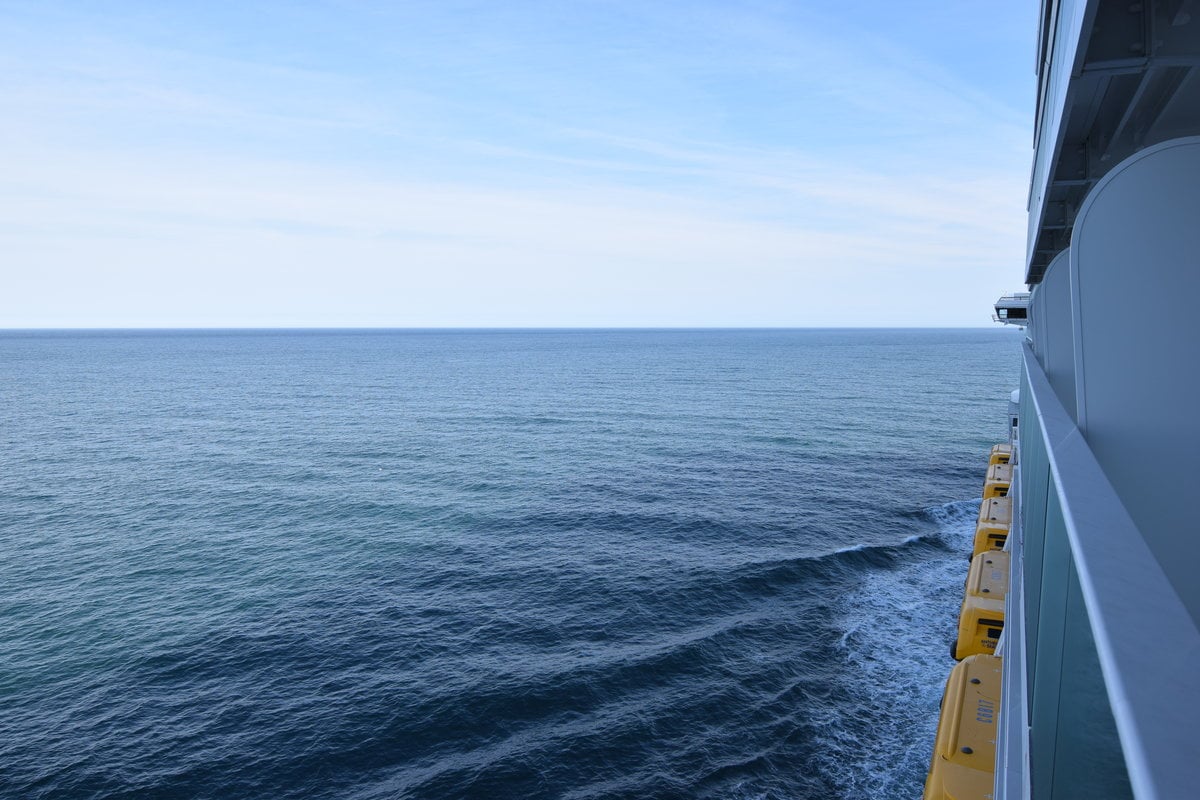 If you want to pay the least per night on your cruise, you should consider an "open-jaw sailing".
Transatlantic, transpacific and cruises that begin in one port and end in another port tend to be priced very reasonably, and are usually longer sailings too. With less stops in port towns and cities, these ocean cruises are often a cheaper options.
Set up a group for your friends and family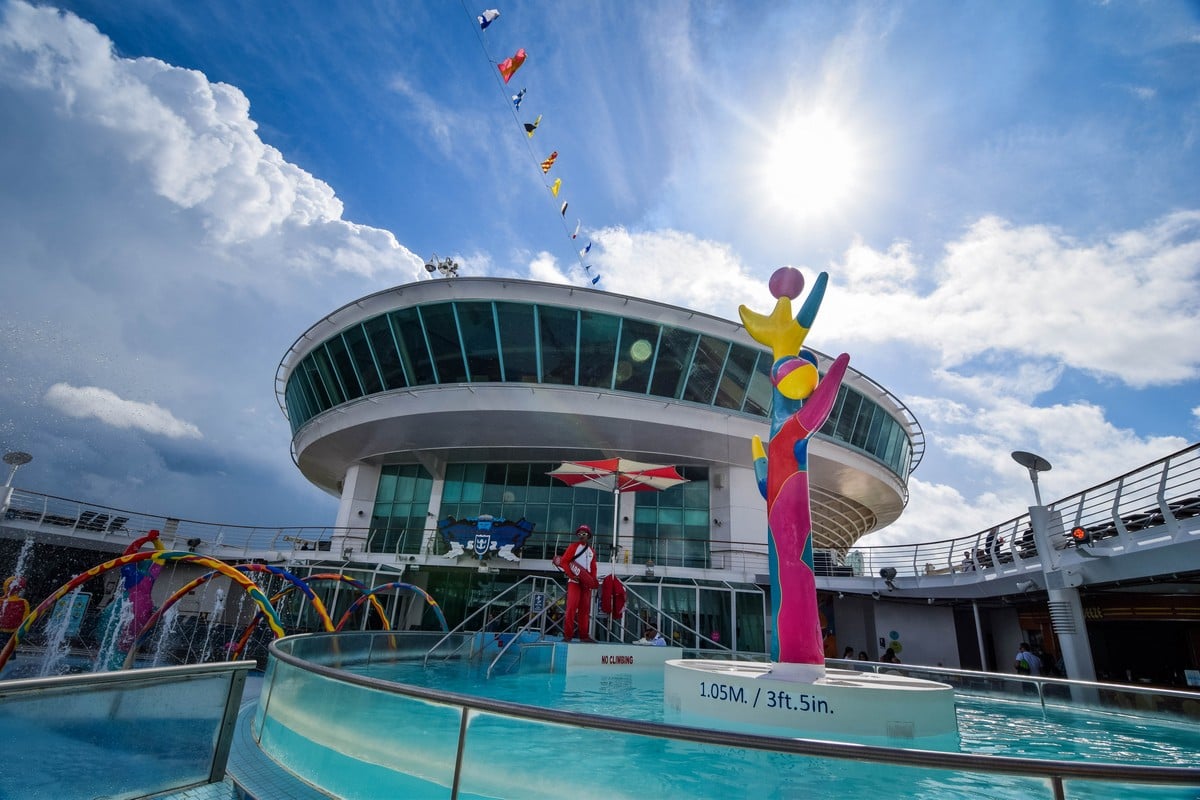 If your group of friends or family will need 8 cabins or more, you should talk to a travel agent about setting up a group with Royal Caribbean.
Royal Caribbean rewards groups of people that book together with the same agency.  By setting up a group, the tour operator (whoever is in charge of the group) can get money back from the cruise line that could mean a big discount, or even a free cabin.
There are lots of perks for having a group, but speak to a travel agent before anyone books a room.
Group discounts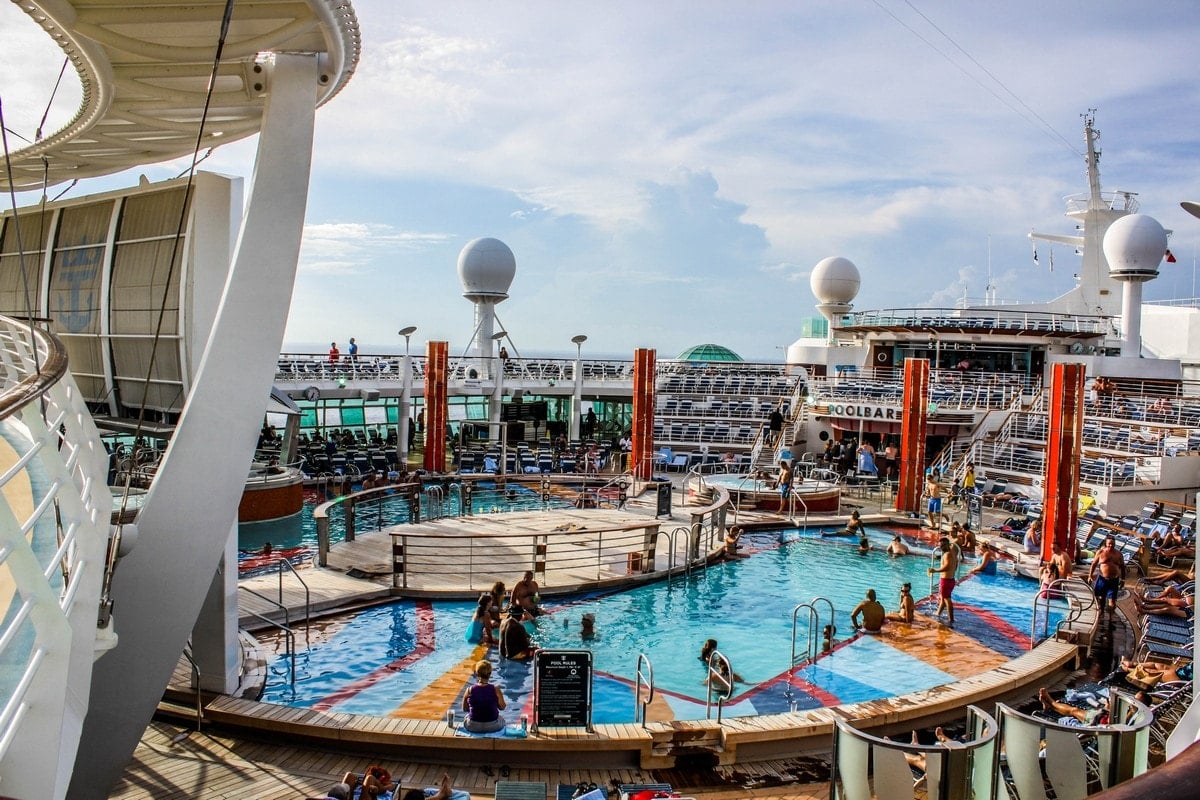 Even if you are not traveling with a group of people, group discounts can be available to just about anyone.
When a travel agency sets up a group, they get to lock in the pricing and often travel agents have access to group rates across their network consortium.
Being booked in a group does not require you to spend anytime with others in the group, it is just a discount that could save you a lot of money.
Shop around for travel insurance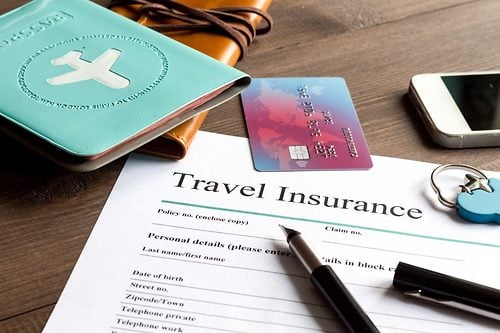 Royal Caribbean offers its own travel insurance, but you should look at prices from other travel insurance providers to find the best blend of benefits and price.
Third party travel insurance providers are plentiful, and prices can vary considerably.
Ask for free seasickness medicine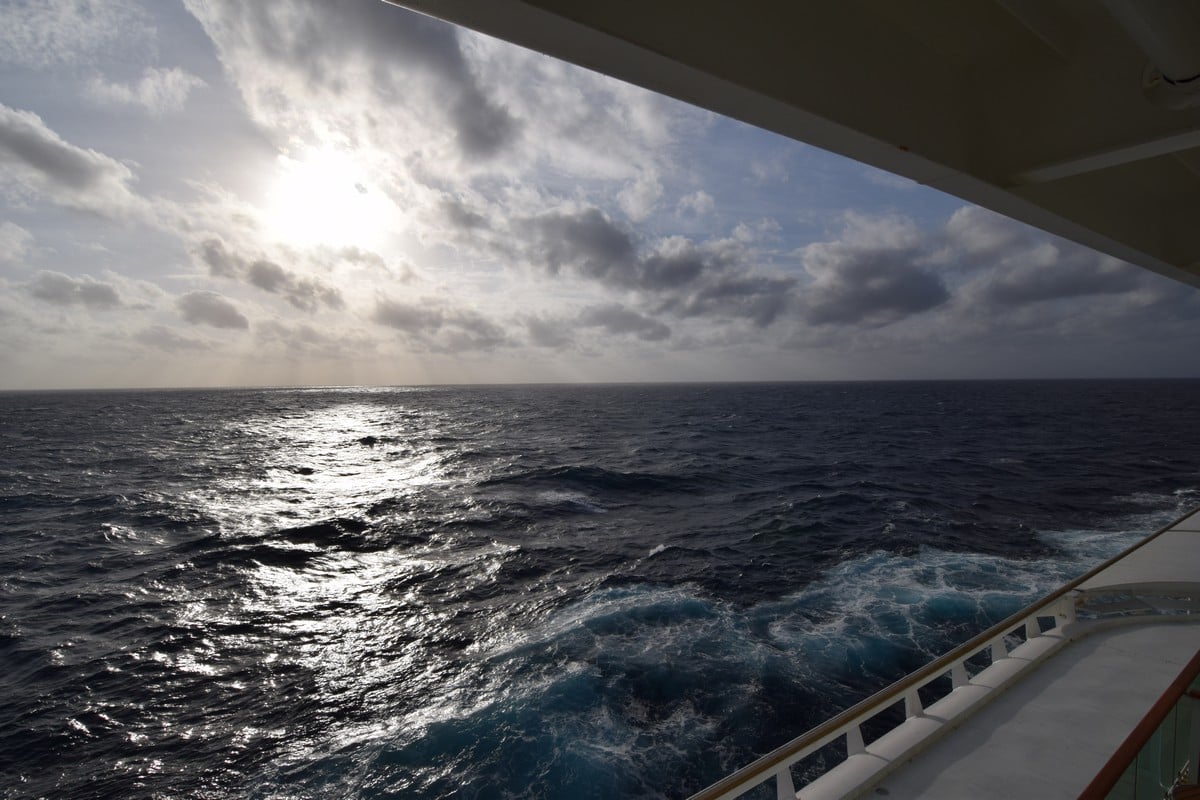 While you should be prepared and have some seasickness medicine just in case, if you happen to forget it, you can get it for free from the cruise line.
If you are not feeling well, Guest Services and/or the medical center is usually happy to provide complimentary over the counter seasickness medicine to anyone that asks.
Ask others to share taxis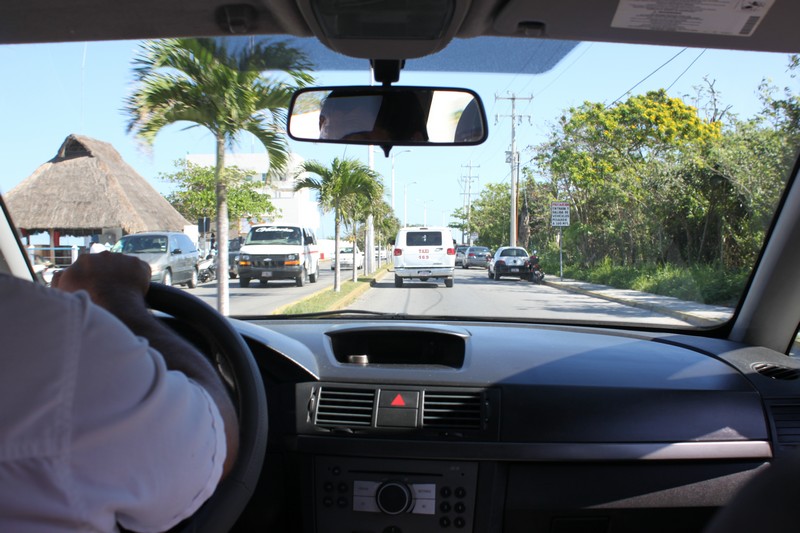 When in port, if you see other cruise guests waiting for a taxi, ask if you can share a ride with them.
If both of your groups can fit into a single taxi, you can split the cost of the cab and save money compared to getting a private ride.  Plus, you might make new friends!