43 Carnival Cruise Line tips, tricks and hacks to enhance your vacation at sea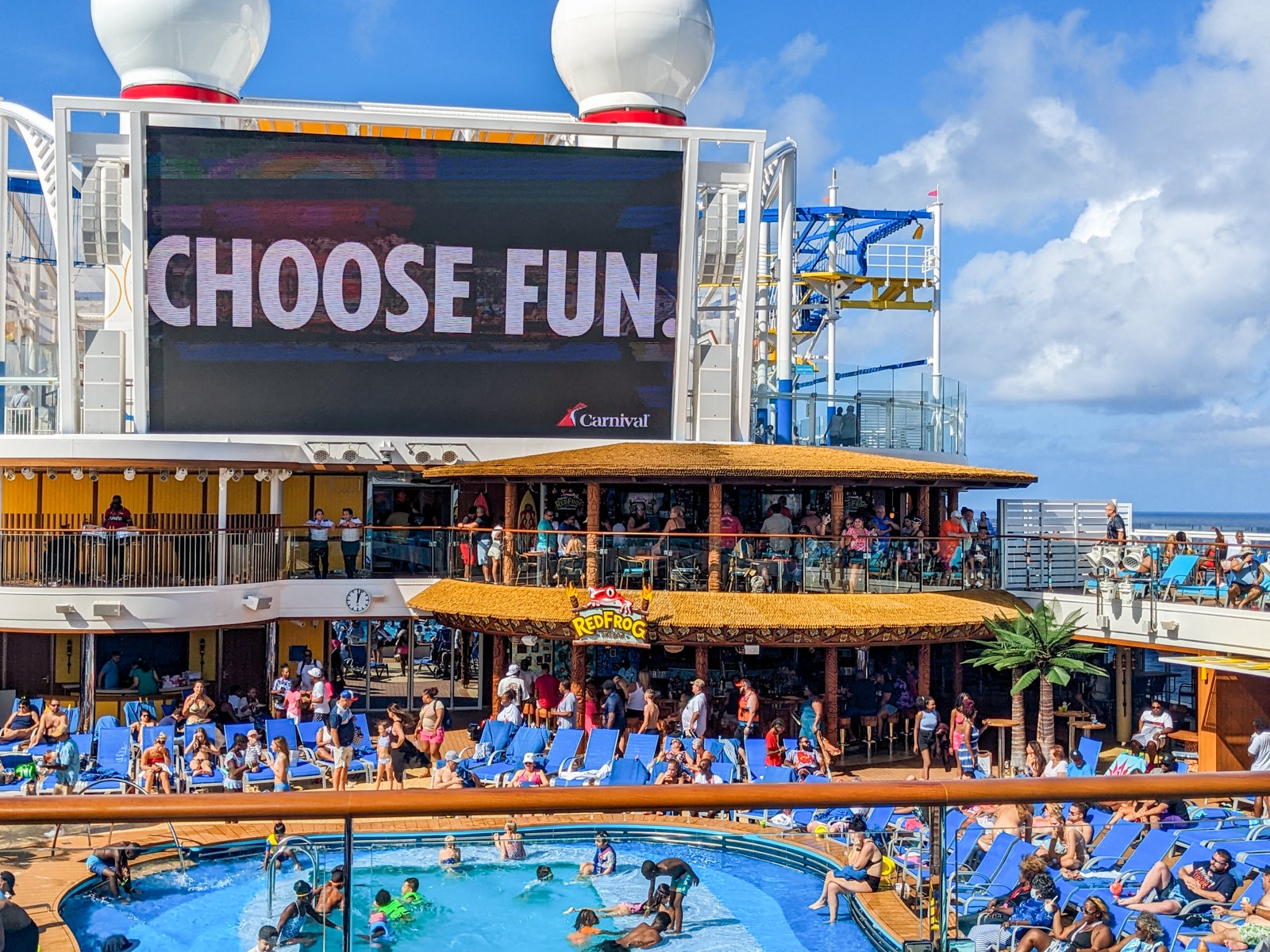 Want to hear a secret that will enhance your upcoming Carnival cruise? How about 43?
Carnival Cruise Line's affordable rates and plethora of U.S. departures means it attracts a lot of first-time cruisers. No matter how much research you do, it's hard to be completely prepared to step onto a ship for the first time.
You learn so much on that first sailing that you may wish you could go back and get a do-over to maximize your time on board and ashore.
For cruise news, reviews and tips, sign up for TPG's cruise newsletter.
As someone who's sailed Carnival for 15-plus years, I have learned a lot of useful information about how to make the most of a "Fun Ship" sailing.
Learn from my experiences — and mistakes. Here are 43 Carnival Cruise Line tips, tricks and hacks that you can use to get maximum enjoyment out of your first Carnival cruise or next vacation at sea.
Book early for low fares, but check the fine print
Carnival's Early Saver fares offer some of the lowest base prices for cruises outside of special promotions. They also come with price protection should the rate drop on your sailing after you've booked.
You can only book these fares on cruises departing more than two or three months from the booking date. However, make sure you read the fine print before committing. If you have to cancel or change your cruise before final payment date, you will be assessed a $50 per-person fee, and your deposit will be returned only as a future cruise credit that expires within the year.
In general, booking cruises early is a good idea to lock in the best rates, as well as the best cabin availability.
Sign up for our daily newsletter
Book shoulder-season cruises to save
Carnival can be a budget-friendly line, but you can save more by sailing at less popular times of year.
For example, Alaska cruises in May and September will be cheaper than peak-season sailings in July. Caribbean cruises in November before the holidays will be more affordable than the same itineraries during winter or spring break weeks.
Take advantage of drive-to cruise ports
Carnival ships embark passengers from more U.S. ports than any other major cruise line.
That means beyond the main ports in Florida, New York and California, you can sail from places like Baltimore, Jacksonville, Charleston, Mobile, Norfolk and Tampa.
Driving to your cruise port can save you money over flying. Also, the older ships sailing from these destinations often have an abundance of affordable cabins.
Be rewarded for your military service
Carnival Cruise Line rewards servicemen and women with a military appreciation gathering on every sailing, a Heroes Tribute Lounge on select ships and military discounts on every cruise.
Active and retired members of the U.S. and Canadian militaries can take advantage of a few extra dollars off their cruise bookings.
Use the best price guarantee to combat buyer's remorse
If the cruise fare drops within 48 hours of your booking, you can take advantage of Carnival's best price guarantee to receive 110% of the difference back in onboard credit.
The line also guarantees shore excursion pricing. The fine print is complicated, so make sure you understand it before submitting a claim.
You don't have to pay all at once
Various cruise payment plans are available for Carnival cruisers who need them.
Carnival EasyPay is available on select cruises booked at least five months in advance. Pay the deposit when you book, and the cruise line will charge your credit card once a month until the cruise is paid in full, with no added fees.
Alternatively, travelers can book their cruise and pay using Financing Powered by Uplift. It's essentially a loan that you can pay back over up to 18 months.
Earn more on your purchase when you pay with a rewards card
A cruise can be an affordable vacation or a hefty investment, so make sure you make the most of your purchase.
Book your Carnival sailing with a credit card that earns points, miles or cash back. Even better, use a card that earns extra rewards on travel purchases.
If you're in the market for a new card, apply for one before you book your vacation at sea and apply the cost of your cruise toward your minimum spend to earn the signup bonus.
Research your ship before you commit to it
The oldest, smallest ships in Carnival's fleet are the 2,130-passenger Carnival Elation and Carnival Paradise. The newest, largest vessel is the 5,282-passenger Carnival Celebration.
All of the line's cruise ships, built over decades, do not offer all of the same public spaces, restaurants and cabin styles. Make sure you look up information about what your ship offers before booking. You don't want to get excited about a specific restaurant or onboard roller coaster only to discover it's not available on the ship you booked.
Protect your vacation investment with insurance
Life is unpredictable. A snowstorm, illness, car accident or flight delay could all cause you to miss your Carnival cruise.
If it would be a hardship to lose your cruise payment or pay out of pocket for last-minute travel changes, make sure you purchase travel insurance from a third-party provider to protect your vacation investment.
If you have pre-existing medical conditions, you'll need to sign up for a plan within a few weeks of booking your cruise.
Take advantage of stockholder benefits
Do you own 100 shares of stock or more in the Carnival Corporation? Cruise line stockholders are entitled to receive an onboard credit of $50 to $250, depending on the length of your cruise.
Alert the line at least four weeks before your sail date to request the credit. Once on board, you'll have free money to spend on drinks, specialty dining, shore excursions or souvenirs.
Book your drinks package before you sail
A beverage package can be a great way to save on your bar bill if you typically order a lot of extra-fee sodas, beers and cocktails when you travel. Carnival Cruise Line has one of the most affordable beverage packages in the industry. Add it to your reservation before you cruise, and you can save 10% on the package price.
Book shore excursions in advance
You won't save any money by booking your shore excursions pre-cruise, but you will be able to lock in a spot on the tours you most want to take.
The most popular tours often sell out, especially ones with limited space (such as snorkel trips on small boats). You can always cancel if your plans change. Just do so more than 24 hours prior to sailing in order to get a full refund. Cancel on board and you'll be subject to a 25% cancellation fee. Tours canceled within 24 hours of arriving in that port are not eligible for any refunds.
Book specialty dining before you sail or as soon as you board
Carnival offers amazing free food, but its specialty restaurants are also worth the splurge if you're looking for variety or a date night out.
Its teppanyaki venues are hugely popular and often book up. If you want to make a reservation for an extra-fee eatery, you will want to reserve your spot as early as possible.
If you can, make restaurant reservations online as soon as you can after booking your cruise. If not, get on the ship as early as possible and reserve your table as soon as you get on board. Otherwise, you'll find yourself eating at 9 p.m. or missing out on the dining experience entirely.
Arrive a day early
When you fly or even drive to your cruise port on the day of your sailing, you're taking a risk that flight delays or traffic will cause you to miss your ship's departure.
It's always safer to build in some buffer time by planning to arrive in your embarkation port city the day before your ship is scheduled to set sail. It's an added cost, for sure, but it means you'll be less stressed going into your cruise vacation. You might also be able to explore a little in town before you board.
Choose an early arrival time
Like many cruise lines these days, Carnival attempts to make the boarding process less chaotic and crowded by assigning cruisers boarding time slots – usually half-hour windows. While you won't be turned away if you turn up late (unless you're so late that embarkation has ended), you won't be allowed in the terminal if you show up early.
If you want to make the most of your time on board, choose an early arrival time by checking into your cruise as soon as possible. That way, you can be one of the first people on board and have extra time to make reservations, eat lunch before the crowds come and enjoy top-deck attractions before everyone else discovers them.
Pay more to get to the fun first
Suite guests and high-level members of Carnival's VIFP Club loyalty program receive extra perks and priority that average cruisers do not.
However, you can buy your way into a better cruise experience with Carnival's Faster to the Fun program. Perks include access to priority boarding on embarkation day, early access to your cabin to drop your bags, expedited luggage delivery, priority access to the guest services desk, priority dining reservations, priority boarding of water shuttles from ship to shore and flexible disembarkation options.
Pack bathing suits and closed-toe shoes in your cruise carry-on
Most cruisers hand their larger suitcases over to the porters at the cruise terminal, and the suitcases are delivered to their cabins later in the afternoon. Be smart about what goes in the bag you'll carry on board, so you can make the most of your first day on the ship.
Pack a bathing suit so you can hop in the pool, hot tub or water slides before they get crowded, and bring closed-toe shoes so you can try out Carnival's ropes course, roller coaster or elevated bicycle ride. You'll also want to carry electronics and valuables, and important medications on board with you as well.
Don't overpack — Carnival cruises are casual
We know you want to take all your fun outfits on your vacation but overpacking means lugging around heavy suitcases and potentially paying extra to check multiple bags. A Carnival cruise is a casual affair, so it's easy to keep things simple and not overpack.
According to Carnival's dress code, jeans and nice shorts (i.e. not gym shorts or cut-offs) are acceptable dinner attire on most evenings.
A couple of evenings will be deemed Cruise Elegant, but you don't need a tux. Just look dressy, and you'll be fine. We've all seen people wear jeans on these nights, and no one turns them away. Or, eat at the buffet, where it's always casual.
Pick one color scheme so you don't need as many shoes. Also, feel free to wear items more than once — you'll never see most of these people again anyway.
Bring your own toiletries
Carnival cruise ships provide the bare minimum of toiletries — bar soap to wash your hands, dispensers of generic shampoo and body wash in the shower.
You'll be better off bringing your favorite skin and haircare brands. You'll also want to bring a first aid kit with common over-the-counter medicines, bandages, feminine hygiene products and aloe cream for sunburns.
In a pinch, you can usually purchase these items on board, but they'll be overpriced and restricted to only a few products.
Pack these other key items for your Carnival cruise
We know you're good with sunscreen and underwear, but there are a few cruise-specific items new cruisers might not think to add to their cruise packing list.
Carnival cabin walls are magnetic, so bring magnetic clips and hooks to keep baseball hats, lightweight jackets and shore excursion tickets off the desk and couch and neatly hung on the walls.
Lanyards are ideal, especially for little kids, to keep your cruise card close when your clothes don't have pockets. Pack towel clips to keep your pool towel from blowing off your lounge chair. Pick fun designs to readily identify your chair in the sea of sunbathers.
Bring your own beverages
Port and ship security will shut you down if you try to smuggle most alcoholic beverages on board.
However, Carnival does allow each guest to bring 12 cans or cartons of nonalcoholic drinks (like soda, juice or seltzer), as well as one bottle of wine. This can save you money if you don't buy a drinks package. You will be charged a $15 corkage fee if you wish to drink your own wine in an onboard restaurant or bar.
Download the Carnival HUB app
The Carnival HUB app is essential for planning your cruise both before and after you're on board. It allows you to make reservations for dinner and purchase tours, spa treatments and onboard Wi-Fi.
It allows you to view the daily schedule of activities and create a personal schedule of your favorites, peruse menus for onboard restaurants, check your onboard bill and look up deck plans of your ship. You can also order food delivered to your poolside lounge chair and text your friends for a nominal fee.
The app is free, and you do not need a cruise ship internet plan to access it.
Keep your phone in airplane mode
You'll use your phone for all sorts of things on a Carnival cruise — snapping photos, scanning QR codes to pull up menus and using the HUB app.
Purchase a Wi-Fi plan, and you can text, browse the internet and post to social media. However, you must remember to put your phone on airplane mode as soon as the ship sets sail. Otherwise, your phone will switch to satellite roaming, and you'll be charged an expensive fee for data and phone use while at sea.
Book the Bolt roller coaster soon as you board
Bolt is Carnival's new roller coaster attraction found on Mardi Gras and Carnival Celebration. The thrill ride is tons of fun, but a maximum of four people can ride it at any one time. Reserve a spot as early as you can to make sure you get to try the attraction.
Because the roller coaster cannot operate when it's especially windy, the top-deck ride often gets shut down on sea days. Choose a port day for your turn on the coaster, or book a spot on the first sea day, so you have time to rebook if the attraction closes before you can ride it.
Request tables early for open-seating dining
When you want to eat at a non-reservation sit-down dining venue for breakfast and lunch (and dinner, if you've chosen Carnival's Anytime Dining plan), you must request a table on the HUB app, and you'll be alerted when one is ready.
Sometimes a table is ready right away. However, if you're aiming for a popular restaurant at dinner, you may be in for a wait.
Instead of booking immediately when you want to eat, request your dinner table 30 minutes early, especially if you want to eat between 6 and 7:30 p.m. At worst, you'll get a spot a little earlier or later than you desire, but you won't be forced to eat at 5 or 9 p.m.
Ask for a real menu
Carnival has gone digital with restaurant and bar menus. You can find them on the HUB app or by scanning the QR codes set on every table.
However, if you left your phone in the cabin or your eyes can't take the small print, ask for a traditional paper menu. The bars and restaurants always have some on hand.
Don't miss the sea day brunch
One of Carnival's best-included meals is the sea day brunch, offered all morning long on days with no port stops.
The wide menu runs the gamut from traditional breakfast items to more savory lunch entrees and includes menu items you won't find on other days. If you don't get to try every dish you'd like, don't worry; you can always come back the next sea day.
You can sit down for lunch at specialty restaurants
At lunchtime, most Carnival cruisers flock to the line's counter-service venues — Guy's Burger, Shaq's Big Chicken, the pizzeria, the deli counter and the buffet.
However, don't forget about sit-down options, many of which are free. Both Cucina del Capitano and Chibang! offer complimentary lunches, or you can enjoy Emeril's New Orleans fare or sushi for an extra charge.
Take your little kids for breakfast with Dr. Seuss
Once per cruise, Carnival transforms a section of one of its main dining rooms into a Dr. Seuss-themed wonderland and invites families to dine on whimsical morning fare.
Kid-friendly music plays in the background and favorite Seuss characters come out to pose for photos. The Green Eggs and Ham Breakfast (and, yes, you can order that famous storybook meal) does cost extra. Make reservations early in the cruise via the HUB app. This one's a must for the preschool set, but older kids might be too cool for Seuss school.
Look for breakfast venues beyond the buffet
Carnival ships have many overlooked breakfast spots that can make dining a pleasure when the buffet is packed.
You can find a buffet outpost of breakfast staples at Guy's Pig & Anchor Smokehouse, eggs and biscuits at Big Chicken and breakfast burritos at BlueIguana Cantina. Or, pick up a ready-made bite with your coffee at JavaBlue Cafe.
Ask for off-menu veggie burgers at Guy's Burger Joint
Guy's Burger Joint is an homage to the carnivore. Order up patties made from bacon or burgers covered in chili.
However, if you lean toward a more plant-based lifestyle, you can still indulge in burgers topped with onions and mushrooms from the toppings bar.
It's not on the menu, but you can request a veggie burger, and the dining staff can heat you up a meatless burger (with or without cheese). It might take a few minutes longer than the ready-made cheeseburgers, but it's worth the wait.
Don't miss the dinner show
Carnival's dining room staff is an energetic lot, and they strut their stuff in nightly song-and-dance routines in the ship's main restaurants.
It is perfectly acceptable to get up and dance along with them or wave your napkin to the beat. (But please, shake the crumbs out first.) Some crew members are more talented dancers than others, but everyone loves to join in the fun.
You don't have to finish your bottle of wine
It's always cheaper to buy wine by the bottle than by the glass, and Carnival's restaurants are no exception to this rule.
However, if you think you might want a glass or two with dinner on several nights, go ahead and order that bottle. If you don't finish it, Carnival's wait staff will save it for you, and you can request it on another night.
They'll even pass the bottles from one restaurant to the next, so you can order something special in the steakhouse and finish it in the main dining room the next night.
Say no to the souvenir glass
Many fun drinks come in souvenir glasses, especially at Carnival's poolside bars. What you're going to do with a container that's shaped like Carnival's iconic split funnel once you're back home is anyone's guess.
Instead of cluttering up your suitcase with souvenir cups bound for the dusty back corners of your cabinets, ask for the same drink in a regular glass. It will also shave a buck or two off the cost of your drink.
Bring refillable bottles
Don't waste money and landfill space on endless bottles of water on your Caribbean cruise. Instead, bring a reusable water bottle and fill it up at the buffet or in your cabin each morning.
In the same vein, only coffee you pay for comes in a to-go cup. Bring a travel mug to get complimentary tea and coffee from the buffet and take it with you wherever you go on board.
Use your loyalty benefits
Free bottled water and cocktails, a special chocolate dessert, complimentary laundry and free specialty dining are some of the perks you can enjoy when you gain higher tiers of status in Carnival's VIFP Club loyalty program.
While some perks may be delivered to your cabin (such as souvenir gifts and special event invites), others you may need to seek out. Read up on which perks you're eligible for and be sure to take advantage of the money-saving offers.
Don't miss the Towel Animal Takeover
Once per cruise, often on the last sea day, Carnival's room stewards really work their magic by "taking over" the pool deck with their towel animal creations.
Stop by the pool around breakfast time and you'll be amazed to find a different towel animal on every lounge chair, plus some extra-large critters huddled around the pools and hot tubs. It's a fun photo opp not to be missed.
Line up early for shows
Carnival's comedy shows and musical numbers in the Celebrations Central venues on its newest ships often have more demand than seats available. If you want to guarantee a spot at a specific show, or get a preferred seat without blocked sightlines, you'll need to line up early.
Don't think you can sneak into the end of the show before and stay through to the next one. Carnival staff will clear the theater before inviting the next crop of audience members in to find a seat.
Don't miss the live music
Carnival puts special emphasis on live music, and you can often find a solo artist or small ensemble performing in the atrium, casino, bar areas or by the pool. If you like pop songs by piano, the piano bar always attracts an enthusiastic crowd. Country, classical and covers — you can make your way through the musical gamut as you bar hop at night.
Take your little ones to Camp Ocean
Camp Ocean, Carnival's kids club, takes children as young as 2 and doesn't mind if your kid is still in diapers. This is unusual in the cruise world, as most kids clubs on other lines start at age 3.
In addition, the extra-fee Night Owls group babysitting (from 10 p.m. to 1 a.m.) welcomes junior cruisers as young as 6 months. Parents can use these services to get a break or a night out away from their toddlers and tykes.
Watch sailaway from a secret deck
On many Carnival cruise ships, you can find small outdoor seating areas at the forward end of several of the cabin corridors. These tucked-away public verandas of sorts are not well known, so you can often have them to yourself during scenic cruising, such as sailaway or when you're approaching a port.
You'll know you're getting close to a secret deck when you find a door with a porthole window at the end of a cabin corridor, instead of another hallway with doors leading to forward-facing cabins. The doors are sometimes locked at night or in high winds, so try again later if you can't get through.
Don't double tip
Carnival adds an 18% service charge to your bill whenever you order a drink at a bar or pay for a meal at an extra-charge restaurant. Gratuities are automatically added to spa bills, as well.
You do not need to tip above this, though many passengers get confused or add a tip because they're used to always adding one back on land. Tip extra for impressive service if you like, but do not feel compelled to add an additional gratuity above the automatic one.
Seek out shade past the cabanas on Half Moon Cay
Half Moon Cay, Carnival's private island in the Bahamas, is a great stop for a beach day. Its shores are full of soft, white sand, but there's not much shade to be found for those of us who burn easily.
You can pay extra for a clamshell to cover your lounge chair or to rent a cabana. If you seek shade without a price tag, though, you do have an option — but you have to walk for it.
Head past the bars and cabanas and main rows of lounge chairs to the far side of the beach. Here's you'll find a few hammocks tucked among the trees and loungers you can pull into the shade. (You'll also find the off-duty crew hanging out here as well.)
Planning a cruise? Start with these stories: