30 Best European cruise tips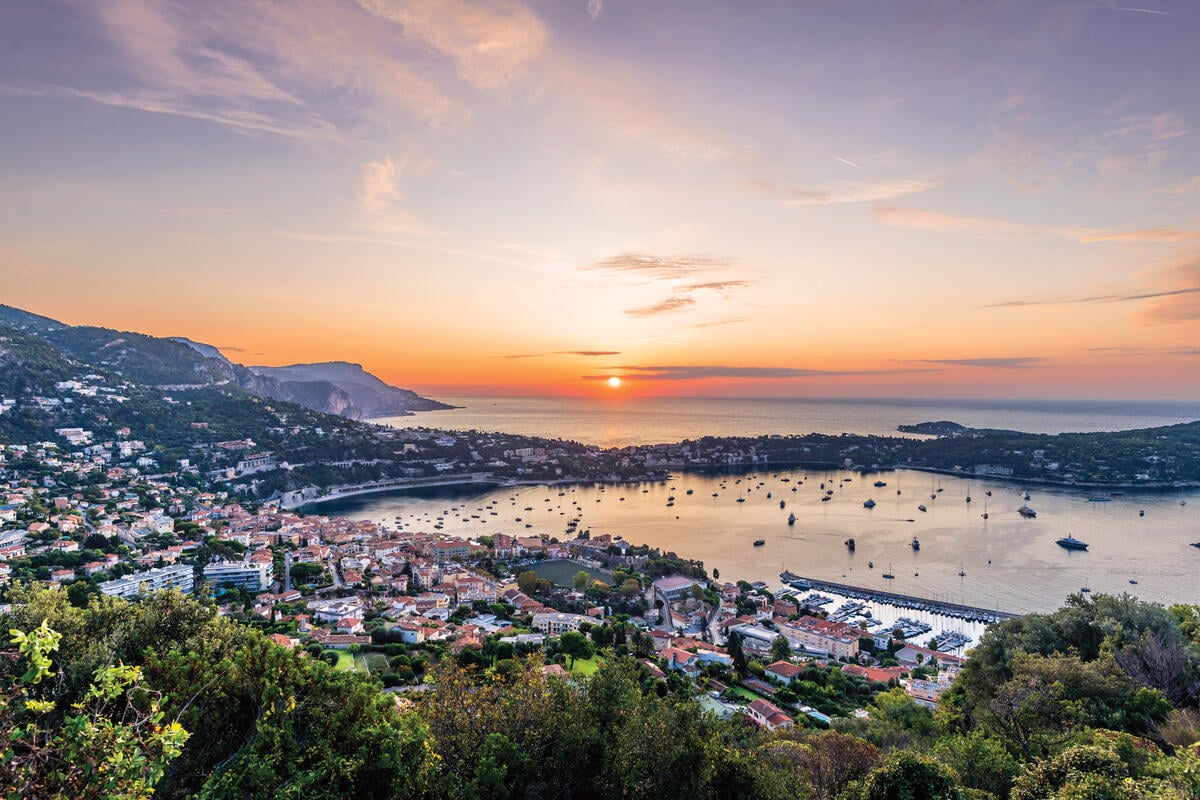 There's not much more exciting than booking a Royal Caribbean cruise, especially when it's a cruise to Europe. Spending your days exploring historic, charming ports under the warm Mediterranean sun is an experience every cruiser should experience at least once.
If you've never cruised to Europe, you'll want to research the ins and outs of a European cruise to avoid making rookie mistakes not only in the planning process, but once onboard the ship.
Knowing which shore excursions to book, which itinerary to select, and which ship to sail on can help make your European cruise experience worry-free.
Here are our top 30 European cruise tips you should use to plan the cruise vacation of your dreams.
Shore excursions aren't always necessary
Don't assume you have to book shore excursions on a European cruise. Most European cruise ports (or surrounding areas) are walkable and charming, meaning you can have a nice day simply walking around without a plan.
In Mykonos, Greece, for example, cruise ships tender directly into town, meaning you can walk around the winding, white cobblestone streets on the island and discover local restaurants, shops, and attractions–all without spending extra on a shore excursion.
Related: 7 ways to have a great time in port without a cruise ship shore excursion
However… shore excursions are better for certain ports
While most ports are walkable directly from the ship or with a short shuttle ride to town, there are several European cruise ports which require traveling long distances (1-2 hours) each way to reach the city.
Rome, for example, is located an hour and a half from the port of Civitavecchia. Many cruisers will opt to book an excursion through Royal Caribbean as opposed to traveling to Rome independently due to the distance required.
Related: What happens if you miss your cruise ship?
If a train is delayed or you encounter traffic on the journey back from Rome, you'll risk missing the ship. A Royal Caribbean excursion will provide you added protection in knowing that if your tour runs late, the ship will wait for you before leaving.
Understand that European cruises aren't always as relaxing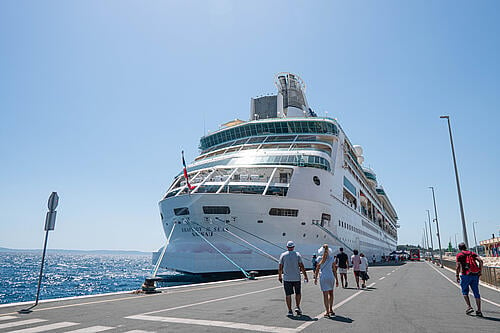 Caribbean cruises are the ultimate relaxing getaway. Waking up late, ordering breakfast to your balcony, and spending the day at the pool will have anyone rejuvenated by the end of the week.
European cruises, on the other hand, tend to be busier. Many passengers wake up early and spend between 8-12 hours in port. There tends to be a lot of walking in European cruise ports. When combined with the strong summer heat, this can quickly make you feel exhausted.
Having such a busy schedule isn't the case for all itineraries, and you certainly don't have to disembark the ship at every port or spend 10 hours on shore each day, but if you want to make the most of your time in Europe, you might find yourself needing another vacation after the cruise is over!
Consider the distance from port to city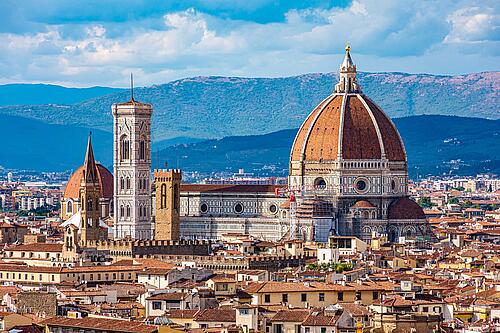 Before booking a cruise itinerary, make sure you understand how far a port is located from the destination city.
Cruise itineraries will list Paris as a port of call, for example, despite the port being in Le Havre, France, which is over 2 hours away from the city center of Paris! The same goes for cities like Rome, Florence, and Marseille.
To check if the ports your itinerary visits are far from the destination city, look for parenthesis next to the port's name. Rome will be listed as Rome (Civitavecchia), Paris as Paris (Le Havre), Nice as Nice (Villefranche), etc.
While it's certainly manageable to travel 30-90 minutes into port each way every day of the cruise, if you would rather walk off the ship and explore a port with no hassle, it might be better to choose a different itinerary.
Don't be afraid of crowds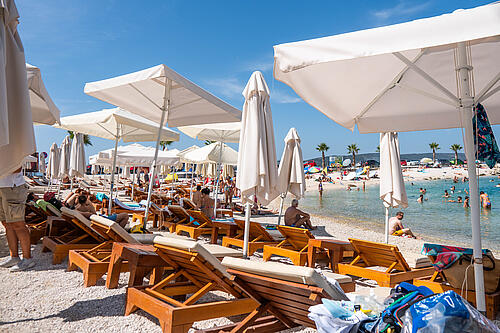 Europe is a busy travel destination in the summer not only with cruise ship tourists, but with land-based visitors as well.
You'll find that many tourist attractions, such as the Acropolis in Athens, Pompeii in Naples, and the Sagrada Família in Barcelona, are packed with tourists, and you'll have a hard time finding peace and quiet in the busiest cruise ports.
Don't let this deter you from booking a cruise to Europe, though, as these attractions are popular for a reason. Witnessing the stunning architecture of the Duomo in Florence and a sunset from Santorini are truly remarkable experiences and worth any crowds you may encounter.
Pick ports with fewer crowds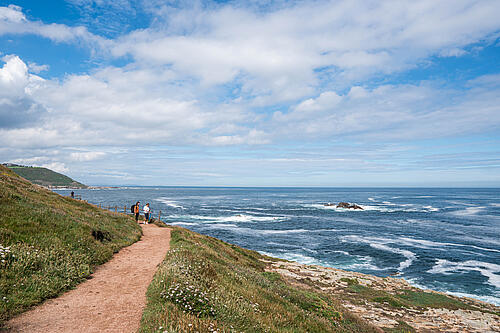 If the idea of visiting tourist attractions in huge, busy cities sounds like a nightmare, however, there are plenty of ports that receive far fewer tourists than places like Mykonos and Dubrovnik.
Look for cruise itineraries visiting smaller, lesser-visited destinations like La Coruña in Spain and Bari in Italy. While there will still be plenty to see and do in these ports, you may be the only cruise ship in port, meaning you can enjoy the day with fewer crowds.
Be aware of dress codes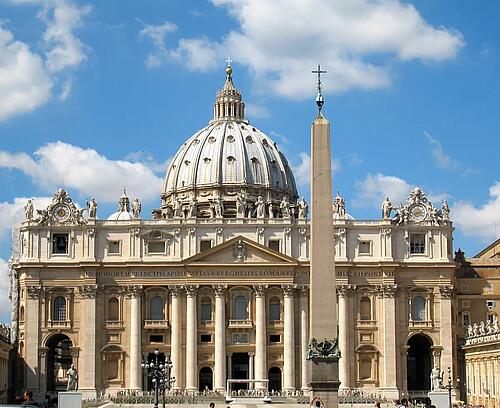 If you booked an excursion that visits the Vatican in Rome or other historic churches, be aware of any required dress codes.
The Vatican, for example, has the following dress code which should be adhered to by all visitors:
Shoulders must be covered
Do not wear clothing that exposes the knee
Remove hats
Cover offensive tattoos or religious symbols
Ripped/see-through clothing is discouraged
You don't necessarily have to spend the whole day in Rome wearing pants and a shirt that covers the shoulders, but be sure to pack a change of clothes if you will be visiting the Vatican.
Relax with a great view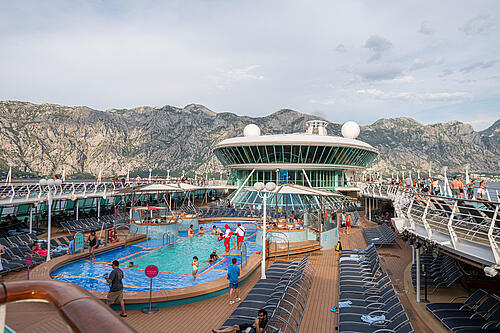 With so much happening in port and onboard, don't forget to take time to relax with a beautiful view.
Cruises to Europe visit gorgeous destinations, from sailing through the fjords of Norway to the dramatic landscapes of Montenegro. You'll often find a wonderful view out the window if you take a look, so don't pack your day full of activities with little time left to relax.
Instead grab a coffee or cocktail and find a lounge to sit back and relax with the view.
Fly to your departure port 2 days early
If you're flying to Europe from North America, you'll find that most flights arrive in Europe early in the morning. While you may initially think that the schedule works perfectly as you can leave the airport and immediately head to the port, this is a terrible idea.
It's no surprise that air travel is unpredictable. Delays, cancellations, weather problems, technical errors, and more can cause even a direct flight to turn into a nightmare. Trying to fly to your European cruise departure port the night before your cruise and arrive on the morning of your cruise is extremely risky.
Related: Why you shouldn't fly to your cruise the same day it begins
You'll also arrive severely jet lagged, too, which can make you feel miserable on your first day in Europe. No one wants to spend the first day of their cruise feeling tired and missing out on a cruise experience they waited so long to enjoy.
Instead fly to your departure port in Europe 2 days before the cruise begins. If your cruise leaves on a Friday, for example, fly to Europe on Wednesday night. You'll arrive Thursday morning, giving you one full day to recover from jet lag before getting onboard the following day.
Spend time in your embarkation/disembarkation port before or after the cruise
Many European cruise itineraries embark in some of the world's most historic cities, including Rome, Athens, and Barcelona. These cities are filled with some of the most popular attractions in the world, delicious cuisine, and dynamic cultures.
If possible, plan to arrive at least 1-2 days prior to your cruise to ensure you have time to see the city's top sights and attractions. You don't want to end up with only ~3 hours total to spend in Rome before your cruise and miss out on sights like the Colosseum and Pantheon!
Bring a theft prevention daypack
Bringing a daypack is essential on any European cruise, but you'll want to be wary of pickpockets, especially in busy tourist areas. Losing a phone, wallet, or passport is not part of anyone's vacation plan, but it does happen to some passengers.
Consider purchasing a backpack with theft protection. These backpacks have several features to deter pickpockets, including "secret" pockets that are against your back or zippers with a lock feature to prevent easy access to what's inside.
Speaking of pickpockets, NEVER put your phone or wallet in your back pocket while visiting port as this makes you an easy target for being pickpocketed.
Get tender tickets early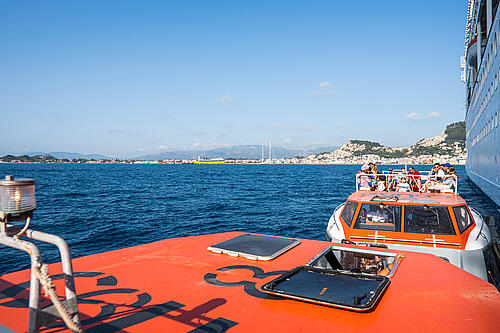 Some smaller cruise ports in Europe are tender ports, meaning there is no dock where you can walk off the ship and onto land. Instead, these ports use small tender boats to bring passengers from ship to shore while the cruise ship anchors offshore.
To board a tender boat, you need a tender ticket, each of which has a number on it to determine when you're able to disembark the ship for the tender boat.
These tender tickets become available at a specific time onboard, which will be announced on the loudspeaker or in the Cruise Planner. Tickets are complimentary.
Be sure to pick up a tender ticket right away to avoid lengthy wait times to board a tender boat to shore. The last thing you want to happen is be waiting around on the ship for an available boat when you have limited time in port!
Taste local cuisine in every port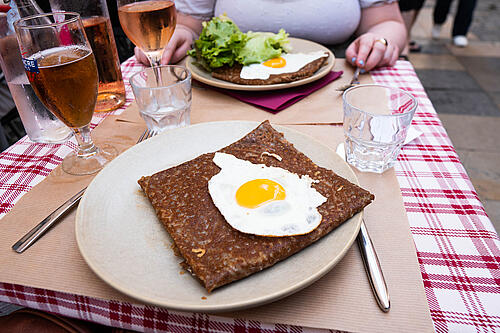 While the food you'll find on a Royal Caribbean cruise is excellent, don't skip out on tasting local cuisine just to save a few dollars and eat on the ship.
Tasting fresh pasta and pizza in Italy, crêpes in France, paella in Spain, and moussaka in Greece is well worth the extra cost and it might end up being the best meal you've ever had!
Related: Must-eat foods on a cruise to Italy
When looking for a restaurant in your cruise port, don't eat directly in the tourist center. While you may still have a nice meal sitting across the street from the Colosseum or Duomo in Florence, you'll likely pay a premium for food that is half as good as something you'd find a few blocks away.
Don't try to fit too much in one day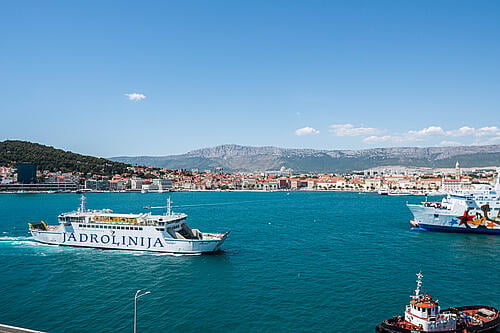 There's so much to see on a European cruise that it can be overwhelming to fit everything in one day. From churches, museums, hikes, beaches, monuments, and more, it's impossible to see everything.
Instead of spending your day on a strict timetable with little free time, choose just one or two things you'd like to experience in each cruise port. Once you do those two things, spend the rest of the day walking around, visiting a local cafe or restaurant, and taking in local culture.
It's easy to get burned out with sightseeing on a European cruise, and you'll probably have a better time fitting in just a few activities each day as opposed to a full, rigid schedule.
Pick the best cruise ship for you
There are ships of all sizes sailing in Europe each summer, each of which has a unique layout, onboard amenities, dining, and entertainment options. 
If you're looking for the newest and biggest ship, book an Oasis Class cruise ship for your European cruise. Royal Caribbean sends one Oasis Class ship to Europe each summer, and these ships are unparalleled in terms of onboard experience, with countless restaurants, activities, and onboard entertainment.
If you'd prefer a more personal feel and having the ability to visit a wider range of ports, book a cruise on a smaller ship. These ships have far fewer passengers than Royal Caribbean's big cruise ships, and passengers looking for a cruise experience without the bells and whistles will find that small cruise ships fit their needs for a cruise vacation.
Related: 12 differences between the big and small Royal Caribbean cruise ships
The ship isn't as important as the destination
Unlike on a Caribbean cruise that may have several sea days, European cruises have little time at sea and more time in port. European cruises are more about visiting amazing destinations as opposed to sailing on a specific cruise ship.
After a busy day in port, you'll find yourself tired and ready to have a nice meal, watch a show, and go to bed. You won't always have the energy for things like water slides, zip lines, and bumper cars.
Therefore it's best to pick a European cruise based on itinerary. If you're dying to visit Ireland but the itinerary is only offered on a smaller ship, don't hesitate to book the cruise.
Figure out the best time to cruise to Europe for your preferences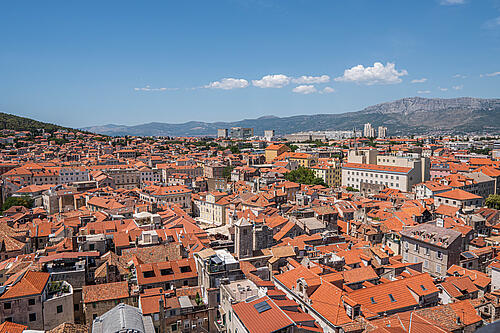 Royal Caribbean's European cruise season runs from April to October each year, and each month comes with its own pros and cons.
Spring and fall will bring lower temperatures, fewer crowds, and lower prices, but some itineraries are not available during certain months of the year.
Summer, on the other hand, will be warmer, busier, and more expensive, but this schedule works best for those traveling with kids still in school.
Related: What is the best time to cruise the Mediterranean?
European cruise itineraries vary greatly
There are a ton of cruise itineraries offered in Europe, from island hopping Greece to visiting the British isles and Canary Islands. Before you pick a cruise, research which itineraries are available and pick the one that interests you the most.
Here are the main European cruise itineraries you'll see offered by Royal Caribbean:
Western Mediterranean
Greek Isles
Greek & Adriatic
Spain & France
Greece, Israel, and Cyprus
Norwegian fjords
British Isles
Canary Islands
Northern Europe & Russia (currently paused)
Don't limit yourself to a Western Mediterranean cruise itinerary
A cruise to the Western Mediterranean is one of the most popular itineraries for those cruising to Europe for the first time. After all, visiting ports like Florence, Barcelona, and Rome are on many passengers' bucket lists, and these cities are definitely worth visiting at least once in a lifetime.
Related: Western Mediterranean cruise guide
Yet there are so many other European cruise itineraries to choose from, so take a look at other itineraries before choosing the one you've heard the most about. You may find that a cruise to Norway or Greece interests you more than visiting Spain, so don't be afraid to do more research before picking a cruise itinerary.
Pick a port-intensive itinerary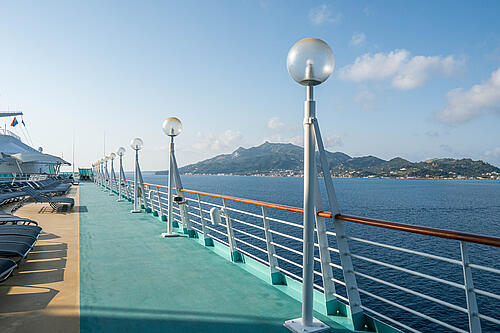 If you're traveling all the way to Europe from North America or beyond, try to find a port-intensive cruise itinerary. You'll want to make the most of your time in Europe and see as many ports as possible.
Luckily, most European cruise itineraries are already port-intensive, visiting 5-6 ports in one week in addition to an embarkation/disembarkation port. It's not uncommon to have only one sea day (or no sea days).
While this can make for a busy, tiring cruise, it's well worth having a port-intensive itinerary to experience the most you can during your short time in Europe.
Ride a bike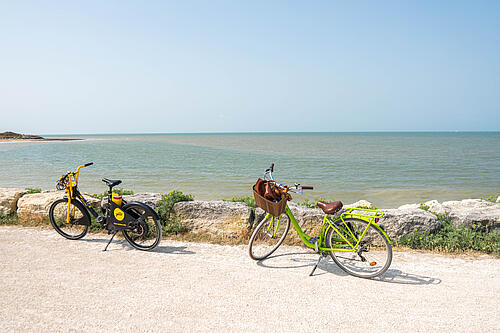 Many European countries have excellent bicycle infrastructure, and exploring a new port on bicycle can be a nice way to see the country while creating your own budget-friendly shore excursion.
Cycling will be more pleasant in smaller ports of call or those with safe, car-free bicycle paths, such as La Rochelle, France or Lisbon, Portugal.
If you're interested in cycling while in port, research which bicycle rental companies are available or if the city has a public bicycle sharing program available.
Consider My Time Dining
European cruises are busy, with many port days running longer than what you'll find in other regions of the world. It's not uncommon to see 12 hour port days on the days with long travel time into the city (Rome, Paris, etc.).
If you're planning your days in port and realize that you won't always make it back to the ship in time for traditional seating in the Main Dining Room (especially the early seating at 5:30), consider choosing My Time Dining. This way you'll have more flexibility on when you eat dinner each night and you won't be worried about missing your reservation.
Related: Royal Caribbean My Time Dining versus Traditional Dining
Book your European cruise with a travel agent
Just like our advice for any other Royal Caribbean cruise, be sure to book a European cruise with a travel agent.
A good travel agent will cost you nothing extra and can save you time and money leading up to your cruise. It's not uncommon for travel agents to offer special rates that you cannot find on the Royal Caribbean website and extra onboard credit.
In addition, travel agents are available to answer any questions you may have and they will be the ones contacting Royal Caribbean with any problems that may arise. Therefore you won't have to worry about waiting on hold and taking time out of your busy schedule.
Related: 10 secrets Royal Caribbean travel agents wish you knew
Purchase travel insurance
Travel insurance is important to purchase for any cruise as it can provide coverage in case of medical emergencies, travel and airline delays, lost luggage, etc.
It's always better to have travel insurance and not need it than to realize you don't have insurance when you need it the most!
Pack chic, casual clothing for port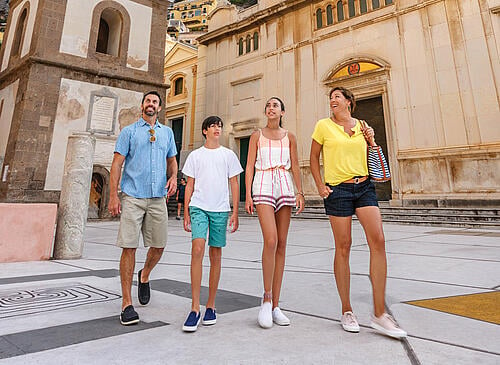 While you're certainly able to spend a day in port dressed in a t-shirt from your favorite sports team and gym shorts, you probably want to pack clothing that is more chic (albeit still comfortable).
Related: What to wear on a Mediterranean cruise
Europeans tend to dress up more than North Americans in their day to day lives, and you'll definitely stick out like a sore thumb wearing clothing like yoga pants and shirts with an American flag pattern.
Consider packing comfortable clothing that looks nicer than what you would wear to the gym. Lightweight sundresses, jumpsuits, and patterned shirts for women can be cute, fun options whereas men may want to pack fitted t-shirts, nice shorts, and short sleeve button ups.
Realize it can get extremely hot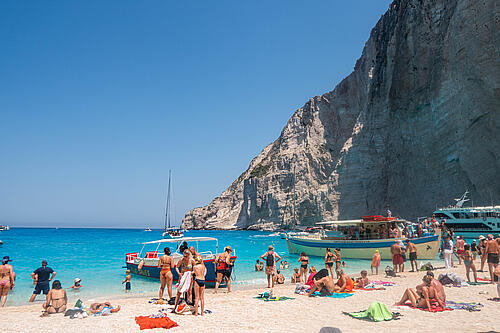 If you're cruising to Europe in the middle of summer, be prepared for the heat. You're unlikely to have any issues on a cruise to Norway or Iceland, but will definitely encounter high temperatures in western and southern Europe.
Prepare for the hot temperatures by wearing lightweight clothing, taking rests in the shade whenever possible, and staying hydrated.
If you follow our tip above about not trying to schedule too much in one day, you'll have plenty of free time to relax in the shade at a restaurant or cafe, giving you time to cool down on the hottest of port days.
Bring comfortable shoes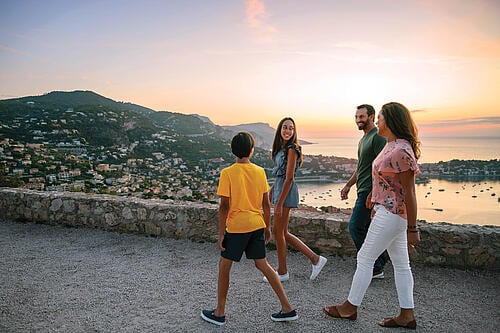 A European cruise often entails a lot of walking, and you'll certainly take more steps in Europe than you would laying on a beach in the Caribbean.
Bringing comfortable walking shoes is extremely important on a cruise to Europe to avoid feeling miserable with blisters and sore feet.
While you don't need to pack the bulkiest tennis shoes for your cruise, be sure to pack shoes you've worn many times before to avoid any mishaps.
Bring euros/local currency
While it's possible to cruise to many places in the Caribbean with only US dollars, you'll want to have Euros (or other local currency) on a European cruise.
Most ports and establishments will accept card payments, but it's recommended to carry a small amount of cash with you ($100-150 in local currency) each day in port.
Be flexible
Flexibility is key when it comes to any Royal Caribbean cruise. Not everything always goes to plan, and you may find that your itinerary changes, you miss a port due to weather, have to visit an alternate port due to a medical emergency, etc.
With the right mindset, you can take these changes in stride and make the most out of the new situation. If your mindset is negative, though, you can easily make this "ruin" your cruise experience.
Stay flexible and you're sure to have an amazing European cruise experience.
Learn a few local phrases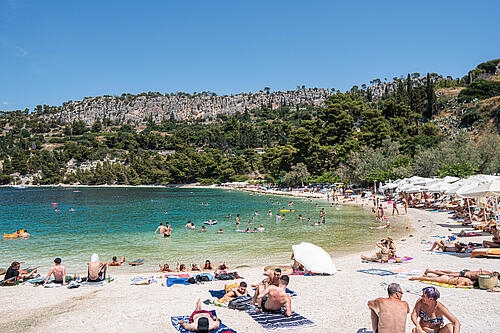 On a European cruise, you'll most likely be visiting many countries in one week, all of which speak a different language. While English is commonly spoken throughout Europe, it's helpful to know a few basic phrases in the language of each country you visit.
Knowing how to say phrases like hello, goodbye, thank you, how are you, how much does this cost, etc. can help make your days in port stress-free.
Planning a cruise? Start here: