20 tricks for cruising cheap on less than $100 per day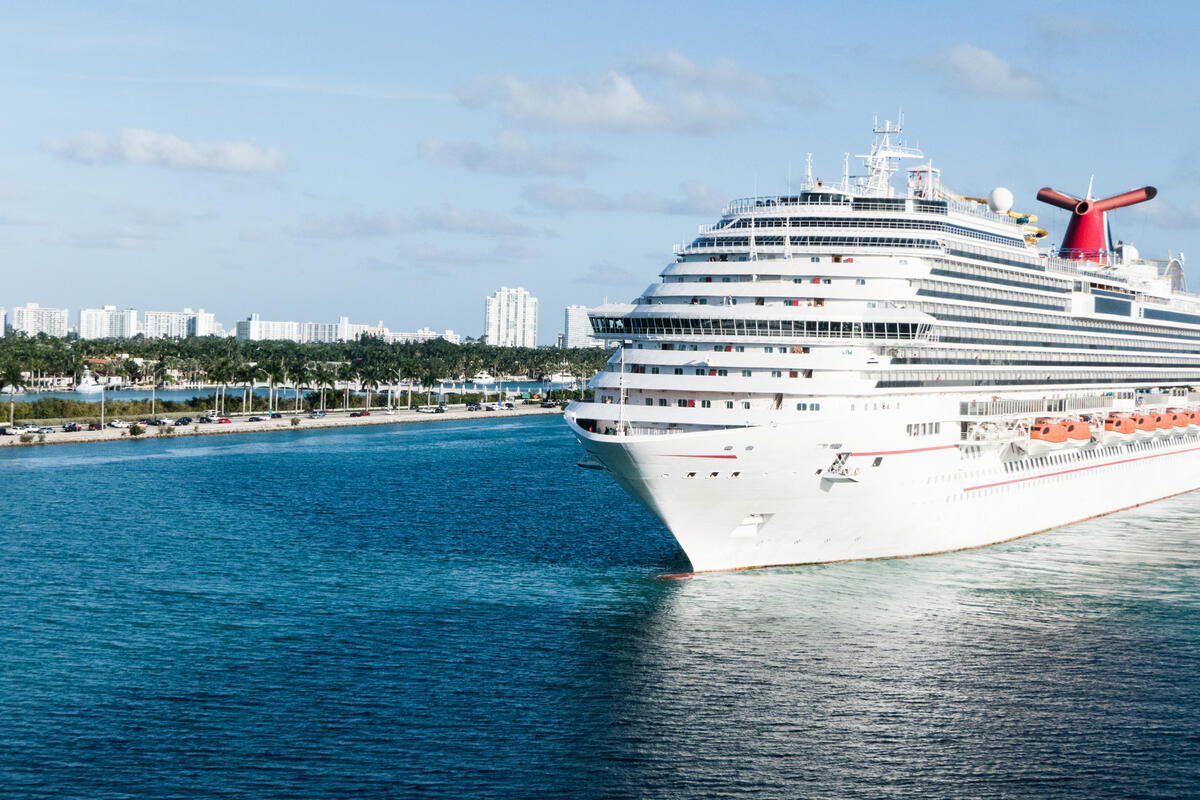 Depending on the cruise line, time of year, ship, and itinerary, the cost of taking a cruise vacation can greatly vary. 
Staying in, for instance, a balcony cabin on the newest ship during the summer can often cost a pretty penny, perhaps over $1,400 per person for a week-long cruise.
Sailing does not always have to be expensive, and it's certainly possible to cruise for less than $100 per person per day. However, planning a cheap cruise vacation does require advance planning and self control once you board the ship!
Here are 20 tips to cruise cheap for less than $100 per day.
Book a cruise during the off/shoulder season
Sailing during a time in which there's less demand for cruises means you can often score better deals than if you were to sail at the height of the busy season, like July or end of December.
Off-season prices can typically be found during these dates:
January (excluding Martin Luther King Jr. Weekend)
February (excluding Presidents' Day Weekend)
May
September 
October
First two weeks of November
First two weeks of December
Unfortunately, the off-season usually doesn't coincide school holidays. If you have the ability to be flexible, though, you'll get much more for your money taking a cruise during these times.
Call an interior stateroom home for your cruise
Balcony cabins are tempting; who doesn't want to wake up to their own private veranda to watch the ocean pass by?
While interior rooms aren't anything fancy, they come equipped with all the same basic amenities as other ocean view and balcony cabins.
As you can see from this Carnival Glory pricing, a balcony cabin for either date in May 2023 is just about double the cost of an interior room!
Sometimes, you can even book a guarantee rate for cheaper, which is when you are automatically assigned your cabin by the cruise line closer to departure.
Of course, this could mean being in what you may deem an "undesirable" location, so it's vital that you are flexible with your cabin assignment.
Sail with more than two people in one stateroom
Cruise staterooms are not known for being the most spacious accommodations. In fact, some of the smallest rooms at sea at only 136 square feet (check out Royal Caribbean's Vision-class ships).
Most cruise lines allow up to four guests per stateroom and often have promotions where the third and fourth guests sail half price or "for free." While nothing is every technically free, splitting the cruise fare between four people instead of two is one surefire way to lower the overall cost of your cruise!
As an example, a 5-night sailing on the Carnival Sunshine departing from Miami, Florida on October 30, 2023 currently starts at $294 per person before taxes, port fees, and gratuities, which are an additional $217.20. Therefore, this fare is technically over $100 per person per day, even if only by a few dollars.
If, however, you were to add an additional two people to the interior stateroom, the price drops to $209 per person. After taxes, port fees, and gratuities, the total per person is less than $100 per day: $78.74
Choose longer itineraries
The total cruise fare might be cheaper on 3- or 4-night sailings, you're likely to find a lower price per day on longer itineraries. 
Currently, a 3-night cruise onboard MSC Seaside departing October 12, 2023 from Miami, Florida totals $609.09, or $101.51 per person per day, for two people after taxes, port fees, and gratuities.
Let's compare that to a 6-night cruise onboard MSC Seascape that departs October 29, 2023 from Miami. This sailing comes out to less $200 more for an additional three nights and costs $767, or $63.91 per person per day, for two people!
In the end, the longer cruise provides a better value per day compared to the 3-night cruise, so if you're able to make a longer cruise work, you'll almost always find a cheaper daily price!
Cruise on older ships
It's tempting to want to sail onboard the newest cruise ships with the most updated amenities and once-in-a-lifetime experiences, but you shouldn't expect them to be cheap.
Sailing on Carnival Cruise Line's newest ship Carnival Celebration for a weeklong Eastern Caribbean cruise in October 2023 would cost two people around $115 per person per day. 
While Carnival Glory might not have all the thrills that Celebration does, it's still a great ship to enjoy a relaxing vacation on! Plus, an 8-night Eastern Caribbean cruise departing in October 2023 costs $98 per person per day. 
Of course, if you're wanting to stay further under $100 per day, you'd want to keep searching for the itinerary that best suits your needs. This was just an example to show how much you can potentially save by choosing to sail on an older vessel.
Consider a transatlantic sailing
Part of the excitement about cruising is getting to visit different places during one vacation. During a transatlantic sailing, you'll have more days at sea, but that doesn't mean that you can't visit some neat ports of call!
Take a 15-day cruise transatlantic cruise onboard Norwegian Epic that departs from New York City on April 22, 2023. The price for two guests including all taxes, port fees, and gratuities is only $88.41 per person per day!
Including the embarkation and disembarkation ports, you would have visited nine different places during this sailing!
Of course, return airfare needs to be taken into consider, but that leads us into our next tip…
Utilize credit card points and airline miles for flights (better yet, cruise close to home)
Let's be honest, airfare prices have gotten ridiculous. A flight that used to be $130 roundtrip is easily double, if not more.
One way to lower to overall daily cost of your cruise is to credit card points and airline miles to assist with transportation. 
One tip when booking via credit card rewards is to transfer them directly to an airline, as you'll usually maximize the value by redeeming fewer points. 
For those who live within driving distance to a port (yes, there are ports outside of Florida!), choosing a sailing that departs close to home could save you both time and money. 
If, for instance, you live in North or South Carolina, Carnival Cruise Line has year-round sailings from Charleston! Depending on your exact location, you might not even have to worry about a pre-cruise hotel. 
Here are some ports outside of Florida that might be worth looking into:
Baltimore, Maryland
New Orleans, Louisiana
Norfolk, Virginia
Charleston, South Carolina
Galveston, Texas
Mobile, Alabama
San Francisco, California
Los Angeles, California
San Diego, California 
Seattle, Washington 
Anchorage, Alaska 
Boston, Massachusetts
New York, New York 
Cape Liberty, New Jersey  
Park off-site 
If you're driving to your cruise port, look into parking options available outside of the terminal itself. 
It might not be as convenient as utilizing the parking garage directly across from the terminal, you can save some money by parking a mile or so away. Plus, many lots offer free transportation to the port!
As an example, Port Canaveral currently charges $17 per day, including the day of arrival and departure. For a 7-day cruise, you'd pay about $120 in parking alone.
Third-party vendor Port Canaveral Parking offers parking for only $11.95 per day. Choosing to park here instead would save you $37, or nearly $7.50 per day!
Don't purchase shore excursions
If you're looking to cruise for cheap, you'll want to just hangout in the port area, rather than purchasing a shore excursion. 
Oftentimes, cruise lines will charge upwards of $50 just for transportation to and from a beach. If you're looking for something more adventurous, like an ATV tour, they can be even more. 
Stick to hanging out in the cruise terminal area. You can usually find shopping, restaurants, and bars (with cheaper alcohol than onboard) without going far!
If, however, you're really set on doing something at least one of the days you're in port, look at the offerings available via third-party vendors, as they will usually offer a more fair price than the cruise lines.  
Book with a travel agent
If you find a cruise that you're interested in, it doesn't hurt to reach out to a travel agent for a quote, but if you've never used a one before, you'll want to ask around and see if any of your friends or family members have any recommendations. 
Sometimes, they'll have a better rate than if you were to book directly with the cruise line, and they might even be able to offer onboard credit, which is just free money for you to spend on drinks, shore excursions, speciality dining, etc. 
If you aren't sure about which cruise line or ship is right for you, they have expertise in these areas, meaning using a travel agent could save you the hassle of researching by yourself. 
Stick to complimentary dining options
When trying to cruise for under $100 per day, it's best to skip the speciality dining that can cost at minimum $20 per person. 
But yoy certainly won't go hungry onboard, even if you opt to only stick to the dining included in your cruise fare. 
Even the smallest cruise ships will have a buffet open most hours of the day (think around 7am to at least 10pm), a main dining room, and one other complimentary venue. 
Of course, newer ships will have even more than that; some have up to ten or twelve included options!
Use Wi-Fi in ports
Very, very few cruise lines offer free Wi-Fi, and internet packages can cost around $15 or more per person per day! 
Instead of purchasing Wi-Fi onboard, considering connecting to free Wi-Fi in your ports of call to stay connected. 
You might have to make a purchase at a restaurant of cafe, but spending $5 on a coffee is better than spending upwards of $105 for the week! 
Some phone plans include international coverage, too. If you have double and triple checked that your plan does, turn off airplane mode in port and use your phone as normal!
Don't try your luck in the casino 
It's easy to fall victim to the "one more round" ideology while inside the casino. If, however, you're trying to stick to a strict vacation budget, you should approach the casino as if you're guaranteed to lose money. 
Would you rather have extra cash to spend around the ship or in ports of call or potentially lose it all in a matter of minutes?
Steer clear of activities that cost extra
The newest ships include some pretty awesome firsts at sea, like the first roller coaster at sea onboard Carnival's Excel-class vessels. 
Riding the coaster, though, isn't included in your fare and costs $15 per person per ride. 
Another example is onboard Royal Caribbean's Quantum-class ships. If you want to ride the North Star on a sea day, it'll cost $20 per person, but it's free on port days!
To stay under $100 per day, it's best to hold off on these activities until next time and stick to all the included things you can enjoy, like hanging out on the pool deck, enjoying various shows, listening to karaoke, and playing trivia! 
Exercise for free at the fitness center
Most cruise ships offer fitness classes for an additional surcharge; however, the fitness center's equipment is in included in your base fare, so you can stay fit and active while onboard for no extra cost. 
There are no limits as to how much time you can spend in the gym, either! 
Avoid the more inclusive cruise fares
It's your vacation, so it makes sense that you'd want to get as much included as possible! Some cruise lines, like Norwegian and Celebrity, have begun advertising more inclusive fares, including things such as speciality dining, Wi-Fi, and alcohol packages. 
Usually, though, the base fare of these rates has been hiked up to offset the cost. 
I found that a 4-day cruise onboard Norwegian Jade sailing January 2024 was actually more expensive than a 3-night cruise onboard Freedom of the Seas the same weekend, even with purchasing the drink package! 
It might be an additional night at sea, but I could not justify the extra cost! 
Limit your alcoholic beverages
Enjoying a fruity cocktail or iced cold beer by the pool is one of the best parts about vacation! It can be one of the most costly parts, too. 
If you're looking to stretch your vacation budget as far as possible, you'll want to exhibit some self control when it comes to alcoholic beverages. 
Drink packages aren't cheap, and sometimes, they can be more than the base cruise fare! If you're buying each drink a la carte, it's easy to get carried away and no notice how much you've spent until you receive the final bill, especially when a single cocktail can cost $10 or more. 
One way to save money when it comes to drinking is to look into your cruise line's policy regarding bringing a limited amount onboard. Royal Caribbean, for instance, allows guests to bring on two 750ml bottles of wine or champagne per stateroom.
Additionally, consider drinking while in port. I was recently in St. Maarten and spent $9, including tax and tip, on a frozen beverage at a bar within eyeshot of the ship; I know this would've costed about double onboard!
Avoid photographers
There's no denying that photographs are a great, cost effective way to remember your vacation! 
Photos captured by the cruise line, however, are not cheap. One alone can cost you nearly $20. Rather than paying for photos, let someone borrow your phone and take one of you! 
Hold off on the spa treatments
Being pampered during a massage or facial is definitely a luxury. On a cruise, though, you'll pay a premium for these services. A single treatment can cost over $150, and they are usually more than that. 
One potential way to get a glimpse at what the spa has to offer is during free trials, but be prepared for a crowd! They often don't last long and availability varies by sailing. 
Sometimes, you can find a great rate on spa services while in port. Plus, your money would go to support the local economy! However, make sure you do your research before booking anything. 
Pack everything you think you need
It's important to pack all the toiletries and medication that you think you'll need. 
If you happen to forget something, purchasing the item onboard will be costly. I ran out of sunscreen on my last cruise and had to pay over $17.00 for one bottle! 
It's also important to note that cruise ships don't have full pharmacies, so your selections will be limited. 
Here's a good list of things to pack: 
Pain killers (Ibuprofen, Motrin, Tylenol, etc.)
Band-aids
Antibiotic ointment (Neosporin)
Hydrocortisone 
Feminine hygiene products
Dramamine 
Cold/flu medication (DayQuil/NyQuil, Tylenol Cold + Flu Severe, etc.)
Cough drops (Ricola, Cepacol, etc.)
Toothbrush and toothpaste
Deodorant
Shaving cream and razor
Lots of sunscreen!
It is better to be prepared than to have to pay extra for something you have stuffed in a cabinet or drawer at home! If, however, you find yourself in a position where you need a forgotten item, shopping at a drug store in port will be cheaper.