13 tips on the best ways to save money when booking your next cruise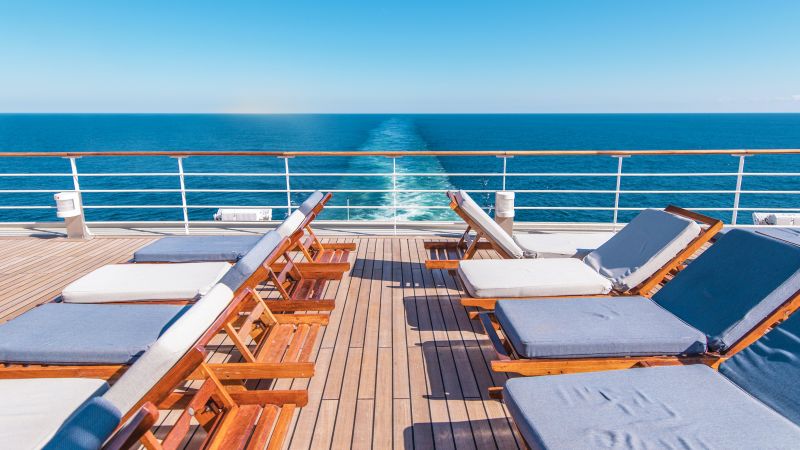 Cruising can not only be a boatload of fun, but it can also be an affordable vacation option. After all, your ship serves as both a floating hotel and your transportation to any number of destinations. In most cases, three meals a day, snacks and basic drinks like water and tea are included, so you're left paying only for cruise extras like excursions, alcoholic beverages and gratuities for staff on the ship.
Whether you're intrigued to try cruising for the first time or you're a seasoned sailor looking to return to the seas, there are plenty of strategies for saving money when booking a cruise. We spoke with travel experts from across the industry to discover their best tips for paying less for a cruise vacation. If you're angling for a romantic trip for two or a fun family cruise with the kids, there are ways to make that long-awaited vacation much more manageable.
Keep these 13 tips in mind when you're planning for your next voyage.
Be flexible with when and where you cruise

Cruise expert at Cruzely.com Tanner Callais says the price of your cruise is largely determined by when you actually set sail. The same exact cruise at different times of the year can vary by hundreds of dollars, he says, adding that cruising on off-peak dates is your best bet.
During summer, spring break and around the holidays, it's much easier for families to cruise, leading to higher demand and, in turn, more jaw-dropping prices. Outside of those popular travel times and especially during fall months and January and February when people head back to school and work, you can find significantly cheaper sailings, Callais says.
If you're flexible with your cruising times and destinations, don't be afraid to book a last-minute cruise. Many cruise lines offer deals that cater to this audience especially. For example, Princess Cruises has a dedicated last-minute cruise deals page where you can find deeply discounted fares, whether you're looking to make a transatlantic voyage or head to the Caribbean.
Callais also says looking at a few different cruise ports for your trip can help you score significant savings. For instance, Port Everglades (Fort Lauderdale) and Port of Miami are two of the largest cruise ports in the world and just about 30 miles from each other. Port Canaveral, the second-largest cruise port in the world, is also nearby. With that in mind, considering several ports can give you more options to price out trips with similar ships and itineraries.
"Just keep in mind the cost of getting to the port," Callais says. "If you're flying, it may be that a more expensive cruise is actually a better deal when factoring in airfare."
Shop around and compare

Before booking your trip, make sure you're comparing prices across all the major cruise lines. Although a certain cruise line may not have the same brand recognition as one of the larger lines, many of the lesser-known lines often advertise very competitive pricing and frequent deals that offer perks like onboard credits, free Wi-Fi and drink packages.
With that in mind, you'll want to make sure you consider all the aspects of a cruise and not just the base fare. Executive Editor of Cruise Critic Chris Gray Faust says that the biggest mistake she sees people make is booking solely based on the lowest price.
"While base-bottom fares can be quite attractive, it might not always bring the highest value," she says. "Instead, it's important to factor in added costs that might be associated with your cruise. Things like specialty dining, shore excursions and even beverages that come with an added cost."
Gray Faust adds that if you're booking a very low fare, you're likely going to be sailing on a line that has a more à la carte pricing model, meaning you'll likely be paying a significant amount more than your base price once the additional fees are factored in. For this reason, it's important to compare across cruise lines to ensure you're getting the best deal.
Speaking of looking beyond the base fare, Callais says you should actively seek out cruises that include added perks if you're looking to save. As an example, he says MSC Cruises and Princess Cruises are two stand-out lines when it comes to getting all-inclusive offers.
Not only do these cruise lines offer regular fares with your room, food and entertainment included, but you can also find special packages that include internet access and drinks.
"If these are items you might be interested in, then you can often book the fare with the extras included for less money than if you bought the base cruise fare and then added them on later," he says.
Just because you're traveling with more people doesn't necessarily mean that you'll be forced to pay a massive premium. If you plan to cruise with children in tow, consider looking for deals that allow extra guests to cruise for free or at a discounted rate.
For example, as of time of publication, Norwegian Cruise Line is running a promotion that allows third and fourth guests — including kids — to cruise for free on eligible itineraries. Holland America, meanwhile, allows kids 18 and younger to cruise for free on select cruises through 2024.
According to owner of TRQ Travel Tina Robinson-Quirke, MSC Cruises has always been a budget-friendly option for families who enjoy cruising. That's predominantly because the line offers the most consistent "kids cruise free" perk out there. Specifically, kids aged younger than 18 and traveling in the same cabin as their parents cruise free on eligible itineraries with MSC Cruises, and this promotion applies to nearly all cruises in the Caribbean and many in other international destinations like Europe.
Note that with all promotions that let some passengers sail for free, fees like taxes and port charges still apply.
Travel rewards can save you a tremendous amount of money — and cruise line loyalty programs are no exception. Not only can they help you score extra perks when you cruise, but you can sometimes take advantage of upfront booking discounts. For example, all members of the MSC Cruises Voyagers Club get 5% off any cruise they book (with the exception of MSC Grant Tours and Tandem), as well as another 5% discount on eligible voyages booked at least six to nine months in advance.
With other cruise lines, you can expect extra discounts on cruises, last-minute deals, onboard upgrades like drink packages and spa visits and more.
As with all loyalty programs, the more loyal that you are to one particular cruise line, the more perks you'll get in return. If you cruise regularly, it could be worth considering achieving elite status with your cruise line of choice. However, if you only cruise every so often, being a free agent can allow you to find the lower fares and cruise when works best for you. Whatever you decide, it's always worth enrolling in a cruise line's loyalty program — it's free and you can only get perks in return for doing so.
According to money-saving expert Andrea Woroch, you can potentially save by getting a new travel rewards credit card before your cruise. Some credit cards offer generous sign-up bonuses when you spend a certain amount of money within the first few months from account opening, and all rewards cards offer cash back or points for each dollar you spend.
For example, the Chase Sapphire Preferred® Card currently offers 60,000 bonus points after you spend $4,000 on purchases within three months of account opening. The points that you earn are part of the Chase Ultimate Rewards program, meaning you've got plenty of options for redeeming them. Among those options is booking cruises with your Ultimate Rewards points via Chase Travel.
Chase isn't the only option for using credit card rewards to book a cruise. You can also use points from programs like American Express Membership Rewards, Citi ThankYou Rewards and Capital One miles to book a cruise of your choosing. Ultimately, the benefit of having flexible point currencies from travel rewards credit cards can pay off when you're looking to book a free cruise with your points.
Use travel rewards for pre-and post-cruise hotels

While using credit card rewards to pay for your cruise can make sense, you can also use travel rewards to pay for other parts of your trip.
For example, use your Delta Air Lines SkyMiles to book flights for you and your family to the airport closest to your cruise port. Or, if you're planning on arriving for your cruise at least a day early (many experts recommend doing this!), you can use your World of Hyatt points to book your family in a hotel without any additional out-of-pocket cost.
Again, this is where transferrable credit cards travel rewards like Chase Ultimate Rewards, American Express Membership Rewards, Citi ThankYou Rewards and Capital One miles can be especially valuable. For example, if you don't have enough World of Hyatt points in your account, you can transfer Chase Ultimate Rewards to Hyatt for that free stay. Or, if you don't have enough Delta SkyMiles, consider transferring American Express Membership Rewards to your SkyMiles account for free flights.
Owner of travel concierge company Le Grande Butler Mark Payne says using a travel agent is another smart strategy for getting a cruise price you can afford. You have the potential to save big with a travel agent that works in your local area or online, but Payne says to make sure you select one who specializes in cruises.
Cruise lines work closely with travel agencies and allow them to sell cruises at lower-than-published rates by booking groups of cabins in advance, as well as other incentives, says Payne.
"This is especially true when booking six months or more before the cruise," he says.
Payne adds that travel agents can also kick in a few extras when you book, such as onboard credits, free ship gratuities and room upgrades.
While the thought of an over-the-top stateroom may make you want to splurge, you might want to think otherwise. Travel agent Jonathan de Araujo of Vacationeer Travel Agency recommends going with an inside cabin if you're looking to save. These cabins are situated on the interior of the ship, which means they don't come with a balcony or a window of any kind. That said, inside cabins can easily cost half the price of a similar balcony room, so booking one is a great way to lower the price of the average cruise vacation.
"Not having a balcony or port hole is oftentimes not that bad and those inside cabins are the best deals on the ship," says de Araujo.
By booking an inside cabin, you'll still have access to the same amenities and features of the ship as everyone else. And, you really only spend time in your room when you're ready for sleep, so you won't be missing much if saving cash is your top priority.
Be aware, too, that some cruise lines let you bid on an upgrade after you book your cruise. And, sometimes that means getting a nicer room for less than you would if you booked a better cabin at the start.
Callais advises that another way to save involves sailing on older ships — but not necessarily old ships. Cruise ships continue to get bigger and better, and seemingly everyone wants to experience the newest ships, he says. That said, ships that are even a few years old tend to offer less expensive itineraries even though they have most of the same features and amenities, including onboard waterparks, arcades, kids clubs and more.
"Since these ships don't get the headlines and publicity, the pricing is usually cheaper, giving you largely the same cruise for dramatically less," Callais says.
Of course, you may be wondering how you can tell the age of a ship in the first place. While you can almost always tell which cruise ships are the newest by comparing prices for similar itineraries across different vessels, you can look up the age of most ships on cruise line websites or resources like Cruise Critic.
Shylar Bredewold of luxury agency Odyssean Travel says that booking your cruise as early as possible is another great way to pay less. Unlike flights that require a commitment and upfront payment, cruises typically let you put down a deposit as early as three years out from your cruise departure date.
Bredewold adds that some cruise lines offer two-for-one deposits and that some deposits are even refundable up to a certain date before the cruise. Your final payment for a cruise will typically be due just a few months out from the sailing, so you'll have time to save up.
Know, too, that pricing is often lower for cruises the further out from your selected itinerary. By putting down a deposit, you can lock in the day's price but still keep your eye out for a better offer. If you book a cruise early on and the price drops or added perks are now offered on the booking, you can typically call the cruise line and secure the better offer on the cruise you already have set up.
Another way to lower the cost of your cruise that has nothing to do with the fare you pay comes in how you get there. Gray Faust says that one big way to save on a cruise is to book a cruise that you can drive to.
"With many cruise fares starting at under $60 per night, the value of a drive-to cruise cannot be understated," Gray Faust says. "The fare includes accommodations, meals and entertainment onboard, plus transportation to each port city along the itinerary. You simply couldn't match that value by traveling to the same region on a land-based vacation."
Remember that not every US cruise port is in Florida. For example, you can depart on a cruise from destinations like Galveston, Texas, Boston Massachusetts, New York City, Seattle, Washington and Baltimore, Maryland.
Finally, you may want to consider looking at river cruising in the US, for example, along the Mississippi River or through New England. This makes it easier to find a cruise you can drive to, and river cruises typically don't require a passport, either.
Finally, it never hurts to look for alternative sources that offer cruise deals. Woroch points to big-box warehouse stores as a potential source of savings, and particularly Costco Travel and Sam's Club.
These bulk retail stores can sometimes offer savings on the overall booking cost as well as free shop cards and even rewards through your membership account.
For example, Costco Executive members earn 2% back in rewards on all their Costco spending, including purchases made through Costco Travel. This means you'll get $100 back in rewards with Costco when you spend $5,000 on cruises and other travel.
"Even if you aren't a member, consider signing up as the savings you score on the cruise will likely cover the cost of membership and then some," she says.
Ultimately, cruising doesn't have to break the bank. As one of the most versatile vacation options out there, a cruise takes care of your accommodation, dining and transport. By following these tips, you and your family can be on your way to a more affordable cruise vacation in no time.
Looking for a travel credit card? Find out which cards CNN Underscored chose as our best travel credit cards currently available.