107 Best Cruise Tips, Tricks, Secrets, and Freebies
Whether it's your first sailing or your 50th, there are always new cruise tips to learn for when you take your trip. That's why we've rounded up a staggering 107 of the best cruise tips, secrets and freebies for you to enjoy.
This list varies from relatively small tips to make your cruise a little more comfortable all the way to big secrets that the cruise lines don't like to talk about. And while experienced cruisers may know some of the things on this list, you can rest assured everyone reading will learn at least a few helpful hints.
To make things easy, we've broken our 107 tips down into separate sections, including tips for saving money, packing, staying healthy, and more.
Note: This article contains links to Amazon that are affiliate links. Should you make a purchase, we receive a small percentage of the sale at no extra charge to you.
Our 10 Best Cruise Tips
If you want the best of the best, these tips are our favorites. But don't miss out on the dozens more things to know that we have below.
1. Many hotels near the port will offer free (or discounted) cruise parking and/or shuttles to the ship 
Are you planning to drive in for your cruise and need a place to stay? Look for hotels that offer cruise parking. Hotels in port cities will do whatever they can to attract cruise passengers. That means they will let you park at their hotel during your cruise for free (or at a sharp discount). Many will also offer a shuttle ride to the cruise port as well.
There is no better way to save money on your cruise parking and getting to the port than with this tip. See our list of hotels in every port with cruise shuttles, including Miami hotels with shuttles to the cruise port.
2. Older ships are way cheaper to cruise on
If you're the sort of person who likes a deal, look at sailing on an older ship. Even if an older ship and a newer ship sail the same itinerary, the fares on the older ship will be dramatically lower.
Of course, in exchange you won't get the wild new things like waterslides and ten swimming pools. But if you're the sort of person who simply wants to be out on the water, you can save hundreds of dollars by sailing on an older ship.
3. Bring your own power adapter to give you more outlets
Phones, iPads, laptops, curling irons… the list of things you'll bring that need plugging in seems to grow by the year. However, many cruise ship cabins have limited outlets. The good news is that newer ships are being built with more power outlets. Still, we suggest bringing an adapter or two to increase the number of plugs available.
We really like this one from Amazon, which offers three plugs and doesn't take up much room. Also, make sure your plug doesn't have a surge protector. They are not allowed onboard.
4. Your balcony isn't as private as you think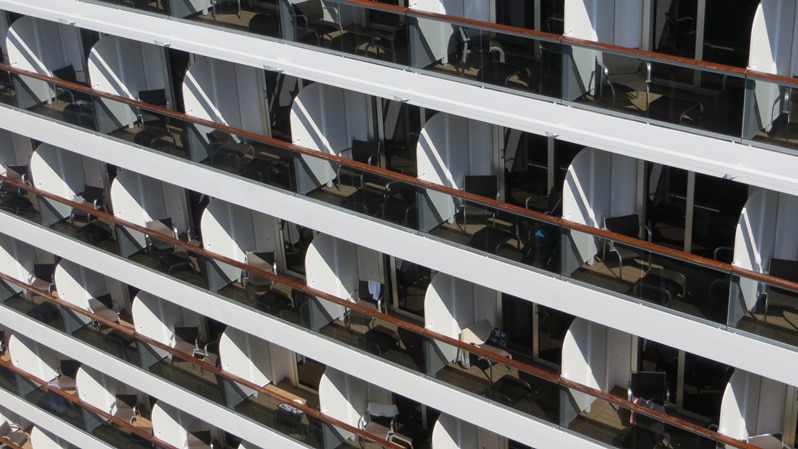 Thinking of sunbathing "al fresco" on your balcony? Want to get a little risque with your partner in the fresh air? Keep in mind that your balcony isn't all that private. The dividers between balconies are low to allow wind to pass through. They also are several inches above the floor to allow water to flow. That means anyone in the balcony next to you could easily see what's going on without much effort.
5. Those "all you can drink" packages aren't a good deal, unless…
"All you can drink" alcohol packages can really help you budget. For a set amount, you can drink as much as you want without worrying about the bill. But buyer beware, the cost of the packages usually means you have to order between 7-10 drinks per day before you save any money.
And since you have to buy the package for every day of your cruise, that means you have to drink that much every single day you are on your ship — even when you are in a port of call.
Many people will find that they are better off simply ordering drinks the old-fashioned way. (Read more about all you can drink packages here or use our Drink Package Calculator to see if you'd save money.)
6. Turn your phone on airplane mode the second you board the ship
There are way too many horror stories of cruise passengers forgetting to turn off their phone's data and then coming home to huge bills for international roaming.
That's why you should either turn your phone completely off or turn it on airplane mode to where it doesn't use up data (but can still connect to wi-fi). It's the simplest way to make sure there are no big surprises when you get your next phone bill.
7. If traveling fewer than three decks, take the stairs. It's much faster
Who wants to take the stairs on vacation? That sounds like work! Well, the stairs can often be much faster. Realize that with thousands of people on a cruise ship, the elevators can get overwhelmed, making stops on every deck going both up and down. That means it can take a while for the elevator to reach your floor.
Instead, if you are only going up or down a few decks it's definitely easier and faster to just hoof it with the stairs. Plus you get to work off a few of those extra "cruise calories" from eating so much.
8. Casino payouts are worse than many casinos on land
Expect to hit it big in the casino? It's going to take a little more luck than usual. Yes, there are stories of people hitting it big, but there are a lot more stories of people losing their cash. In our experience, cruise ships don't offer great payouts. For example, low-limit blackjack tables will often pay 6-to-5, instead of the usual 3-to-2 you'll find in many land-based casinos.
9. S
how up later to boarding to get on the ship fast

est

If you show up to board right when the boarding window opens, you can expect to do a lot of waiting. There is always a mad rush to board the ship right as it opens, which leads to long lines. (Following the health crisis, cruise lines are putting a bigger emphasis on trying to spread passengers out to keep crowds smaller.)

What most people don't realize is that showing up later actually lets you board faster in many cases. Get to the port about an hour before the boarding window closes and you'll find no lines. It usually only takes about 10-15 minutes to get checked-in and board, all without having to fight huge crowds.
10. Book extras like drink packages online ahead of time for huge discounts
Want to save a bundle? If you know that you'll be booking something extra like an Internet package or a drink package, then do it online ahead of time.
To entice passengers to book these deals early, the cruise lines offer special discounts. We've seen drink packages for buy one, get one 50% off. That's a big savings over what you'll spend if you wait to buy until you get on the ship.
Money-Saving Tips For Your Cruise
Want to have a great time without spending a fortune? Here are our best tips on saving money during (and before) your vacation.
11. Pay off your cruise as slow as possible
You'll always put down a deposit when you first book your cruise, but some people opt to pay off the entire cruise at once. Sure, it's a nice feeling knowing that your cruise is bought and paid for, but it also puts you at risk if there is a price drop.
You likely know that cruise lines adjust fares, similar to airlines. When you put down a deposit, you can call the cruise line if you see a price drop and ask them to honor the lower price. Not having paid for the entire trip already gives you some leverage as you can potentially cancel and re-book at the lower price.
If you've already paid for the entire trip, you lose some of that leverage. Don't worry, though. Even if this happens, still give the cruise line a call and ask for the lower price. You might get money back for the difference as onboard credit.
12. Want to sail cheap? Cruise when the kids are in school
They should call it the "law of cheap cruising". If you want to save a ton, be flexible with your dates and sail when school is in session. When school is in, families with kids — a huge demographic in cruising — can't easily take their trips. That means the cruise lines are looking to fill rooms and will offer up cheap fares to entice people to sail.
In fact, it's not surprising to find fares that double during holiday breaks when families can take their trips.
13. Look for cheaper prices on the ship when in port
It's not always the case, but sometimes you'll run into discounts around the ship if you buy when the ship is in port. For instance, maybe it's a spa session that has a slight discount if you book a service while the ship is docked. Or things like Royal Caribbean's North Star observation pod are free when done while the ship is in port, but see a charge if sailing. 
14. Lunch prices at specialty restaurants are often cheaper than dinner
On your cruise, there are free restaurants that are included with your fare and specialty restaurants, which cost extra. These specialty restaurants offer meals not available in the included restaurants and provide a higher-end experience. In return, you usually pay a flat fee for whatever you order.
If you want to eat here and save money, see if they have discounted lunch rates. Some of the restaurants have fees that are substantially less at lunch time compared to dinner. You can get the same meal for much less.
15. Save money by looking for happy hour specials
Drinks on a cruise ship can get expensive. If you want to save some cash, then check the daily planner delivered to your room (or found on the cruise line app) for any happy hour specials or drink deals. For example, we've seen 50% off at RedFrog Pub on Carnival at certain times. There will be some sort of discount somewhere on the ship each day, it's just a matter of paying attention and taking advantage.
16. Yes, some people get offered random upgrades to their cabin
Ever heard of the "upgrade fairy"? Many cruise passengers get random calls from the cruise lines offering upgrades from lower-grade rooms to higher-quality accommodations for super cheap. For example, upgrading from an interior room to a balcony room for just $200. It's a way for the cruise line to make a little more money and for passengers to get a much better room.
How do you get a visit from the upgrade fairy? So far it appears random, but you will definitely have more luck if you are booked on a cruise where there is less demand (such as off-season cruises where rooms are harder to fill).
17. Independent parking lots offer cheaper cruise parking
Driving to the port? That means you have to find somewhere to park your car while you're gone. The cruise ports all have on-site parking, usually located within steps of the cruise ship. While it's extremely convenient, you'll pay for that convenience. Official port parking lots are always the priciest. Instead, look for off-port parking that can be as much as 50% cheaper.
18. It's so much cheaper to drink in port
Want to know the cheapest place to drink on a cruise? It's in port!
If you want to get a good buzz going, check out the bars and restaurants in the area. Many of them not only have cheap drinks every day, but offer drink specials to entice cruisers to stop in. If you plan on drinking, get your fill in port and then walk back to the cruise ship that afternoon/evening. It's a lot cheaper to pay $2-3 bucks for a beer in port compared to $7-9 on the ship. For more tips on drinking on a cruise, read this article.
19. Cruise line transfers from the airport are a terrible deal
When you fly in for your cruise, you have to also arrange for transportation from the airport to the cruise port. We usually recommend a rideshare company like Uber or Lyft. What we don't recommend is taking the transfers offered by the cruise line.
Cruise line transfers seem like a great idea — after all, if you're getting a ride from the cruise company to the port, you know you won't miss your ship. However, the cruise transfers only run on the day of the cruise. That means if you fly in a day early for your trip, you are out of luck.
They are also expensive. For example, Carnival charges about $30 round trip per person to get you from the Miami airport to the Port of Miami — a 10-mile ride. Compare that to a taxi or Uber, which will charge you about $35 round trip for up to four passengers. Meanwhile, with a taxi or other transportation, you aren't tied to the cruise shuttle's schedule.
20. Cruise prices are the same on every website
Think you have to search site after site to get the best cruise deal? Think again. We've discovered that the cruise prices are actually the same across all websites.
That's not to say that prices won't change (they will), but when a price moves, you'll see it reflected everywhere. Just pick your favorite spot to search and stop worrying if another website has it cheaper. (Hint: Costco usually has great incentives.)
Here's a roundup of prices that we recently found:
21. There is free booze at the art auctions
If you want to snag a cheap glass of champagne, head down to the art auctions that are held on the ship. These auctions serve up flutes of the bubbly to set the mood and entice you to spend a little dough. While the art costs money, the booze is free.
22. You'll pay for premium brands, but not generics
If you want that special gelato or the Starbucks coffee, then it will likely cost you a few bucks on the ship. What many people don't realize, however, is that you can get the generic versions of these foods elsewhere on the ship (and sometimes even at the same location) for free.
For instance, if your ship sells Starbucks for a fee, just ask if they have any free coffee. If they don't at that location, they will point you to where you can get it for no charge.
23. Cheaper interior cabins mean more money for more cruises
Many people claim they couldn't sail in anything other than a balcony room. But interior cabins can get you on the ship for hundreds — or even thousands — less than paying for a balcony room. Considering that many people are rarely in their cabin other than to sleep, it doesn't make sense to pay a fortune for a room that you won't use. Instead, you can sail a lot cheaper with an interior room… and potentially cruise a lot more!
24. Don't waste money on lower-tier Internet
These days being connected is just a fact of life. Not surprisingly, many people opt to pay for the cruise line's wi-fi service, even though it is pricey. If you do decide to purchase, then you'll find that there are tiers of service. So you can pay less and get slower or limited service, or pay a little more to get higher speeds and full access to the web.
In this case, you shouldn't waste your money on the cheapest service. Even at is best, the wi-fi on a cruise ship will be slower than you're used to seeing at home. In our experience the lower tiers are almost unusable. This is one place where you don't want to skimp if you're buying.
25. Think twice before buying cruise insurance sold by the cruise line
While we think travel insurance is a good idea to give you peace of mind, think twice before buying the insurance that the cruise lines offer when you book your trip. Yes, it's better than nothing, but third-party cruise insurance is often a much better deal.
The insurance offered by the cruise lines typically has lower limits and is priced high from what we've found. It also often doesn't offer as much protection as insurance offered by a third party. Be sure to check what is covered by any policy before buying.
26. American dollars are widely accepted in cruise ports
Don't worry if you don't have pesos, or any other local currency. In Caribbean cruise ports American dollars are widely accepted (and often preferred). That's a huge help for cruise passengers who don't have to worry about having different currencies. Credit cards are also accepted in many places, but you definitely want to use cash for most transactions.
27. Mention a special occasion to (maybe) get free stuff
Birthday? Anniversary? Honeymoon? Be sure to mention to any cruise line employee why you are there if it's a special occasion. There's no guarantee, but it's not unheard of to be surprised by a bottle of champagne and some strawberries in your cabin for free. The cruise lines know that a little perk like this doesn't cost a lot but can make your loyal for life.
28. Credit cards are accepted in ports, but call your company first
Yes, credit cards are accepted, especially in the more touristy areas of port cities. It's still preferable to pay for most things in cash for security purposes.
That said, if you do decide to use your card, be sure call your credit card company first. It may alert their system to fraud to see a card used in three different ports in three days, leading them to put a freeze on your account if they don't know what's going on.
29. Beaches are free ways to enjoy the day
If you don't want to spend money on shore excursions, that's understandable. A free way to enjoy the port cities and save some money is to head to the beach.
Every port will have some exclusive beach clubs with hammocks and drink service, but they usually charge an entry fee. Instead, do some research (or ask a taxi) on where the free beaches are. You might have to deal with more people, but nothing beats having a day on a world-class beach without having to spend a dime.
30. Avoid ATM fees at the casino with this trick
ATM fees to get cash out can be expensive on the cruise ship. If you want to gamble but don't have the cash on hand, you can use a little trick to avoid paying exorbitant ATM fees. Cruise lines will let you charge your onboard account to get money for chips or slot machines. Be careful as it's an easy way to spend a little too much, but it's also easy to play at the casino without being charged extra to access your own money.
31. Public transportation gets you to the port for cheap
It's not available in every port, but if you are sailing out of a major city (specifically Miami or Seattle), then you can get to the port for less money by using public transportation. In fact, it can cost as little as $3 per person!
In Miami you can take the Orange Line train from the airport over to the Coral Way Trolley, which drops at the port (directions here). In Seattle, the Link Light Rail lets out just blocks from Pier 66 (directions here). If you don't want to pay for an expensive taxi or Uber, keep this in mind. 
Packing Tips For Your Cruise
Not sure what you need to pack? These tips and secrets will have you packing like a pro in no time.
32. You can pack way more than you can on a plane
Are you the sort of person that packs for a month when you're only going for a week? Good news is the cruise lines don't have near as stringent baggage policies as the airlines. There are no baggage fees, or real restrictions on how much you can bring (within reason). You also don't have to worry about the 3-ounce liquid rule. It makes it much easier to pack and much less stressful.
That said, we'd suggest still packing light. Remember, the more you pack, the more you have to carry with you, and the more space it takes up in your cabin.
33. Leave the hair dryer at home
Hair dryers are standard equipment in all cabins, just like in a hotel room. That means you can leave yours at home and save some space in your bags. The only time you'll need to bring your own is if you have a special type of hair dryer that you just have to use. The in-cabin hair dryer is one of those small hotel-style ones that isn't terribly powerful, but is plenty for a week at sea.
34. Pack a nightlight for the cabin
Staying in an interior room? That means you have no windows… and no natural light. Once you shut the door and turn out the lights, it's pitch black. Bring along a nightlight to plug in to provide some light for the room.
Your shins will appreciate the extra light when you have to stumble into an unfamiliar bathroom in the middle of the night.
35. Dry bags are always a good idea if you plan to hit the beach
While you can use Ziploc bags, we like the idea of having a watertight pouch or bag when you head to the beach. They are the perfect size for a phone, cash, and keycards. Best of all, they can snap onto your waistband so that you can carry your things with you in the water while taking a dip — and not leave them vulnerable on the beach. Read our review of our favorite dry bag here.
36. Pack a handful of Ziploc bags. They have a million uses
Ziploc bags have to be the most useful item you can pack. Want to keep things dry while at the pool? Put it in a Ziploc. Want to keep dirty clothes separate from clean ones? Put them in a Ziploc. Have a bunch of small baubles that you're packing and would like to keep together? Or maybe you want to snag a snack for later from the buffet? Put it all in a Ziploc.
Always pack a few baggies with you on your trip and you'll be sure to find a use for them.
37. Remember to pack a fan for the room
Always pack a small portable fan for your cabin room. There isn't much airflow in the cabins, so if you are the type that always need a breeze to be comfy, then you'll hate sitting still in the room. As well, we like the white noise that a fan provides to drown out sounds like people talking in the hall or the weather outside the ship.
38. Make a copy of your passport to carry instead of the real thing
The best place to keep your passport is in your in-room safe. If you want some ID while your are in your port city, make a copy of your ID page on the passport and carry it with you, along with a driver's license. This will make due until you can get back to the cabin.
Another smart idea is to take a scan of your passport and email it to yourself. This way no matter where you go, you will have a digital copy that you can access from anywhere with Internet.
39. Always pack cool weather gear, too
Swimsuit? Check. Suntan lotion? Check. A jacket? What?!
Yes, even if you are headed to the tropics you should always pack a few items of warm clothing. If a rainstorm hits in the evening, it can get chilly on a fast-moving cruise ship with the wind whipping around. Having something with long sleeves and a hood can be a lifesaver.
40. Towel clips are worth their weight in gold
Before a cruise, we never would have thought twice about towel clips. You never really think about how breezy it gets on a cruise. With the ship in motion, there is a constant wind on the decks. That makes trying to keep your towel from whipping around an exercise in frustration. You can lay trying to relax, but the corners of your towel will be constantly flapping.
Luckily, for just a few bucks you can get some clips that will keep your towel on your lounger.
Food & Drink Tips For Your Cruise
Eating and drinking on a cruise are a big deal. Want to get your fill? Check out the tips below.
41. Alcohol can be brought on board, with strict limitations
The vast majority of cruise lines don't let you bring on beer or hard liquor. Nearly all of them will let you bring on bottles of champagne or wine. Check with your cruise line, but the rule is usually either one bottle per cabin or one bottle per adult passenger.
One or two bottles of wine likely won't last your entire cruise, but considering the price of drinks onboard, anything you can bring saves you a lot of cash.
42. You can bring on non-alcoholic drinks (some lines)
Want to save $30-$40? Many cruise lines — including Carnival and Royal Caribbean — allow you to bring on non-alcoholic beverages. The rule is usually 12 drinks per person. So if you can't live without your Diet Coke or want to have some Gatorade for the kids, bring it with you.
The only thing to know is that Carnival requires you to bring cans or cartons. No bottles are allowed.
Considering that a non-alcoholic drink can cost $3-4 bucks each on a cruise ship (plus gratuity!) you can save a big chunk of change by bringing your own.
43. You can order a second (or third or fourth) entrée at no charge
Can't choose between the chicken or the fish? Don't stress out. Order both. Or order two plates on lobster night. Most people don't realize it, but you can order as much as you want in the main dining room (or other restaurants).
Cruise lines know that people are on vacation to let loose and enjoy themselves. They understand that people love to eat on their trip, so they are usually happy to accommodate your request.
44. Make any reservations early for the best times
Don't wait until you are on the ship to make reservations at restaurants or the spa. The best times will fill up quickly, leaving you with fewer options. Every cruise line will allow you to make reservations online (or by phone) weeks or months in advance of your cruise.
As soon as you know that you will want to dine at a restaurant or get a spa treatment, make your reservations!
45. Too late to get a reservation on the ship? Head to that restaurant anyway
Didn't realize you needed a reservation or the spot you wanted was already filled? Don't worry… you might still be able to get in.
You can head down to the restaurant and see if there is any room available. Sometimes people make reservations and then forget about them, freeing up space. Your chances are best if you go early or late — instead of during peak hours.
There's no guarantee you'll get a space, but it does happen.
46. Hungry? Get a whole pizza for free
Nearly every ship you sail on will have a place to get free pizza by the slice. But what if you're really hungry? You can often order up a whole pie, free of charge. This way you get exactly what you want instead of having to eat a slice of whatever is available. It may take a few minutes to get your pie made, so be a little patient.
47. Breakfast and lunch are also served in the main dining room
Everyone knows about dinner in the main dining room… but they usually eat the buffet for lunch and breakfast. If you want something higher quality, head to the main dining room instead of the buffet. They serve both meals, but with much smaller crowds. Best of all, the food is usually better as well, since it's made fresh.
48. Don't think the "drink of the day" is a deal
Each day the bar will have a different drink of the day special. But just because they highlight it doesn't mean it's a deal. Often the cruise lines just call it the "drink of the day" to draw attention to an option to get you to buy it, but don't cut the price.
49. Have dietary restrictions? Cruise lines can cover you
Vegetarian? Gluten-free? Food allergies? No matter your dietary restrictions, the cruise lines can accommodate. Don't wait until you are on the ship to tell the cruise line about your diet restrictions. Call as soon as you book and speak to a customer service agent. They can update you on food options and also make a note on your account to notify the crew.
50. You can always order your favorite dish, even if it's not on the menu.
Wasn't the chicken cordon bleu fantastic last night? Wish you could get it tonight? You usually can. Even if you don't see an entrée on the menu in the dining room, don't think you can't get it. Simply ask your waiter if it's available. The worst they can say is no.
51. Free room service is becoming a thing of the past
Want a hamburger at 3 a.m.? It used to be free on a cruise ship, but the lines are quickly moving toward a charge for room service. While many lines have some things for free like continental breakfast, they often now charge per item or a flat fee (order all you want for one price). Even though room service isn't always free, still don't forget to tip $3-5 to the waiter who brings your food.
52. Even if you don't show up at your time for dinner, you will still be seated
Having a set time to eat in the main dining room can be a pain. Say you want to go to an early show but it conflicts with your set dinner time. Or what if you lay down for a nap and don't wake up until your dinner time has passed? The good news is that it's no big deal.
Just head down to the dining room whenever you're ready to eat, and they will find you a place to sit. It likely won't be with your same waiter, but you'll definitely get fed.
53. You can get free drinks in the casino, but you have to spend major money
We all know that if you are gambling in a Las Vegas casino, you can expect the drinks to flow no matter how much you spend. On a cruise ship, that's not the case. If you're a nickel and dime gambler, you're going to have to pay for drinks in the casino. If you're betting big, however, then you will likely earn enough credit to get some free drinks.
Be sure to use your card every time you play to get your spending tracked so that the cruise lines know how good of a customer you are.
54. Bring drink flavor pouches for free drinks
Sodas and other drinks aren't free on a trip, but tea, lemonade and water are. A little trick is to bring a few packs of those drink flavors (available in every grocery store). Drop a pack into your water to instantly make your favorite beverage for free. It's also a good way to get the kids to drink something other than soda while on their vacation.
Safety & Health Tips for Your Cruise
Cruising is relatively safe, but there are still some things you should know about staying healthy on your trip.
55. Chances are that you won't need cruise insurance, but it does help
Odds are that you won't need the travel insurance you buy, but when you do, it's a lifesaver. Travel insurance can cover a ton of different things, including if you get hurt or sick on your trip. It's also handy if you lose your luggage or miss the boat and have to make alternate arrangements to meet your ship elsewhere (or get back home).
56. Never wear those cheap $3 flip-flops around the pool
You know those cheap rubber flip-flops that you can get for just a few bucks? They serve their purpose, but don't wear them around the pool! These sandals are notoriously slick on the bottom if they have any wear at all. All it takes is one wrong step on a slick ship deck to take a spill.
Instead, look for a pair of flip-flops that have decent tread so that you won't slip even if you step right in a puddle.
57. Cruise port security is nothing like the airport
No, you don't have to go through the same hassles that you see in airports to get on the ship. You don't have to take off belts… or shoes… or carry only 3 ounces of liquids. You'll just have your bags x-rayed and walk through a metal detector (no full body scanners!). Getting through security usually takes no more than a minute or two. 
58. Don't sail without the vaccine
On the majority of cruises, if you want to get on the ship, then you'll need to show proof of vaccination. No matter if it's required or not, you should get the vaccine to sail. Not only does it protect you from getting too sick, it also protects other passengers and the ports that are visited. If that's not enough, cruise lines currently charge sharp testing fees for unvaccinated passengers that can add hundreds to the cost of your cruise.
59. Authorities check the passenger list for warrants… and arrest them on the way back
If you have an arrest warrant, think twice before getting on a cruise. Once you board, local authorities will often run the names of the passengers through a database to check for any outstanding warrants. The result? Assuming the warrants are for minor items, they will then let the passengers enjoy the cruise before escorting them off the ship once it arrives back at port.
60. Cruise ships are a great place for spreading a virus (wash your hands)
You know why you always hear about norovirus on cruise ships? That's because if you were going to create a conducive place to spread a virus, you would build a cruise ship. Having thousands of people in an enclosed area and the same dining facilities is ripe for spreading illness.
Cruise lines go to great lengths to sanitize and keep everyone healthy. Even so, definitely use hand sanitizer, which is available all over the ship. Proper hand washing is also important.
61. Always use your cabin safe. It's not perfect, but it's better than nothing
Unfortunately, we live in a world where you have to be cautious with your valuables. Theft does happen, even on a cruise. Every cabin will come with an in-room safe, which you should use whenever you leave the room. It's perfect for storing extra cash, electronics, passports and more.
It's by no means perfect, but the safe helps protect you from any crimes of "convenience" where someone snags an item just because it's left out in the open.
62. Be careful, the sun is way more powerful in the tropics
It's easy to underestimate just how quickly you can burn from the Caribbean sun. Whereas it might take 20-30 minutes to start getting burned back home, the more direct rays closer to the equator can do the same damage in just half the time.
The bad thing is that if you get sunburned, it can put you out of commission for several days, putting a damper on your cruise. Instead, the best thing to do is prevent getting burned. Wear wide-brimmed hats and put on plenty of sunscreen.
63. Get seasick? Get a cabin in the middle of the boat, as low as possible
Everyone seems to have their own home remedy for curing seasickness. There is only one method we know of that makes actual scientific sense, however. If you are prone to seasickness, then you want to book a cabin as low in the ship and as close to the middle of the ship as possible.
Think of the ship as a teeter-totter. It's the middle of it that would move the least as the ends rise and fall. There is less motion mid-ship, which will help you feel better when the seas are a little rough.
64. Green apples are a natural seasickness remedy
Maybe it's an old wives' tale, but green apples are supposed to be a natural cure for seasickness. That's why you'll often find them at the buffet. Grab one or two the next time you are feeling queasy and test it out.
65. Never climb or sit on the ship's railing
Head to a deck that's open to the water and you'll notice there are railings everywhere. Of course, you'd expect there to be a railing to keep people from accidently falling overboard. However, some people like to treat these rails as fun spots to sit for a photo or kids like to climb on the railings.
It shouldn't be need to be said, but just to be clear — never climb or sit on the railing.
General Tips & Things to Know for Your Cruise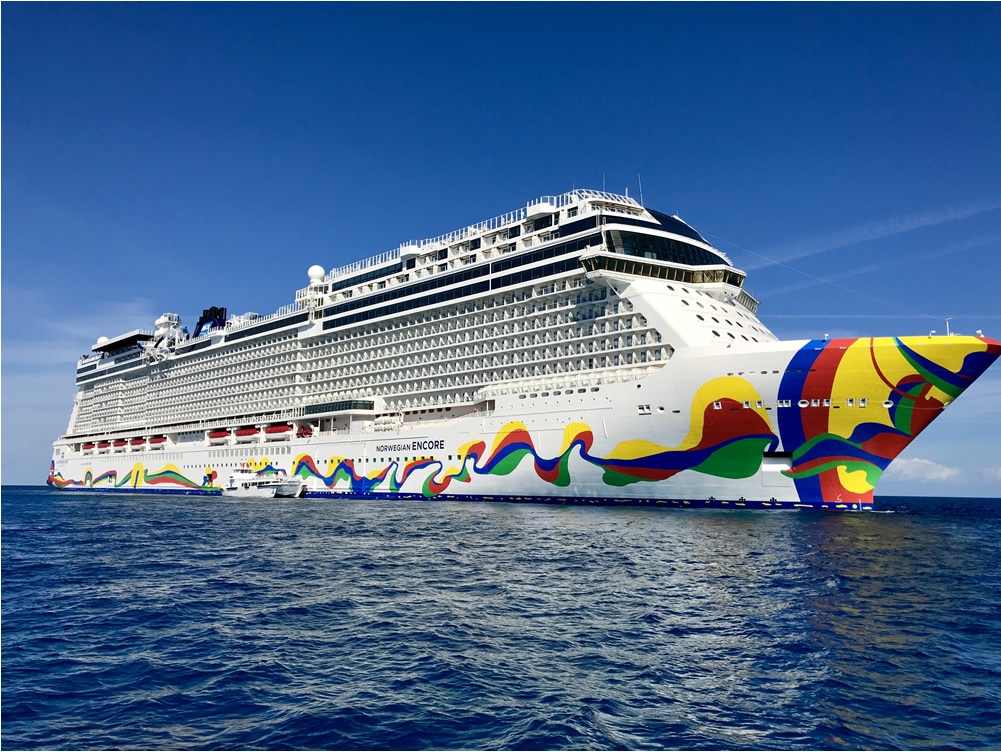 This section covers all sorts of aspects to cruising. From heading into port to what to do with your phone, we have important tips for you to know before you sail.
66. Download the cruise line's app before you board
We're usually not a fan of downloading a new app if we don't have to. But cruise line apps are extremely helpful. These programs include daily schedules, messaging to others on the ship, ship maps, and even tracking of your onboard spending account — all from your phone.
We'd suggest everyone download the app before your cruise to use onboard. It's much faster to download over wi-fi instead of using your cellular network or the ship's Internet.
Learn more about Carnival's app, Royal Caribbean's app, and Norwegian's app.
67. You can debark when you want
Shhh… don't tell anyone, but you can actually debark the cruise ship when you want when your trip ends.
The cruise lines will call passengers deck by deck, but the process can take hours. If you already have all your bags and want to leave, you can just head down whenever you like. The staff doesn't check what deck your cabin is on, and they simply want passengers off the ship so that they can get ready for the next group.
One thing to keep in mind, however, is that lines can be extremely long right at the beginning of debarkation. Sometimes it's worth it just to relax for an hour and let the rush die down.
68. Interested in the spa? Take a free tour
The spa is a major point of emphasis on a cruise ship. You'll see promotions and ads for services throughout your trip. If you're interested in spending some time there but aren't sure if you want to spend the money, then take a tour. Spas on the ship will be happy to show you around and let you get an idea of what you can expect should you decide to visit for a service.
69. Hooking up with the crew is off limits
When it comes to having a fling on the ship, your eyes might be tempted by the crew. They're generally young, fit, international, and seem to be having a lot of fun. But if you want a hook-up, then keep looking elsewhere. Getting it on between passengers and crew is expressly prohibited. It can reportedly cost the crew member their job, no questions asked.
70. Look for a cabin on the upper decks of the ship
If you can, look for a cabin that sits on the upper decks of the ship. No, it's not because higher decks offer great views (although that's a great perk!). Instead, it has to do with getting around the ship.
Cruise ships are usually laid out with a center promenade area that includes things like the casino, a center bar, restaurants, and shopping. On many ships this will be around decks 6-8. Then there is the pool deck area that's located at the top of the ship. These two areas are where passengers spend the most time outside the cabin.
Having a cabin between the two spots means you are within just a few decks of either. That makes it much easier to get to where you want to go as opposed to waiting on an elevator because you are on a low deck.
71. Cameras are watching you constantly
We've gotten used to seeing security cameras everywhere in life, but ships take it to another level. There are security cameras watching every public area of the major cruise ships. Don't think you'll be able to sneak off and do something you shouldn't be doing. Here's what Royal Caribbean says about their cameras:
"Royal Caribbean International has closed-circuit television cameras located in hundreds of strategic, public locations throughout the ship but not in private staterooms, public restrooms or private spa areas. These systems are upgraded as new and beneficial technologies are developed. Recordings from these cameras are routinely utilized by our security teams and made available to investigative authorities as requested."
72. It is possible your ship could pick up refugees
If you are sailing from ports on the East Coast to the Western Caribbean, there's a possibility you could find yourself in the middle of a refugee crisis. The waters between Florida and Cuba are where Cubans trying to make their way to America will set sail, hoping to reach the mainland.
It's not unheard of for cruise ships to run across these people, sailing in makeshift rafts. Rules of the sea call for the cruise ships to render aid, meaning they will stop and help, even if in the middle of a cruise.
73. Cabins at the ends of the ship should have less noise
Cruise cabins are fairly soundproof (though not perfect), but if there is noise in the hallway, it can come in through the door. Case in point is if it's in the early morning hours and a group of people are coming back from the bar on the ship. (We've personally had it happen!)
To find a quieter cabin spot, look toward the ends of the ship. Rooms at the ends of halls will have less foot traffic, meaning less noise from passersby.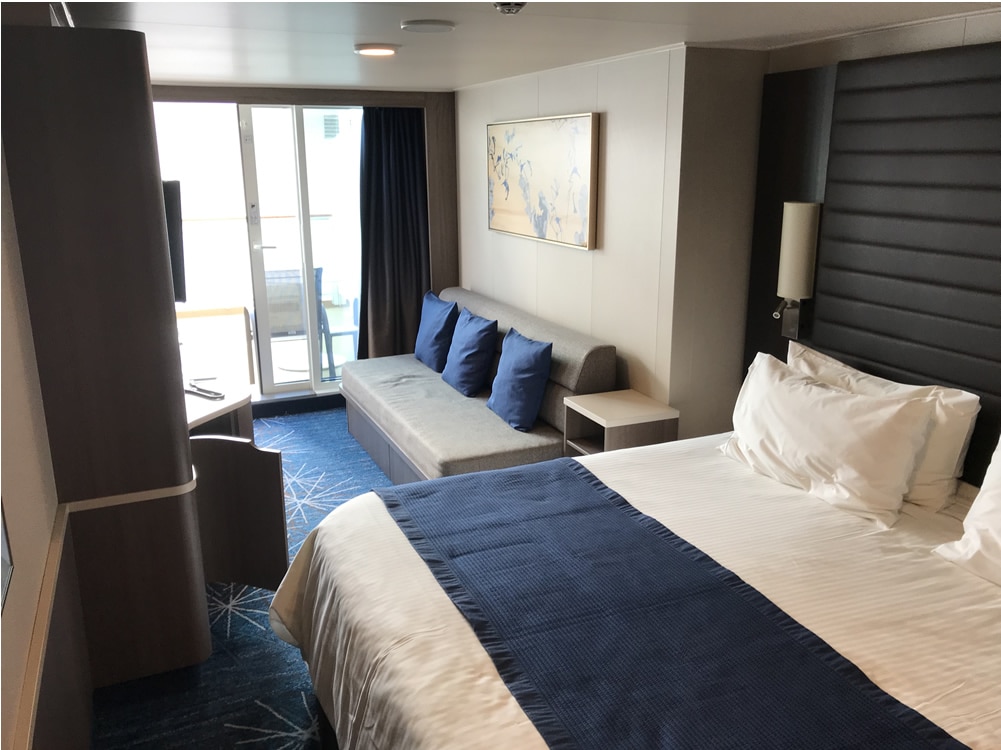 74. Sound can travel between the cabins when you make whoopie
No, the walls of your cabin aren't paper thin, but sounds can travel between room. Keep this in mind if you decide to engage in "activities" in your cabin. You have to remember that you are in a small, confined space with lots of people around. Not everyone wants to hear what you do in the privacy of your cabin (especially if it happens late at night).
Keeping things a little quiet can make sure that your fun doesn't mess with anyone else's vacation.
75. While there are lots of rules… you can usually get away with breaking them
There is a difference between rules and laws. Break a law and you'll get busted. But break a rule, and you could just get a slap on the hand. For instance, if you don't want to wear formal clothes on formal night, then don't.
Cruise lines want everyone to have a good time. If you break a rule, they will usually just ask you to stop doing it. It's rare they will kick you off the ship unless you are endangering other passengers or causing a disturbance.
76. A Post-It Note (or other decoration) helps in finding your room
If you've ever been on a cruise ship before, then you know that the cabin hallways can seem almost like an optical illusion. They can stretch forever in a repeating pattern of cabins, walls, and identical doors. While doors are numbered, it's easy to pass by your room as everything blends together.
Many people go to the effort of decorating their doors to not only be festive, but also stand out and be easier to find. If you don't want to go to that much effort, just bring a few Post-It Notes (they are great for leaving messages in the cabin anyway). Stick one brightly colored note on your door and you have an instant way to identify your cabin.
77. Creepy? Larger ships will have a morgue
It's macabre, but if you're on a larger ship, then it likely has a morgue on board. It's actually a good idea if you think about it. Cruise ships are carrying thousands of people 365 days a year. It's a law of averages that someone will eventually pass away while on the ship. With a morgue on board they can keep the body in good condition until reaching a port.
78. Only go early if you like standing in line
Are you the type or person that likes to get on and off the ship first? Then you better prepare to stand in long lines. With thousands of people trying to do the same thing, there are massive traffic jams for people waiting to either embark or disembark.
Instead, take your time and spend a few more minutes (or hours) enjoying a meal or relaxing on board. Once you are done, you can breeze through.
79. Secret clues for getting around the ship
Cabin hallways can go on forever, and with no windows, it can be hard to know if you're going forward or aft. In that case, look for the clues. On NCL, the hallway carpet has little fish on it. These fish swim forward. On Royal Caribbean, the door markers will have a clue like a small arrow pointing forward, or an image of the ship that faces to the front of the ship. If the ship is older, it might have a door marker in the shape of a wave. Here, the higher part of the wave points the way to the front of the ship.
80. What those strange symbols on the hull mean
When you are in port, you might notice strange symbols at the ship's waterline that look like hieroglyphics. They are actually telling important information about the ship. 
For instance, you might see a circle with an 'X' through it, normally in groups. These are where thrusters are installed on the ship to help it maneuver. Unlike a propeller at the back of the ship, these thrusters sit perpendicular to the length of the ship, allowing it to push toward or away from a dock sideways.
you might see a strange shape that almost looks like the outline of a key, with a larger square and then a rectangle jutting out. This marker? It's for the ship's stabilizers. These stabilizers jut out under the waterline like fins and help to reduce the rocking of the ocean.
The symbols help other boats know what's going on under the water so they don't get too close.
81. It's a floating city… where you only see part of it
You might go back and forth on the cruise ship and think you've seen every nook and cranny by the time you leave. There are places, however, where you will never set foot.
Hidden away primarily on the lower decks are spots like the engine room, crew quarters, service areas, and more. There are some "backstage" tours that you can take, but they are highly limited in the number of passengers that can go.
82. Your itinerary isn't set in stone
Your itinerary can change… right up until you dock in a port. The cruise lines have made adjustments to schedules based on everything from weather to health issues to protests. While it doesn't happen often, changes are regular enough that you shouldn't be surprised if one happens to your trip.
83. Unfortunately, it's not easy to see the stars at sea
Being in the middle of the sea, hundreds of miles away from any city lights would seem to lend itself to seeing the stars like never before. The bad news is that isn't the case.
While ships would be the perfect spot for stargazing, the lights on the deck are bright enough to create light pollution that drowns out many stars. You'll see brighter ones, but if you were planning to spot the Milky Way out at sea, that probably won't be the case. 
84. Head to the back of the ship (and lower decks) if you want more privacy
With 4,000 people on a typical cruise ship, you'll find that there can be crowds everywhere. If you want to find a quiet, out of the way place, head to the back of the ship. For some reason these spots are often forgotten. We've gone to the back of the ship after dinner and been literally the only people there.
Want even more privacy? Head to the back of the ship on the lower decks. As a general rule of thumb, the lower you go on the deck of a ship, the fewer people are around.
85. Ships can sail at over 100% occupancy
When it comes to cruise ships, 100% occupancy isn't the max people it can hold. In fact, most ships sail at greater than 100%. 
Cruise liners sail at 100% when there are two passengers for every cabin. So if there are 2,000 cabins on the ship and 4,000 passengers, then that's considered 100% occupancy. But when there are three or more to a cabin, then that level rises. During normal times, it's not unusual for cruise ships to sail closer to 105-110% occupancy.
86. The room thermostats may not control anything
Every cabin comes with a thermostat. In our experience, they are often just there for looks. It would make sense that the thermostats wouldn't work. Having 2,000 different cabins with different A/C temperatures would be a nightmare. Don't be surprised if you crank down the air but don't feel much relief. That's why we suggest bringing a portable fan.
87. Don't be shy about asking for anything to make yourself more comfy
The cruise lines want you to be comfy and enjoy your vacation. If there is anything that would make your trip more pleasant, don't hesitate to ask. This goes for blankets, pillows, fresh towels, and anything else you can think of. Just like a five-star hotel, the cruise ship has all the amenities that you can think of just a request away.
88. Take a photo each morning of the ship's daily planner
Like Las Vegas, you'll find you that you actually spend less time in the room than you anticipated. If you're out and about and wondering what activities are coming up next, you don't want to have to carry around the full daily newsletter that contains that day's schedule.
Instead, an easy thing to do is take a picture of the daily planner on your phone or camera. This way you have a copy of the schedule with you without having to carry the newsletter or go back to the cabin to see what's going on.
You can also download the cruise line's app, which lists everything going on that day and much more.
89. Early debarkation doesn't always save a lot of time (but it certainly can sometimes!)
Cruise lines offer early debarkation to passengers that want to carry all their bags with them. This seems like a great idea as it allows you to get off the ship first and get back home quickly after your cruise. The problem is that everyone else has the same idea.
Lines for early embarkation can stretch around the ship and take an hour or more to get through. Thankfully many cruise lines are getting better at the process, which is speeding things up somewhat. So sometimes it can be a long wait… other times you can breeze through. 
It can also be faster if you use a passport to sail instead of a birth certificate. Facial recognition at some ports matches with your passport can get you through quickly.
90. Take a photo of your home and email address
Lose your camera? Good luck getting it back. To increase your options, write your home address and email address on a piece of paper and take a photo of it. This way if someone finds your phone and looks through your pictures, they can see where to return your camera. It's no guarantee that you'll get it returned, but it's an easy way to improve the odds.
91. Wait until later in the cruise to do the newest attractions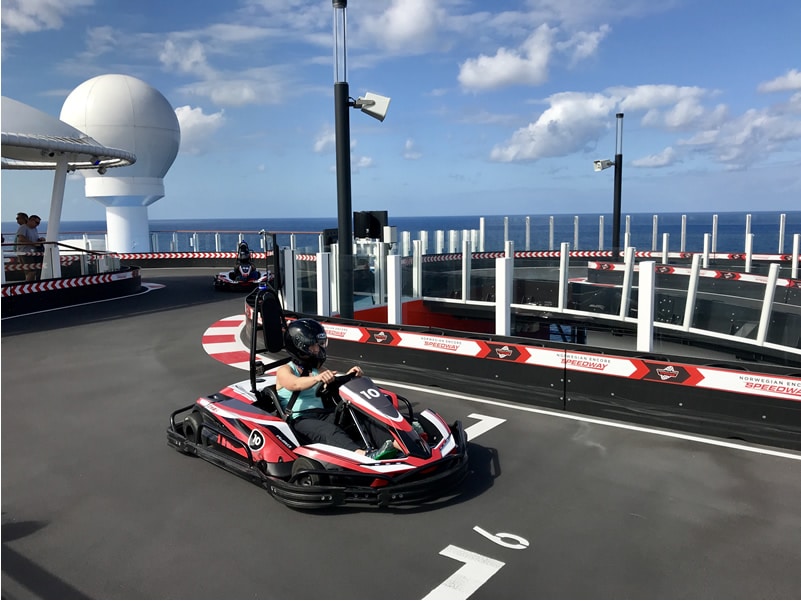 Cruise ships continue to get grander with every new ship. That means crazier attractions like waterslides, go-karts, robot bartenders and whatever else the cruise lines can imagine.
If you want to experience these attractions, wait until later in your cruise. The first day or two will have everyone waiting in line to get in. Instead, if you just wait until the initial rush has died down, you can join the fun without having to wait in a line.
92. Always pack a wad of $1 bills for tipping
The cruise industry relies on your generosity to help pay their service employees. That's why you shouldn't skimp when it comes to tipping. From baggage handlers to room service waiters to casino waitresses, you'll want to slip them each a few bucks whenever they give you good service.
We'd suggest bringing about $20 in ones and carrying a few with you anywhere you go. This way you always have a few singles with you to tip with instead of having an awkward "I'll tip you later" conversation.
93. Topless sunbathing? It's not a thing in the U.S.
Wondering about private areas of the ship where you could get some sun… without worrying about tan lines? That's not really a thing these days on cruises from the United States.
There are no major cruise lines that allow topless sunbathing that we know of. This includes hanging out by the "adults-only" pools. 
94. It's likely (several) people have died on your ship
Whether from natural causes (heart attacks) or accidents (falling overboard), people die on cruise ships every single year. And with a non-stop schedule of sailings with thousands of people on each trip, chances are that someone has passed away on your ship.
It's strange to think about considering that everyone steps on the ship with the hopes of a good time, but it's a reality of cruising that doesn't often get mentioned.
95. No marijuana isn't legal, even on an Alaskan cruise
If you're cruising to Alaska (where recreational marijuana is legal) from Seattle, Washington (where recreational marijuana is legal), then of course you can bring your pot on board with you, right?
Wrong.
To be on the safe side, the cruise lines follow federal law — which means that marijuana is illegal to bring on board. If you really need some of the green to let loose on your cruise, you'll have to wait until you arrive in port.
96. Bingo may seem silly, but can win you some serious cash
Bingo? Isn't that for old people? On the cruise, you'll see bingo contests being held all the time. And while it's not as exciting as the pool's belly-flop competition, it is a fun way to spend an hour or two. Best of all, it can help pay for your cruise.
Bingo cards are typically $5-10. All the money is then pooled and whomever wins Bingo walks away with the cash. It's not unusual to see people pocket hundreds or even thousands of bucks playing the game on the ship.
97. Participate in on-board game shows to get free stuff
Your best way to get some free stuff on the cruise also involves a lot of fun. In the game shows (including the "newlywed" game), some audience participation is required. Not everyone can join in, but if you get selected then you almost always get some sort of prize at the end.
It's nothing big — maybe a t-shirt and a gift certificate to the gift shop — but it's the best way to get something for free while on your cruise.
98. Find a spot above the gangway at the ship's return time to have a laugh
You haven't laughed until you've stood on the port side of the ship close to departure time in a port of call. Keep a close eye and you'll almost always see a few people making a mad dash back to the ship. You've never seen people run as fast as when they think the ship is about to leave them. On a side note, always return to the ship well before the "all aboard" time.
99. If flying, always depart for your port city the day before
With more ports than ever operating around the United States, many people are able to drive to their cruise. Still, there are tons of folks who fly in to take their trip. If you are taking a flight, always aim to get there the day before.
It seems like every day there are horror stories of delayed flights. Weather can delay or ground a flight. Security lines can sometimes take hours and cause people to miss their planes. Mechanical breakdown is always a possibility. And now you never know when a computer malfunction is going to ground an entire fleet.
Flying in the day before allows you a little more of a cushion to get to your port city without having to stress that you might miss your flight… or even worse, your cruise.
100. Don't expect much on TV (Netflix is great)
We love nothing more than relaxing and watching some TV after a long day in port. Unfortunately, cruise lines don't offer much in the way of television stations. You won't get the basic channels you'd expect. Instead, it's a few news stations and maybe a couple of channels for movies and a couple for cartoons.
Netflix and other services are lifesavers. Download your favorite shows ahead of time (so that you can watch without Internet access) and catch up on your programs.
101. Go to Guest Services late at night or early in the morning to avoid lines
What's that huge line you see in the middle of the ship at the beginning and end of the cruise? It's the line to talk to Guest Services. It's always a hassle to have to deal with getting things straightened out with your onboard account, but it's something you occasionally have to do.
Here's a big timesaver. If you do have to talk to Guest Services, plan your visit either later in the evening or early in the morning. At these times the line is almost non-existent so you can talk to a rep immediately. (Guest Services are open 24 hours a day during the cruise.)
102. Be sure your clock is set with the ship's time
Depending on where you sail, there could be changes in the ship's time from the time at its homeport. Why does this matter? If you don't return to the ship by the right time, you could get left.
To make things easy, just make sure your watch is set with the ship's time as you get off in port. That way you are matched up with the ship's schedule and don't risk missing the return time.
103. Always wait for people to exit the elevator
A quick way to be identified as a rookie cruiser is to stand right in the doorway of the elevator when it opens. Elevators are the main way of getting around the ship — they are always crowded. It's polite to let the people on the elevator get off before before trying to enter.
Just stand to the side as the doors open. It will make thing go much smoother and other passengers will be grateful.
104. You can take everything out of the mini-bar to have an in-room fridge
Your ship cabin may come with a full-stocked mini-fridge. The items inside are counted after you leave, so if you want to use the fridge, you can just set everything out (or ask your room steward to empty it) and use it to keep your own drinks/food cool. Just be sure to put everything back or you'll get charged for whatever is missing.
105. Cruise ships are surprisingly fast
Ok, no one would confuse travel by cruise ship with the speed of traveling by plane or jet. But considering that a ship is roughly as long as the Empire State Building is tall and has about as many rooms as The Mirage in Las Vegas, the fact they can move at all is impressive.
Truth is, the cruising speed of many ships is around 25 miles per hour. That may not seem like much, but many neighborhoods have speed limits of 25 mph. Next time you see a car drive by, imagine that a cruise ship was gliding by instead.
106. Always wear walking shoes when in port
It's hot in the Caribbean, so who wants to wear shoes? Well, you'd be surprised at how tired your feet will get if you're touring around in just a pair of flip-flops. Instead, bring a pair of your most comfy walking shoes, or a pair of water shoes that offer more support. Your feet will thank you for it at the end of the day.
107. Get your picture taken; it's free and you pay only if you want it.
On the ship, they have photographers roaming the ship taking photos of passengers to remember their trip. You have to buy the photos if you want to take them home, but not if you don't want them.
In other words, you can get your photo taken by a professional photographer and only have to pay if you actually decide that you want the pic. If you decide you don't like it, then there is nothing out of pocket.
Have a cruise tip that we left out? Have you used a tip above that worked like a charm? Let us know in the comments below.